---
Posted: 20 Dec 2016 01:00 AM PST
Authored by Scott Kristoff via Avondale Asset Management,
We started this year with the economy deteriorating and finished it with the second interest rate increase in ten years. There were a lot of ups and downs along the way, but ultimately 2016 was defined by three key story-lines: 1) Brexit 2) The Presidential Election 3) Fed Policy.
The first two events were votes that shocked the world. The stock market's reaction to each was arguably even more shocking. If someone had told you in January that Britain would vote to leave the EU and Donald Trump would be president,would you have ever guessed that the Dow would be poised to break 20,000? Some people view this as a lesson in the unpredictability of markets. I would argue that the full story just hasn't been written yet. These were major political changes that are likely to have enduring effects on the global economy.
In terms of Fed policy, there were two key moments during the year. The first was in February when the stock market's decline caused the Fed to change its outlook that it would raise rates twice in 2016. That helped spur the market's rebound. The second key moment was in June. The markets had fully recovered by then but that's when Janet Yellen began to adopt a philosophy that "neutral rates" were going to be low for a long time. This shift in philosophy is probably the reason that we only saw one rate increase this year.
Happy Holidays!
The year began with the industrial economy deteriorating
"The environment continued to deteriorate as expected. The root causes for the slowdown remain the same. The rapid and sustained drop in oil prices, the strong U.S. dollar with its negative effect on export demand, and foreign exchange headwinds, are all negatively impacting broader manufacturing activity." —MSC Industrial Direct CEO Erik Gershwind (Distributor)
But the consumer was still holding up
"Our holiday sales results were solid…We started off strong as we said at the third quarter announcement, but our performance continued to become stronger and stronger closer to the end of the holiday." —Signet Jewelers CEO Mark Light (Jewelry)
Jamie Dimon emphasized that he did not see signs of recession
"We're not forecasting a recession. We think the U.S. economy looks pretty good at this point…obviously, market turmoil we all look at it every day but I'm not sure most of the 143 million Americans look at it that much who have jobs and you have a big change in the world out there. People are getting adjusted to China slowing down…hopefully this will all settle down. It's not the beginning of something really bad." —JP Morgan CEO Jamie Dimon (Bank)
But a "psychological movement towards caution" was spreading as the stock market fell
"we're seeing a little bit of a slowdown, or a psychological movement towards caution – that's definitely happening, and that translates into maybe a little more down, in fact, and a little less robust bidding." —First Republic Bank CEO James Herbert (Regional Bank)
Banks confirmed that the markets were overreacting
"There's been a lot written and said over the last few weeks about the issues in the stock market. We believe there's a lot of overreaction going on. It's like you woke up January 2nd, all of a sudden everybody decided the world's falling apart and we reject that. We don't see any fundamental structural changes between the first part of December and the first part of January. The world just doesn't happen that fast." —BB&T CEO Kelly King (Regional Bank)"
Lower oil prices were viewed as stimulative to the economy
""in this instance, cheap oil is a net stimulative impact on U.S. growth. A WorldCom fraud was not beneficial for everybody else in the U.S. Telecom didn't get cheaper. But fuel has gotten cheaper which is good for consumers" —Wells Fargo CFO John Shrewsberry (Bank)
Even though the markets were in turmoil, most indicators continued to look strong
"there has obviously been turmoil in the markets recently…Having said that, most indicators of the real economy at least in the US continue to look pretty strong…from our own portfolio direct indicators of consumer behavior like payment rates and purchase volume, and from leading edge credit indicators like delinquency flow rates. These indicators all look consistent…they are not giving us cause for concern." —Capital One CEO Richard Fairbank (Bank)
Steel companies were calling out positive momentum. (Note: STLD +114%, CLF +507% since the date of these comments)
""Well, I think there's positive momentum, generally. I'm sure Dick can speak to some of it, but the inventory overhang, there's continued destocking there and it's becoming balanced. It's still relatively high, particularly in hot band. But in coated products, in coated sheet, I think it's getting into a good position. And you speak to a seasonal uptick. I think we're seeing that as well…On cold roll sheet and coated, I sense a tightness forming in that arena." —Steel Dynamics CEO Mark D. Millett (Steel)
"I have been generally pleased with the preliminary duties coming from Washington on the steel trade case, especially the extremely punitive percentages placed on China…The impact of the trade case will be real and it has already been started to be realized by the order books of the clients, our clients at least, and we expect that only to improve." —Cliffs Natural Resources CEO Laurenco Goncalves (Iron Ore)
Industrial companies had been in a recession for almost a year already
"we are now basically in our fourth quarter of the recession…I see at least one more quarter, maybe another quarter." —Emerson CEO David Farr (Industrial Components)
Inventory depletion was near its bottom (Note: XLI +25% from this date)
"I would say what my knowledge is right now, inventory levels within the channel including ourselves, our levels that, they are pretty good levels, low…I don't see much of a downward draft on that now. I think it's pretty well over with, probably very minor downward draft." —Emerson Electric CEO David Farr (Industrial Components)
Business leaders continued to say that the economy was doing better than Wall Street thought
"I mean, it's funny if you turned off the stock market, you'd go these are great days around here…in all areas tenant demand, tenant attitude deal flow…rental rates etcetera up, up and up all good…What we are seeing in the stock market, we are not seeing in any of our underlying fundamentals of operating our properties." —Douglas Emmett CEO Jordan Kaplan (REIT)
But risk aversion was back
"Risk aversion is back after a five-year hiatus" —Oaktree Chairman Howard Marks (Asset Management)
And capital markets were shutting down
"Look, the financing market is very difficult. I think in certain industries it is almost completely shut down in the non-investment grade market and I think the lower end, triple C lower single B rating market is very difficult to access than the public markets." —Moelis and Co CEO Ken Moelis (Investment Bank)
However, Janet Yellen told Congress that she did not think the Fed needed to act
"We will meet in March and provide a new set of projections that will update markets on our thinking on the outlook and the risks. But I've not thought that a downturn sufficient to cause the next move to be a cut is a likely possibility. And we've not yet seen a shift in the economic outlook that is sufficient to make that highly likely." —Federal Reserve Chair Janet Yellen (Central Bank)
The Fed did not believe that financial conditions reflected the economy
"a number of participants noted that the large magnitude of changes in domestic financial market conditions was difficult to reconcile with incoming information on U.S. economic developments." —FOMC Minutes
But also signaled that they would take a wait-and-see approach to further tightening
"they agreed that uncertainty had increased, and many saw these developments as increasing the downside risks to the outlook…Several participants noted that monetary policy was less well positioned to respond effectively to shocks that reduce inflation or real activity than to upside shocks, and that waiting for additional information regarding the underlying strength of economic activity and prospects for inflation before taking the next step to reduce policy accommodation would be prudent" —FOMC Minutes
By late February many were viewing the stock market decline as a buying opportunity
"I go back to what Buffett says…he's nervous when people are greedy, and he's greedy when people are nervous. Well, right now people are nervous." —Fluor CEO David Seaton (Engineering and Construction)
Business leaders continued with a relatively positive tone into March
"Business, I would say, is a little softer in many places, than people than I anticipated say four or five months ago…But, you know…overall the economy's just kept movin' up around 2%." —Berkshire Hathaway CEO Warren Buffett (Conglomerate)
As long as interest rates stayed low, stock prices could continue to go up
"It does have the effect of making all assets more valuable. I mean, interest rates are like gravity in valuations. I mean, if interest rates are nothing, you know, values can be almost infinite." —Berkshire Hathaway CEO Warren Buffett (Conglomerate)
But election risk began to come into focus too. Trump would sink the country into a prolonged recession.
"If Donald Trump's plans were ever implemented, the country would sink into a prolonged recession…His proposed 35% tariff-like penalties would instigate a trade war that would raise prices for consumers, kill export jobs, and lead entrepreneurs and businesses to flee America. His tax plan, in combination with his refusal to reform entitlements and to honestly address spending would balloon the deficit and the national debt. So even as Donald Trump has offered very few specific economic plans, what little he has said is enough to know that he would be very bad for American workers and for American families." —Mitt Romney (Son of former American Motors President, George Romney)
The consumer kept on spending despite stock market volatility
"In the US, park attendance, advance bookings all very strong, the advertising marketplace is much stronger than we expected it would be…we gave some numbers that were certainly indicative of either a consumer or an economy that was stronger than a lot of people had considered. So, we're feeling actually fairly bullish about our business prospects in this market" —Disney CEO Bob Iger (Magic Kingdom)
The Fed decided not to raise rates in March even though it believed that risks had diminished
"let me say that, in recent weeks, I think the Committee certainly thinks that risks to the outlook have diminished…Our decision to keep this accommodative policy stance reflects both our assessment of the economic outlook and the risks associated with that outlook." —Federal Reserve Chair Janet Yellen (Central Bank)
It began to feel like rates would stay low forever
"We believe that when the Fed started quantitative easing, it entered Hotel California. As the classic Eagles song concludes, "you can check out any time you like, but you can never leave."" —Alleghany CEO Weston Hicks (Insurance)
By the end of March the market was getting back on track
"There's nothing that would suggest that we're imminently ready to go into a recession here in the U.S…I think the market is starting to recognize as well. So, things seem to be getting back on track in terms of even a market perception. So, I think that everything is being set up of for the type of year that we had thought it would be, in terms of the U.S." —Ford CFO Bob Shanks (Automobiles)
Businesses were seeing a "resurgence of confidence"
"we saw some signs of a slowing down in our industry over the last several quarters, particularly as we got into December and January, but now we are feeling some resurgence of confidence, at least a flattening out of that trend. So hopefully that was a moment and hopefully we'll see some growth develop in the quarters to come." —Steelcase CEO James Keane (Office Furniture)
Still, growth was relatively uninspiring
"I think we still see the overall economy progressing in that 2%-2.5% range, kind of uninspiring growth." —CSX CFO Frank Lonegro (Railroad)
"I think we still feel we're…in the same low growth…environment that we've been operating in for a couple of years, not enough to make it feel like rates are going to move as a result of it but not enough to feel like we're stalling either." —Wells Fargo CFO John Shrewsberry (Bank)
"to me the outlook is less about any sort of explosive growth. The word I would use is potential for stabilization. So things have been at a low level." —MSC Industrial CEO Erik Gershwind (Industrial Distributor)
Caution abated, but the environment still felt fragile
"many of the factors that were impacting the market in the first quarter…seem to have abated and although the market feels a little fragile from all that, it feels like – for the most part, that's behind us. But we'll see how the year progresses." —Goldman Sachs CFO Harvey Schwartz (Investment Bank)
The oil industry was experiencing a "full scale cash crisis"
"Activity fell sharply in the first quarter, as the industry displayed clear signs of facing a full-scale cash crisis. We experienced activity reductions worldwide, with the rate of disruption reaching unprecedented levels…our industry is now in the deepest financial crisis on record…This is the toughest environment we have seen for 30 years, and it is likely to get even tougher before the market turns" —Schlumberger CEO Paal Kibsgaard (Oil Service)
The market was focused on Brexit and a possible July Fed hike
"I think that the market is now pricing, that the Fed go probably in July and there is a high probability of that, that is being priced in the market and the market is not pricing a lot about the Brexit, so a negative event could really produce some correction in the market." —JP Morgan Corporate Bank CEO Daniel Pinto (Bank)
The economy was not rebounding as much as hoped
"The one surprise we had is in the last couple months we've seen the U.S. spending rate come back down again, which bothers us…I feel a little bit more worried about sales because of the U.S. marketplace in particular…this slow to start turning that nose up really bothers me." —Emerson Electric CEO David Farr (Industrial Components)
Retailers reported poor results
Assasinations, Nationalizations, Disputed Elections, Terror Attacks and Stolen Subs
Posted: 19 Dec 2016 11:47 PM PST
Gold Stock Bull
The Children Of the New World Order Have Arrived
Posted: 19 Dec 2016 10:00 PM PST
 Event Is Coming Soon - CIA fraud.... GOD DAMNED THE CORRUPT CIA... WE NEED TO RID THE EARTH OF THE HILLARY/OBAMA/BUSH FAMILY/CIA/U.N. ASAP!.. THE REAL THREATS TO THE AMERICAN REPUBLIC!. The Financial Armageddon Economic Collapse Blog tracks trends and forecasts , futurists , visionaries...
[[ This is a content summary only. Visit http://financearmageddon.blogspot.com http://www.figanews.com for full links, other content, and more! ]]
The Controlled Collapse Can't Be Stopped Even If Trump Tries
Posted: 19 Dec 2016 09:30 PM PST
 Service PMI drops to a three month low. CEO's begin to warn that as the dollar continues to rise profits are falling and come 2017 earning are not going to look good. Gold is basically illegal in India. Italy seeks authorization to raise the debt. Italy is preparing to rescue their failing...
[[ This is a content summary only. Visit http://financearmageddon.blogspot.com http://www.figanews.com for full links, other content, and more! ]]
Mystery!! A CODED MESSAGE That TRUMP Will NOT Be President?
Posted: 19 Dec 2016 08:30 PM PST
 Why did the Economist Magazine seemingly pull Trump from the cover? And the Mystery deepens.....I am going to link a video of where I first saw this story. Earlier today I was able to find the actual image on Google search. The Financial Armageddon Economic Collapse Blog tracks...
[[ This is a content summary only. Visit http://financearmageddon.blogspot.com http://www.figanews.com for full links, other content, and more! ]]
The Most Hated Asset On The Planet
Posted: 19 Dec 2016 07:40 PM PST
Submitted by Kevin Muir via TheMacroTourist.com,
Last year at this time markets were grappling with the Fed's first rate hike in almost a decade. Although many optimists were confident the economy was plenty strong enough to handle the increase in rates, within days it was obvious they were sorely mistaken.
Fast forward to today. With the election of Trump, there is even more optimism filling the air.
Don't get me wrong, I understand all the reasons to be bullish.
But doesn't the fact that everyone else understand all those reasons too not worry you just a little bit?
There is no wall of worry to climb. Instead we are faced with complete and overwhelming confidence the Fed hike will not derail the good times.
Now maybe I worry too much. Maybe the Fed hike will not slow down the markets even in the slightest.
Yet a little part of me wonders if the problems with the shortage of US liquidity will come rushing back to the forefront with the Fed hike.
And just in case it does, I think it is instructive to review what happened last year when the Fed hiked.
Let's start with the S&P 500:
After last year's Fed hike the S&P 500 managed to stay bid for a week before collapsing in the worst start to a new year in the history of finance.
How about the US dollar?
Although the US dollar went up for a few weeks after, it eventually rolled over and had a terrible first quarter of 2016.
So far all the reactions to the Fed hike seem to have some delay. Yet have a look at gold. The "pet rock" bottomed on the day after last year's Fed hike and never looked back.
I don't want to goocher it, but so far, the pattern is playing out exactly the same. Gold has once again bottomed on the day following this year's Fed hike, and knock on wood, has not yet violated that low.
This all coincides with the gold/S&P 500 ratio once again bumping along the support at the previous low.
Putting it all together, will the gold/S&P 500 ratio repeat last year's performance?
I know any suggestion of gold rising and stocks declining seems absurd. After all, gold is probably the most hated asset class on the planet with stocks being the most loved.
Yet somehow that doesn't bring me much comfort as I am pretty sure last year the bulls were extremely confident the Fed hike wouldn't derail the budding recovery. The fact they are even more confident today doesn't bring me any solace…
Turkish Elite Cop Shoots Russian Ambassador on TV
Posted: 19 Dec 2016 06:30 PM PST
 considered by informed insiders' as THE ultimate resource for fixing the National Debt problem and surviving Economic or Financial Collapse/Crash and attaining the unvarnished truth about Washington and today's United States Political Climate. Good evening, I'm still reporting onTurkish Elite...
[[ This is a content summary only. Visit http://financearmageddon.blogspot.com http://www.figanews.com for full links, other content, and more! ]]
Is America Next after The Berlin Attack ?
Posted: 19 Dec 2016 06:00 PM PST
Should the U.S. be on alert after the Berlin attack? Former Deputy Assistant to Vice President Cheney Stephen Yates on the attack in Berlin. The Financial Armageddon Economic Collapse Blog tracks trends and forecasts , futurists , visionaries , free investigative journalists ,...
[[ This is a content summary only. Visit http://financearmageddon.blogspot.com http://www.figanews.com for full links, other content, and more! ]]
Currency War Between The US and China Rages On!
Posted: 19 Dec 2016 05:00 PM PST
China Yuan Hits 8 YEAR LOW vs U.S. Dollar as Currency War Rages On! Just because the fuse is long doesn't mean it's not lit. The final collapse of the currency is the last domino to fall. We're still in the middle of the pre-collapse chain of events. On the day of reckoning, it will be QE...
[[ This is a content summary only. Visit http://financearmageddon.blogspot.com http://www.figanews.com for full links, other content, and more! ]]
MI6 WHISTLEBLOWER: "IS THE UNITED STATES FACING A COUP D'ETAT ?
Posted: 19 Dec 2016 03:30 PM PST
 MI6 WHISTLEBLOWER: "IS THE UNITED STATES FACING A COUP D'ETAT ? The Financial Armageddon Economic Collapse Blog tracks trends and forecasts , futurists , visionaries , free investigative journalists , researchers , Whistelblowers , truthers and many more
[[ This is a content summary only. Visit http://financearmageddon.blogspot.com http://www.figanews.com for full links, other content, and more! ]]
Gold Seeker Closing Report: Gold and Silver End Mixed
Posted: 19 Dec 2016 02:25 PM PST
Gold gained $8.80 to $1142.30 in Asia before it pared back to $1137.06 in London, but it then chopped back higher in New York and ended with a gain of 0.51%. Silver climbed up to $16.208 in Asia, but it then fell to as low as $15.906 in New York and ended with a loss of 0.62%.
Asias Gold Investing Support, Part 2: India Goes AWOL
Posted: 19 Dec 2016 01:51 PM PST
Bullion Vault
What Are the Risks of a U.S.-China Trade War?
Posted: 19 Dec 2016 01:48 PM PST
What's more, gold is looking oversold, down two standard deviations for the 60-day period, which has historically signaled a good buying opportunity. With prices off close to 12 percent since Election Day, I believe this is an attractive time to rebalance your gold position. I've always recommended a 10 percent weighting, with 5 percent in gold stocks and the other 5 percent in bullion, coins and jewelry.
The Trump Bump vs. Gold vs. Yellen's Keynesian Analysis
Posted: 19 Dec 2016 01:40 PM PST
This post The Trump Bump vs. Gold vs. Yellen's Keynesian Analysis appeared first on Daily Reckoning.
For much of 2016, gold's price action was whipsawed by market speculation about whether or not the Fed would raise interest rates in a final, grand gesture to ring out the month of December, as well as the soon-ending Obama administration. In essence, all year, the golden spotlight has been on Yellen.
When pondering the Fed and its impact on gold price trends, there's one line of questions. Will rates remain the same at the next meeting or will rates increase? If so, by how much?
Earlier this year, as markets perceived low probability of a Fed rate increase, gold prices drifted higher, and lifted mining shares on the rising tide. When probability of a Fed rate increase appeared higher, gold sold down and took mining shares with it.
As of last week, we have our much-anticipated, end of year, quarter-point rate increase, with accompanying guidance to expect three more rate moves in 2017.
Apparently, and notwithstanding Trump and the "jobs, jobs, jobs"-thrust of his recent presidential campaign, the Fed believes that the U.S. economy is strong and getting stronger. Thus, it's time to raise rates and cool down the overheated engine of growth and employment.
Since Donald Trump won the U.S. presidential election, broad markets firmed up and moved ahead, while gold corrected downwards. Here's a chart that tracks the Dow Jones average ($INDU) against the daily gold contract ($GOLD). You can see the remarkable Dow-gold divergence, beginning right around election day.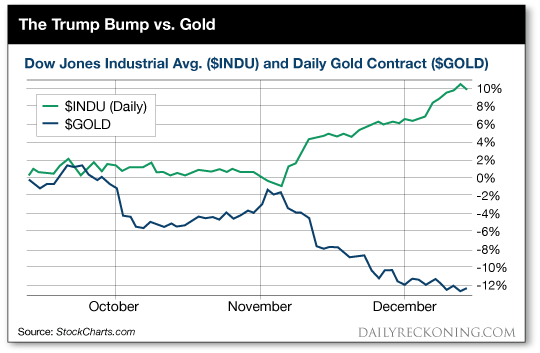 Looking back to September and October, notice how the Dow traded in a range; then it took off after Trump won. It's what I call the "Trump Bump."
Gold prices took a hit in early October, as the chart shows. At the time, the idea was that the plunge anticipated the Fed's rate increase in December. Then gold prices recovered, up until the wee hours of election night, when yellow metal began another downward track.
So, what does the future hold? Nobody knows. But I expect that we'll see a true contest of wills between Trump, and his Make America Great Again optimism; versus Yellen, and her sense that the economy is heating up and requires Fed interest rate ministrations to cool it all down.
Along the lines of that impending contest of wills, a few weeks ago, I was organizing boxes in my basement. Purely by coincidence, I found a collection of old Harvard student course catalogs from 1972 through 1978 when I studied geology there.
The mid-1970s also covers several years when a much younger Janet Yellen was on faculty at Harvard, employed there as an assistant professor of economics.
Yellen earned a PhD in economics from Yale University in 1971. Her thesis was entitled Employment, output and capital accumulation in an open economy: a disequilibrium approach, prepared under the supervision of Nobel laureates James Tobin and Joseph Stiglitz. Degree in hand, Yellen migrated north to Cambridge, and went on payroll as an assistant professor of economics at Harvard, 1971–76.
Yellen had quite a group of distinguished colleagues, back then. While paging through the dusty tomes, I saw familiar names of old professors, from whom I took an economics course or two – Otto Eckstein, Kenneth Arrow, Robert Dorfman, Wassily Leontief. And then there was Janet Yellen, Assistant Professor of Economics, with her bright future still to come.
In 1972–73, Yellen taught a course in "Aggregative Economic Policy." This covered "Theories of national income determination, employment, interest, investment, money, and economic growth from Keynes to the present."
In 1973–74, Yellen taught that course again; with the same name, except the course description changed to "Keynesian and post-Keynesian theories of national income determination, introduction to monetary theory, cyclical fluctuations and economic growth."
A year later, after a leave of absence, Yellen taught two courses, entitled "Macroeconomic Theory" and "Economic Theory." The first course covered "Keynesian and classical models of employment and income determination; theories of inflation, aggregate fluctuations and growth; principles of stabilization policy; theories of consumption, investment and portfolio choice."
The second course during that year covered "Static Keynesian models and their classical antecedents; modern monetarist and post-Keynesian models; theories of consumption, investment, and portfolio behavior; theories of aggregate fluctuation and inflation; economic models and policy optimization."
Notice anything about Yellen's courses? One sees the name Keynes prominently. In essence, Yellen taught party-line, Keynesian economics.
Keynesian economists believe that private sector economic decisions often lead to what they perceive as "inefficient" macroeconomic outcomes. The economy just doesn't do what central bankers and government planners want it to do. People don't behave properly, at the "micro"-level (call it the "Trump"-level, for current purposes), and their cumulative sins all add up to grave policy faults and inefficiencies. Something must be done to correct the resulting inefficiencies.
The policy solution to economic inefficiency is that a modern economy requires active measures by a (supposedly) wise and knowledgeable central bank, working in tandem with effective fiscal policy by the (supposedly) all-seeing, all-knowing government. The idea is to "stabilize output" over any given business cycle.
The long and short is that Keynesian economics advocates a "mixed economy," in which the private sector jumps through policy hoops created by government and its legions of Very Smart People. The end-state in all of this is to avoid terrible things called "recessions."
I won't belabor the preceding points; people write long books about Keynesianism, versus, say, the "Austrian" school of economics. People argue over the merits of recessions, to clean out the muck from an economy. People argue over whether or not to attempt to control business cycles, if that's even possible. All that, and much more.
For our purposes in Gold Speculator, my view is that Ms. Yellen's deep-down, inner Keynesian instinct is happy to see the downward-sloping $GOLD trend in the chart above. But also, she's unhappy with that up-trending $INDU line, and certainly with the idea of a Trump Bump, and what it means in terms of her worldview.
Yellen, and her Keynesian cohorts at the Fed, will do what they can to reign-in the robust and overheating – she evidently believes – U.S. economy… whether it's robust and overheating or not. She's like a doctor with but one standard remedy, no matter what the illness.
Thus, as 2017 unfolds, we're setting up for a battle royale, worthy of Wrestle-Mania at its finest. In one corner, we have incoming, President-elect Trump – with his go-go-go, charge ahead view of moving the economy. With his $3 trillion gathering of tech-heads. With many campaign promises to keep about "bringing back jobs" and such. In the other corner, we have a cadre of PhD-level, central bank policy wonks who really do believe their own hocus pocus.
Much of the looming battle will play out in the public forum, and we'll be able to watch it live, and in real-time. Other elements of this epic battle of monetary policy will be at the Deep-State level, behind tightly closed doors. We'll hear leaks and rumors, to be sure. And along the way, the price of gold will be one key barometer of whose ideas are prevailing.
At this point, I'm reminded of the words of the late Russian writer Aleksandr Solzhenitsyn, discussing the profound contradictions of his own, Soviet era, just before an entire empire came crashing down. He mused that, "We have arrived at an intellectual chaos."
Exactly. Intellectual chaos. Buy rumors, sell news. Gold will have its day again.
Regards,
Byron King
for The Daily Reckoning
The post The Trump Bump vs. Gold vs. Yellen's Keynesian Analysis appeared first on Daily Reckoning.
"Flation" And The Surge Of Silver
Posted: 19 Dec 2016 01:33 PM PST
Matterhorn AM
The Truth About Russia Hacking The Election For Donald Trump
Posted: 19 Dec 2016 01:30 PM PST
 Stefan Molyneux breaks down all of the information supporting the claim that Vladimir Putin's Russia "hacked" the U.S. Presidential election between Hillary Clinton and Donald Trump. The Financial Armageddon Economic Collapse Blog tracks trends and forecasts , futurists ,...
[[ This is a content summary only. Visit http://financearmageddon.blogspot.com http://www.figanews.com for full links, other content, and more! ]]
How the fundamental backdrop could turn bullish for gold
Posted: 19 Dec 2016 01:21 PM PST
Speculative Investor
Jim Rickards in Debate of Gold, SDRs, or More of the Same?
Posted: 19 Dec 2016 01:11 PM PST
This post Jim Rickards in Debate of Gold, SDRs, or More of the Same? appeared first on Daily Reckoning.
While meeting up last month in London, Jim Rickards in debate joined forces with Ann Pettifor for a discussion for the ages.  The center of the debate was on the "Future of the International Monetary System – Gold, SDRs, or More of the Same."  The two economic heavyweights come from highly respective backgrounds and offer a unique perspective in their own right together with our Daily Reckoning UK colleagues.
Ann Pettifor is a UK analyst focused on the global financial system and works as a director at UK based organization, Policy Research in Macroeconomics (PRIME).  Her latest book, Just Money: How Society Can Break the Despotic Power of Finance covered the social impact of the global monetary system.  She was one of the few economist who predicted the financial crisis years prior to the aftermath of 2008 and is widely celebrated as a leading voice for UK analysis.
Jim Rickards is an economist and macroeconomic analyst who just released his latest New York Times bestseller The Road to Ruin.  Jim Rickards worked for decades on Wall Street and has advised various departments within the U.S government regarding international monetary currency systems.
When prompted about what is the future of the monetary system Pettifor responded:
"The future of the global monetary system is in very dire straights.  We have known that for some time now.  The Bank of England is beginning to panic.  It has been panicking behind the scenes for some time, now together with the OECD, the IMF and the Bank of International Settlements.  The world is being allowed to go on as if everything is normal."
"What is so extraordinary about what has happened since the crisis is that nothing has happened. Nothing has changed. Structurally, the global financial monetary system remains exactly as it was.  What we've had is a massive private debt bubble, not a public debt bubble, that hasn't burst. It is still out there."
"The problem is, as we have eased up in Britain, it has dipped a little since 2007 but it is where it was in 2005.  The reason why this private debt bubble has not been burst, has not been brought down and not been deleveraged is because there is not enough money to pay it down.  Debts do not rot with old age.  Debt rises exponentially and mathematically."
"The future of the monetary system is very precarious and fragile.  As we get more authoritarian governments, we are moving toward a new age… Who is going to be in charge of the new international monetary system?  Is it going to be under private authority?  Is it going to be Goldman Sachs that is going to run our monetary system?  Or is it going to be under public, democratic, and accountable authority?  That's the choice."
Jim Rickards presented by posing a question "are capital markets a complex system?"
"We have to confront the fact that if capital markets are a complex system, [then] none of the models that the regulators, the bankers and the risk managers are using correspond to reality.  They are at best obsolete and at worst dangerously wrong."
"This is one reason why regulators and bankers never see the crisis coming.  They are always ill prepared for when they come.  They always underestimate the magnitude.  Their reactionary function is slow and plotting because they don't actually understand what's happening."
"Complex systems are prone to collapse.  They build and build and periodically collapse.  It is the instability of the total system that we need to be concerned about.  The worst thing that can happen in a complex system is… that if you double the size of the system, you do not double the risk.  You increase the risk by a factor of five, or perhaps ten, and increase the risk exponentially."
"In 2008, all we heard about was "too big to fail."  Since 2008, the five largest banks in the United States are all larger, they have a larger percentage of the total banking assets, there is greater concentration, they have much larger derivatives books.  Everything that was too big to fail in 2008 is bigger and more dangerous today.  And given the complexity of the system the risk is far greater than what we had in 2008."
Ann Pettifor responded pointedly on the current state of the monetary system stating that, "The financial system exists to serve the real economy.  Before the crisis banks used to lend. We invented the banking system in order to have institutions that would manage the credit system for us."
"After the crisis we started lending to the banks. We deposited more money into the banking system than the banking system lent out.  This is bizarre and perverse.  Why has it happened?  It is a human, social construct.  It is something that we've built over time."
Jim Rickards pushed forward on money and exchange noting that, "there is an invisible confidence boundary.  You will cross it.  You won't know that you did until it's too late.  You'll find out the hard way.  We are now dealing with a much larger scale of risk."
"I think a lot of Ann's remedies could work.  But they won't be implemented in time before the calamity comes. In the next crisis when everyone wants their money back from the banks, the liquidity will come from the IMF in the form of trillions of SDR's. If it works, it will only be because nobody understands it because ultimately it is fiat money.  They will then lose greater confidence and begin to ask – where is the gold?"
To hear Jim Rickards in debate with full commentary on the international monetary system with the brilliant Ann Pettifor, click here.
Regards,
Craig Wilson, @craig_wilson7
for the Daily Reckoning
The post Jim Rickards in Debate of Gold, SDRs, or More of the Same? appeared first on Daily Reckoning.
Peter Schiff : Trump Can't Stop This Bubble From Bursting, Nor Should He Try
Posted: 19 Dec 2016 01:00 PM PST
 Peter Schiff on RT 12/16/2016 Trump has enough "bankers" in key financial spots so that when the crash happens he can fiire them all and put some real reformers in their place. The Financial Armageddon Economic Collapse Blog tracks trends and forecasts , futurists , visionaries ,...
[[ This is a content summary only. Visit http://financearmageddon.blogspot.com http://www.figanews.com for full links, other content, and more! ]]
The Endgame Full White Genocide Documentary
Posted: 19 Dec 2016 12:30 PM PST
China has several empty cities that have been empty for along time it is a wonder why they don't take immigrants in to grow their economy. The Financial Armageddon Economic Collapse Blog tracks trends and forecasts , futurists , visionaries , free investigative journalists ,...
[[ This is a content summary only. Visit http://financearmageddon.blogspot.com http://www.figanews.com for full links, other content, and more! ]]
The War on Cash and then on Gold
Posted: 19 Dec 2016 11:16 AM PST
Clive Maund
BREAKING: Russian ambassador to Turkey shot dead in Ankara terrorist attack
Posted: 19 Dec 2016 10:30 AM PST
 The Russian envoy to Turkey, Andrey Karlov, was wounded after a gunman stormed into a building where the opening ceremony of a Russian photo exhibition was being held. The Financial Armageddon Economic Collapse Blog tracks trends and forecasts , futurists , visionaries , free...
[[ This is a content summary only. Visit http://financearmageddon.blogspot.com http://www.figanews.com for full links, other content, and more! ]]
Credit, Crisis & Collapse — Bill Holter via SGTreport.com
Posted: 19 Dec 2016 10:10 AM PST
The War on Cash and then on Gold
Posted: 19 Dec 2016 10:00 AM PST
The global financial system continues to groan under the strain of the accumulated weight of trillions of dollars worth of debt and derivatives, which have built up to even more fantastic levels than those that precipitated the near collapse in 2008, thanks to the policy of solving liquidity problems near-term by creating even more debt and derivatives, Quantitative Easing being the most obvious example. However, while the majority consider the situation to be hopeless, there is actually "light at the end of the tunnel".
Here's Why You Should Never Buy and Hold Gold
Posted: 19 Dec 2016 09:00 AM PST
This post Here's Why You Should Never Buy and Hold Gold appeared first on Daily Reckoning.
Buying and holding a commodity like gold may be the most ignorant strategy ever…
That's a heresy to some gold "experts" who think they can predict its price direction.
But here's the cold hard truth: The market doesn't care about what you, I, or any "expert" thinks should happen.
To make money from gold, you're either on the right side or the wrong side of the price trend.
Today, I'm going to show you how to be "right" when investing in gold…
"Buy and Hope" Strikes Again
Let's take a look at what's happened to the price of gold this year…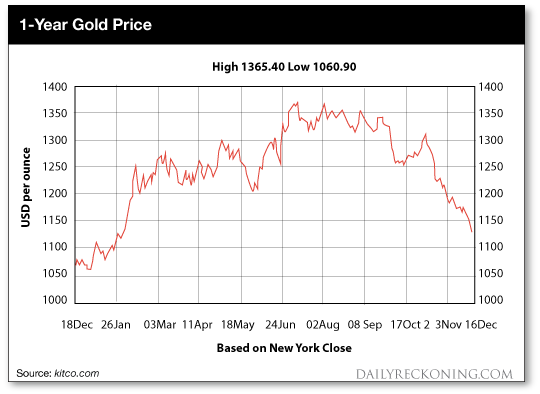 Gold started the year on a tear following a December 2015 Fed rate hike, sharply declining oil prices and trouble in China that sent stock markets around the world tumbling.
A surge of money steered toward gold's safe haven almost immediately.
And as the gold price trended higher, Wall Street and Main Street jumped on the bandwagon…
In May, JP Morgan told clients to "position for a new and very long bull market for gold."
Goldman Sachs joined the party in June by raising its average gold price forecasts in the near and long term, extending into 2018.
And Merrill Lynch as recently as early October recommended buying gold on a brief dip because its analysts believed that when the Fed raised interest rates, stocks would sell off, the dollar would rally, and investors would see gold prices trend higher.
But there was one big freaking problem…
These "trust us" recommendations never gave you an exit plan.
Most investors just followed the tried-and-true "buy and hope" strategy. They bought and hoped gold stocks would continue to move higher as the "experts" predicted.
How'd that work out for them?
If you bought in May per JP Morgan's call, you got in around $1,270. If you bought in June per Goldman's call, you got in around $1,324. If you bought in October per Merrill's call, you got in around $1,256.
Today, gold trades near $1,140.
Most people who bought and held on without a clear exit strategy are down big.
How Do You Make Money in Gold?
The answer to that question is you don't rely on "buy and hope."
Like many commodity markets, gold is famous for its boom-and-bust cycles.
Gold is especially vulnerable to emotional investing. Every nervous global twitch can cause a big swing in prices because so many people have their political beliefs tied to gold.
The bottom line is it's incredibly hard to consistently make money in gold if you're simply buying and holding, instead of using a systematic strategy like momentum-focused trend following trading.
Sure, you may get lucky once in a while and thus imagine you are the next "Oracle of Omaha." But what I'm talking about is a system of capturing strong, repeatable gains in the long run, in whatever market that's trending.
For example, my proprietary Trend Following system triggered a buy signal for gold stock Hecla Mining on April 20 – and a sell signal on October 10, capturing a solid 43% gain.
But the immensely important point is my system triggered a sell signal as soon as the trend changed.
The big-time decline was avoided.
If you followed my straightforward system, you would have not only pocketed a gain of 43%—but also avoided the big loss.
But most don't know to follow this kind of momentum, crowd-following system.
Instead of going with the trend no matter what, they fantasize about forecasts of gold going to the moon… and then on to Mars.
And they're still waiting for it to happen because the thrill of being right is more important to them than making money.
But while significant numbers of investors were dreaming about making a fortune in gold while stockpiling for Armageddon, the trend changed like a bucking bronco.
Most of these investors were gobsmacked.
Remember, when any market moves either up or down, you either get on board on the right side of the trend or you get killed. Guaranteed.
So ask yourself: Are you riding the gold trend? Or are you just guessing gold's direction?
Please send me your comments to coveluncensored@agorafinancial.com. Let me know what you think of today's issue.
Regards,
Michael Covel
for The Daily Reckoning
The post Here's Why You Should Never Buy and Hold Gold appeared first on Daily Reckoning.
A KEYNESIAN CHALLENGE: Prove Deflation is Bad For ME!
Posted: 19 Dec 2016 08:52 AM PST
In central banks' seriously misguided attempts to fight routine consumer price deflation, central bankers create very destructive asset bubbles that eventually collapse. When those bubble burst, and they will, it will trigger debt deflation, which is what central banks ought to fear. For a discussion of the BIS study, please see Historical Perspective on CPI Deflations: How Damaging are They?
Dollar, not Dow, is key measure, Turk tells King World News
Posted: 19 Dec 2016 08:36 AM PST
11:37a ET Monday, December 19, 2016
Dear Friend of GATA and Gold:
GoldMoney founder and GATA consultant James Turk tells King World News today that the big market question in the United States is not about the Dow Jones Industrial Average but about the dollar, since stock market gains do not reflect increased purchasing power if the currency in which those gains are measured declines. An excerpt from Turk's interview is posted at KWN here:
http://kingworldnews.com/james-turk-this-will-be-one-of-the-big-keys-for...
CHRIS POWELL, Secretary/Treasurer
Gold Anti-Trust Action Committee Inc.
CPowell@GATA.org

---
ADVERTISEMENT
We Are Amid the Biggest Financial Bubble in History;
When It Bursts, Bullion Owned in the Safest Way Will Protect Wealth
With GoldCore you can own allocated -- and most importantly -- segregated coins and bars in Switzerland, Singapore, and Hong Kong.
Switzerland, Singapore, and Hong Kong remain extremely safe jurisdictions for storing bullion. Avoid exchange-traded funds and digital gold providers where you are a price taker. Ensure that you are outright legal owner of your bullion. If you do not own segregated bullion that you can visit, inspect, and take delivery of, you are exposed.
Crucial guides to storage in Singapore and Switzerland can be read here:
http://info.goldcore.com/essential-guide-to-storing-gold-in-singapore
http://info.goldcore.com/essential-guide-to-storing-gold-in-switzerland
GoldCore does not report transactions to any authority. Safety, privacy, and confidentiality are paramount when we are entrusted with storage of our clients' precious metals.
Email the GoldCore team at info@goldcore.com or call our trading desk:
UK: +44(0)203-086-9200. U.S.: +1-302-635-1160. International: +353(0)1-632-5010.
Visit us at: http://www.goldcore.com

---

Help keep GATA going
GATA is a civil rights and educational organization based in the United States and tax-exempt under the U.S. Internal Revenue Code. Its e-mail dispatches are free, and you can subscribe at:
To contribute to GATA, please visit:
Nomi Prins on the World Financial System in 2017
Posted: 19 Dec 2016 08:31 AM PST
This post Nomi Prins on the World Financial System in 2017 appeared first on Daily Reckoning.
The Daily Reckoning had the chance to sit down with best-selling author, economist and historian Nomi Prins for a candid one-on-one interview while in Berlin, Germany.  Between her exclusive meetings with Jim Rickards, a series of European press interviews and pressing research meetings for her forthcoming book Artisans of Money we sat down at a café in the heart of Europe to discuss what is unfolding in Europe and what to expect in 2017.
The Federal Reserve raised interest rates for only the second time in a decade by .25 basis points the day after our interview.  Many saw this move as a reflection of Fed officials having confidence in the U.S economy and what might be signs of rising inflation.  Europe, in the meantime, has been left scratching its head in a perplexed wonder of how it should react.
One year ago, Prins' was out in front of the December 2015 rate hike in which she firmly believed other central banks would be forced to react.  This time, The Daily Reckoning got the exclusive on what she believes is next on the financial horizon and what specifically might be in store for the Eurozone.
The Daily Reckoning (DR): The U.S just raised interest rates – what reaction do you see coming from Europe and the European Central Bank (ECB)?
Nomi Prins: The ECB won't act as it had last year, it won't react immediately by cutting rates.  What is most likely to come from the ECB this round is an expansion of quantitative easing operations (QE) in which more money is pumped into the system.
It is also likely that the Bank of England (BoE) will cut rates – the central bank is one of the only major coordinated banks that operates at the same level of the Federal Reserve and remains independent in action.  It is also one of the very few central banks that has not acted by cutting rates, so far, in the wake of the financial crisis.  The BoE now believes that they have the room to cut rates.
If the global markets pattern of turmoil is to be replicated in similar form from last year, they'll be inclined to act.  From there, depending on how bad things get following the market shakeup after the Fed's action, the BoE will be forced to extend, if not expand, its own UK version of QE.
DR: The European Union has come to a very difficult crossroads economically and politically.  What is to come for the EU and the European Central Bank?
Nomi Prins: The EU as an institution is going to continue its trend of cracking and progressively getting worse. The current near term reality for everyday people is that their economic future will not match what quantitative easing (along with zero interest rate policy) has done equal to what banks have been given.
People can clearly see that those corporations are being given considerable financial and policy-oriented assistance, while the everyday worker is being left behind.  They might not know specifically what to call the economic hit they're feeling, but they certainly understand they're worse off.
EU member states will look for more beneficial relationships in order to support their individual economies.  Though it will take a longer time, there will be a considerable shift in power underway within economic trade and geopolitical relationships.  This will also be seen within the ECB as it continues to struggle to react to economic and political shifts in the region.
DR: What is to come economically and politically for 2017? What are you watching?
Nomi Prins: In the United States, Donald Trump will be the major story.  If the infrastructure plan promised on the campaign, that has now been envisioned by many, is to actually take place it could spur economic growth globally. But that will remain to be seen for some time.
Even if a massive stimulus of infrastructure spending were to take place, it is seemingly a flawed strategy to begin with in regards to budgets and overall impact to a real main street economy.
The biggest moves will be political.  It is important to watch the speed and direction in which a president Trump is able to move forward with international alliances.  These relations will impact trade, currency and capital flows outside of the U.S.  While they were already set in motion during what can be described as an ongoing financial crisis, it will be furthered under a Trump administration.
People in other countries are going to react to government actions, and inaction.  Expect a Europe that will remain economically and politically crippled.  More elections in Europe will bring about more economic shocks, and further stress.
In the same breath, China will continually get bad press amongst the mainstream media outlets but carry on its momentum toward furthering its position as a global leader.  We saw that with its inclusion at the International Monetary Fund in the special drawing rights (SDR) and we'll see further status moves in the future.
The United Kingdom is undergoing minimal job numbers while the pound sterling continues to weaken.  That trend should continue in 2017.  Things for the UK will be rocky as they slowly head toward the Article 50 of exiting the European Union.  Theresa May has indicated that all of the strategy and government leadership planning will be made public around March of 2017.
The impact on the UK and the EU will be made more clear then.  The public will have a greater understanding of whether the EU will be kind to the UK or set out to make an example out of those members that choose to leave.  In the meantime, the UK will begin to forge new relationships in order to be hedged for BREXIT uncertainty.
DR: As the International Monetary Fund continues to surface as a global influencer what is your impression on its influence for 2017?
Nomi Prins: The IMF has been focused on a rising dollar and emerging markets not being able to pay back debts relative to a strengthening dollar.  If the Fed policy of raising rates continues to be a policy for the future and a strengthening of the U.S dollar continues, this debt burden will on EM will continue to press down on the global economy.
Christine Lagarde, the managing director of the IMF, will be found guilty for criminal charges linked to her misuse of public funds during her time as France's finance minister.  This very well could force her out of the post that she had just entered in February for her second five-year term.  Similar to Dominique Strauss-Kahn's scandal and resignation from the IMF, the move could prove to be a destabilizing factor to the IMF and the organization's ability to participate in government bailout activities.
If she does step down from the head of the IMF, does the Fund select someone more friendly to U.S policy?  Does it just go away?  The coming weeks and days into 2017 will give very early signals as to what to expect.
DR: Finally, how do you see the Fed responding for 2017? After this December 2016 rate hike, where is Yellen looking?
Nomi Prins: On December 16 of last year, the financial headlines swirled that four quarter point increases would be on the horizon for 2016.  Instead, the reality was that we had one.  This time, they are saying even less.  The signaled expectation from the Fed is that three rate moves are to be anticipated.
Technically speaking, there is no reason to trust anything that they say.  After getting one rate hike from a Fed that forecast four moves, it is clear that nothing from the Fed is known.  It shows that Yellen and those running the Fed are not really sure of anything.
Regards,
Craig Wilson, @craig_wilson7
for the Daily Reckoning
The post Nomi Prins on the World Financial System in 2017 appeared first on Daily Reckoning.
IMF head Christine Lagarde convicted in French negligence trial
Posted: 19 Dec 2016 08:30 AM PST
By Gaspard Sebag
Bloomberg News
Monday, December 19, 2016
Christine Lagarde today was convicted of negligence by a Paris court over her handling of a multimillion-euro dispute during her time as France's finance minister nearly a decade ago, raising questions about her role as head of the International Monetary Fund.
The 60-year-old managing director of the IMF won't face a fine or prison term, Judge Martine Ract-Madoux said. The judges on the Cour de Justice de la Republique, which specializes in ministerial misconduct, said that Lagarde should have done more to overturn a 285 million-euro ($300 million) payout to a businessman in an arbitration case.
The trial has been an ongoing distraction to Lagarde's duties at the IMF, which was on the front lines of the effort to combat the global financial crisis and provides billions of dollars in loans to countries at risk of default. The Washington-based institution said after the ruling that it would meet shortly to consider the verdict. ...
... For the remainder of the report:
https://www.bloomberg.com/news/articles/2016-12-19/imf-head-lagarde-conv...

---
ADVERTISEMENT
Market Analyst Fabrice Taylor Expects K92 Shares to Rise
as Company Commences Gold Production and Gains Cash Flow
Interviewed on Business News Network in Canada, market analyst and financial letter writer Fabrice Taylor said shares of K92 Mining (TSXV:KNT) are likely to rise, even amid declining gold prices, because the company has begun producing gold at its mine in Papua New Guinea:
http://www.bnn.ca/video/fabrice-taylor-discusses-k92-mining~1008356
Taylor cited the company's announcement here:
http://www.k92mining.com/2016/11/6114/

---

Help keep GATA going
GATA is a civil rights and educational organization based in the United States and tax-exempt under the U.S. Internal Revenue Code. Its e-mail dispatches are free, and you can subscribe at:
To contribute to GATA, please visit:
Digital currency sales take off, but with no regulation, questions abound
Posted: 19 Dec 2016 08:23 AM PST
By Gertrude Chavez-Dreyfuss
Reuters
Monday, December 19, 2016
NEW YORK -- A small but rapidly growing number of digital technology start-ups is raising cash by creating and selling their own currencies in offerings that bypass banks or venture capital firms as intermediaries and are outside the reach of financial regulators.
Investors are being drawn in on hopes that such "initial coin offerings" will match or exceed the performance of the first digital currency, bitcoin.
For the sellers, the appeal of selling their own currencies, or tokens, to raise cash is enormous. There is no paperwork as would be required for a public securities sale.
But the lack of regulatory oversight is raising red flags among some market experts and financial technology lawyers, some of whom even question the legality of the tokens. ...
... For the remainder of the report:
http://www.reuters.com/article/us-usa-fintech-blockchain-idUSKBN14817F

---
ADVERTISEMENT
Sandspring Resources Commences 2016 Exploration Campaign
Company Announcement
August 17, 2016
Sandspring Resources Ltd. (TSX VENTURE:SSP, US OTC: SSPXF) is pleased to announce commencement of the 2016 exploration campaign at its Toroparu Gold Project in Guyana, South America.
In 2015 the company completed a 3,700-meter diamond drilling program on the promising Sona Hill Prospect, located 5 kilometers southeast of the main Toroparu deposit. Sona Hill is the easternmost gold anomaly in a cluster of 10 gold features located within a 20-by-7-kilometer hydrothermal alteration halo around Toroparu. Drilling at Sona Hill in 2012 and in 2015 intercepted high-grade mineralization in both saprolite and bedrock, and confirmed the continuity and grade potential of the Sona Hill mineralization.
For the remainder of the announcement and highlights of the 2015 drill program:
https://finance.yahoo.com/news/sandspring-resources-commences-2016-explo...

---

Help keep GATA going
GATA is a civil rights and educational organization based in the United States and tax-exempt under the U.S. Internal Revenue Code. Its e-mail dispatches are free, and you can subscribe at:
To contribute to GATA, please visit:
Chinese Yuan's Day of Reckoning
Posted: 19 Dec 2016 07:42 AM PST
China's economy and markets have been defying the laws of economics since 2009. Amid a worldwide financial crisis during that year, they managed to grow their economy by 8.7%. But that growth was fueled by a $586 billion dollar government stimulus package, which was followed by an additional $20 trillion dollars in new construction spending over the next seven years. China's economy became the envy of the world as the economy expanded through the edict of government to build massive cities that were mostly vacant. In fact, estimates are that 52 million homes in China are currently vacant and 90% of those empty units were purchased for investment purposes.
Here's Why Every Mall is Doomed
Posted: 19 Dec 2016 07:09 AM PST
This post Here's Why Every Mall is Doomed appeared first on Daily Reckoning.
A nasty retreat in retail stocks is threatening to steal your Christmas gains…
The great retail comeback is beginning to look shaky just weeks after posting a huge post-election breakout. Some of the biggest names in the sector are now starting to roll over.
If you're stuck in any of these plays, you'll have to act fast. If the breakdown we're seeing is the real deal, it's more proof that shopping malls are dying much faster than anyone anticipated. As the collapse accelerates, it threatens to shake the entire retail sector to its core…
Let's face facts—retail hasn't exactly been one of the friendliest investments of 2016. Heck, even one of the smartest investors in the world lost a pile of cash on a mall stock this year…
I'm talking about Greenlight Capital's David Einhorn. Dave's a billionaire—and he didn't acquire his cash stash by accident. His fund has returned nearly 17% annually to investors since its inception in 1996.
But Einhorn's having another rough year. His fund took a big stake in struggling retailer Macy's (NYSE:M) in late 2015 only to watch shares implode nearly 30% before ditching the position altogether just six months later.
Sure, Macy's was burning piles of cash and closing stores left and right. The former peddler of Donald J. Trump branded shirts and ties just couldn't compete with the Amazon juggernaut. But the chain looked like it was getting its act together earlier this year. Shares started recovering as the company cut costs and closed underperforming stores.
Despite these improvements, the entire sector is suddenly falling apart.
The S&P Retail Index ETF (NYSE:XRT) hit the skids about midway through last year. But after bottoming out in February, XRT slowly started to get its act together. That's when a post-election rally offered a shot of adrenaline to the beaten-down mall stocks. A mid-November surged helped power the retail ETF to gains of nearly 18% in a little less than a month. By early December, this group of stocks was flirting with new 52-week highs.
But after last weeks' drubbing, it's clear these stocks partied a little too hard after Trump's win. Here comes the hangover…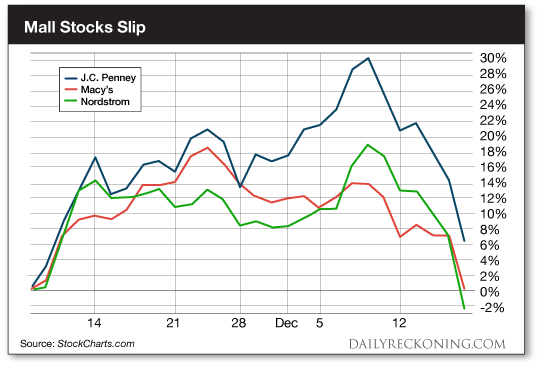 All the major mall anchors are coughing up their November gains at an alarming rate. Nordstrom Inc. (NYSE:JWN) took the biggest hit Friday, dropping nearly 9% after a JP Morgan downgrade. Macy's and JC Penney followed suit, each dropping 7% to finish out the trading week. The post-election retail rally is all but cooked…
The analyst note on the Nordstrom downgrade pulls no punches. Costs are too high. Online shopping is only cannibalizing brick-and-mortar sales. And store traffic is at its worst levels since 1972.
It gets worse…
The slow-motion collapse of the traditional retailers is starting to pick up steam. As this story continues to unfold, the retail sector is becoming a wasteland. Jeff Bezos and his army of same-day Amazon delivery drivers have gutted every brick and mortar store in their path. Derelict shopping malls dot the country. It's not a pretty picture.
We've attempted to play the most recent bounce in retail this month without much success. Out main strategy was to seek out the discounters and specialty boutiques to survive trading in the brick-and-mortar space. After all, these are the shops that can offer something shoppers wouldn't find online.
But even this move has been a total bust.
Steer clear of the retail space for now. You never know where Amazon will strike next…
Sincerely,
Greg Guenthner
for The Daily Reckoning
The post Here's Why Every Mall is Doomed appeared first on Daily Reckoning.
Breaking News And Best Of The Web
Posted: 19 Dec 2016 01:37 AM PST
US stocks, interest rates, dollar at recent and/or record highs. Worries about valuation are spreading. US housing starts plunge as higher mortgage rates begin to bite. Italian banks restructuring and raising capital as government begins bail-out. Gold and silver recover slightly from post-Fed decline. The "fake news"/Russian hacking debate intensifies.   Best Of The Web […]
The post Breaking News And Best Of The Web appeared first on DollarCollapse.com.
The War on Cash and Then on Gold
Posted: 19 Dec 2016 12:00 AM PST
Technical analyst Clive Maund says liquidity issues with banks could lead to restrictions on cash and precious metals.
Posted: 18 Dec 2016 04:01 PM PST
Chinese Rush to Open US Dollar Forex Accounts: More Capital Controls Coming
Posted: 18 Dec 2016 04:00 PM PST
Jack Chan: This Past Week in Gold
Posted: 17 Dec 2016 12:00 AM PST
You are subscribed to email updates from Save Your ASSets First.
To stop receiving these emails, you may unsubscribe now.
Email delivery powered by Google
Google Inc., 1600 Amphitheatre Parkway, Mountain View, CA 94043, United States