---
Gold And Silver – Qrtly, Monthly Charts. Last Weekly Commentary
Posted: 02 Oct 2016 12:18 AM PDT
This will be our last weekly commentary on the markets. What we know for certain is that the globalists have a stranglehold on the markets, and more importantly, a stranglehold on all Western nations to the point where life has become a theater of the absurd, negatively and without an end in sight. We have been leaning in this direction for some time. Time off at the end of August, when access to a computer and news was limited to an hour a day, and we chose to use only a small portion of the allotted time, drove home the point, or more appropriately the pointlessness of what is going on all around the world.
Why PUTIN is the TRAITOR of the NEW WORLD ORDER!!?? (2016 DOLLAR COLLAPSE and tension on SYR!)
Posted: 01 Oct 2016 08:00 PM PDT
90 Days Later: Still No Signs Of Brexit 'Doom & Gloom'
Posted: 01 Oct 2016 07:05 PM PDT
For the first half of the year, we were warned early and often by authorities that the Brexit vote could be a calamity for the ages.
For example, the IMF claimed that a "Leave" result would threaten to "cause severe damage", while Standard and Poor's said that it would "paralyze" investment in the UK.
But, as Visual Capitalist's Jeff Desjardins notes, it turns out that the real Brexit casualty isn't the UK economy – instead it is the reputation of the many professional economists who wrongly predicted doom and gloom as the likely aftermath.
THE STORY SO FAR
Today's chart looks at the three months before and after the Brexit vote, which took place on June 23, 2016.
The two charts tracked are the GBP/EUR and the FTSE 100. The former is the price of the British pound in terms of euros, and the latter is a major stock index that includes the largest companies listed in London, such as Barclays, Glencore, HSBC, Royal Dutch Shell, or Sainsbury's.
As expected, both markets have seen some action in the aftermath of the vote to leave. The pound has depreciated in terms of euros, but it is still higher now than it was from 2009-2011 in the post-crisis period. Against the ultra-strong USD, the pound is at decade-lows – but many other currencies are in similar territory as well.
The FTSE 100 is another story. It's relatively close to all-time highs – and even despite the fears of a potential collapse of Deutsche Bank, it's climbed over 12% since the initial Brexit slump.
In both cases, the action was partly underscored by the Bank of England, which announced a new stimulus program (QE) after its August meeting, while cutting rates from 0.5% to 0.25%.
OTHER INDICATORS
While there's been movement in the currency and equity markets, other economic indicators have been status quo or better for the UK so far.
Retail sales beat in July and August, and unemployment remains at 11-year lows. Purchasing manager indices dropped temporarily, but jumped back up.
The economists that predicted that the sky was falling? They've been forced to revise growth expectations back up, at least on a short-term basis. It's been dubbed the "Brexit Bounce" by The Spectator, a conservative magazine based in London.
While there is likely still going to be some long-term fallout from the Brexit decision, many "experts" blew it on this one.
MUST SEE CHARTS: The U.S. Govt. Financial Disaster vs. Gold & Silver
Posted: 01 Oct 2016 06:30 PM PDT
by Steve St. Angelo, SRSRocco Report: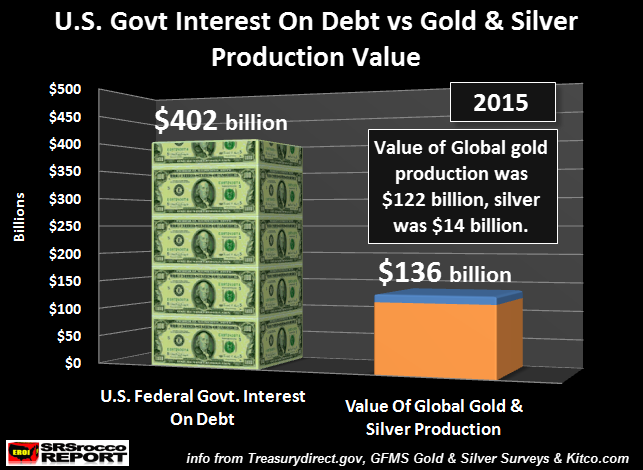 The financial disaster taking place at the U.S. Government costs one heck of a lot of gold and silver. I doubt many precious metals investors understand the tremendous amount of gold and silver it takes to service the U.S. debt or supplement the massive budget deficits.
I was actually quite surprised by the results when I compared the calculations. In 2015, the U.S. Federal Government paid $402 billion just to service the interest on its debt. This figure can be found at TreasuryDirect.gov. According to the Federal Reserve Q1 2016 Statistical Release, the U.S. Federal Government spent a total of $4.02 trillion in 2015. Thus, the interest on U.S. debt consumed 10% of the total budget.
While this is not much of a surprise to most precious metals investors, when we compare it to the total value of global gold and silver production, it most certainly is: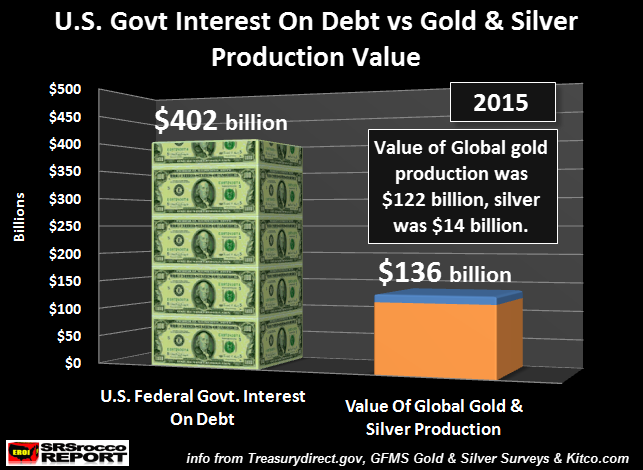 If we multiply the total global gold and silver production in 2015 by the average spot price (of each metal), the total market value of these two precious metals was $136 billion.
NOTE: Actually I used $1,200 for gold even though the average spot price in 2015 was $1,160. Furthermore, I rounded up the price of silver to $16 even though the average spot price was $15.68.
Regardless, the total value of global gold production in 2015 was $122 billion while the total value of silver was $14 billion. Which means, the U.S. Federal Govt. could purchase three times the global gold and silver production in 2015, just to pay the interest on its debt.
Just think about that for a minute. The U.S. Govt finance cost of its debt in 2015 would be able to purchase three years worth of global gold and silver production.
Let's look at it another way. Total global gold production in 2015 was 101.5 million oz (Moz), while total global silver production was 877 Moz (source: GFMS Gold & Silver Surveys). Thus, the U.S. Federal Govt interest expense in 2015 would purchase 304.5 Moz of gold and 2.6 billion oz of silver.
Let's put that into perspective. The United States Treasury supposedly holds 8,133 metric tons of gold in its official reserves (again, supposedly… haha). However, 304.5 Moz of gold equals 9,471 metric tons.
What the U.S. Federal Govt paid in just its interest expense of $402 billion in 2015, would purchase more gold in one year than its entire official gold reserves. Furthermore, we can't forget about the 2.6 billion oz of silver.
According to my article, How High Will Silver's Value Increase Compared To Gold During The Next Crash?, I stated that the total available amount of physical silver investment in the world (bars and coins) was estimated to be 2.5 billion oz. So, if we include the additional 2.6 billion oz of silver that could also be purchased (along with the all the gold), the U.S. Federal Govt could acquire more silver in one year, greater than the total amount of silver investment stockpiles in the world.
This reveals just how insane the financial situation in the U.S. Federal Government has become.
And… its even much worse when we include the U.S. annual budget deficits.
Take A Look At How Much Gold & Silver The U.S. Federal Govt. Deficits Could Purchase

According to the Federal Reserve Q1 2016 Statistical Report, the U.S. Govt budget deficits totaled $4.2 trillion for the past five years (2011 to 2015). If we applied the same gold and silver values for 2015 to the five-year U.S. budget deficits, this would be the result: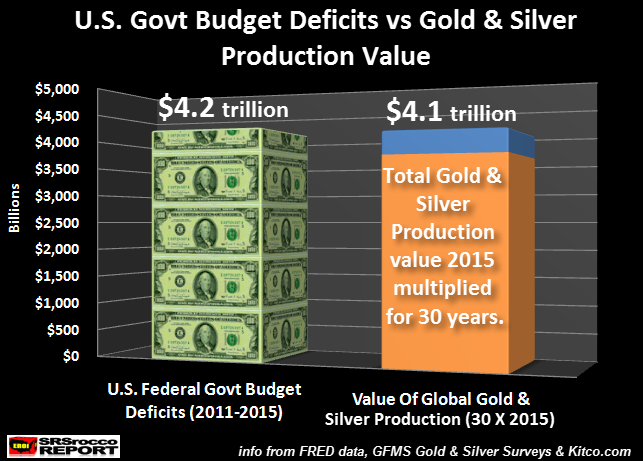 The total amount of U.S. Govt budget deficits from 2011-2015 would purchase 30 times the amount of global gold and silver production in 2015. This turns out to be one hell of a lot of gold and silver. How much?
Gold & Silver Production To Equal $4.2 trillion in Budget Deficits
Gold Production of 101.5 Moz X 30 = 3.04 billion oz

Silver Production of 877 Moz X 30 = 26.3 billion oz
Just to supplement the U.S. Govt deficits for the past five years, the amount would purchase 3 billion oz of gold and 26.3 billion oz of silver. For example, here is my chart from my article linked above on the total official physical global gold and silver investment stockpiles: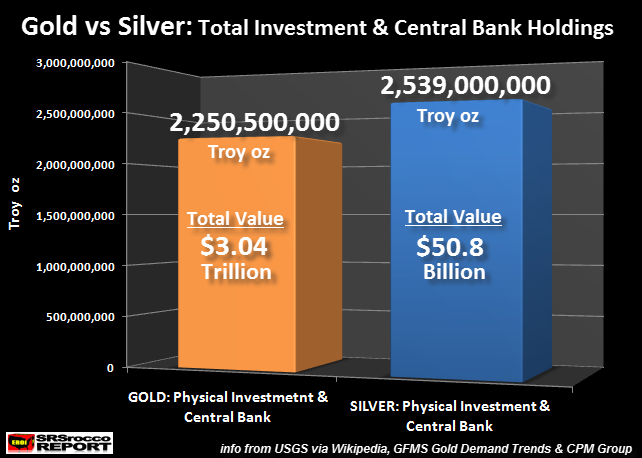 According to the official sources, the world has approximately $3.04 trillion in Central Bank and private gold investment stockpiles in the world. The value of the 2.25 billion oz of gold is higher in this chart than shown in my figures above because this was based on a much higher gold price of $1,350 this year than the figure of $1,200 for 2015.
Regardless, the total sum of U.S. Budget deficits over the past five years could purchase ALL of the known Central Bank and private gold investment holdings in the world. Furthermore, we also have to include the additional 26.3 billion oz of silver the U.S. Govt could purchase from the remaining funds to supplement its 2011-2015 budget deficits.
This Silver To Gold Ratio is INSANE & UNSUSTAINABLE — Keith Neumeyer
Posted: 01 Oct 2016 06:25 PM PDT
by SGT, SGT Report.com:
Keith Neumeyer, President and CEO of First Majestic Silver Corp and Chairman of First Mining Finance returns to SGT report to discuss the roller coaster ride for mining stocks in 2016 and where he think we are in the current correction. Always a straight shooter, Keith bemoans the current 70 to 1 silver to gold ratio asserting that it is no longer sustainable as miners like First Majestic are only yielding only 9 ounces of silver for every one ounce of physical gold they find, and that real world ratio is continuing to decline.
Russia Warns US Military "Aggression" In Syria Would Lead To "Terrible, Tectonic" Consequences
Posted: 01 Oct 2016 06:22 PM PDT
As the drums of war beat louder, following last week's ultimatum by John Kerry that the US is contemplating a direct military intervention in Syria, including potentially sending US troops on the ground in the war-torn country for the first time, on Saturday Russia warned the US against carrying out any attacks on Syrian government forces, saying it would have repercussions across the Middle East. The warning comes as government forces captured a hill on the edge of the northern city of Aleppo under the cover of airstrikes.
It has been one year since Russia became officially involved in the Syria conflict. The maps below show zones controlled by different forces before Russian intervention in September 2015 and the situation now.
The most obvious change is the collapse in territory controlled by ISIS, as well as the expansion of territories held by the Syrian regime, which is the biggest concern to the US, whose main directive in the Syrian conflict has been less to crush the Islamic State as to minimize the influence and territory of Assad's regime, replacing it with US-controlled "rebel" forces.
And with Russia - long an ally to Assad as the conflict is fundamentally about Gazprom's loss of influence over Europe should a Qatari natgas pipelines cross under Syria - having become the biggest hurdle to US strategy in Syria, there has been a notable shift in the US strategy, with western media slamming Russia's "barbarous airstrikes", focusing on recent bombing strikes of the rebel-held city of Aleppo, a repeat of US strategy from the summer of 2013 when a doctored "chemical attack" YouTube video was used to justify US presence in the local conflict.
In response, Russian news agencies quoted Foreign Ministry spokeswoman Maria Zakharova as saying that "U.S. aggression" against the Syrian army "will lead to terrible, tectonic consequences not only on the territory of this country but also in the region on the whole."
She said regime change in Syria would create a vacuum that would be "quickly filled" by "terrorists of all stripes."
As AP notes, U.S.-Russian tensions over Syria have escalated since the breakdown of a cease-fire last month, with each side blaming the other for its failure. Syrian government forces backed by Russian warplanes have launched a major onslaught on rebel-held parts of the northern city of Aleppo. Syrian troops pushed ahead in their offensive in Aleppo on Saturday capturing the strategic Um al-Shuqeef hill near the Palestinian refugee camp of Handarat that government forces captured from rebels earlier this week, according to state TV. The hill is on the northern edge of the Aleppo, Syria's largest city and former commercial center.
The al Qaeda-linked Ahrar al-Sham militant group said rebels regained control Saturday of several positions they lost in Aleppo in the Bustan al-Basha neighborhood. State media said 13 people were wounded when rebels shelled the central government-held neighborhood of Midan.
Adding to the propaganda, airstrikes on Aleppo struck a hospital in the eastern rebel-held neighborhood of Sakhour putting it out of service, according to the Britain-based Syrian Observatory for Human Rights, the same entity that created the infamous doctored 2013 YouTube video.
Opposition activist Ahmad Alkhatib described the hospital, known as M10, as one of the largest in Aleppo. He posted photographs on his Twitter account showing the damage including beds covered with dust, a hole in its roof and debris covering the street outside. A doctor at the hospital told the Aleppo Media Center, an activist collective, that thousands of people were treated in the compound in the past adding that two people were killed in Saturday's airstrikes and several were wounded.
"A real catastrophe will hit medical institutions in Aleppo if the direct shelling continues to target hospitals and clinics," said the doctor whose name was not given. He said the whole hospital is out of service.
In a familiar repeat of the 2013 media narrative, opposition activists have blamed the President Bashar Assad's forces and Russia for airstrikes that hit Civil Defense units and clinics in the city where eastern rebel-held neighborhoods are besieged by government forces and pro-government militiamen.
On Friday, the international medical humanitarian organization Doctors Without Borders demanded that the Syrian government and its allies "halt the indiscriminate bombing that has killed and wounded hundreds of civilians_many of them children," over the past week in Aleppo. "Bombs are raining from Syria-led coalition planes and the whole of east Aleppo has become a giant kill box," said Xisco Villalonga, director of operations for the group. "The Syrian government must stop the indiscriminate bombing, and Russia as an indispensable political and military ally of Syria has the responsibility to exert the pressure to stop this."
It said from Sept. 21 to 26, hospitals still functioning in Aleppo reported receiving more than 822 wounded, including at least 221 children, and more than 278 dead bodies_including 96 children_according to the Directorate of Health in east Aleppo. Sweden's Foreign Minister Margot Wallstrom criticized attacks on civilian targets writing on her Twitter account: "Unacceptable to bomb civilians, children and hospitals in #Aleppo. No humanity. Assad & Russia moving further away from peace."
Surprisingly, few if any in the western media have complained about the thousands of civilians killed by the US-backed Saudi bombing campaign in neighboring Yemen.
* * *
Meanwhile, according to leaked closed-door comments by US Secretary of State John Kerry it was revealed how angry John Kerry is about being unable to topple President Bashar Assad by military means.
The New York Times previously acquired a taped conversation between the US
Secretary of State and two dozen Syrian civilians from education,
rescue, and medical groups working in rebel-held areas, during a meeting
on the sidelines of the United Nations General Assembly. "I've argued for use of force. I stood up. I'm the guy who stood up and announced we're going to attack Assad because of the weapons, and then you know things evolved into a different process," the Secretary of State said in the tape.
He told the civilians that "you have nobody more frustrated than we are (the US)" that the Syrian issue is now being solved diplomatically. Kerry also warned the Syrians, who sounded clearly unhappy with Washington's contribution, that attempts to intervene militarily or provide more support to the rebels by the US may have a reverse effect.
"The problem is that, you know, you get, quote, 'enforcers' in there and then everybody ups the ante, right? Russia puts in more, Iran puts in more; Hezbollah is there more and Nusra is more; and Saudi Arabia and Turkey put all their surrogate money in, and you all are destroyed," the diplomat explained.
* * *
We expect the Syrian proxy war to continue to escalate until either Assad is removed, which however seems unlikely with Russian, and now Chinese backing, behind the Syrian president, or until the proxy war escalates into a full blown world war once US troops are sent to Syria, a move which would be met by a proportional response by Russia and, perhaps, China.
Minnesota Commissioner Slams Obamacare As "Unfair & Unsustainable" As Rates Soar
Posted: 01 Oct 2016 05:55 PM PDT
Soaring Obamacare premiums and declining insurer participation rates in exchanges across the country have been a frequent topic of conversation for us (see "Obamacare On "Verge Of Collapse" As Premiums Set To Soar Again In 2017" and "Stunning Maps Depict Collapse Of Obamacare "Coverage" In 2017"). So it should come as no surprise to our readers that Minnesota has just announced that 2017 Obamacare rates have been set and are expected to soar nearly 60% on average.
Minnesota Commerce Commissioner Mike Rothman posted a letter to the state's website saying that the state succeeded in preserving the exchanges for one more year by agreeing to massive rate hikes but warned they are on the "verge of collapse." The letter goes on to describe Minnesota's healthcare rate environment as "unsustainable and unfair" and notes that "middle-class Minnesotans" are being "crushed by the heavy burden of these costs."
"Last year at this time when rates were announced, I said there was a serious need for reform in Minnesota's individual market," said Rothman. "This year the need for reform is now without any doubt even more serious and urgent."

He highlighted Governor Mark Dayton's recent decision to reconvene his Task Force on Health Care Financing to make recommendations to ensure that Minnesota consumers have access to affordable, high-quality health insurance options in the individual market.

"While federal tax credits will help make monthly premiums more affordable for many Minnesotans, these rising insurance rates are both unsustainable and unfair," said Rothman. "Middle-class Minnesotans in particular are being crushed by the heavy burden of these costs. There is a clear and urgent need for reform to protect Minnesota consumers who purchase their own health insurance."

Rothman said the reconvened Task Force on Health Care Financing should consider any and all feasible reforms. Above all, he said, it should offer recommendations that can be implemented in the next year to improve market stability and rates for 2018.

"We received over 50 public comments from Minnesotans as part of our rate review," said Rothman. "I personally read each one. They told heartbreaking stories about how hard-working families are struggling with very tough, painful choices because of these skyrocketing costs. They say that health insurance is unaffordable, and they're right. This calls for immediate reforms as everyone's top priority."
Rate increases ranges from 50% - 67% across Minnesota.
But rates aren't the only issue. Most of the insurers participating in Minnesota's individual market also plan to limit enrollment, to avoid taking on too many customers from other insurers that have pulled out of the exchanges all together.
However, Minnesota's individual market also faces unique challenges because of a disproportionate concentration of individuals with serious medical conditions whose high claims costs must be absorbed by a relatively small risk pool, pushing up rates for everyone in the individual market.

Citing ongoing financial losses, Blue Cross and Blue Shield of Minnesota announced in late June that it is leaving the individual market, except for its Blue Plus HMO affiliate. The company's decision affects approximately 103,000 Minnesotans, or about 40 percent of the state's total individual market.

Rothman said that, following Blue Cross's announcement, Minnesota's individual market for 2017 was on the verge of collapse as all of the other insurers indicated that they were also prepared to exit this market.

"The Commerce Department pursued every option within its power to avert a collapse this year," said Rothman. "We succeeded in saving the market for 2017, with only Blue Cross leaving. But the rates insurers are charging will increase significantly to address their expected costs and the loss of federal reinsurance support. In addition, each insurer except for Blue Plus will limit its total 2017 enrollment to manage its financial or provider network capacity to absorb the many current Blue Cross consumers who will be shopping for new plans."
Meanwhile, per Bloomberg, Jonathan Gold, a spokesman for the U.S. Department of Health and Human Services, peddled the same ole fiction that "headline rate changes do not reflect what these consumers actually pay because tax credits reduce the cost of coverage below the sticker price"...which is true for everyone except the overwhelming majority of people that don't receive subsidies.
Guess we have to add Minnesota's Insurance Commissioner to Obama's every growing list of "fiction peddlers."
China SDR and the End of the World
Posted: 01 Oct 2016 05:30 PM PDT
by James Corbett, The International Forecaster:
I'm not sure how to break this to you, but it appears the world is ending this weekend. Or at least that's what you'd believe if you were reading certain corners of the internet.
As you may have already heard, the UN is "taking over the internet" this weekend. But as you've also heard if you follow The Corbett Report, that is a complete misrepresentation of what is really happening. Worse, hyperbole about a "UN takeover" of the internet obscures the real solution to ICANN and the centralized DNS system.
But there's another "end-of-the-world" event taking place this weekend that you might not have picked up on: the SDR.
That's right, the IMF is formally adding the Chinese renminbi (aka the yuan) to their "Special Drawing Rights" basket on Saturday, October 1st. The move boosts the yuan to the status of global reserve currency alongside its basketmates, the pound, the euro, the yen and the dollar. At 10.92% it will be the third highest-weighted currency in the basket, behind the euro at 30.93% and the dollar at 41.73%.
For those who missed my previous reporting on the SDR and the significance of the yuan's inclusion, here's the primer:
The SDR is not a currency, but a potential claim on dollars, yen, euros, pounds, and now yuan.
It is issued by the IMF and held (and traded) as a "supplementary reserve asset" by central banks.
There are 204 billion SDRs outstanding, equivalent to $285 billion or about 2.5% of total global reserves.
The upshot of the SDR is that it provides liquidity for global transaction settlement in times when dollars and gold are in scarce supply. Inclusion of a currency in the SDR basket means that there is a built-in demand for that currency as central banks tend to match their currency holdings to the basket's weighting, meaning that central bankers around the world are now (or have already) adjusted their aggregate holdings of yuan to about 10.92% of their portfolio. With $11.6 trillion of reserves globally, that equates to over $1 trillion worth of yuan being held in central bank coffers around the world.
More than that, the move is expected to boost investment in the yuan from both FX reserve managers and global portfolio managers. The FX inflows alone have been estimated at as much as $3 trillion in the coming years, with onshore bond buying accounting for a further $1 trillion of expected foreign investment.
Some outlets are hailing this as the largest transformation of the global monetary order since WWII.
Others, like Barron's Chi Lo, are putting a wet blanket on that hyperbole. In an article titled "What Now for China as Renminbi Joins SDR?" Lo argues that much of the re-balancing of global reserve portfolios have already been completed, and would have only amounted to an extra $31 billion of demand for the yuan, a drop in the bucket of global liquidity. And global investors, he says, will not base their investment decisions on China's SDR status, but on China's commitment to the structural reforms which have been put on the back burner since the yuan achieved SDR status:
"SDR inclusion of the renminbi is not relevant to the portfolio re-balancing decision (to increase the weighting of renminbi-denominated assets) of international investors. The impact on global portfolio decisions will come from foreign investors' assessment of China's fundamental outlook, the opening of China's capital account and the decision by international index providers, such as MSCI, to include Chinese A-shares in their global indices."
So who's right? Is this the dawn of a new monetary order, or a blip of little significance in and of itself? Well, in a weird way perhaps both are right. China's SDR inclusion is not going to turn the world upside-down overnight. And if it was just the inclusion of one more currency in the global reserve basket (and only 10% of the basket at that), then this wouldn't be significant all by itself. But while you were sleeping another development came along that gestures to the potentially transformative nature of this SDR makeover.
In August the World Bank announced to relatively little fanfare an historic bond issue: The International Bank for Reconstruction and Development (IRBD), one of the five institutions under the World Bank umbrella, would sell nearly $3 billion worth of SDR-denominated bonds. And the currency of settlement? The Chinese yuan.
SDR-denominated bonds were flirted with decades ago, most recently in 1981, but the market for SDR bonds did not develop and they soon went the way of the dodo. But now, lo and behold, 35 years later they're making a comeback, right in the heart of the world's rising economic dragon.
The issue, which went ahead on August 31st, serves a mundane, practical purpose: It allows Chinese investors to dabble in different currency assets without investing abroad. But at the same time it serves a much bigger purpose. In attempting to revive the long-dormant SDR bond market, China is tacitly backing the SDR as a reserve currency unto itself. Not a mere claim that is redeemed in other currencies by central banks in need of liquidity, but a settlement currency in and of itself.
As I explained before, this has been Beijing's plan since the 2009 crisis: not to have the yuan replace the dollar as the global reserve, but to have the SDR replace the dollar. This allows the Chinese government to avoid having to liberalize the yuan or ease up on its rigid capital controls, but still gives it a seat at the table in a new global monetary order while simultaneously dethroning their best frenemy, the US. It's win-win-win for China and, more importantly, win-win-win for the globalist oligarchs who want to bring in a New World Order of globally-administered currency.
As The Epoch Times puts it: "This is the first step toward one world currency."
And guess what? It's been in the planning for years, openly discussed in the central bankers' white papers, decision documents and conferences, but conveniently unreported by the media and completely overlooked by the public.
According To JPMorgan, This Is The Biggest Risk Facing Deutsche Bank At This Point
Posted: 01 Oct 2016 04:45 PM PDT
Deutsche Bank uncertainties were added to concerns about BoJ tapering spooking global equity markets over the past week. Widespread press reports about Deutsche Bank clients and counterparties reducing their financial exposure to the bank, including their derivatives exposures, alarmed market participants.
At the same time, JPMorgan warns, the amount borrowed by euro-area banks at the ECB's USD auction this week spiked to $6.35bn raising fears about funding.
We need to wait for next week to see if this elevated dollar borrowing by euro area banks persists beyond quarter-end. But as JPMorgan's Nikolaos Panigirtoglou warns,
In our opinion it is not so much funding issues but rather derivatives exposures that more likely to trouble markets going forward if Deutsche Bank concerns continue.

This is especially true if these concerns propagate into a confidence crisis inducing more rapid unwinding of derivative contracts.
As we have detailed previously, Deutsche has the world's largest so-called derivatives book—its portfolio of financial contracts based on the value of other assets. As Forbes notes, it peaked at over $75 trillion, about 20 times German GDP, but had shrunk to around $46 trillion by the end of last year. That's around 12% of the total notional value of derivatives outstanding worldwide ($384 trillion), according to the Bank for International Settlements.
As a reminder, if the liquidity run forces DB to start unwinding or being forced to novate derivatives, it could get ugly.
JPMorgan bank analysts confirm the size of DB's book, and note that BIS data provide an alternative but indirect way to gauge the size of derivatives exposures. According to BIS data the exposure of foreign banks to German counterparties via derivatives contracts stood at $312bn as of Q1 2016.
This is significantly lower than the $408bn reported for Q1 2015, suggesting that foreign banks have cut their derivatives exposures to German counterparties significantly over the past year.
But at $312bn this exposure is still large even if Deutsche Bank accounts for a fraction of this.
* * *
As we have noted previously, Deutsche Bank has around EUR 560 billion in deposits (for now) and so theoretically they do not have a funding issue.
But as we have seen numerous times in Deutsche's history above (and obviously in many other banks), when the runs start, they seldom end peacefully (and funding sources disappear very quickly). Which perhaps explains this from Germany's financial regulator...
The head of Germany's financial regulator warned on Saturday of "negative perceptions that could lead to downward spirals on the markets", at the end of a week that saw Deutsche Bank shares battered by a crisis of confidence.

In an interview with the Frankfurter Allgemeine Sonntagszeitung newspaper due to be published on Sunday, the head of Bafin, Felix Hufeld, declined to comment specifically on Deutsche Bank, Germany's biggest bank.

But he said: "I warn people not to let themselves be drawn into a kind of downward spiral of negative perception. Not every nervous market reaction is backed by objective facts."
Roughly translated as "Don't panic, we have everything contained." Now where have we heard that before?
One thing is clear: Friday's desperate rumor-driven ramp saved some of that deposit base as going out at record lows into a long-weekend would not have been confidence-inspiring for the deposit base.
But, as JPMorgan makes clear - and we have reiterated numerous times, it's the derivatives that matter and as the chart below shows, counterparties were piling into protection en masse - even as speculators bid up the stock on a quiet Friday afternoon.
Remember how many times investors were told that Lehman had no liquidity or funding problems?
However, as noted previously, Lehman failed as a result of its corporate counterparties suffocating the bank by rapidly pulling out their liquidity lines. Lehman, however, was lucky in that it didn't have retail depositors: it's death would have likely come far faster as the capital panic was not limited to institutions but also included a retail depositor bank run.
This is where Deutsche Bank is very different from Lehman, and far riskier, because if the institutional panic spreads to the depositor base, which as the table below shows amounts to some €566 billion in total, and €307 billion in retail deposits...
... then all bets are off.
Which is why it is so critical for Angela Merkel to halt the plunging stock price, an indicator DB's retail clients, simplistically (and not erroneously) now equate with the bank's viability, and the lower the price drops, the faster they will pull their deposits, the quicker DB's liquidity hits zero, the faster the self-fulfilling prophecy of Deutsche Bank's death is confirmed.
Which ultimately means that DB really has four options: raise capital (sell equity, convert CoCos, which may results in an even bigger drop in the stock price due to dilution or concerns the liquidity raise may not be sufficient), approach the ECB for a liquidity bridge (this may also backfire as counterparties scramble to flee a central bank-backstopped institution), appeal for a state bailout (Merkel has so far said "Nein") or implement a bail-in, eliminating billions in unsecured claims (and deposits) and leading to a full-blown systemic bank run as depositors everywhere rush to withdraw their savings, leading to a collapse of the fractional reserve banking mode (in which there is only 10 cents in physical deliverable cash for every dollar in depositor claims).
Which of the four choices Deutsche Bank will pick should become clear in the coming days. Until it does, it will keep the market on edge and quite volatile, because as Jeff Gundlach explained today, a "do nothing" scenario is no longer an option for CEO John Cryan as the market will keep pushing the price of DB lower until it either fails, or is bailed out.
Deutsche Bank Destruction to Lead World Collapse? + 2016 Election Predictions
Posted: 01 Oct 2016 02:29 PM PDT
Our friend, economic researcher and conspiracy buff Joe, known by his youtube channel jsnip4 and site RealistNews.net discusses 2016 election predictions, realistic world crash scenarios and if this is all elite planned. His belief is that timelines are misleading as the trigger will be pulled only...
[[ This is a content summary only. Visit http://www.newsbooze.com or http://www.figanews.com for full links, other content, and more! ]]
The United States Imports Record Amounts of Gold from Switzerland! Meanwhile, Deutsche Bank Faces Total Collapse - Nathan McDonald
Posted: 01 Oct 2016 10:00 AM PDT
Sprott Money
John Stossel - The Value of Free Speech
Posted: 01 Oct 2016 09:35 AM PDT
 John interviews Collin Lehmann, the winner of the "Censored in America" essay contest. Lehmann's essay makes an eloquent advocacy for maximum First Amendment freedom. The Financial Armageddon Economic Collapse Blog tracks trends and forecasts , futurists , visionaries , free...
[[ This is a content summary only. Visit http://www.newsbooze.com or http://www.figanews.com for full links, other content, and more! ]]
LBMA said to enter talks with Autilla, Boat on gold platform
Posted: 01 Oct 2016 08:27 AM PDT
By Eddie Van Der Walt
Bloomberg News
Friday, September 30. 2016
The London Bullion Market Association has started negotiations with two financial technology firms to create a trading platform for precious metals, according to two people with direct knowledge of the matter.
The partnership between Autilla Ltd. and Boat Services Ltd. was selected for further talks, according to the people, who asked not to be identified because the discussions are private. ...
The LBMA, which represents London's gold market, is seeking to modernize the world's largest gold-trading hub, an over-the-counter system that clears more than $5 trillion a year. Regulators are pushing for more transparency and tighter controls. In other cities, such as New York, transactions take place on an exchange.
The LBMA's platform would mean deals between two parties can be posted and stored in a database, and eventually lead to the publication of a forward price curve. ...
... For the remainder of the report:
http://www.bloomberg.com/news/articles/2016-09-30/lbma-said-to-enter-tal...

---
ADVERTISEMENT
K92 Mining Shows What 'Fast Track' Really Means
Company Announcement
By Kevin Silva
Market One Media, Vancouver, British Columbia, Canada
via Business News Network, Toronto
September 18, 2016
"Fast-tracking" is an overused phrase in the mining sector. But K92 Mining Inc. (TSX.V: KNT) has demonstrated exactly what that concept means.
Less than four months after going public on May 25, the company has completed additional financings totaling $18.5 million. It also refurbished the mill and mine facilities with enhanced processing capacity and has two drills turning onsite. With all this accomplished, production looks to be just days away.
"The technical team on site has done an excellent job with the production restart, and we are on schedule and on budget," says Director and Chief Operating Officer John Lewins. "With that focus on track, and with the enhanced financial flexibility resulting from our recent financings, we are now looking to target a resource expansion that we believe exists."
K92 has under-promised and over-delivered. ...
... For the remainder of the announcement:
http://www.bnn.ca/k92-shows-what-fast-track-really-means-1.568196

---

Join GATA here:
New Orleans Investment Conference
Wednesday-Saturday, October 26-29, 2016
Hilton New Orleans Riverside
New Orleans, Louisiana
http://neworleansconference.com/wp-content/uploads/2016/08/2016_Powell.h...
Help GATA by purchasing DVDs of GATA's London conference in August 2011 or GATA's Dawson City conference in August 2006:
http://www.goldrush21.com/order.html
Or by purchasing a colorful poster of GATA's full-page ad in The Wall Street Journal on January 31, 2009:
Help keep GATA going
GATA is a civil rights and educational organization based in the United States and tax-exempt under the U.S. Internal Revenue Code. Its e-mail dispatches are free, and you can subscribe at:
To contribute to GATA, please visit:
Why the Deep State Is Dumping Hillary
Posted: 01 Oct 2016 07:00 AM PDT
This post Why the Deep State Is Dumping Hillary appeared first on Daily Reckoning.
Are you open to a somewhat unconventional perspective on this election? If so, read on. If you're absolutely confident you know all there is to know about this election (good vs evil, Democrat vs. Republican, etc.), well then let's compare notes in five years and see which context provided more insight into the future.
In the context presented here, the personalities of the two candidates matter less than their perceived role in the changing of the Imperial Order.
Let's start with a quick overview of the relationships between each political party and the Deep State–the unelected power centers of the central government that continue on regardless of which person or party is in elected office.
Liberal Democrats have always been uneasy bedfellows with the Deep State.
Republican President Eisenhower had the political and military gravitas to put limits on the Military-Industrial wing of the Deep State, so much so that Democratic candidate John F. Kennedy claimed the U.S. had fallen behind the U.S.S.R. militarily in the 1960 presidential election (the infamous "missile gap").
Kennedy entered office as a foreign policy hawk who was going to out-hawk the cautious Republicans. A brush with C.I.A. cowboys (the failed Bay of Pigs invasion of Cuba) and a taste of Imperial meddling in distant, poorly understood lands (Vietnam) increased his interest in peace and reduced his enthusiasm for foreign adventurism.
Lyndon Johnson, perhaps the most activist liberal Democrat of the era, was not about to be out-hawked by the Republicans, and so he followed an expansive Imperial agenda into the 10-year quagmire of Vietnam.
Liberal Democrats could find no easy political ground between the pressure to out-hawk the Republicans and the demands of an expansive Cold War Deep State. Both liberal Democratic presidents between 1965 and 1980, Johnson and Jimmy Carter, were one-term presidents, undermined by military/foreign entanglements.
The disastrous defeat in Vietnam of expansive Imperial ambitions (nation-building, etc.) led to an era of retrenchment and consolidation. Other than "splendid little wars" in Grenada and Panama and supporting proxies such as the Contras, the 1980s were years not of Imperial expansion but of Cold war diplomacy.
Republican President Reagan was also given a free hand to be a peacemaker, overseeing the fatal erosion of the U.S.S.R. and the end of the long, costly Cold War. President Bush Senior was a cautious Cold War leader, careful not to alienate the post-U.S.S.R. Russians and wary of over-reach and quagmires even in the new Unipolar world of unrivaled U.S. power.
The era's one hot war, Desert Storm, restored the sovereignty of Kuwait but left Saddam Hussein in control of Iraq. Bush and his inner circle (and the Deep State they represented) were mindful of the lessons of Vietnam: Imperial over-reach led to costly, drawn-out failures of nation-building in the name of exporting democracy.
Though it was poorly understood by the public, Desert Storm played to American military strengths: a high-intensity conflict with concentrated forces, maneuver warfare with heavy armor protected by absolute air superiority, aided by proximity to allied bases and aircraft carrier groups.
If you designed a war optimized to American military strengths, it would look much like Desert Storm. No wonder it was one of the most lopsided victories in history.
The end of the Cold War and victory in Iraq left the Republicans without their hawkish agenda and political raison d'etre, and Ross Perot's third-party movement in 1992 effectively delivered the presidency to Democrat Bill Clinton.
Clinton was blessed with a booming domestic economy and a peace dividend from the end of the Cold war. Though Clinton reportedly hankered for a great crisis he could exploit to burnish his place in the history books, alas none arose, and the 20th century ended with a decided absence of existential threats to the U.S. or even U.S. interests.
The incredible success of Desert Storm and the temptations of Unipolar Power birthed an expansionist, activist Imperial doctrine (neoconservatism) and a Deep State enthusiasm for flexing America's unrivaled power. What better place to put these doctrines into practice than Iraq, a thorn in the Imperial side since Desert Storm in 1991.
Alas, Bush Junior and his clique of doctrinaire neoconservatives had little grasp of the limits and trade-offs of military tactics and strategies, and they confused the optimization of Desert Storm with universal superiority in any and all conflicts.
But as veterans of Vietnam knew, low-intensity war with diffused, irregular combatants is quite a different situation. Add in the shifting politics of Sunni and Shia, tribal allegiances, failed states and a post-colonial pot of simmering resentments and rivalries, and you get Iraq and Afghanistan, two quagmires that have already exceeded the cost and duration of the Vietnam quagmire.
A decade after the collapse of the U.S.S.R. and 25 years after Vietnam, the Deep State was once again enamored of expansion, hot wars, conquest and nation-building. Fifteen years on, despite endless neocon PR and saber-rattling, the smarter and more adept elements of the Deep State have given up on expansion, hot wars, conquest and nation-building.
Even empires eventually taste the ashes of defeat when expansion and hubris-soaked ambitions lead to over-reach, over-extended military forces, and enemies who are not just undeterred but much stronger than when the over-confident expansion began.
In my view, the current era of U.S. history shares parallels with the Roman era of A.D. 9 and beyond, when a planned expansionist invasion of the Danube region in central Europe led to military defeats and insurgencies that took years of patient warfighting and diplomacy to quell.
Which brings us to Hillary Clinton and Donald Trump.
President Obama, nominally a liberal Democrat, has pursued an extension of the neocon Bush expansionism, with the key difference being Obama has relied more on proxies and drone strikes than on "boots on the ground." But the quagmires in Iraq and Afghanistan have not only persisted, they have expanded under Obama's watch into Syria and Libya.
War by drone and proxy is even more tempting than outright invasion, as American casualties are modest and the responsibilities for failure are (it is fervently hoped) easily sidestepped. Alas, fulfilling Imperial ambitions via proxies has its own set of limits and trade-offs; proxy wars only get the desired results in very specific circumstances.
The Democrats have out-hawked the Republicans for eight years, and the Deep State is in disarray. I have been writing about this for several years now. In March 2014, I wrote, for example:
When we speak of the Deep State, this ruling Elite is generally assumed to be monolithic: of one mind, so to speak, unified in worldview, strategy and goals.
In my view, this is an oversimplification of a constantly shifting battleground of paradigms and political power between a number of factions and alliances within the Deep State.
Even the Deep State only rules with the consent of the governed. The wiser elements of the Deep State recall how the Vietnam War split the nation in two and exacerbated social upheaval. These elements recognize America is tired of Imperial expansion, quagmires, proxy wars and doomed nation-building.
This exhaustion with over-reach shares many parallels with 1968 America.
In this long view of Imperial expansion, defeat and retrenchment, Hillary is holding down the status quo fort of failed expansionism and proxy wars. Her ability to out-hawk the Republicans is unquestioned, and that is one of her problems.
When the governed get tired of Imperial over-reach and expansion, they are willing to take chances just to get rid of the expansionist status quo. In this point in history, Hillary Clinton embodies the status quo. The differences in policy between her and the Obama administration are paper-thin: she is the status quo.
The governed are ready for a period of retrenchment, consolidation and diplomatic solutions to unwinnable conflicts, as imperfect as the peace might be to hawks.
For these reasons, the more adept elements of the Deep State have no choice but to dump Hillary. Empires fall not just from defeat in war with external enemies, but from the abandonment of expansionist Imperial burdens by the domestic populace.
Put another way: drones and proxies don't pay taxes.
Regards,
Charles Hugh Smith
for The Daily Reckoning
Ed. note: "A charmingly mordant take on the stock news of the day, accentuated by philosophical maunderings…" That's how one leading financial magazine described the free daily email edition of The Daily Reckoning. You'll find cutting-edge analysis from the complex worlds of finance, politics and culture. Presented in an entertaining style few can match. Click here now to sign up for FREE.
The post Why the Deep State Is Dumping Hillary appeared first on Daily Reckoning.
Deutsche, Paschi, Nomura staff charged over false accounts, market manipulation
Posted: 01 Oct 2016 06:34 AM PDT
By Sonia Sirletti and Sergio Di Pasquale
Bloomberg News
Saturday, October 1, 2016
Six current and former managers of Deutsche Bank AG -- including Michele Faissola, Michele Foresti, and Ivor Dunbar -- along with two former executives at Nomura Holdings Inc. and five at Banca Monte dei Paschi di Siena were charged in Milan for colluding to falsify the accounts of Italy's third-biggest bank and manipulate the market.
A judge approved a request by Milan prosecutors to try the bankers on charges involving two separate derivative transactions arranged with Nomura and Deutsche Bank, said a lawyer involved in the case who was in the courtroom today as the decision was announced. The international firms are also named as defendants in the indictment, as the Italian law provides for a direct liability of legal entities for certain crimes committed by their representatives. A trial is scheduled for Dec. 15. ...
... For the remainder of the report:
http://www.bloomberg.com/news/articles/2016-10-01/deutsche-bank-paschi-n...

---
ADVERTISEMENT
Sandspring Resources Commences 2016 Exploration Campaign
Company Announcement
August 17, 2016
Sandspring Resources Ltd. (TSX VENTURE:SSP, US OTC: SSPXF) is pleased to announce commencement of the 2016 exploration campaign at its Toroparu Gold Project in Guyana, South America.
In 2015 the company completed a 3,700-meter diamond drilling program on the promising Sona Hill Prospect, located 5 kilometers southeast of the main Toroparu deposit. Sona Hill is the easternmost gold anomaly in a cluster of 10 gold features located within a 20-by-7-kilometer hydrothermal alteration halo around Toroparu. Drilling at Sona Hill in 2012 and in 2015 intercepted high-grade mineralization in both saprolite and bedrock, and confirmed the continuity and grade potential of the Sona Hill mineralization.
For the remainder of the announcement and highlights of the 2015 drill program:
https://finance.yahoo.com/news/sandspring-resources-commences-2016-explo...
---

Join GATA here:
New Orleans Investment Conference
Wednesday-Saturday, October 26-29, 2016
Hilton New Orleans Riverside
New Orleans, Louisiana
http://neworleansconference.com/wp-content/uploads/2016/08/2016_Powell.h...
Help GATA by purchasing DVDs of GATA's London conference in August 2011 or GATA's Dawson City conference in August 2006:
http://www.goldrush21.com/order.html
Or by purchasing a colorful poster of GATA's full-page ad in The Wall Street Journal on January 31, 2009:
Help keep GATA going
GATA is a civil rights and educational organization based in the United States and tax-exempt under the U.S. Internal Revenue Code. Its e-mail dispatches are free, and you can subscribe at:
To contribute to GATA, please visit:
How Trump Can Win the U.S. Presidential Election After 1st Debate Meltdown
Posted: 01 Oct 2016 05:17 AM PDT
Trump lost the 1st debate, it was not even close and Trump's statements following the debate have not helped trigger any recovery as going on the offensive against for instance with his 'fat' remarks against a former Miss Universe that even had Trump backers grimacing or claiming winning in fictitious opinion polls has just resulted in a greater erosion of Trumps chances of winning as illustrated by the betting markets that have continued to trend in Clinton's direction all week.
Stocks, Bonds, Gold and Commodites - It's January 2013, With a Twist
Posted: 01 Oct 2016 04:43 AM PDT
The title was not meant as a play on words in reference to Operation Twist, but now that I think about it, maybe it should be. The Post-Twist financial world is far different than it was before the genius that is Ben Bernanke's 'bigger than yours or mine' brain concocted a maniacal plan that would "sanitize inflation" signals from the bond market and break the then highly elevated yield curve.* So, why is today like early 2013 and why is there a twist to that view? Because two indicators have come together to point to economic stability (at least) in the US, with the twist being that other indicators are pointing to a potential unchaining of inflation this time, unlike the 2013 time frame, which was in the grips of global deflation (and Goldilocks in the US).
Breaking News And Best Of The Web
Posted: 30 Sep 2016 05:37 PM PDT
US GDP revised slightly higher, consumer spending softens. OPEC agrees to output cut, oil price jumps. US stocks recover on calming words from Deutsche CEO. Commerzbank to cut 9,600 jobs, suspend dividend. Wells Fargo draws abuse for consumer fraud. China's debt crisis has gone from inevitable to imminent — but Japan is even scarier. Gold […]
The post Breaking News And Best Of The Web appeared first on DollarCollapse.com.
You are subscribed to email updates from Save Your ASSets First.
To stop receiving these emails, you may unsubscribe now.
Email delivery powered by Google
Google Inc., 1600 Amphitheatre Parkway, Mountain View, CA 94043, United States