---
US Dollar Set For Massive SmackdownÂ
Posted: 30 Jul 2016 11:21 PM PDT
The US Dollar Index price action has played out exactly as forecast in recent subscriber analysis. That analysis reduced the price expectation for the bear rally and the recent high of 97.62 was a bingo hit. Let's review the technicals beginning with the daily chart.
Gold & Gold Stocks Being Bought on All Dips By Big Money — Ronald Stoeferle
Posted: 30 Jul 2016 07:00 PM PDT
Turkey Surrounds, Blocks Access To NATO's Incirlik Airbase Amid Speculation Of Second Coup
Posted: 30 Jul 2016 06:47 PM PDT
While it is common knowledge by now that the failed and/or staged Turkish coup two weekends ago was nothing more than an excuse for Erdogan to concentrate even more power and eradicate all political and independent opposition, a story that has gotten less attention is the sudden, and acute deterioration in US-Turkish relations. This culminated two days ago when the Commander of US Central Command (CENTCOM) General Joseph Votel was forced to deny on the record having anything to do with the attempted coup in Turkey following pointed allegations from the very top in the local government that the US orchestrated last Friday's "coup", according to a statement released by the US military on Friday.
As Stars and Stripes reported late last week, the recent failed coup and jailing of military leaders in Turkey could impact U.S. operations there against the Islamic State group, Gen. Joseph Votel said Thursday at a security conference in Colorado. Votel said the coup attempt in Turkey two weeks ago left him "concerned" about how U.S. operations and personnel at Incirlik Air Base will be affected.

Army Gen. Joseph Votel, commander of U.S. Central Command
"Turkey of course …sits on an extraordinarily important seam between the central region and Europe," Votel said at the Aspen Security Forum. "It will have an impact on the operations we do along that very important seam. Obviously, we are very dependent on Turkey for basing of our resources…I am concerned it will impact the level of cooperation and collaboration that we have with Turkey."
Yeni Safak, a daily paper known for its loyal support of Erdogan, even reported retired Army Gen. John F. Campbell, former commander of NATO forces in Afghanistan, was the mastermind behind the attempted overthrow. However, the paper also reported White House Press Secretary Josh Earnest called the allegations against the general unsubstantiated.
Votel said Thursday that the United States was "continuing to work through some of the friction that continues to exist" following the failed coup. He did not elaborate.
The general did say some of the arrested Turkish officers worked with U.S. personnel to coordinate airstrikes against the Islamic State group. "Yes, I think some of them are in jail," Votel said of certain key Turkish military liaisons.
As a result of the coup attempt, U.S. air operations were temporarily suspended and the Turkish government cut power to Incirlik.
The diplomatic spat continued on Friday when comments made at an Erdogan's rally once again blasted Votel for criticizing Turkey's post-coup attempt purge saying "Who are you? Know your place." Erdogan went on to hint once more that the United States planned the failed government overthrow bid.
To this Votel again responded that "any reporting that I had anything to do with the recent unsuccessful coup attempt in Turkey is unfortunate and completely inaccurate," Votel said. He was responding to an interpretation of comments made at a think tank in Washington, DC by Turkey's President Recep Tayyip Erdogan accusing Votel of sympathizing with the coup plotters.
* * *
Meanwhile, Turkey's war of words against the US escalated on Friday, when Turkey's authoritarian despot Erdogan condemned the West for refusing to show solidarity with Ankara, accusing NATO 'allies' as being more concerned about the fate of coup supporters than the survival of Turkey are not friends of Ankara. Erdogan blasted the West for criticizing the massive purge of Turkey's military and other state institutions which has seen 60,000 people detained, removed or suspended over suspected links with the coup and for cancelling 50,000 civilian passports which many worry is but a prelude to an expansion of the reign of terror inside the country.
"The attitude of many countries and their officials over the coup attempt in Turkey is shameful in the name of democracy," Erdogan told hundreds of supporters at the presidential palace in Ankara.
"Any country and any leader who does not worry about the life of Turkish people and our democracy as much as they worry about the fate of coupists are not our friends," said Erdogan, who narrowly escaped capture and perhaps death on the night of the coup.
As Sputnik notes, the statements come in response to US National Intelligence Director James Clapper's statement on Thursday that the purges were harming the fight against Daesh in Syria and Iraq by stripping away key Turkish officers who had worked closely with the United States.
"My people know who is behind this scheme… they know who the superior intelligence behind it is, and with these statements you are revealing yourselves, you are giving yourselves away." The remarks come at a troubling time only one day after over 5,000 protesters yelling "death to the US" marched towards NATO's critical Incirlik Air Base which houses between 50 and 90 US tactical nuclear weapons before security officials successfully dispersed the raging demonstrators.
* * *
Which brings us to today, and the news that NATO's critical Incirlik Air Base was hours ago completely blocked off by Turkey, with all inputs and outputs to the Adana base having been closed according to Turkey's Hurriyet among rumors of yet another coup.
As the Turkish Minister for European Affairs, Omar Celik, tweeted moments ago, this is just a routine "safety inspection", although it has not stopped local papers from speculating that a a second Gulen-inspired coup attempt may be underway.
ADANA'day?m. ?ncirlik veya Adana'daki ba?ka yerle ilgili bir s?k?nt? yok. Genel güvenlik de?erlendirmesi de yapt?k. Herhangi bir sorun yok

— Ömer Çelik (@omerrcelik) July 30, 2016
Hurriyet has raised concern that the closing may be tied to an attempt by the Erdogan regime to prevent a second coup attempt.
Video: Situation outside #Incirlik airbase in #Turkey where police have closed entrances & exits pic.twitter.com/TBCvQ0KUx6

— Syria Ceasefire (@Syria_Ceasefire) July 30, 2016
Some 7,000 armed police with heavy vehicles have surrounded and blocked the Incirlik air base in Adana used by NATO forces, already restricted in the aftermath of a failed coup. Unconfirmed reports say troops were sent to deal with a new coup attempt.
Hurriyet reported earlier that Adana police had been tipped off about a new coup attempt, and forces were immediately alerted. The entrance to the base was closed off. Security forces armed with rifles and armored TOMA vehicles used by Turkish riot police could be seen at the site in photos taken by witnesses.
@Brasco_Aad These heavy dump trucks are being made ready to enter #Incirlik Air Base (are they trying to close it?) pic.twitter.com/UQlGAv5FsC

— Brasco_Aad (@Brasco_Aad) July 30, 2016
Some of radical islamist twitter users telling people to break into the base and kill everybody #Incirlik WARNING! pic.twitter.com/S5PXxGilUh

— osman istanbul (@dertliosman33) July 31, 2016
Indeed, the massive presence of armed police supported by heavy vehicles calls into question the Turkish government's official line that the lock down at the Incirlik base is merely a "safety inspection."?
#Tatvan derken#incirlik üssünde ola?anüstü hareketlilik.#PÖH giri? ç?k??lar? tutmu? tetikte bekliyor. pic.twitter.com/TSsqHW9Ydk

— Levent Tekin (@Levent_Tekin) July 30, 2016
Local media has focused on the base after the failed coup in Turkey occurred the night of July 15. Although the main scenes of the events were Istanbul and Ankara, Incirlik was shut down for a time by local authorities shortly after the putsch, and several Turkish soldiers from the base were deemed by Turkish officials to be involved in the overthrow attempt.
The lockdown at Incirlik follows a massive wave of protests on Thursday when pro-Erdogan nationalists took to the streets yelling "death to the US" and called for the immediate closure of the Incirlik base. Security personnel dispersed the protesters before they were able to make it to the base.
And while there has been no official statement from US armed forces stationed at Incirlik at this time, the situation continues to develop in front of the air bBase as more heavy trucks have been dispatched to surround and block access to the critical military facility.
PHOTOS: Multiple municipal truck arrive at Incirlik base in #Turky - @nighttides pic.twitter.com/GVpq98D0sf

— Conflict News (@Conflicts) July 30, 2016
It is unclear if Erdogan is naive enough to think that he can out-bluff and out-bully the US and keep Incirlik hostage until he gets Gulen repatriated by Obama on a silver platter, a hostage "tit for tat" we first described two weeks ago. If so, one wonders, if he is doing so alone, or with the moral support of others, perhaps such recently prominent enemies of Erdogan as Vladimir Putin. Recall that just over a month ago Erdogan publicly apologized to Putin for downing the Russian Su-24 fighter jet in November, and called Putin "a friend."
Finally, at least as of this moment, it appears that theairspace around Incirlik is closed.
Looks like airspace around #Incirlik is closed pic.twitter.com/ZwaQPpHFNr

— Serbo-Canadian (@SerboCanada) July 31, 2016
WALL STREET FOR HILLARY: Clinton Got $48.5 MILLION in Hedge Fund Backing, Compared to Trump's $19,000
Posted: 30 Jul 2016 05:35 PM PDT
from FoxNews:
Hedge fund owners and employees have so far this election cycle contributed nearly $48.5 million for Hillary Clinton, compared to about $19,000 for Donald Trump, an indication that Wall Street is clearly backing the Democratic presidential nominee.
The total amount of such campaign contributions in 2016 is $122.7 million, twice as much as in the 2012 election cycle, according to a recent federal report analyzed by the nonpartisan Center for Responsive Politics.
With the Democratic and Republican parties' conventions over Thursday and the general election officially just a few days old, it's no surprise that pro-Clinton groups have received more hedge fund money.
For nearly six months, Clinton primary rival Sen. Bernie Sanders railed against "big money" in politics and vowed to "reform" Wall Street, with an insurgent campaign that relied largely on small-dollar contributions.
"With a political campaign finance system that is corrupt and increasingly controlled by billionaires and special interests, I fear very much that … government … is beginning to perish in the United States of America," Sanders said. "We cannot allow that to happen."
In addition, Clinton, a former secretary of state and New York senator, has clear ties to Wall Street, with critics repeatedly pointing out that in recent years she has received $21 million in speaking fees from Goldman Sachs and other Wall Street firms.
Collapsing U.S. GDP Growth Belies Rosey Forecasts -- Peter Schiff
Posted: 30 Jul 2016 05:07 PM PDT
The Schiff Report 7/30/2016Collapsing U.S. GDP Growth Belies Rosey Forecasts Peter Schiff is a well-known commentator appearing regularly on CNBC, TechTicker and FoxNews. He is often referred to as "Doctor Doom" because of his bearish outlook on the economy and the U.S. Dollar in...
[[ This is a content summary only. Visit http://www.newsbooze.com or http://www.figanews.com for full links, other content, and more! ]]
One Month Later - Brexit Post-Mortem
Posted: 30 Jul 2016 05:00 PM PDT
Submitted by Alasdair Macleod via GoldMoney.com,
It is a month after Britain's surprise vote to leave the EU.
A new Conservative Prime Minister and Chancellor are in place, both David Cameron and George Osborne having fallen on their swords. The third man in the losing triumvirate, Mark Carney, is still in office. Having taken a political stance in the pre-referendum debate, there can be little doubt the post-referendum fall in sterling was considerably greater than if he had kept on the side-lines.
This article takes to task the Treasury's estimates of the effect of Brexit on the British economy and Mr Carney's role in the affair, then assesses the actual consequences.
The Treasury's economic weapons of mass destruction
One of the Treasury's models predicted Brexit would cost each household £4,300 every year. There were at least two things wrong with this prediction. Firstly, it was presented as if it was a loss of net income, in other words the business profit or wages the average household would lose. The estimate was nothing of the sort, it was the Treasury's estimate of the loss of annual GDP divided by the number of households in the event of Brexit.
A second wrong should be equally obvious. No economic model is capable of predicting an outcome without subjective inputs. This is why garbage in produces garbage out. One can even goal-seek specific answers by feeding assumptions into an economic model. One suspects this was the principal basis of what the press dubbed "Project Fear". There were in fact two Treasury models, the first one described above, which is meant to predict the medium to long-term outlook, and a second which predicted an immediate recession in the event of Vote Leave. This is the Treasury's VAR model, which uses statistical analysis to measure and quantify the level of financial risk. The simple assumption, with no basis in evidence, was that Brexit would amount to an economic shock half as great as the 2008 financial crisis, lasting for two years.
Combining the output of these two models allowed George Osborne to threaten us with an economic disaster if we didn't vote Remain.
An important point that seems to be lost on government economists when making their forecasting assumptions is that we all quietly get on with making a living, very successfully if we are left alone by the state. It is when they interfere that things start to go wrong. Furthermore, they are convinced we need national trade deals, and appear incapable of understanding that we manage far better with free trade.
We will not digress into why using economic models can never work, and instead note the abuse of its own models by the Treasury. An independent paper by Professor David Blake published by the Cass Business School exposes the intent in the Treasury's approach, some of which is repeated here. He even goes so far as to describe the published outputs as "dodgy dossiers", a phrase that was first used to describe the cooked-up intelligence report that led us into the last Iraq war. It is as if the purpose of the Treasury's economic assessment was to threaten us, to pursue the Iraq analogy, with non-existent weapons of mass economic destruction.
Professor Blake's findings are damning, but they were less widely read in financial circles than the Treasury's forecasts, which were almost always accepted without question. The Treasury forecasts were then given added impetus when Mark Carney, the Governor of the Bank of England, took the unusual step of intervening in the political debate. Claiming that the Bank has a mandate to warn us of economic threats, he gave the Treasury forecasts unwarranted credibility in the foreign exchanges and international financial markets. Though he denied his intervention was political, there can be no doubting that that was the effect.
If Britain had voted to remain, there would have been no immediate problem for the markets. Ahead of the vote, sterling rallied in a growing belief the referendum would be in favour of Remain, because the bookies odds said so. Instead, the vote went the other way. There can be little doubt that the markets reacted as sharply as they did on the basis of the Treasury's dodgy dossiers, and the added spin given to them by Mark Carney's warnings.
In the event, sterling immediately fell over 10% and markets worldwide took a big knock. A run developed on UK commercial property funds. But the most important event, in terms of the Bank of England's mandate, was the collapse in sterling. It went against the Bank's stated mission, "to promote the good of the people of the United Kingdom by maintaining monetary and financial stability".
Mr Carney's intervention was a gamble for Remain that failed to pay off. The evidence that he was caught up in the Treasury's deceit has now emerged, with markets rapidly regaining their poise, apart from the sad exception of sterling. The Monetary Policy Committee on 14 July decided that no further economic stimulus is required. In other words, both markets and the Bank are now signalling that Brexit does not have the consequences for the UK threatened by the Treasury, beyond a 10% sterling devaluation. And that would most likely not have occurred if markets were not preconditioned to think Brexit would be a disaster for the currency.
If it wasn't for the sensitivity of his position, one would have expected Mr Carney to resign his post immediately. But the replacement of a central bank governor is never hurried, being managed in the interests of market stability. Therefore, Mr Carney might quietly arrange for his early departure.
What happened to the Brexit recession?
One month on from the referendum, there is no sign of the Treasury's VAR model predictions coming to fruition. London is teeming with people, many of them foreign visitors, spending money in cafes, restaurants, theatres and other visitor attractions. The country roads are still jammed with caravans, tractors, tourists and white vans trying in all their productive mayhem to go about their business. Wimpish businessmen dithering over trade and investment plans are being forced to get on with life, and it should be noted that turncoat Remain supporter, GSK, this week announced a massive new capital investment programme, one of several such announcements in recent days.
Our long-abandoned trade friends in the Commonwealth are keen to talk to us, as is China. And who can forget President Obama's threat when it came to negotiating T-TIP with the EU? Well, we are no longer at the back of the queue, but at the front of the line. Only this week, it was announced that our American friends will shortly be able to enjoy fine Welsh lamb and prime Scottish beef again for the first time in twenty years. Suddenly, everyone, with the exception of the EU, wants to engage with us about trade. A dyed-in-the-wool bureaucrat, Michel Barnier, has been appointed to represent the EU Commission in the Brexit divorce. He is expected to talk tough, and make any agreement with the UK hard-won. Good luck to him, when the opportunities and everyone's focus have moved elsewhere.
The scientific community, which warned us about the loss of important subsidies and cooperation on European research projects, is now backtracking. The President of the Royal Society, says he sees no evidence that European funding bodies are discriminating against British research projects. Professor Nick Donaldson, of University College, London, points out that "money is pouring into the research and development pipeline, but new products are not getting to market, because of the expense incurred through the EU's Active Implantable Medical Device Directive of 1990 (Letters, Daily Telegraph, 26 July). At last, we will be able to set our own rules in this and other matters for the benefit of ordinary people.
It must be extraordinary, to anyone who was sucked in by the Treasury's forecasts, how quickly markets and the economy have recovered their poise. Mainstream economists are confounded. Again, we must refer to Professor Blake's paper. He points out that Greenland's economy grew rapidly when it left the EU in 1985, and Ireland's trade with the UK was unchanged by her exit from the sterling area in 1979. Both these outcomes are wholly inconsistent with the Treasury's assumptions. He also points out that the model on the Treasury's input assumptions would predict the UK is better off joining the euro, and that every country in the world would be better in the EU. Tell that one to Donald Trump.
It is worth reading his key points, if not Professor Blake's paper in its entirety. That the Treasury got is so wrong tempts one to think there was another agenda, perhaps stuck in the mind-set of the post-war geopolitical establishment.
More immediately, there is the obvious problem that the EU's economic and financial trajectory is a genuine crisis, and that the whole project is liable to collapse. If so, Britain remaining in the EU would have amounted to a sacrifice of Britain's relatively free trade values in the interests of the EU's lemming-like self-destruction.
There is, of course, every possibility that the British government will screw Brexit up. The signals from the establishment are mixed, to say the least. The state-controlled Royal Bank of Scotland and its NatWest subsidiary is preparing its business customers for negative interest rates on their deposit accounts. Many economists, immersed in the beliefs of the neo-Cambridge school and with the Treasury's forecasts still uppermost in their minds, desire further cuts in interest rates and even helicopter money.
We cannot know what the future holds, particularly when governments attempt to micro-manage their citizens' economic activities. There is no evidence that compels us to argue that a British government and the Bank of England are much better than any other Western government and central bank. Nor can we assume that an escape from the EU is an escape from their group-think.
We do know with reasonable certainty, on the balance of firm evidence, that if the British or European economies tank, it will have nothing to do with Brexit.
This Canadian Oil 'Ghost Town' Is For Sale
Posted: 30 Jul 2016 04:55 PM PDT
In a shocking example of the fallout from low oil prices coupled with years of easy-money-enabled malinvestment, the collapse of Canada's non-conventional oil production has forced a northern Alberta oil-boom-town to be put up for auction including 1200 person accomodation work-camp, hospital, gym, running track, and waste-water treatment plant.
After years of invincibility, the inevitable happened:
And that has simply imploded the once 'boom' oil towns of Alberta.
After 55 years in business, Ritchie Brothers says "nothing really comes close in sheer physical size to this unique asset we're selling by private treaty: a 1,200-person workforce accommodation camp located approximately 50km north east of Peace River, AB, Canada."
Imagine a camp the size of a small town, but with all the modern conveniences of the big city: full-service dining, medical clinic, modern living suites, bar/lounge and recreation suites, and wireless internet.
This work camp has a fully-equipped gym complex complete with indoor running track, squash courts, weights and aerobic equipment. The camp even has its own power and utilities system. Take a virtual tour in the video below.
The ghost-town - constructed by ATCO in 2013 - is divided into several complexes, and three wings of living areas with 1,232 fully-furnished executive-style rooms.
Here's an overview of the camp layout.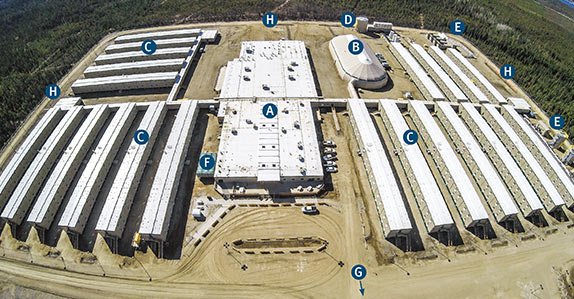 A. Core complex
B. Gym complex
C. Living areas
D. Waste water treatment plant
E. Backup generators, utilities and more
F. 3 external luggage storage containers
G. Security trailer (office/kitchen/toilet/storage-furnace room/septic tank)
H. Electrified fence line around the perimeter of the workforce accommodation
The fully-equipped, professional-grade kitchen and dining facility located in the core complex is capable of catering to all 1,232 hungry residents in just 1.5 hours!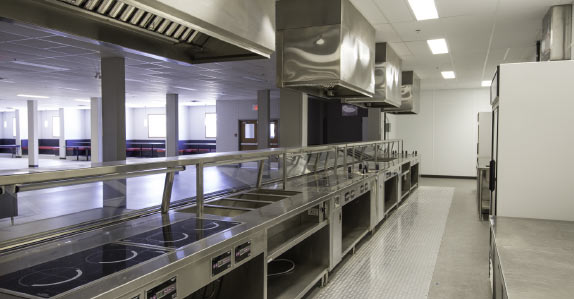 Plus, the complex also features a commissary, training areas & offices, medical bay & treatment rooms, the bar/lounge area, and rec room complete with golf simulators, pool tables, table tennis, foosball and more. "Roughing it" doesn't even cross your mind in this camp.
Some photo highlights of the camp.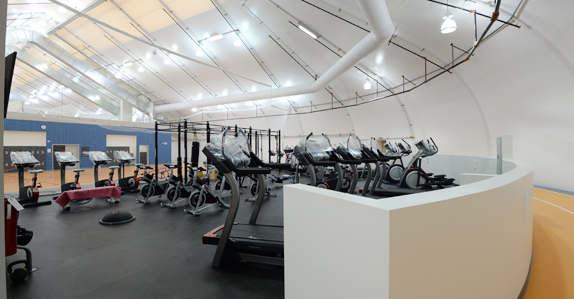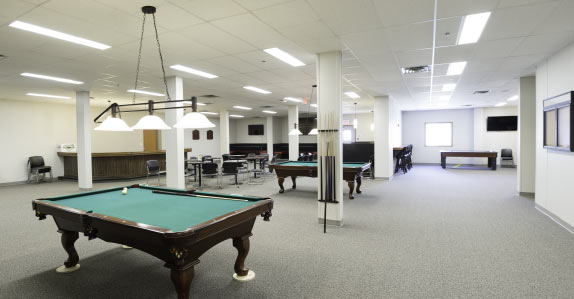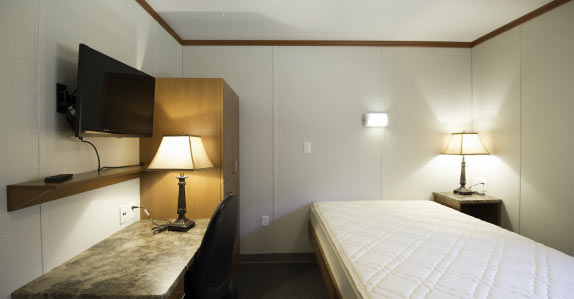 Camp available for immediate sale and removal.
* * *
Who would buy such a massive item? Any billionaire preppers out there looking for an all-in-one habitat for their own private army in the middle of Montana? Or perhaps Angela Merkel is looking for a self-contained refugee shelter?
Prophecy Update End Time Headlines 7/30/16
Posted: 30 Jul 2016 04:42 PM PDT
A fast paced highlight and review of the major news stories and headlines that relate to Bible Prophecy and the End Times…