---
Silver Wildcats - Part 3 - Futures Price And Fictional Data
Posted: 26 Jun 2016 02:18 AM PDT
Jeffrey Lewis
The People Voted To Exit The EU, Now The Central Bankers Will Attack – Episode 1006
Posted: 25 Jun 2016 06:00 PM PDT
from X22Report:
Durable Goods implode and it the worst the country has seen.Goods shipped around the country is continually declining which supports the declining economic indicators such as, retail,GDP and employment.UK voted to leave the EUR, David Cameron resigns. Many other EU nations are calling for the same type of referendum to leave the EU. Soft capital controls were put into effect in the UK. Markets are down and gold is up. More countries are now moving into the dollar. TTIP is now in trouble because the BREXIT.The EU, the EU nations and the UK Parliament still need to approve the exit. Now the corporate media and the central banks are talking recession or maybe even a depression. US and the moderate rebels are making the case that Russia is using incendiary weapons, pure propaganda. Russia pushing the UNSC to make Turkey respect Syria's sovereignty.The IS is pushing the idea that the EU is in chaos and now they will wage their attacks.
Foreign Exchange Transactions and the "Gold Exchange Standard."
Posted: 25 Jun 2016 05:00 PM PDT
New World Economics
The Real Brexit "Catastrophe": World's 400 Richest People Lose $127 Billion
Posted: 25 Jun 2016 04:51 PM PDT
For all the scaremongering and threats of an imminent financial apocalypse should Brexit win, including dire forecasts from the likes of George Soros, the Bank of England, David Cameron (who even invoked war), and even Jacob Rothschild, something "unexpected" happened yesterday: the UK was the best performing European market following the Brexit outcome.
This outcome was just as we expected three days ago for reasons that we penned in "Is Soros Wrong", where we said "in a world in which central banks rush to devalue their currency at any means necessary just to gain a modest competitive advantage in global trade wars, a GBP collapse is precisely what the BOE should want, if it means kickstarting the UK economy."
On Friday, the market started to price it in too, and in the process revealed that the biggest sovereign losers from Brexit will not be the UK but Europe.
Not only, though. Because as we noted yesterday in "Who Are The Biggest Losers From Brexit?", there is an even bigger loser than the EU: Britain and Europe's wealthiest people.
Britain's 15 wealthiest citizens had $5.5 billion erased from their collective fortune Friday after the country voted to leave the European Union. Britain's richest person, Gerald Grosvenor, led the decline with a loss of $1 billion, according to the Bloomberg Billionaires Index. He was followed by Topshop owner Philip Green, fellow land baron Charles Cadogan and Bruno Schroder, majority shareholder of money manager Schroders Plc.
It wasn't just Britain: as Bloomberg added overnight, the world's 400 richest people lost $127.4 billion Friday as global equity markets reeled from the news that British voters elected to leave the European Union. The billionaires lost 3.2 percent of their total net worth, bringing the combined sum to $3.9 trillion, according to the Bloomberg Billionaires Index. The biggest decline belonged to Europe's richest person, Amancio Ortega, who lost more than $6 billion, while nine others dropped more than $1 billion, including Bill Gates, Jeff Bezos and Gerald Cavendish Grosvenor, the wealthiest person in the U.K.
Ironically, it turns out that when George Soros threatened "The Brexit crash will make all of you poorer – be warned", what he really meant is "it will make me poorer." And yes, George, the people were warned which is why they voted the way they did.
TF Metals Report: Onward toward bullion bank collapse
Posted: 25 Jun 2016 04:51 PM PDT
7:48p ET Saturday, June 25, 2016
Dear Friend of GATA and Gold:
A lot of imaginary gold was created and sold Friday to keep the monetary metal's price under control in futures contracts on the New York Commodities Exchange following the United Kingdom's declaration of independence from the European Union, the TF Metals Report's Turd Ferguson writes today. Ferguson attributes it to the "doubling down" of investment banks on their short position in gold futures.
But your secretary/treasurer has to wonder whether the gold shorting was actually done by governments and central banks using the investment banks as fronts. After all, records on file at the U.S. Securities and Exchange Commission and Commodity Futures Trading Commission show that governments and central banks are surreptitiously trading all major U.S. futures contracts --
http://www.gata.org/node/14385
http://www.gata.org/node/14411
-- and the major central banks announced on the eve of the Brexit referendum that they were prepared to intervene in the markets as necessary to control prices:
http://www.gata.org/node/16518
Fortunately for governments and central banks, mainstream financial news organizations will never inquire into this, having made themselves crucial participants in market rigging.
Ferguson's analysis is headlined "Onward toward Bullion Bank Collapse" and it's posted at the TF Metals Report here:
http://www.tfmetalsreport.com/blog/7700/onward-toward-bullion-bank-colla...
CHRIS POWELL, Secretary/Treasurer
Gold Anti-Trust Action Committee Inc.
CPowell@GATA.org

---
ADVERTISEMENT
Direct Ownership and Storage of Precious Metals
Outside the Banking System in Zurich and Singapore
Goldbroker.com is a precious metals investment company that enables investors to own and store gold directly in their own name (no mutualized ownership) in Zurich and Singapore.
Goldbroker's clients are not exposed to any counterparty risks. They own gold and silver in their own names (the ownership certificate cites the name of the investor and serial number of his bars) and they have storage accounts opened in their own name as well. So Goldbroker.com's storage partner knows the exact identity of each investor. Goldbroker.com doesn't store in the name of its clients; rather, Goldbroker's clients store personally. All investors have direct access to their gold and silver bars.
Goldbroker.com was launched in 2011 so that investors would avoid any counterparty risk when investing in physical gold and silver.
Goldbroker.com is listed among GATA's recommended monetary metals dealers:
To invest or learn more, please visit:
---

Join GATA here:
New Orleans Investment Conference
Wednesday-Saturday, October 26-29, 2016
Hilton New Orleans Riverside
New Orleans, Louisiana
http://neworleansconference.com/
Support GATA by purchasing DVDs of GATA's London conference in August 2011 or GATA's Dawson City conference in August 2006:
http://www.goldrush21.com/order.html
Or a colorful poster of GATA's full-page ad in The Wall Street Journal on January 31, 2009:
http://gata.org/node/wallstreetjournal
Help keep GATA going
GATA is a civil rights and educational organization based in the United States and tax-exempt under the U.S. Internal Revenue Code. Its e-mail dispatches are free, and you can subscribe at:
To contribute to GATA, please visit:
George Soros: "Brexit Makes EU Disintegration Irreversible"
Posted: 25 Jun 2016 04:16 PM PDT
from Zero Hedge:
Just four days ago, the "big guns" when George Soros wrote a Guardian op-ed titled  "The Brexit crash will make all of you poorer – be warned" in which he said that "as opinion polls on the referendum result fluctuate, I want to offer a clear set of facts, based on my six decades of experience in financial markets, to help voters understand the very real consequences of a vote to leave the EU." We promptly countered that Soros' set of "facts" may be clouded by his far greater equity stake in interests around Europe, and the globe, which would be drastically impacted by not only a Brexit, but by a European Union which is suddenly on the rocks.  That's precisely what happened when, as we wrote earlier, the world's 400 richest people lost $127.4 billion Friday following the Brexit vote.
Soros was among them.
However, seemingly unhappy that his generously altruistic warning was so roundly ignored by the peasants, not to mention his sudden concern about the future of the European Union whose collapse would also destroy the premise behind Soros' Open Society globalization initiative, the 85-year-old billionaire has decided to follow up with a case of sour grapes and go all in, making another forecast – since his first one was so clearly rejected – and in what may end up roiling markets even more, moments ago Soros said in his second op-ed of the week that the "catastrophic scenario that many feared has materialized, making the disintegration of the EU practically irreversible.Britain eventually may or may not be relatively better off than other countries by leaving the EU, but its economy and people stand to suffer significantly in the short to medium term. The pound plunged to its lowest level in more than three decades immediately after the vote, and financial markets worldwide are likely to remain in turmoil as the long, complicated process of political and economic divorce from the EU is negotiated. The consequences for the real economy will be comparable only to the financial crisis of 2007-2008."
But while Soros is lukewarm on the UK, his forecast about Europe is far more dire.
But the implications for Europe could be far worse. Tensions among member states have reached a breaking point, not only over refugees, but also as a result of exceptional strains between creditor and debtor countries within the eurozone. At the same time, weakened leaders in France and Germany are now squarely focused on domestic problems. In Italy, a 10% fall in the stock market following the Brexit vote clearly signals the country's vulnerability to a full-blown banking crisis – which could well bring the populist Five Star Movement, which has just won the mayoralty in Rome, to power as early as next year.
Which, incidentally, is what we warned earlier today when saying that "it appears that the trade now is not to sell Sterling, at least not anymore: one should have done that at 1.50 when everyone was wrong about the Brexit outcome based on manipulated polls as we explained ahead of the event. If anything, sterling will rebound following the positive boost to the UK economy following the devaluation.It's the long EUR trade we would be far more concerned about here."
One can be absolutely confident that Soros, who as revealed earlier this month is short the markets, is very, very short the Euro.
This is what else he said in his Project Syndicate Op-Ed, excerpted:
Brexit and the Future of Europe

Britain, I believe, had the best of all possible deals with the European Union, being a member of the common market without belonging to the euro and having secured a number of other opt-outs from EU rules. And yet that was not enough to stop the United Kingdom's electorate from voting to leave. Why?
SILVER AFTER BITCOIN — Is SILVER The Next Chinese Momentum Play?
Posted: 25 Jun 2016 04:01 PM PDT
by John Lee, SRS Rocco: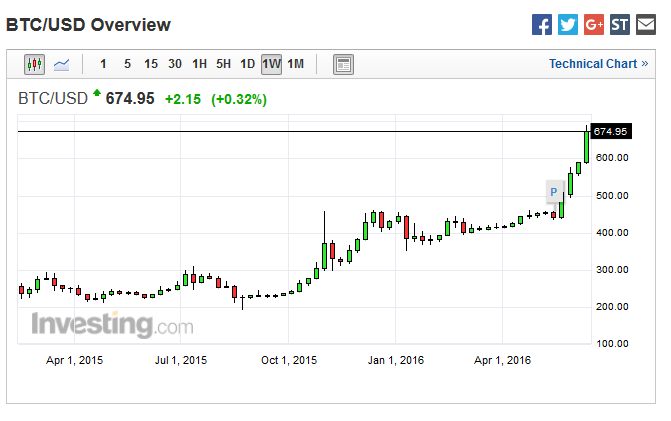 The roulette game all started in the fall of 2014, about 2 years after Chairman Xi Jinping came to power and became the General Secretary of the Communist Party of China.
Xi Jinping had campaigned for socialist economic reform, including a sweeping anti-corruption drive, cutting excess production capacity, tightening of housing credit, and clamping down on gaming in Macau. Public feedback was initially positive. However, largely as a result of those policies, Beijing was facing an increasingly grim economic growth outlook which was the worst in more than two decades*. Manufacturing activity in China slowed along with the global economy and the construction sector stagnated.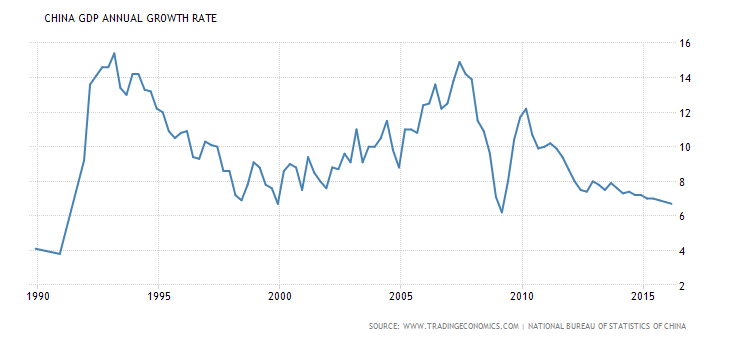 Source: Tradingeconomics.com
In late 2014, the light bulb came on – someone in the higher echelon ranks thought the stock market could be a penicillin to the economic and social malaise. The stock market is easily accessible to the public and can serve to fill/occupy their free time. A rising stock market provides a desirable savings vehicle (as opposed to low yield bonds), enables listed companies to raise capital and invest, while local governments and banks can piggy-back on the taxes and fees generated.
As reported by China Daily Asia on September 5, 2014:
"State-run media in China are trying to do something the securities industry has failed to accomplish for much of the past three years: get the world's biggest population to buy more stocks.
The Xinhua News Agency published at least eight articles this week advocating equity investing after similar stories appeared in the People's Daily newspaper and on State-run television last month, part of what Everbright Securities Co said is an increased government push to bolster the market. Authorities have also cut trading fees, made it cheaper to open new accounts and organized investor presentations by the biggest listed banks…"1
1 "State media campaign aimed at getting investors to buy equities" China Daily Asia (September 5, 2014).
The banks started margin lending, a practice that's has been prohibited since 2007.
The results speaks for themselves: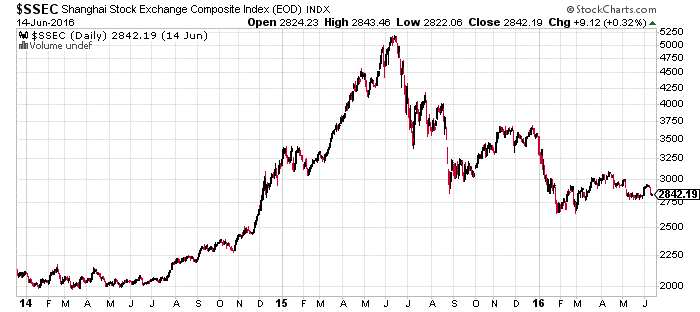 Source: Stockcharts.com
In the aftermath, the government stepped in and since July 2015 purchased stocks, banned short selling, banned IPOs, and restricted insider selling. All this did was drive speculators away from the market with volumes collapsing.
In early 2016, as Chinese economic growth and fundamentals continued to worsen, the government turned back to what had worked during the 2009 slump: aggressive lending in the property and infrastructure sectors in Q1 2016 provided relief, and revived the housing market and construction industry. It also sparked speculation away from the stock market and into the iron ore/steel commodity sector.
According to an article in the Financial Times:
"The commodities futures market is the most equal in China," avows one successful trader, before admitting to one drawback: "It's difficult to meet women."2
2 "Chinese retail investors throw global commodities into a tailspin" Financial Times (May 6, 2016).
Trading commodities in China — also the world's biggest consumer of raw materials — is relatively straightforward.
To set up a commodity futures brokerage account in China, an individual needs to provide their identity, in some cases with a video verification, and bank details. A deposit is needed to start trading.
Morgan Stanley estimates 160,000 new accounts were set up online between July 2015 and February 2016. Individual investors tend to be most active when markets are rising, and have dominated past rallies in Chinese futures.
The following chart speaks to Chinese investment speculation: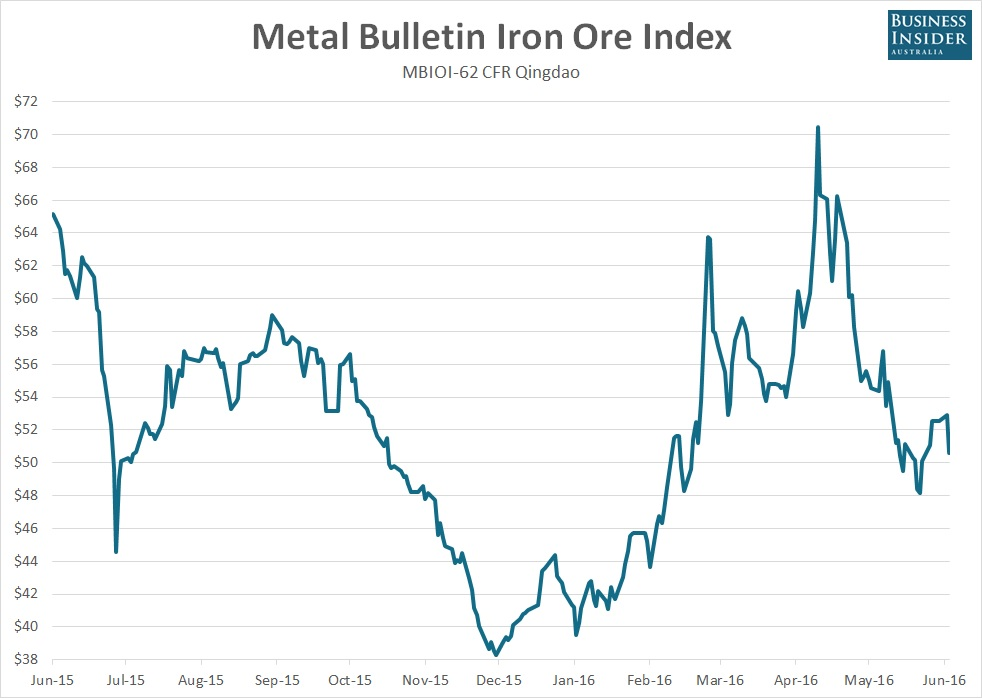 Source: Business Insider Australia
According to an article published by Business Insider Australia on March 9:
"…the equivalent of 977 million tonnes were traded on the Dalian exchange on Wednesday [March 9, 2016]. Not only was it the highest daily turnover on record, it exceeded the entire amount of physical iron ore imported by China over the past year.
In the 12 months to February, China imported a total of 962.6 million tonnes of an iron ore, the largest year-on-year total on record.
If the level of turnover recorded in Dalian futures on Wednesday was to be replicated over the course of any one typical trading year, it would equate to around 240 billion tonnes of ore."3
3 "China is becoming a nation of iron ore traders" Business Insider Australia (March 9, 2016).
The annual world production of iron ore was 3.22 billion tonnes in 2014, according to Wikipedia.
The government stepped in, and since May, has raised margin requirements, increased trading fees, and imposed daily movement limits. Excessive speculation on property and commodity sectors, and the undesired restarting of marginal iron ore mines and steel mills have prompted the government to issue a warning on the state-owned People's Daily which said, on Monday, May 9, that China's economic trend will be "L-shaped", rather than "U-shaped", and definitely not "V-shaped". Speculators promptly retreated from the iron ore market resulting in crashing price and volume.
The following chart shows where speculators turned to: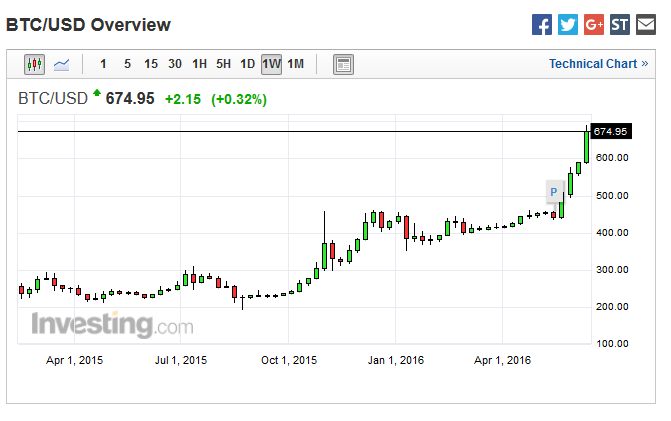 Source: Investing.com
According to a Bitcoin Magazine article dated May 31, 2016:
"Huobi and OKCoin, the two largest Chinese exchanges that now account for some 92 percent of Bitcoin global trading by (self-reported) volume, both reported almost double the usual trading volume over the past weekend. BTCC, China's third largest exchange, also reported a surge in bitcoin trading volume, setting a new record on its Pro Exchange."
Nigel Farage #Brexit speech : We want our Country back!
Posted: 25 Jun 2016 03:00 PM PDT
 watching the stock market, it seems that the remainer win!Really hope they will be surprised and lose their bets against the Brexit!!!!!!!!!!!! The Financial Armageddon Economic Collapse Blog tracks trends and forecasts , futurists , visionaries , free investigative journalists ,...
[[ This is a content summary only. Visit http://www.newsbooze.com or http://www.figanews.com for full links, other content, and more! ]]
Posted: 25 Jun 2016 02:23 PM PDT
  Jim Sinclair's Commentary Mr. Williams shares with us. - In the Context of Almost-Certain Heavy Central-Bank Interventions, Headline Market Volatility Largely Retrenched from Recent Hype that Brexit Would Lose - Yen and Gold Were Strongest Versus the Dollar Since 2014 - Real Median Household Income Tumbled Anew in May - Ex-Commercial Aircraft, Real Durable... Read more »
The post In The News Today appeared first on Jim Sinclair's Mineset.
LIVE Coverage of Brexit Fallout
Posted: 25 Jun 2016 02:00 PM PDT
U.K. voters cast ballots Thursday on whether the country should leave the European Union. Bloomberg TV brings you live coverage as the results come in and expert analysis on the market reaction. The Financial Armageddon Economic Collapse Blog tracks trends and forecasts , futurists ,...
[[ This is a content summary only. Visit http://www.newsbooze.com or http://www.figanews.com for full links, other content, and more! ]]
BREXIT Means Much Higher Gold/Silver Prices
Posted: 25 Jun 2016 01:30 PM PDT
by Dave Kranzler, Investment Research Dynamics:
The elitists' bid to rig the BREXIT referendum failed. Notwithstanding a continuous flow of propaganda sponsored by the elitist-controlled mainstream media showing that the Remain vote win, the public's voice in England prevailed.
As I suggested yesterday, the BREXIT pandemonium deflected the public's attention from the collapsing western economies. The most prominent sign of this is the Fed's unwillingness to raise interest rates just one-quarter of one percent. Today's durable goods report showed a 2.2% plunge in durable goods orders during May. A drop of .5% was expected. This 17 months in a row of year over year declines in "core" durable goods orders. Freight shipments represent the "pulse" of an economic system. The Cass Truck Transportation Index is in a literal free-fall.
The boost in the U.S. dollar vs. most global currencies will undermine any uptick in export activity that was preliminarily reported for June. The alleged 4.9% unemployment rate shoved down our throats by the Government and Janet Yellen is belied by the fact that the percentage of working-age people in the U.S. is at its lowest point since the late 1970's, a time when most households were still one-income in nature.
Perhaps most at stake for the elitists is the paper war on gold and silver that intensified when the metals threatened to go parabolic in 2011. But there is evidence that the paper rigging scheme is failing. To the extent that a BREXIT event undermines the euro, one of the collateral consequences for the elitists is that it will hasten the conversion of fiat currencies into physical metal.
But there's a problem. The most glaring evidence of this problem is the catastrophic issuance of Comex paper silver claims on a shrinking pile of physical silver in Comex vaults. Since January 20th there's been a stunning decline in reported Comex silver inventory.
Currently, the amount of paper silver contracts issued on the Comex represents over one billion ounces of silver. This is more than seven times the total amount of physical silver reported to be sitting in Comex vaults. It's 45 times more than the amount of "registered" (available to be delivered) silver on the Comex. It's 25% more than the annual global production of silver.
Posted: 25 Jun 2016 01:00 PM PDT
by Turd Ferguson, TF Metals Report:
With the Brexit vote results just hours away, what a great time to check in with independent trader, Greg Mannarino.
Over the course of this webinar, Greg shares plenty of wisdom. Included are his thoughts on:
Brexit and how he's positioned ahead of the news
Why and how to take emotion out of your trading
His feelings regarding silver and the holding of precious metal
The current state of the global financial system
His thoughts on crude oil, the mining shares and the best restaurant in Vegas.
It's going to be a long night and a volatile day tomorrow. In preparation, please be sure to give this audio a listen
TF
Click HERE to Listen
Ken O'Keefe - World Citizen Solution Update - June 25, 2016
Posted: 25 Jun 2016 12:00 PM PDT
Many people who have supported the world citizen solutions mission have eagerly awaited an update on the progress of the mission, this is Ken O'Keefe's response to them. The Financial Armageddon Economic Collapse Blog tracks trends and forecasts , futurists , visionaries , free...
[[ This is a content summary only. Visit http://www.newsbooze.com or http://www.figanews.com for full links, other content, and more! ]]
#BREXIT • DONALD TRUMP • #TAKECONTROL • GREAT BRITAIN NEWS !!
Posted: 25 Jun 2016 11:00 AM PDT
#BREXIT • DONALD TRUMP • #TAKECONTROL • GREAT BRITAIN NEWS !! The Financial Armageddon Economic Collapse Blog tracks trends and forecasts , futurists , visionaries , free investigative journalists , researchers , Whistelblowers , truthers and many more
[[ This is a content summary only. Visit http://www.newsbooze.com or http://www.figanews.com for full links, other content, and more! ]]
GERALD CELENTE - Specıal BREXIT Episode
Posted: 25 Jun 2016 10:30 AM PDT
Economic collapse and financial crisis is rising any moment. Getting informed about collapse and crisis may earn you, or prevent to lose money. Do you want to be informed with Max Keiser, Alex Jones, Gerald Celente, Peter Schiff, Marc Faber, Ron Paul,Jim Willie, V Economist, and many specialists...
[[ This is a content summary only. Visit http://www.newsbooze.com or http://www.figanews.com for full links, other content, and more! ]]
Peter Schiff Economic Collapse Not Only Possible But Inevitable In JUNE 2016
Posted: 25 Jun 2016 09:54 AM PDT
Peter Schiff is a well-known commentator appearing regularly on CNBC, TechTicker and FoxNews. He is often referred to as "Doctor Doom" because of his bearish outlook on the economy and the U.S. Dollar in particular. Peter was one of the first from within the professional investment field to call...
[[ This is a content summary only. Visit http://www.newsbooze.com or http://www.figanews.com for full links, other content, and more! ]]
Gold And Silver: Security, And BREXIT
Posted: 25 Jun 2016 09:44 AM PDT
We wrote the following article last Tuesday as a consequence of expanding on the key word "security" and what is its impact for most of us. Then BREXIT happened on Friday. Actually, BREXIT is all about security, concern about personal security for those who voted to get out of the elite spider trap called the EU. A few thoughts on that will be added following what was already prepared. What is one of the most important feelings one can have for him of her self, for one's family? In a word, security. Security that one is safe in their daily existence, from the time they leave home in the morning until the time they return at the end of the day, and all the time in between. Security that their loved ones are always safe. Security that their efforts for making a life for themselves, for the betterment of their family will not be taken away. Security that what one accumulates in the process of life will always be there.
Resistance Holding Gold Stocks after Brexit
Posted: 25 Jun 2016 09:23 AM PDT
What a last 24 hours for markets! At one point Gold was up $100/oz, S&P futures were limit down and the British Pound was down over 8%! The volatility has subsided, perhaps temporarily and Gold settled around $1320/oz with Silver settling below key resistance at $18. The miners predictably gapped up but the strength was sold. As miners remain below 2014 resistance we expect Gold to retest $1300/oz before moving higher.
Jim Willie Collapse Warning BREXIT Could DETONATE Deutsche Bank!
Posted: 25 Jun 2016 09:16 AM PDT
Jim Willie  CB Proprietor, GoldenJackass.com Editor, Hat Trick Letter The man behind the name Jim Willie has experience in three important fields of statistical practice in the 23 years following completion of a PhD in Statistics at Carnegie Mellon University. He spent time since 2001 in a private...
[[ This is a content summary only. Visit http://www.newsbooze.com or http://www.figanews.com for full links, other content, and more! ]]
Breaking News And Best Of The Web
Posted: 25 Jun 2016 08:00 AM PDT
UK Votes to leave EU, markets stunned. Stocks plunge worldwide, gold soars, volatility spikes, pound tanks. Gold COTs are "over the top." Central banks seem to be losing control of the narrative. Bitcoin jumps. Trump campaign in chaos while polls show dead heat in battleground states.   Best Of The Web The sky has not […]
The post Breaking News And Best Of The Web appeared first on DollarCollapse.com.
2014 Resistance Holding Gold Stocks after Brexit
Posted: 25 Jun 2016 07:00 AM PDT
The Daily Gold
Bill Holter: The Entire System is The Black Swan
Posted: 24 Jun 2016 12:47 PM PDT
Dear CIGAs, by Rory, The Daily Coin Bill Holter, JSMineset, stopped by to share his thoughts on the current state of the precious metals markets, pre-Brexit thoughts and the failing confidence in central banks the world over – specifically the Western central banks. There are two situations that are currently happening in the gold market... Read more »
The post Bill Holter: The Entire System is The Black Swan appeared first on Jim Sinclair's Mineset.
Gold, Silver And PM Stocks Summer Doldrums Risk
Posted: 24 Jun 2016 08:57 AM PDT
Gold's recent weakness has dampened bullish sentiment, but the entire precious-metals complex has actually enjoyed record early-summer strength. The summer doldrums have always been a vexing time for gold, silver, and the stocks of their miners. Without any recurring seasonal demand surges in June and July, sideways-to-lower drifts are common in this seasonally-weakest time before big autumn rallies. Traders' sentiment, their collective greed and fear, drives nearly all short-term price action. Most of the time, sentiment is heavily influenced by expectations. If gold rallies 5% in a month where traders expected 10% gains, disappointment and bearishness will flare. But if gold rallies that same 5% when the outlook was for no gains, traders will grow excited and bullish. Performance versus expectations colors reality.
Gold Price Breaking the 200 Week Moving Average
Posted: 24 Jun 2016 08:42 AM PDT
Gold is breaking through the 200 week moving average this morning. Don't forget the intermediate cycle is only on week 3. We should still have 12-15 weeks before the intermediate cycle tops.
You are subscribed to email updates from Save Your ASSets First.
To stop receiving these emails, you may unsubscribe now.
Email delivery powered by Google
Google Inc., 1600 Amphitheatre Parkway, Mountain View, CA 94043, United States