---
EBT Card Outage?: It Is 8 Days Into June And Many Americans Are STILL Waiting For Food Stamp Money
Posted: 10 Jun 2016 09:45 PM PDT
by Michael Snyder, The Economic Collapse Blog:
Widespread reports continue to pour in from all over the nation of "glitches" with the food stamp system. It is eight days into the month and large numbers of people still have not received their benefits, and in other instances it is being reported that EBT cards are simply not working correctly. So what in the world is going on here? On downdetector.com there are scores of reports of problems with the EBT system from people all over the nation. Could this simply be another example of government incompetence, or is something else at work here?
I had heard some rumblings about this over the past few days, but I had not really taken them seriously until I read an article from highly respected author Ray Gano…
It interesting over the weekend I got several emails telling me about cell phones being down, internet being down, and get this, EBT cards not working and having no money associated to them.

This is a concern because when the US Government has payment failures, then there is possibly something happening that the press is not telling you about.

Now, we know that computers have problems and that states, counties and cities run on computers. But what is interesting is that since the beginning of 2016, The US government has had over 2,700 reports on downdetector.com showing that they have been late loading the money onto these EBT cards.

Folks, we are now going on 8 days where the Government has not paid the EBT payments so that people have food.
So I went over to downdetector.com myself, and I was stunned to see that reports of EBT outages continue to pour in every hour. Here are just a few of the recent comments that have been left by people that are still waiting for their food stamp benefits for June…
Heidi Lynn: I was supposed to get mine on the 5th and still nothing. Even ebt NJ site says $0 as well as my EBT card says $0. I'm on disability. I forgot to add I tried calling NJ Board of Services and was on hold for over an hour. I had to hang up to take dog out, etc. Does anyone know what's going on yet?
Ann Wilson: Now that it's been a whole week since I was supposed to get my June benefits, and haven't, I'm planning on going to my Illinois FCRC office. I hope they will be able to fix this difficulty.
Jenn Johnson: I always get mine on time. I was due to get mine today June 7th and nothing. I am from kentucky. Why is there nothing on the news about this?
Jarrett Manhart: Havnt received mine either. They are never late. And my fone is off so i cant call em. Im on Wi-Fi down the street from me.
Sunny Nicole Jones: I haven't gotten mine either! I'm glad it's not just me though because then I would really be worried!
But when I went to confirm these widespread outages with articles from the mainstream media, I came up empty.
Either the mainstream media does not know what is going on yet, or it is being ignored.
If you have not gotten your EBT benefits for this month yet or you know someone that is in that position, please feel free to let me know. I want to get to the bottom of this. There are people all over the nation that are reporting problems with the food stamp system, but nobody seems to know exactly how widespread this issue is just yet.
Today there are well over 40 million Americans on food stamps, and a lot of them would start rioting tomorrow if you told them that their food stamp cards were being turned off permanently.
EBT cards are the modern equivalent of the bread lines of the 1930s. Instead of having to wait in long lines for food, the government just zaps money on to EBT cards each month, and those that are hurting are able to get something to eat.
But down in Venezuela, extremely long food lines are a daily reality for much of the population right now.  The following comes from the Daily Mail…
Venezuela was once South America's richest nation, but a fall in oil prices combined with other economic problems has led to desperate citizens taking drastic measures.

Nearly half of Venezuelans say they can no longer afford to eat three meals a day, according to a recent poll by the local firm Venebarometro. The poll surveyed 1,200 adults at their homes during the first week of April and had a margin of error of plus or minus of about two percentage points

Those who can, cross the border into Colombia to buy, bring back and then use or sell food and other basic commodities.
Could you imagine not being able to provide three meals a day for your family any longer?
#BILDERBERG GROUP Furious Work to STOP 'BREXIT' Meet in Dresden, 2016
Posted: 10 Jun 2016 08:30 PM PDT
The global gathering rumoured to decide everything from EU migration policy to the next President of the US: World's elite arrive for Bilderberg – the annual meeting YOU are not allowed to know about. Over 150 in attendence. The Financial Armageddon Economic Collapse Blog tracks trends and...
[[ This is a content summary only. Visit http://www.newsbooze.com or http://www.figanews.com for full links, other content, and more! ]]
Time to Sell Stocks and Put the proceeds Into Silver and Gold
Posted: 10 Jun 2016 08:00 PM PDT
| | | | | |
| --- | --- | --- | --- | --- |
| | 3-Jun-16 | 10-Jun-16 | Change | % Change |
| Silver, cents/oz. | 1,634.60 | 1,731.50 | 96.90 | 5.9 |
| Gold, dollars/oz. | 1,240.10 | 1,273.40 | 33.30 | 2.7 |
| Gold/silver ratio | 75.866 | 73.543 | -2.322 | -3.1 |
| Silver/gold ratio | 0.0132 | 0.0136 | 0.0004 | 3.2 |
| Dow in Gold Dollars (DIG$) | 296.83 | 290.02 | -6.82 | -2.3 |
| Dow in gold ounces | 14.36 | 14.03 | -0.33 | -2.3 |
| Dow in Silver ounces | 1,089.38 | 1,031.78 | -57.60 | -5.3 |
| Dow Industrials | 17,807.06 | 17,865.34 | 58.28 | 0.3 |
| S&P500 | 2,099.13 | 2,096.07 | -3.06 | -0.1 |
| US dollar index | 94.03 | 94.64 | 0.61 | 0.6 |
| Platinum | 980.90 | 993.80 | 12.90 | 1.3 |
| Palladium | 549.25 | 547.15 | -2.10 | -0.4 |
| | | | |
| --- | --- | --- | --- |
| 10-Jun-16 | Price | Change | % Change |
| Gold Price, $/oz | 1,273.40 | 3.20 | 0.3 |
| Silver Price, $/oz | 17.32 | 0.06 | 0.4 |
| Gold/Silver Ratio | 73.543 | 0.182 | 0.2 |
| Silver/Gold Ratio | 0.0136 | 0.0000 | 0.4 |
| Platinum | 993.80 | -9.60 | -1.0 |
| Palladium | 547.15 | -14.30 | -2.5 |
| S&P 500 | 2,096.07 | -19.41 | -0.9 |
| Dow | 17,865.34 | -119.85 | -0.7 |
| Dow in GOLD $s | 290.02 | -2.65 | -0.9 |
| Dow in GOLD oz | 14.03 | -0.13 | -0.9 |
| Dow in SILVER oz | 1,031.78 | -10.65 | -1.0 |
| US Dollar Index | 94.64 | 0.65 | 0.7 |
Sorry, this has to be fast because I've been driving all day to Chattanooga & back to get that wire out of my toe - thank heaven! Now I have to learn how to bend my foot again, but I am grateful.
'Twas a crazy week. Silver shot up -- look at that! -- 5.9% and gold rose 2.7%. Gold/silver ratio dropped 3.1% (perfect! Direction we want it to move). Stocks were mixed, as they say, or better yet, mixed up. They hit new highs this week, but puked back all the gains. Dow ended the week up by a splinter and S&P500 down a sliver. Yet slivers can be portentous, & this one threatens to mark completion of a head and shoulders top in stocks. US dollar index wobbled and tumbled and tried to stand up this week, but only found feet today. Of that 61 basis point gain for the week, 65 came today. Gold/Bank Stock Index spread shot up this week, a sign confidence is draining out of financial markets (stocks) & into gold.
Let's beat this dead horse plumb to a pulp: Dow Jones Industrial Average & the S&P500 are forming head and shoulders topping patterns. This week the new highs only marked the top of the right shoulder.
Today the fell like bricks out a second story window. Without closes above May 2015's highs, both will keep edging off for a couple of more weeks, maybe three, then they will tank. When they cut through that neckline, rate-of-fall will accelerate.
Today both indices fell off a cliff. Dow sank 119.85 (0.67%) to 17,865.34. S&P500 fell more yet, down 19.41 (0.92%) to 2,096.07. If y'all will look at the charts, you'll understand what I mean. No, the slightly higher high on the right shoulder of the S&P500 doesn't make any difference.
Stocks faint today took the Dow in Gold down even more, finishing the week at 14.00 oz. Chart is here, completing a megaphone reversal.
http://schrts.co/8Sv0tc
Once the Dow in silver drops through 995 oz (it closed at 1,030.89 oz today), it will hit the gas pedal in its flight earthward.
Time to sell stocks and put the proceeds into silver & gold.
US dollar index had a better day after fumbling all week. It rose 65 basis points (0.69%. Here's a chart,
http://schrts.co/OkJ5UT
It surprises me a bit that the dollar punched through its 50 dma and the top boundary of the downtrending channel. However, I don't set no store by that till it shows it can keep doing it.
Euro has no strength of its own and is probably coming under pressure from the possibility the UK on June 23 will vote to leave the European Union. It lost 0.52% to $1.1258. Yen gained 0.1% to 93.52. Makes no sense from an economic or currency management standpoint, but the yen is the strongest of the three big currencies in the market. Forget reality.
Silver added another 6.2¢ (0.4%) for a 1731.5¢ Comex close. Gold raked in $3.20 (0.25%) to $1,273.40.
I wish y'all would look at gold's weekly chart since 2011:
http://schrts.co/zecBlu
Notice that it climbed above that green downtrend form the October 2012 high, AND through the blue line marking the top border of the post 2013 trading channel. Don't miss this: Gold traded nearly to its 200 week moving average (now $1,315.45), backed off to $1,201.50, which just happened to be the top boundary of that post 2013 trading channel. Whoa! I know what that is -- a final kiss good-bye before shooting the moon.
Here's gold's monthly since 2010,
http://schrts.co/WU6cr7
On this chart it has broken out upward through the upper boundary of a falling wedge, and through its 20 month moving average. All indicators point up.
Gold bounced off the lower range boundary at 2015, shot through its clustered 20 & 50 DMAs, then shot through the downtrend line from the 1 May high at $1306. Now it has reached territory ($1,272 - $1,287) where resistance will be stiffer, since it was stopped there earlier in the year. So far it's stronger than a garlic milkshake, but it must keep proving itself, next by piercing this resistance.
Look here: it's been dropping since 2011, and from late 2013 through January of this year, it traded in a slightly downtrending range. In January it broke up out of that range, topped in February, then entered a correction until about 1 June. It formed a new trading channel & touched the bottom, and the 200 DMA, end-May/beginning of June. It has gapped up THREE times, and now is challenging the top of that trading channel. The Gold/BKX is fixin' to blow out the top.
Remember, the spread is a fraction with Gold as the numerator and BKX as the denominator. More gold rises against the bank stock index, the larger the fraction becomes and the more the spread rises.
WHY do I make so bold? Look, silver has conquered the downtrend line from the 2011 high and broken out to the upside, all the way to 1806¢. Then it went back to the line for a kiss good-bye, and now it has taken off again. On the monthly chart it has done the same. What more confirmation do y'all want?
On the daily silver chart,
http://schrts.co/TjoUfK
y'all can trace silver's astonishing climb this week. It cleared the 20 & 50 DMA's then poked through that downtrend line like it was wet cardboard. But now silver approacheth more resistance from 1762 - 1772¢.
Next week silver & gold may lollygag, digesting its gains like a big old black snake eats a hen egg and basks in the sun to digest it. However, watch $1,308 and 1806¢. If gold & silver climb above those last highs, BACK UP THE TRUCK and buy. Meantime any backsliding must not violate the 50 day moving average.
What (at this point) seems to be the successful test of silver & gold's gains from the first of the year clinches in spades the conclusion that silver & gold bottomed in December 2015.
Aurum et argentum comparenda sunt -- -- Gold and silver must be bought.
- Franklin Sanders, The Moneychanger
The-MoneyChanger.com
© 2016, The Moneychanger. May not be republished in any form, including electronically, without our express permission. To avoid confusion, please remember that the comments above have a very short time horizon. Always invest with the primary trend. Gold's primary trend is up, targeting at least $3,130.00; silver's primary is up targeting 16:1 gold/silver ratio or $195.66; stocks' primary trend is down, targeting Dow under 2,900 and worth only one ounce of gold or 18 ounces of silver. US $ and US$-denominated assets, primary trend down; real estate bubble has burst, primary trend down.
WARNING AND DISCLAIMER. Be advised and warned:
Do NOT use these commentaries to trade futures contracts. I don't intend them for that or write them with that short term trading outlook. I write them for long-term investors in physical metals. Take them as entertainment, but not as a timing service for futures.
NOR do I recommend investing in gold or silver Exchange Trade Funds (ETFs). Those are NOT physical metal and I fear one day one or another may go up in smoke. Unless you can breathe smoke, stay away. Call me paranoid, but the surviving rabbit is wary of traps.
NOR do I recommend trading futures options or other leveraged paper gold and silver products. These are not for the inexperienced.
NOR do I recommend buying gold and silver on margin or with debt.
What DO I recommend? Physical gold and silver coins and bars in your own hands.
Middle Class Collapse in America
Posted: 10 Jun 2016 07:00 PM PDT
End Times Headline News - June 10th, 2016 A new study shows that Americans have gotten poorer over the last 30 years. The main reason is the rising cost of housing. RT America's Ashlee Banks reports that the cost of basic needs are taking up a larger and larger percentage of lower-income...
[[ This is a content summary only. Visit http://www.newsbooze.com or http://www.figanews.com for full links, other content, and more! ]]
Expect Gold And Silver To Skyrocket By Year's End, Here's Why
Posted: 10 Jun 2016 06:20 PM PDT
Posted: 10 Jun 2016 05:51 PM PDT
Jim Sinclair's Commentary John Williams shares his latest with us. - Faltering Anew, Broad Business Activity Remains in Non-Recovery - Pending Weaker Economic Data Should Hit the Dollar Hard - Despite Central Bank Pummeling of the Gold Price, Gold Holds Its Own versus Central-Bank-Propped Stock Markets - Underlying Consumer Conditions Remain Heavily Stressed "No. 811:... Read more »
The post In The News Today appeared first on Jim Sinclair's Mineset.
SIGNS OF THE END PART 177 - LATEST EVENTS JUNE 2016
Posted: 10 Jun 2016 04:00 PM PDT
These footages are NOT intended to be violent or glorify violence in any way. We are sharing this footage STRICTLY for the purposes of news reporting and educating. The Financial Armageddon Economic Collapse Blog tracks trends and forecasts , futurists , visionaries , free...
[[ This is a content summary only. Visit http://www.newsbooze.com or http://www.figanews.com for full links, other content, and more! ]]
Posted: 10 Jun 2016 02:42 PM PDT
The list of heavy hitters who are saying bad things about this world and its financial markets — while acting aggressively on their pessimism — is growing to alarming proportions. A few examples: Stan Druckenmiller: The bull market is exhausted; move to gold (MineWeb) – Legendary investor Stan Druckenmiller, founder of Duquesne Capital Management LLC, […]
The post Big Names Bailing appeared first on DollarCollapse.com.
Gold Daily and Silver Weekly Charts - FOMC Next Week
Posted: 10 Jun 2016 01:11 PM PDT
Alex Jones Show (VIDEO Commercial Free) Friday 6/10/16: #Bilderberg 2016 Live Update
Posted: 10 Jun 2016 12:40 PM PDT
-- Date: June 10, 2016 -- Today on The Alex Jones Show On this Friday, June 10 broadcast of the Alex Jones Show, we'll recap the first and second days of Bilderberg 2016, and look at the elitist plot to trigger a worldwide economic meltdown. We'll also continue examining the showdown shaping up...
[[ This is a content summary only. Visit http://www.newsbooze.com or http://www.figanews.com for full links, other content, and more! ]]
#DallasShooting BREAKING! Police Shooting At Dallas Airport Caught On Cell Phone Video!
Posted: 10 Jun 2016 12:11 PM PDT
The Financial Armageddon Economic Collapse Blog tracks trends and forecasts , futurists , visionaries , free investigative journalists , researchers , Whistelblowers , truthers and many more
[[ This is a content summary only. Visit http://www.newsbooze.com or http://www.figanews.com for full links, other content, and more! ]]
BREAKING -- Dallas Airport Shooting "Domestic Violence Situation"
Posted: 10 Jun 2016 12:08 PM PDT
The Financial Armageddon Economic Collapse Blog tracks trends and forecasts , futurists , visionaries , free investigative journalists , researchers , Whistelblowers , truthers and many more
[[ This is a content summary only. Visit http://www.newsbooze.com or http://www.figanews.com for full links, other content, and more! ]]
RESOLVING THE BILDERBERG GROUP MYSTERY – GLOBAL BANKING, NAZIS & ALIEN ALLIANCES -- Michael Salla
Posted: 10 Jun 2016 11:52 AM PDT
Michael Salla: RESOLVING THE BILDERBERG GROUP MYSTERY – GLOBAL BANKING, NAZIS & ALIEN ALLIANCES The Financial Armageddon Economic Collapse Blog tracks trends and forecasts , futurists , visionaries , free investigative journalists , researchers , Whistelblowers , truthers and many...
[[ This is a content summary only. Visit http://www.newsbooze.com or http://www.figanews.com for full links, other content, and more! ]]
Jim Willie: What Will Trigger Dollar Collapse
Posted: 10 Jun 2016 11:00 AM PDT
Economic collapse and financial crisis is rising any moment. Getting informed about collapse and crisis may earn you, or prevent to lose money. Do you want to be informed with Max Keiser, Alex Jones, Gerald Celente, Peter Schiff, Marc Faber, Ron Paul,Jim Willie, Steve Quayle, V Economist, and many...
[[ This is a content summary only. Visit http://www.newsbooze.com or http://www.figanews.com for full links, other content, and more! ]]
Peter SCHIFF, WARNED of a COLLAPSE of the whole WORLD!! -- It's Gonna Be AWFUL!!
Posted: 10 Jun 2016 10:30 AM PDT
Peter Schiff is a well-known commentator appearing regularly on CNBC, TechTicker and FoxNews. He is often referred to as "Doctor Doom" because of his bearish outlook on the economy and the U.S. Dollar in particular. Peter was one of the first from within the professional investment field to call...
[[ This is a content summary only. Visit http://www.newsbooze.com or http://www.figanews.com for full links, other content, and more! ]]
George Carlin -- The Self Esteem Movement
Posted: 10 Jun 2016 09:27 AM PDT
Carlin weighs in on some of the nitwittery children face in current times. The Financial Armageddon Economic Collapse Blog tracks trends and forecasts , futurists , visionaries , free investigative journalists , researchers , Whistelblowers , truthers and many more
[[ This is a content summary only. Visit http://www.newsbooze.com or http://www.figanews.com for full links, other content, and more! ]]
Gold Stocks Retreat at Resistance
Posted: 10 Jun 2016 09:11 AM PDT
Over the past two weeks gold stocks have surged more than 20% as the awful jobs report forced the bears to capitulate. That strong of a move in a brief amount of time will naturally slow or correct. Furthermore, gold stocks touched resistance Friday morning which led to a bearish reversal. While the bullish trend remains intact, the odds favor lower prices in the days ahead.
Massive Gold Stock Investment Buying
Posted: 10 Jun 2016 09:03 AM PDT
Gold's strong gains so far this year have been overwhelmingly fueled by one dominant driver, massive investment buying. After shunning prudent portfolio diversification with gold for years, investors are finally starting to reestablish those essential positions. And since their collective gold holdings were so incredibly low heading into 2016, reflecting hyper-bearish sentiment, gold's investment buying has only begun.
Majors Should Look at Advanced Stage Junior Gold Miners Nearing Feasibility
Posted: 10 Jun 2016 08:45 AM PDT
(Originally Published and sent to Premium Subscribers (6-2-16)
It appears the Junior Gold Miners (GDXJ) are giving the investment community a  secondary buy point on the now ascending long term moving averages as they  bounce off and find support at these critical technical levels at the 50  and 200 Day Moving Averages.  I thought we could still be a few weeks away  from a bullish reversal but it appears some of our featured sponsors and
shareholdings are breaking out.    Focus on advanced stage companies which are working towards a Bankable  Feasibility Study.  Learn from the recent takeover of Kaminak (KAM.V) by  Goldcorp as they acquired the company after the release of a Feasibility  Study earlier this year for a huge premium.  The recent improvement of gold  prices has turned the heads of the majors who may have increasing cash  reserves and may begin turning a profit.     The industry needs to replace depleting reserves as we move towards a gold  production shortfall over the next 18-36 months.  Companies with the  ability to raise capital and that are currently advancing towards a  Bankable Feasibility such as Sandspring (SSP.V or SSPXF) and Treasury Metals (TML.TO) should be on your radar.    Treasury Metals (TML.TO) just raised $4 million CAD to advance their 100%  owned Goliath Gold Deposit to Bankable Feasibility which I participated.  Its located in NW Ontario which has seen a major uptick in M&A activity  since the Goldcorp (GG) takeover of Probe.

There are very few high grade, advanced and 100% owned gold assets left in Ontario.  Treasury has started the permitting process of an open pit gold mine which could process 2500 tons of ore per day.  I am sure many astute investors are excited to see the Feasibility Study which could show a low capex and exciting economics.
The Chairman of Treasury is Marc Henderson who is experienced at  negotiating takeouts.  He sold his Aquiline Resources to Pan American  Silver in 2009 for over $600 million USD.  Treasury appears to be basing  along the 200 Day Moving Average and should see a bullish reversal.    Sandspring Resources (SSP.V or SSPXF) also has recently raised $6.5 million  CAD this past month which I participated. Similar to Treasury they are  advancing towards a Feasibility Study on it Toroparu Gold Project in  Guyana.  It is one of the world's largest undeveloped gold assets 100%  owned by a junior.
The company has a pre-feasibility study which shows  that the project could produce over 200k ounces annually with economics  that shows possibly great leverage to a rising gold price as this project  may have district scale potential.      Some may be concerned about Guyana versus where they traditionally invest  in Nevada or Canada.  Most people are unaware that Guyana is the only  English speaking country in South America with a stable democracy, high  literacy rate and a long history of mining.  Two new major gold projects  have advanced to production in the past year as mining is vital aspect of  the economy.  Sandspring's management has more than 16 years of experience  working with the Guyanese Government.       Sandspring could bounce off the 50 Day Moving Average which could be a  secondary buypoint.      Take a look at their corporate presentation by clicking on the following  link:    http://www.sandspringresources.com/i/pdf/ppt/ssp_PPT_May2016.pdf
Watch the recent presentation given by the CEO in Vancouver where he discusses
the recent investment into the company by their large shareholder and director
the famous Frank Giustra.  Back in 2007, Frank sold his company to Uranium One
for over $7 a share that was trading for just pennies two years earlier creating
a lot of wealth for his shareholders.  Maybe Sandspring could be next?
Disclosure: I own Treasury and Sandspring securities and participated in  both of their recent Private Placements.  This means I could benefit from  an increase in price and volume. They are also advertising sponsors on my  website which should be considered paid compensation.  This means I have a  conflict of interest and you must do your own due diligence.  I am not a
financial advisor and this is not financial advice.
See full disclaimer and current advertising rates by clicking on the  following link:    http://goldstocktrades.com/blog/featured-companies-on-gold-stock-trades/    Section 17(b) provides that:    "It shall be unlawful for any person, by the use of any means or  instruments of transportation or communication in interstate commerce or  by the use of the mails, to publish, give publicity to, or circulate any  notice, circular, advertisement, newspaper, article, letter, investment  service, or communication, which, though not purporting to offer a  security for sale, describes such security for a consideration received or  to be received, directly or indirectly, from an issuer, underwriter, or  dealer, without fully disclosing the receipt, whether past or prospective,  of such consideration and the amount thereof."
_______________________________________________________
Sign up for my free newsletter by clicking here… 
Order premium service by clicking here…
Please see my disclaimer and full list of sponsor companies by clicking here…
To send feedback or to contact me click here…
Tell your friends! Please forward this article to a friend or share the link on Facebook, Twitter or Linkedin.
For informational purposes only.  This is not investment advice.  May contain forward looking statements.
Everyone Still Hates Housing. Here's Why it's Time to Buy!
Posted: 10 Jun 2016 08:02 AM PDT
This post Everyone Still Hates Housing. Here's Why it's Time to Buy! appeared first on Daily Reckoning.
Remember rising rates?
We don't…
With rate hikes falling off metaphorical tables left and right and bond yields plummeting, the market is up to a few of its old tricks. Investors are grabbing gold and utility stocks with one hand and flushing banks down the tubes with the other.
These shenanigans mean only one thing: It's time to get bulled up on homebuilder stocks.
"Homebuilders are another group that may be benefiting from lower bond yields (which translate into lower mortgage rates)," legendary technician John Murphy explains on his blog over at Stockcharts.com.
The homies are in rally mode again. And it's time to pay close attention…
We're no stranger to the homebuilder trade. Late last year, a deluge of data made it clear that the housing market had finally stabilized. Yes, there are outliers—like outrageously high prices in San Francisco. But for most of the nation, the housing market is reverting to something that resembles normalcy.
"After years of volatility, home price growth appears to have stabilized at an annual rate of around 4% to 5%," The Wall Street Journal reported in late 2015. "Economists said prices, sales and new-home construction are likely to continue to grow moderately going into next year as the market continues its return to normal."
Remember, we're a full decade removed from the housing bubble. And after ten years of little to no substantial gains in homebuilder stocks, it's finally time for these puppies to get moving.
Last year, our iShares Dow Jones U.S. Home Construction ETF (NYSE:ITB) position was our only long-term trade of the year that has survived the August rout. It was the market meltdown earlier this year forced us to sell.
But right now, it's clear that there's a major breakout in the works for the underperforming homebuilders. And if we jump onboard now, we could be in for a heck of a ride…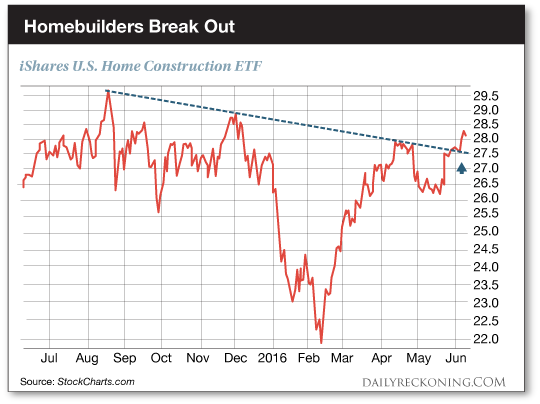 The iShares Dow Jones U.S. Home Construction ETF has climbed to new 2016 highs this week. After a gut-wrenching winter, the homebuilders have fought back with a vengeance.
Of course, there are plenty of reasons to argue against homebuilder stocks—and the American housing market. Homes in many popular cities are too expensive. Young families are stuck with high student loans and car payments. And my personal favorite: Millennials will never get married, never have kids and therefore never buy houses.
But when you break down the facts and figures, it's clear that housing is reaching a tipping point. Homebuilders haven't focused enough on single-family homes since the financial crisis. And they're going to have to play catch-up.
"Housing is set to eat the U.S. economy," explains Conor Sen, a portfolio manager at New River Investments
Sen argues that because we're near record lows for construction unemployment, the industry will need to add 550,000-to-600,000 construction workers over the next few years. Sen says it will have to poach from other industries like agriculture and manufacturing in order to get housing back to a driving economic force.
As the homebuilders make up for lost time, they'll begin to reward savvy investors. Lucky for us, price leads the news. And there are plenty of homebuilder breakouts to choose from.
Sincerely,
Greg Guenthner
for The Daily Reckoning
P.S. Profit from the biggest clothing trend of the decade — sign up for my Rude Awakening e-letter, for FREE, right here. Stop missing out on the next big trend. Click here now to sign up for FREE.
The post Everyone Still Hates Housing. Here's Why it's Time to Buy! appeared first on Daily Reckoning.
If You Didn't Buy Gold and Silver During the Dip, Buy the Companies That Did!
Posted: 10 Jun 2016 07:22 AM PDT
Gold Stock Bull
Gold rigging will fail as investors see fraud of 'paper gold,' Grant Williams says
Posted: 10 Jun 2016 07:16 AM PDT
10:15a ET Friday, June 10, 2016
Dear Friend of GATA and Gold:
Fund manager and market analyst Grant Williams, interviewed by Lars Schall for Matterhorn Asset Management's Gold Switzerland, says he is certain the gold market is rigged and that as investors realize that "paper gold" isn't real gold, they will demand real gold and take it out of the banking system, causing a big problem for the market riggers.
Williams says: "The stories of rigging in the gold and silver markets are legendary. There are so many of them. Some of them are wackier than others, but if the last three or four years have taught us anything, it's that all financial markets are rigged and I truly believe they are. I've been involved in financial markets for 30 years, and so if you want to tell me that they can rig Libor, one of the key rates in the entire world, but no one wants to rig the gold and silver market, I think you're out of your mind.
... Dispatch continues below ...
---
ADVERTISEMENT
Silver Coins and Rounds with Employee Pricing and Free Shipping
Grab your Silver Starter Kit at cost from Money Metals Exchange, the company named "Precious Metals Dealer of the Year" by industry ratings group Bullion Directory.
Simply go to MoneyMetals.com and type "GATA" in the radio box at the top of the page.
This special silver offer contains 4 ounces of silver coins and rounds in the most popular 1-ounce, half-ounce, and 10th-ounce forms. Claim yours now, because GATA readers get employee pricing and free shipping.
So go to --
-- and type "GATA" in the radio box at the top of the page.

---
"I'm absolutely certain that the gold and silver markets are rigged in some way, shape, or form. How deep that rigging goes and the actual mechanics of it, I don't know. But you can see all kinds of strange behavior in the wee small hours overnight. You can see trades being done which are clearly not done by any kind of for-profit organization. So I think there is definitely manipulation of the gold and silver claims. I think the Deutsche Bank agreement is just the tip of the iceberg. Part of that agreement was that they were going to share information a) about how the markets were rigged and b) who else was involved, so I fully suspect to see a lot more news on that coming out.
"Now, whether it makes the mainstream media or not, I don't know. I'm continually confused as to why they don't report these stories because they are so interesting, but unlike the rigging of Libor or foreign exchange markets or the treasury market or any of the other rigged markets, when people rig the gold market, they are rigging a claim on a physical asset that's been money for 6,000 years. It's not a paper contract, and so if this becomes mainstream, if people understand what's going on in the gold markets and they believe that some gold they believe they've bought is subject to rigging, again, people are going to want to get their own gold, they're going to want it allocated, they're going to want it in their own safety deposit box outside the system, and it really just takes a few people -- the numbers are extraordinarily small for people to say, 'OK, I'm going to take my gold out of the banking system and I'm going to put it in a safety deposit box.'"
The interview is posted at Gold Switzerland's Internet site here:
https://goldswitzerland.com/grant-williams-oil-peak-demand-gold-peak-sup...
CHRIS POWELL, Secretary/Treasurer
Gold Anti-Trust Action Committee Inc.
CPowell@GATA.org

* * *
Support GATA by purchasing recordings of the proceedings of the 2014 New Orleans Investment Conference:
https://jeffersoncompanies.com/landing/2014-av-powell
Or by purchasing DVDs of GATA's London conference in August 2011 or GATA's Dawson City conference in August 2006:
http://www.goldrush21.com/order.html
Or a colorful poster of GATA's full-page ad in The Wall Street Journal on January 31, 2009:
http://gata.org/node/wallstreetjournal
Help keep GATA going
GATA is a civil rights and educational organization based in the United States and tax-exempt under the U.S. Internal Revenue Code. Its e-mail dispatches are free, and you can subscribe at:
To contribute to GATA, please visit:
George Soros Buying Gold On BREXIT, EU "Collapse" Risk
Posted: 10 Jun 2016 05:50 AM PDT
George Soros is again buying gold and selling and going short stocks due to BREXIT and EU "collapse" risk, after a six year hiatus from the gold market.
Dollar, Gold and Silver Chart Analaysis
Posted: 10 Jun 2016 05:39 AM PDT
$USD – If the dollar gives us a normal duration intermediate cycle, it will not be due to bottom until September or October.
Posted: 10 Jun 2016 05:01 AM PDT
MUST READS Gross warns of $10trn government bond 'supernova' – City Wire Here's Why George Soros Is Now Investing in Gold – Fiscal Times The Real Reason College Tuition Costs So Much – NY Times Illinois Downgraded to Lowest for Any State in Over a Decade – Bloomberg California Becomes Fifth US State to Allow Aid in Dying for Terminal [...]
Gold is No Protection Against Armageddon, But Could Save Your Financial Future - Nathan McDonald
Posted: 09 Jun 2016 10:00 PM PDT
Sprott Money
Breaking News And Best Of The Web
Posted: 09 Jun 2016 06:20 PM PDT
Soros and Gross turn bearish. Stocks fall, gold continues to rise. Debt, as usual, continues to grow. Corporations start selling zero-percent bonds. Clinton wins California, clinches nomination. Major US/China trade war breaking out. Global bond yields still falling, China's debt still rising. Doug Noland's latest Credit Bubble Bulletin and David Stockman's proposal to fix the […]
The post Breaking News And Best Of The Web appeared first on DollarCollapse.com.
You are subscribed to email updates from Save Your ASSets First.
To stop receiving these emails, you may unsubscribe now.
Email delivery powered by Google
Google Inc., 1600 Amphitheatre Parkway, Mountain View, CA 94043, United States