---
Investors Brace for a Storm of Uncertainty with Gold
Posted: 14 Feb 2017 07:04 AM PST
Although it might not have purchased any gold in 2016, the Deutsche Bundesbank, Germany's central bank, ramped up its repatriation program, bringing home some 216 metric tons from vaults in New York, according to the Wall Street Journal. In 2011, former Fed Chair Ben Bernanke said central banks held gold simply because it's tradition. I think the reason goes much deeper than that. Gold is money—it has been ever since the first gold currency appeared in China more than 3,000 years ago—and Germany's efforts are proof of that.
Europe Eyes Sweeping Cash Ban: Are Gold & Silver Next?
Posted: 14 Feb 2017 12:18 AM PST
The global war on cash continues. The cabal of bankers seeking more transaction fees, busybody political leaders, and central bankers who want to experiment with negative interest rates recently threw India into turmoil by eliminating the two largest denomination bank notes. Now they are preparing a similar assault on Europeans' ability to transact privately and without giving bankers a cut. European Union officials just published a "Proposal for an EU Initiative on Restriction on Payments in Cash."
Gold Price Closed at $1224.40 Down $10.00 Or -0.81%
Posted: 13 Feb 2017 09:01 PM PST
| | | | |
| --- | --- | --- | --- |
| 13-Feb-17 | Price | Change | % Change |
| Gold Price, $/oz | 1,224.40 | -10.00 | -0.81% |
| Silver Price, $/oz | 17.80 | -0.11 | -0.60% |
| Gold/Silver Ratio | 68.771 | -0.144 | -0.21% |
| Silver/Gold Ratio | 0.0145 | 0.0000 | 0.21% |
| Platinum | 998.20 | -10.60 | -1.05% |
| Palladium | 775.00 | -8.15 | -1.04% |
| S&P 500 | 2,328.25 | 12.15 | 0.52% |
| Dow | 20,412.16 | 142.79 | 0.70% |
| Dow in GOLD $s | 344.62 | 5.18 | 1.53% |
| Dow in GOLD oz | 16.67 | 0.25 | 1.53% |
| Dow in SILVER oz | 1,146.49 | 14.88 | 1.32% |
| US Dollar Index | 100.95 | 0.16 | 0.16% |
IMPORTANT NOTE: The following are wholesale, not retail, prices. To figure our retail selling price, multiply the "ask" price by 1.035. To figure our retail buying price, multiple the "bid" price by 0.97. Lower commissions apply to larger orders, higher commissions to very small orders.
| | | | | |
| --- | --- | --- | --- | --- |
| SPOT GOLD: | 1,224.70 | | | |
| GOLD | Fine Tr.Oz. | BID | ASK | $/oz |
| American Eagle | 1.00 | 1,256.54 | 1,265.12 | 1,265.12 |
| 1/2 AE | 0.50 | 630.21 | 644.80 | 1,289.61 |
| 1/4 AE | 0.25 | 321.22 | 329.14 | 1,316.55 |
| 1/10 AE | 0.10 | 128.49 | 134.10 | 1,341.05 |
| Aust. 100 corona | 0.98 | 1,191.45 | 1,200.45 | 1,224.70 |
| British sovereign | 0.24 | 290.46 | 303.46 | 1,289.11 |
| French 20 franc | 0.19 | 228.65 | 234.65 | 1,256.84 |
| Krugerrand | 1.00 | 1,240.62 | 1,250.62 | 1,250.62 |
| Maple Leaf | 1.00 | 1,234.70 | 1,248.70 | 1,248.70 |
| 1/2 Maple Leaf | 0.50 | 704.20 | 642.97 | 1,285.94 |
| 1/4 Maple Leaf | 0.25 | 312.30 | 327.61 | 1,310.43 |
| 1/10 Maple Leaf | 0.10 | 129.82 | 133.49 | 1,334.92 |
| Mexican 50 peso | 1.21 | 1,465.42 | 1,476.42 | 1,224.54 |
| .9999 bar | 1.00 | 1,224.70 | 1,236.70 | 1,236.70 |
| SPOT SILVER: | 17.80 | | | |
| SILVER | Fine Tr.Oz. | BID | ASK | $/oz |
| VG+ Morgan $B4 1905 | 0.77 | 23.00 | 27.00 | 35.29 |
| VG+ Peace dollar | 0.77 | 17.00 | 20.00 | 26.14 |
| 90% silver coin bags | 0.72 | 12,330.18 | 12,687.68 | 17.75 |
| US 40% silver 1/2s | 0.30 | 5,057.78 | 5,207.78 | 17.65 |
| 100 oz .999 bar | 100.00 | 1,769.50 | 1,794.50 | 17.95 |
| 10 oz .999 bar | 10.00 | 179.45 | 184.45 | 18.45 |
| 1 oz .999 round | 1.00 | 18.05 | 18.35 | 18.35 |
| Am Eagle, 200 oz Min | 1.00 | 19.30 | 20.80 | 20.80 |
| SPOT PLATINUM: | 998.20 | | | |
| PLATINUM | Fine Tr.Oz. | BID | ASK | $/oz |
| Plat. Platypus | 1.00 | 1,013.20 | 1,043.20 | 1,043.20 |
Get Franklin Sanders Daily Gold Price Reports and Market Commentaries:
If the form above does not display in your iPhone or android app, please use this link to visit the website signup form:
http://goldprice.org/franklin-sanders
5 Stinging Trump Quotes About The Fed
Posted: 13 Feb 2017 08:45 PM PST
Fed chief Janet Yellen will testify before the U.S. Senate Banking Committee on Tuesday. She is likely to receive a frosty reception from the Republicans emboldened by President Trump's stinging remarks about the Federal Reserve and its current chair. Take a look…
1
"Janet Yellen is highly political"
November 3, 2015
The public feud began in November 2015 when then-Republican nominee Donald Trump accused the Fed of doing President Obama's bidding by keeping interest rates low. Speaking at a news conference at Trump Tower, he said Obama "wants to be out playing golf in a year from now and he wants to be doing other things and he doesn't want to see a big bubble burst during his administration."
2
"When her time is up, I would most likely replace her"
May 5, 2016
Trump said he would probably replace Janet Yellen when her four-year term expires (which is in February 2018). In an interview with CNBC, he said "people that I know have high regard for her, but she is not a Republican." However, there was some common ground. Trump called himself a "low interest rate person," saying a strong dollar would cause "major problems" for the U.S. economy.
3
The Fed has created a "very false economy"
September 5, 2016
Four months later, Trump does a U-turn and says interest rates "are going to have to change". Speaking on the campaign trail, he claimed the Fed was "keeping the rates down so that everything else doesn't go down." The billionaire also called the stock market "artificial."
4
"She's doing what Obama wants her to do"
September 12, 2016
Trump again questioned the Fed's independence, saying the central bank is propping up the stock market to keep Obama happy. In an interview with CNBC, Trump said "any increase [in interest rates] at all will be a very, very small increase because they want to keep the market up so Obama goes out and let the new guy ... raise interest rates ... and watch what happens in the stock market."
5
Yellen should be "ashamed of herself"
September 12, 2016
Then it gets super personal! In the same interview, Trump said Yellen should be "ashamed" of what she's doing to the country. He said American savers are feeling the pain of low interest rates: "they saved their money [and] they cut down on their mortgages, ... and now they're practically getting zero interest on the money."
Of course, President Trump isn't the only Republican who has criticised the Fed. Long-time critic Kentucky senator Rand Paul has been calling for an audit of the Federal Reserve for many, many years. Meanwhile, Texas senator Ted Cruz has blamed the central bank for causing the Great Recession.
Yellen's testimony begins at 10:00 a.m. ET on February 14, 2017.
Mike Flynn Resigns As National Security Advisor
Posted: 13 Feb 2017 08:10 PM PST
As many had expected, multiple sources have now confirmed that former General Mike Flynn has resigned from his role as President Trump's national security advisor. The White House has confirmed that Lt. General Joseph Keith Kellogg, Jr. has been appointed Acting National Security Advisor.
President Donald J. Trump Names Lt. General Joseph Keith Kellogg, Jr. as Acting National Security Advisor, Accepts Resignation of Lt. General Michael Flynn

President Donald J. Trump has named Lt. General Joseph Keith Kellogg, Jr. (Ret) as Acting National Security Advisor following the resignation of Lt. General Michael Flynn (Ret).

General Kellogg is a decorated veteran of the United States Army, having served from 1967 to 2003, including two tours during the Vietnam War, where he earned the Silver Star, the Bronze Star with "V" device, and the Air Medal with "V" device.

He served as the Commander of the 82nd Airborne Division from 1997 to 1998. Prior to his retirement, General Kellogg was Director of the Command, Control, Communications, and Computers Directorate under the Joint Chiefs of Staff.
The full text of General Flynn's resignation letter is below:
February 13, 2017

In the course of my duties as the incoming National Security Advisor, I held numerous phone calls with foreign counterparts, ministers, and ambassadors. These calls were to facilitate a smooth transition and begin to build the necessary relationships between the President, his advisors and foreign leaders. Such calls are standard practice in any transition of this magnitude.

Unfortunately, because of the fast pace of events, I inadvertently briefed the Vice President Elect and others with incomplete information regarding my phone calls with the Russian Ambassador. I have sincerely apologized to the President and the Vice President, and they have accepted my apology.

Throughout my over thirty three years of honorable military service, and my tenure as the National Security Advisor, I have always performed my duties with the utmost of integrity and honesty to those I have served, to include the President of the United States.

I am tendering my resignation, honored to have served our nation and the American people in such a distinguished way.

I am also extremely honored to have served President Trump, who in just three weeks, has reoriented American foreign policy in fundamental ways to restore America's leadership position in the world.

As I step away once again from serving my nation in this current capacity, I wish to thank President Trump for his personal loyalty, the friendship of those who I worked with throughout the hard fought campaign, the challenging period of transition, and during the early days of his presidency.

I know with the strong leadership of President Donald J. Trump and Vice President Mike Pence and the superb team they are assembling, this team will go down in history as one of the greatest presidencies in U.S. history, and I firmly believe the American people will be well served as they all work together to help Make America Great Again.

Michael T. Flynn, LTG (Ret)
Assistant to the President / National Security Advisor
* * *
As we detailed previously, after last night's news that Trump (and Steve Bannon) were actively deciding whether to fire National Security Advisor Mike Flynn over the recent scandal involving his [hone calls with Russian ambassador, Sergey Kislyak, discussing the Russian sanction something he denied publicly on several occasions, yet which now appears to have been the case, the ice below Flynn had got thinner this afternoon when the Trump administration for the second consecutive day sent conflicting signals in its support for Flynn amid uncertainty whether Flynn misled Mike Pence about his conversation with Russia's U.S. ambassador. About an hour after White House counselor Kellyanne Conway said in a television interview that Flynn "does enjoy the full confidence of the president," press secretary Sean Spicer released a statement saying President Donald Trump is "evaluating" the situation involving his top security aide. Trump "is speaking to Vice President Pence relative to the conversation the vice president had with General Flynn and also speaking to various other people about what he considers the single most important subject there is, our national security," Spicer said in an e-mailed statement. One day earlier, Trump adviser Stephen Miller declined to defend Flynn or say whether his job was safe. Miller, appearing on NBC's "Meet the Press," said Flynn had served the country admirably, but that "It's not for me to tell you what's in the president's mind."
Now, following the latest report in the WaPo, the young Trump administration may have no choice but to make Flynn the first casualty. According to the Bezos-owned publication, the acting attorney general informed the Trump White House late last month that she believed Michael Flynn had misled senior administration officials about the nature of his communications with the Russian ambassador to the United States, "and warned that the national security adviser was potentially vulnerable to Russian blackmail." The message was delivered by Sally Yates and was prompted by concerns that ­Flynn, when asked about his calls and texts with the Russian diplomat, had told Vice ­President-elect Mike Pence and others that he had not discussed the Obama administration sanctions on Russia for its interference in the 2016 election. It is unclear what the White House counsel, Donald McGahn, did with the information.
Former Director of National Intelligence James Clapper and former CIA Director John Brennan also reportedly shared Yates' concerns about Flynn. The pair believed "Flynn had put himself in a compromising position", thinking that Pence had a right to know that he had been misled, and agreed with Yates' decision to warn the White House. One official told the Post all three officials believed Pence had a right to know Flynn had possibly misled him about his talks with Kislyak. Furthermore, current and former officials told the Post they believed Flynn deceived the vice president, adding they could not rule out the possibility he acted with the knowledge of other transition officials. Yates, who was then the deputy attorney general, considered Flynn's comments during an intercepted phone call with Kislyak last December "highly significant" and "potentially illegal." The WaPo adds that an official familiar with Yates' thinking told the Post she suspected Flynn may have violated the Logan Act, which prohibits U.S. citizens from interfering in diplomatic disputes with another nation. Trump fired Yates last month, after she refused to have the DOJ defend his temporary ban on visitors from seven Muslim-majority nations in court. Making matters worse - for Trump - is that a senior Trump administration official said that the White House was aware of the matter, adding that "we've been working on this for weeks."
The final nail in Flynn's coffin is that according to a report in the NYT, the Army has been investigating whether Mr. Flynn received money from the Russian government during a trip he took to Moscow in 2015, according to two defense officials. Such a payment might violate the Emoluments Clause of the Constitution, which prohibits former military officers from receiving money from a foreign government without consent from Congress. The defense officials said there was no record that Mr. Flynn, a retired three-star Army general, filed the required paperwork for the trip.
If confirmed, and if Flynn indeed lied, Trump will have no choice but to let him go.
* * *
And indeed it appears it is confirmed, following his apology to Vice President Pence and other White House officials, CNN, Bloomberg, and NBC News confirm sources that Mike Flynn has officialy resigned...
CNN: Two sources tell CNN Michael Flynn has resigned.@SaraMurray @GloriaBorger

— Shimon Prokupecz (@ShimonPro) February 14, 2017
BREAKING: Mike Flynn has RESIGNED his post as national security adviser, White House sources tell me.

— Jennifer Jacobs (@JenniferJJacobs) February 14, 2017
BREAKING: National Security Adviser Mike Flynn has resigned, sources tell @NBCNews pic.twitter.com/sUWE3bzHXi

— NBC News (@NBCNews) February 14, 2017
And as AP reports, national security adviser Michael Flynn has resigned after reports he misled Trump administration officials about his contacts with Russia's ambassador to the U.S.
Flynn's departure less than one month into the Trump administration marks an extraordinarily early shakeup in the president's senior team of advisers. Flynn was a loyal Trump supporter throughout the campaign, but his ties to Russia caused concern among other senior aides.

Flynn initially told Trump advisers that he did not discuss sanctions with the Russian envoy during the transition. Vice President Mike Pence, apparently relying on information from Flynn, publicly vouched for the national security adviser.

Flynn later told White House officials that he may have discussed sanctions with the ambassador.
Making him the first of Trump's appointees to be let go, just as the odds predicted...
Rather more notably, the dollar index tumbled on the news as perhaps the first cracks start to appear in the potemkin village of hope the markets have built around a Utrumpian future...
Economic Collapse Possible After 2017 IMF Meeting
Posted: 13 Feb 2017 03:30 PM PST
Trump presidency could be the event the globalist are waiting for to finally orchestrate the imminent collapse of the US dollar. I've been saying it for long time now that Trump is just a white Obama! he is doing what Obama did in 08 promising people real change but he is already a sell out by...
[[ This is a content summary only. Visit http://financearmageddon.blogspot.com http://www.figanews.com for full links, other content, and more! ]]
Deflation and Gold: A Contrarian View
Posted: 13 Feb 2017 03:14 PM PST
This post Deflation and Gold: A Contrarian View appeared first on Daily Reckoning.
The warring forces of inflation and deflation are at each other's throats. Some see victory for inflation. Others for deflation.
So… What happens to gold?
Conventional wisdom says gold thrives under inflation and wilts under deflation. The case for gold under inflation is easy enough. Gold rises as the dollar falls. It's the opposite under deflation.
But is conventional wisdom right about gold and deflation? Is it time to consider a different metric — not the nominal gold price — but gold's purchasing power relative to consumer prices?
The late lamented Roy Jastram was a recognized authority on the gold standard. He authored a 1977 tour de force on gold under both deflation and inflation called The Golden Constant: The English and American Experience, 1560–1976.
Jastram went over the rainbow in 1991 but his book's withstood time and tide.
Jastram examined three deflationary periods in history. The first was from 1814–30. The record shows prices fell 50% over those 16 years.
The second was from 1864–97. Prices fell 65% between 1864 and 1897.
The final deflationary period was 1929–33, the locust years of the Great Depression. Prices slumped 31% those four years.
So… How did gold do in these three deflationary periods stretching back 200 years?
First, the period between 1814 and 1830…
Prices fell 50%. But according to Jastram, gold's purchasing power — not its nominal price but its purchasing power — increased a thumping 100%. Gold bought twice as much!
The chart below shows the nominal gold price rose over that period. But not nearly as much as its overall purchasing power.
What about the era between 1864 and 1897? Overall prices fell 65%. But Jastram claimed gold's purchasing power surged 40%.
The chart shows the nominal gold price held fairly constant between 1864 and 1897. But again, gold's purchasing power rose 40%.
Note well: This period encompassed the classical gold standard, 1870–1914. It also witnessed one of the greatest spurts of economic growth in history. Who says gold kills growth?
Finally, 1929–33…
Prices fell 31%. The gold price also slipped, as the chart shows. But Jastram's work showed gold's purchasing power rose a hale and hearty 44%.
Here's the chart of gold prices 1800–2010: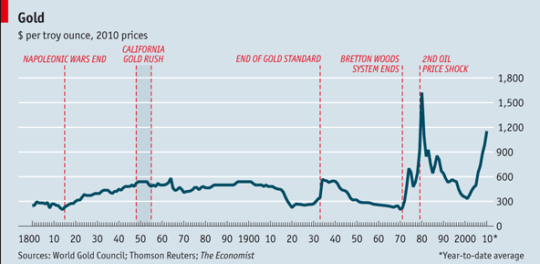 Gold's purchasing power rose during all three deflationary periods in question. Its nominal price may not have risen — it fell between 1929 and 1933 — but gold commanded more goods each time.
In nuce: It doesn't matter if gold falls if overall prices fall further — so gold is precious, even under deflation. Jim Rickards, in The New Case for Gold:
Assume gold is $1,200 at the start of a year and there is 5% deflation that year. Further assume that the dollar price of gold at the end of the year is $1,180. In that scenario, the nominal price of gold fell 1.7% but the real price of gold rose about 3.3%, because the $1,180 year-end dollar price is actually worth $1,240 in purchasing power relative to prices at the beginning of the year.
Now, it's true… history can kick up plenty of dust, potentially making comparisons between erasa fool's chase.
For example, the price of gold was fixed at $20.67 under the classical gold standard between 1870 and 1914. It remained $20.67 in the U.S. through 1934 when FDR devalued gold to $35 an ounce. That makes it harder to penetrate the cloud.
But as analyst Doug Eberhardt notes, maybe the gold price — and hence its purchasing power — may have surged even higher if gold traded at freely floating prices. From 1929–33 for example:
If people were rushing to the bank to demand gold coin for their Federal Reserve notes, the price of gold would have naturally moved higher. I don't think anyone doubts that this would have occurred. Banks were failing at an alarming rate and people were running to the real wealth represented by gold.
Maybe gold would have vaulted much higher if it weren't pegged at $20.67.
Jastram croaked before the 2008 crisis so on that score his book stands silent. But looking at the consumer price index (CPI) since 2009 we find a pattern of chronically low inflation. It's averaged about 1.8%.
The CPI is a government tool, so your personal experience will vary with usage. But take it on its face for now.
Gold ended 2009 at $1,096 an ounce. It trades at $1,227 today… $131 higher. Yes, that includes a roughly $500 drop between 2012 and 2016. But the course of true love never runs true. Neither do long-term economic trends.
But if you measure gold not by its nominal price but by its purchasing power… history suggests deflation might not be so bad for gold after all.
Regards,
Brian Maher
Managing editor, The Daily Reckoning
The post Deflation and Gold: A Contrarian View appeared first on Daily Reckoning.
The Investment Secret Of The 2000s — It's Just Started
Posted: 13 Feb 2017 01:45 PM PST
This post The Investment Secret Of The 2000s — It's Just Started appeared first on Daily Reckoning.
For most investors, there is only one asset class on the horizon. Whether it is the professional or private investor, when they consider investing, stocks will always be first on their list. And if we exclude all debt instruments, the stock market is by far the biggest market in the world. Global stock markets are capitalized at around $80 trillion currently.
Since the creation of the Fed in 1913, investing has been "a stairway to heaven." But there have been quite a few stumbling blocks on the way. In 1929 the Dow peaked at almost 400 before the crash. The low of the Dow was in July 1932 at 40 — a 90% fall. It then took 25 years until 1954 for the Dow to get back to 400.
This gives an average return of 5% over a 103-year period excluding dividends. This is an excellent return and including dividends the total return approaches 10% annually.
But the rise of the stock market is very much linked to the increase in debt. Since Reagan came to power in 1981 for example, U.S. debt is up 22X and the Dow up 20X.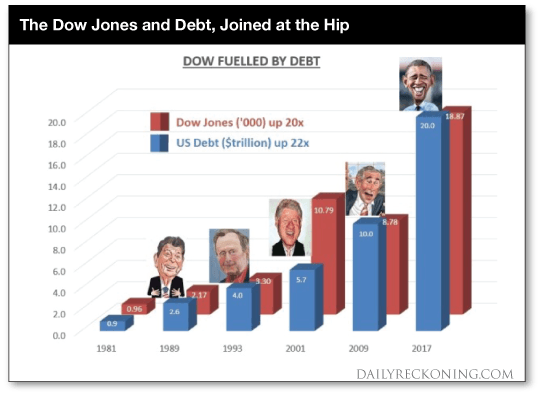 We are now getting to the point when increasing amounts of debt and money printing is required to fuel the stock market. With the Shiller price-to-earnings ratio (P/E) currently at 28.5, the stock market is in bubble territory and approaching the 1929 overvaluation level. But we are not yet in the super-bubble area of 2000.
So in theory there is room for this bubble to grow yet bigger.
But even if stock markets can become even more overvalued than currently, they are now at levels which represent unacceptable risk especially when we consider that the historic mean of the Schiller index is 16.7. This makes the overvaluation 70%. This necessitates a very stern "Caveat Emptor" (buyer beware) to any stock market investor.
Although stocks, bonds and property all represent very high risk, few investors look for opportunities outside these markets. And it is for this reason that most investors have totally missed the best performing asset class in this century which is of course precious metals.
Most investors don't look at gold as an investment. Gold is regarded as a volatile commodity and does not appear in the average investment portfolio. Less than 0.5% of world financial assets are invested in gold today.
This extremely low level of gold investment shows that very few people understand gold and even fewer look at the performance of gold. Most investors don't have a clue how gold has performed in the 2000s. If they did know, they would realize that they have missed the best investment in the last 16 years by a very big margin.
Investors in the U.S. would have made $262,000 more by investing in gold than in the S&P. The sad thing is that few Americans realize that they would make even more money in the next five years by holding gold and silver.
These incremental returns by investing in gold are the secrets of this century. Only a very infinitesimal percentage of investors are aware of this. But even fewer investors are aware of what will happen in the next few years.
Gold will continue to outperform stock markets worldwide by an even bigger percentage. The Dow has lost hugely against gold in this century. But that is just the beginning.
As stock markets fall and gold rises, the increased demand for physical gold cannot be satisfied at current prices. Currently the silk road countries of China, India, Russia and Turkey absorb virtually all annual gold mine production. Since 1995 they have bought a total of 31,000 tons.
The acceleration in the Silk Road gold demand started in 2008 during the Great Financial Crisis. Since that time, these four countries have bought a total of 21,000 tons. That equals an average of 2,600 tons annually which is slightly less than annual global mine production. Some estimates consider the Chinese demand to be grossly understated in these figures. The demand from the Silk Road countries is likely to continue to be very strong in spite of current political problems in India.
As the gold price starts to rise, demand in the West will increase substantially. The dilemma is that this increased demand will take place during a period of falling goldmine production.
Currently 3,000 tons are produced annually but this is expected to fall to 2,000 tons by 2025.
Official inflation figures have for an extended period been between 0% and 2% in most countries. Real inflation is of course considerably higher and even more so if asset inflation is included. But in spite of major increases in credit and money printing, inflation has been low due to low velocity of money.
In 2017, we are likely to see an increase in the velocity of money leading to higher inflation and eventually hyperinflation in many countries. As inflation rises, institutional demand for gold will increase for inflation hedging purposes.
Currently gold available for investment is around 0.4% of world financial assets. An increase to say 1.4% of global financial assets would involve gold purchases of $5 trillion. With annual gold production including scrap averaging around 3,500 tons in the next 8 years, the total gold production during this 8 year period would be $1 trillion at current prices. Thus there would be a total deficit of $4 trillion (at current prices) between demand and supply.
The only way that the increased investment demand can be satisfied is with higher prices since production cannot be increased. An institution who wants to spend $1 billion on gold would get 25 tons at current prices. But since there will not be enough gold available at the current price of $1,200, prices will need to increase at least fivefold to $6,000 within the next 8 years in order to satisfy the increase in demand. So for the $ 1 billion investment, the institution would get 5 tons of gold rather than 25 tons.
In addition to increased investment demand, there will be an even greater demand from the holders of paper gold. As the gold price rises, there will be a panic in the paper gold market as the paper holders of gold demand delivery. This is likely to push the gold price well above $10,000 in today's money.
There are many fundamental and technical factors that point to an increase in the gold price in 2017. One of these is my good friend and financial forecaster Ray Merriman, who sees the gold price rising strongly starting in 2017 and continuing to at least 2020.
So for investors who hold physical gold and silver, 2017 should be a very interesting year. And for the ones who don't $1,200 gold and $17 is an absolute bargain compared to what we will see in the next few years. But the most important reason for holding physical gold and silver is not the potential capital appreciation but as a hedge against a bankrupt financial system.
Gold and silver is the best insurance anyone can buy as long as it is held outside the banking system.
Regards,
Egon von Greyerz
for The Daily Reckoning
The post The Investment Secret Of The 2000s — It's Just Started appeared first on Daily Reckoning.
Gold Seeker Closing Report: Gold and Silver Fall While Stocks Climb To New Highs
Posted: 13 Feb 2017 01:24 PM PST
Gold fell $14.60 to $1219.40 in late morning New York trade before it rallied back higher into the close, but it still ended with a loss of 0.66%. Silver slipped to as low as $17.759 and ended with a loss of 0.67%.
Posted: 13 Feb 2017 10:56 AM PST
This post Geopolitics at Play in China appeared first on Daily Reckoning.
[Ed. Note: Jim Rickards' latest New York Times bestseller, The Road to Ruin: The Global Elites' Secret Plan for the Next Financial Crisis, learn how to score your free copy here. This vital book transcends geopolitics and media bias to prepare you for the next crisis in the ice-nine lockdown.] 
China's problems are not entirely external and are not limited to the new Trump administration. China is now embroiled in an internal political struggle around the efforts of President Xi to make himself the most powerful Chinese leader since Mao Zedong.

In reaction to the excesses of the Mao era — including the disastrous Great Leap Forward, which caused famine in the 1950s, and the destructive Cultural Revolution of 1966–76 — China developed a new model of collective leadership under Deng Xiaoping beginning in the 1980s.

Deng himself was never president; he held a series of lesser posts. However, he was the architect of the current presidential system and was regarded as China's "paramount leader" from 1978 to 1987. Deng held what the Chinese call the "Mandate of Heaven," a quasi-religious concept that has bestowed legitimacy on Chinese emperors for over 3,000 years.

The new model still had a single leader, but the leader was chosen by consensus among the Central Committee members of the Communist Party. Each leader was elected to a five-year term (in rigged elections), and was permitted to serve a second five-year term (some did so, some did not).

Importantly, at the beginning of a leader's second five-year term, he would designate one or two likely successors. Those designated successors would then jockey for position among the Central Committee members. Slowly a consensus would emerge around one figure. That individual would then be selected as president at the end of the current president's second term.

This system ran like clockwork through the presidential terms of Li Xiannian (1983–1988), Yang Shangkun (1988–1993), Jiang Zemin (1993–2003), Hu Jintao (2003–2013), and so far in the first term of Xi Jinping (2013–2018).

President Xi's first five-year term expires in March 2018. He is certain to be elected to a second term, but he has so far deviated from the script by not designating any potential successors for a smooth transition in 2023. At a minimum, this will make Xi more powerful after 2018 because it will eliminate the lame duck factor.

Some observers fear that Xi's real ambition is to capture a third-term running until 2028. This would be similar to Vladimir Putin's gymnastics in Russia where he has used various means to hold power since 2000 and is expected to remain in power at least through 2020.

Xi has also pursued an "anti-corruption campaign" that has conveniently resulted in the arrest of two of his most powerful rivals, Bo Xilai, the highly ambitious former mayor of Chongqing, and Zhou Yongkang, the head of China's internal security apparatus. This pattern also mimics Putin's Russia where corruption is tolerated as long as it is for personal enrichment, and does not transmute into geopolitics of political power. Those who aspire to power are brought down and arrested by the leadership.

The question of whether Xi will disrupt the two-term system and seek a third term is open for now. Xi's actions could provoke a backlash that will cause him to lose the Mandate of Heaven. At a minimum, the political uncertainty resulting from Xi's moves makes policy responses to Trump's provocations more difficult to predict. Policymakers are likely to make political rather than economic calculations in their decision-making. Economic policy optimization will suffer as a result.

China also suffers from a host of internal contradictions to its global economic ambitions. Internet censorship, which I experienced first-hand during my recent visit, maintains Communist control in the short-run but stifles the creative exchange of ideas crucial to technological advances. (The internet was originally invented by the Pentagon not as a news or social media platform, but as a way for the best thinkers to exchange ideas quickly during our Cold War rivalry with Soviet scientists.)

China's one-child policy, beginning in the early 1980s, has led to two demographic disasters. The first is that growth in the working age population is now flat, which is a headwind for economic expansion. The second is that a cultural preference for male children has led to sex-selective abortion and female infanticide. This has created a gender skew of 20 million men in their twenties and thirties with no prospect for marriage. Through adverse selection by women, the unmarried men are the least attractive and least skilled.

Many of these men are being forced into military service and sent overseas to supervise mines and industrial enterprises in Africa and South America. In any case, they are ripe for anti-social behaviors and a threat to social stability.

This mix of adverse demographics, technological bottlenecks, and political intrigue are all detriments to China's economic development under the best of circumstances. With new challenges thrown at China by the Trump administration, internal instability may act as a force multiplier to external pressure and lead to a breakdown of social order.
Geopolitics and Instability
The tensions with China around Trump's policies on trade, tariffs, and currency manipulation are a sideshow compared to the much larger issue of Trump's pivot to Russia.
From 1946 to 1989, geopolitics was fundamentally a matter of managing the Russia-U.S. condominium of world power and geopolitics. China was potentially powerful (as recognized by President Nixon in 1972), but was in fact weak, poor, isolated, and chaotic. Russia and the U.S. controlled the world. All other countries were either allies, satellites, proxies or irrelevant. Flashpoints erupted in Berlin, Cuba, Vietnam, and Afghanistan, but U.S. and Soviet troops never fired on each other. The risks of escalation to nuclear war and the end of civilization were too great.
Since 1989, a tripartite world order has emerged involving Russia, China and the U.S. The strategic goal in a three-party game is to align with one of the other parties to the detriment of the third. The U.S. played this two-against-one game well from 1989 to 2009, but has failed utterly since then.
The fall of the Berlin Wall in 1989, coupled with the liberation of Eastern Europe, the 1991 collapse of the Soviet Union, Russian withdrawal from Afghanistan, and the emergence of a democracy in Russia, all resulted in close U.S.-Russia ties, to the point that U.S. "experts" designed much of Russia's legal and financial infrastructure.
China was the odd-man-out in the aftermath of the violent suppression of the Tiananmen Square demonstrations in 1989. I made my first journeys to Red China during this period, in 1992 and 1993. I met almost no Americans and was under constant surveillance by internal security service "minders" posing as mandatory guides.
It was during this odd-man-out stage that China executed its first maxi-devaluation. The USD/CNY cross-rate went from 5.7 to 8.7 almost overnight in 1994. It was also during this period that China perfected the manufacturing juggernaut and transportation networks that led to its export success, massive reserve accumulation, and unprecedented economic growth.
The game changed dramatically in 2000. The U.S. pivoted away from Russia toward China. The election of Vladimir Putin in 2000 involved an assertion of Russian nationalism including territorial claims in the Russian periphery of Georgia, Ukraine, Moldova and the Baltic Republics. Putin was reassembling the old Soviet Empire into a new Russian Empire.
Meanwhile, China manufacturing prowess and willingness to buy U.S. Treasury paper made it the ideal trading partner for the U.S. The Bush administration deftly embraced China and made Russia the odd-man-out. U.S.-Russian relations hit a low in August 2008 when Russia invaded Georgia, a U.S. ally. Bush was too preoccupied with the global financial crisis and the War in Iraq to muster much of a response.
Beginning in 2009, the Obama administration failed to notice that Russia and China were playing their own version of the three-party game with the U.S. as the odd-man-out. Russian-Chinese cooperation expanded in initiatives such as the Shanghai Cooperation Organisation, the BRICS institutions, the New Silk Road initiative, and bilateral deals on currency swaps, oil and natural gas, pipeline infrastructure, and arms sales. (You can get an in depth analysis of the Russian angle in Nomi's article.)
Obama was lulled into complacency by Chinese purchases of Treasury debt even as China's currency manipulation, trade subsidies, and damage to U.S. manufacturing metastasized. By 2016, U.S. relations with Russia were at a post-Cold War low, while relations with China were on a downward trajectory. Russia and China had never been closer since the mid-1950s. The U.S. was the new loser in the three-party game.
With the rise of Donald Trump, the U.S. is back in the game, this time with the promise of much closer relations with Russia and confrontation with China. Putin seems willing to pursue this round with his new best friend Donald Trump. China is beginning to feel the chill of once again being the odd-man-out.
Russia and the U.S. are the two largest energy producers in the world. With cooperation from Saudi Arabia, they can dictate the global price of energy. The appointment of Rex Tillerson, former CEO of ExxonMobil, as Trump's Secretary of State puts the use of the energy weapon in deft hands. China will be pressured for cooperation on issues such as the South China Sea, North Korea's nuclear program, and Taiwan relations.
As is the case regarding concessions on trade and the currency, China is being asked to make concessions it cannot give. Beijing regards Taiwan as an integral part of China, a temporary "breakaway province," not a separate political entity. China's position on Taiwan is existential and non-negotiable.
China likewise has little room for concessions on its claim of near-complete control of the South China Sea. That arm of the Pacific Ocean is rich in fish that China needs to feed its people. China is unwilling to share the catch with Vietnam and the Philippines. Numerous boardings, collisions, and seizures have happened already. A greater armed confrontation there is just a matter of time.
China could help with regard to North Korea's nuclear program. China has many transportation, banking, and food chokepoints it could use to stop North Korea's bad behavior. The problem is China fears North Korea will retaliate by opening its border with China and allowing millions of desperate North Korean citizens to flood into China as destitute refugees. The result would be social and economic destabilization in Manchuria, a part of China already suffering from its rust belt status.
Given a revival of the Russian-U.S. condominium of power on friendly terms, and China's inability to deliver concessions demanded by Trump, the prospect for U.S.-China geopolitical relations is poor.
This will only worsen the already deteriorating economic relations between the two largest economies in the world.
Thank you for reading the Daily Reckoning,
Jim Rickards
for The Daily Reckoning
The post Geopolitics at Play in China appeared first on Daily Reckoning.
Europe Eyes Sweeping Cash Ban: Are Gold And Silver Next?
Posted: 13 Feb 2017 10:40 AM PST
The global war on cash rolls on. The cabal of bankers seeking more transaction fees, busybody political leaders, and central bankers who want to experiment with negative interest rates recently threw India into turmoil by eliminating the two largest denomination bank notes. Now they are preparing a similar assault on Europeans' ability to transact privately and without giving bankers a cut.
Jim Rickards: The Mother of all Elections
Posted: 13 Feb 2017 09:16 AM PST
This post Jim Rickards: The Mother of all Elections appeared first on Daily Reckoning.
In one of his latest interviews, economist and bestselling author Jim Rickards went for a flash round interview session while on the Keiser Report. Max Keiser, someone not afraid of asking pressing questions and sharp commentary spoke with Rickards' about Donald Trump's economic policies so far and what to expect from the elections in Europe.
When asked about bilateral deals with Japan and the meeting with the leader of Japan, Shinzo Abe and Trump he responded, "This is the future of trade, at least for the next four years, maybe the next eight. We will see bilateral deals all over the place. Trump is all about "The Art of the Deal." This is a one-on-one, 'you give me something and I give you something' – which is Trump's style. I think the Japanese are following the Trump lead. We will continue seeing an increase in bilateral deals unfold.
Jim Rickards is a New York Times bestselling author of The Road to Ruin (claim your FREE copy here) and has consulted the U.S government regarding capital markets and maintains clients ranging from institutional investors to government directorates. Rickards' previously worked on Wall Street where he was the principal negotiator overseeing the rescue of LTCM by the Federal Reserve in 1998.
When asked by Max Keiser about rising interest rates and inflationary reactions Rickards directed, "It has to become inflationary sooner or later. We have $20 trillion in debt. You don't have to pay off the debt but you do have to roll is over. You do have to make it sustainable. We are on a unsustainable path. Meaning the Debt-to-GDP ratio is going up."
"Debt is going up about 3% a year, a little more. Growth has been about 2% a year. If you grow your debt at 3% and income at 2%, it sets you on the path to Greece. U.S debt to GDP ratio is about 105%, which is well past the 90% danger zone that Rogoff-Reinhart have identified. Let alone the 60% danger zone that Angela Merkel identified. The U.S is on the path to Greece but there is a ready, sure-fire way out of it and that is inflation. The problem is that the U.S Federal Reserve has been trying to get inflation for 8 years and has failed. It is a sad day when a central bank wants inflation and can't get it. They're not going to stop until they get it."
"The interesting thing is that right now there are vacancies on the Federal Reserve's Board of Governors. Trump is going to be able to fill those. I expect announcements very soon. Janet Yellen is up this time next year. They will be announcing her replacement, potentially, as early as December. Trump is going to completely remake the Board of Governors. I am watching that very closely. Trump wants a weaker dollar. Well how do you get a weaker dollar? You don't get it with higher interest rates, you get it with lower interest rates. You could see a combination of higher fiscal spending and monetary ease. There is a name for that and it is called helicopter money and that will get you inflation."
When Keiser asked about the global job picture and the overall influence escalating outside of central banks he responded, "The great flaw of this monetary experiment we have had for the last eight years is velocity. The Janet Yellen's and Ben Bernanke's of the world all come from Milton Friedman. What Friedman said was that velocity was constant. If you had a maximum, real GDP that could be achieved and you didn't want inflation – and wanted real GDP and nominal GDP to be the same velocity all you had to do was dial up the money supply to the amount roughly equivalent to potential real GDP [with the belief] you were going to get maximum growth with no inflation or deflation. It was central bank nirvana."
"It turns out that whole theory is garbage because velocity is not constant. Velocity has been plunging. It did not start in 2008, it started around 1998 around the time of Long Term Capital Management (LTCM) Crisis along with the Asian and Russian financial crisis. The real problem is not how much money you can print, the question is 'can you get velocity?' That's a psychological and behavior psychology. They have not cracked that code."
Max Keiser then pressed Rickards' on currency wars and the Trump accusations of Germany manipulating its monetary policy he responded, "It is always hard to know what Donald Trump is thinking. He has been calling China a currency manipulator. The fact is, for the past year, China has been propping up their currency. It is true that in past years they did run a cheaper currency. The market wants China to take it down. If Trump wants a cheaper yuan – be careful what you wish for."
"With regards to the euro, I have been very bullish on the currency and have been for a long time. When everyone else was saying that 'Europe was falling, Greece was going to get kicked out and Spain was going to quit' – I said nonsense. It is a roach motel like "Hotel California, where you can check in but you can never leave" it… They have expanded the European monetary zone. My estimate is the next member will be Scotland after they leave the UK. Look to see a much stronger euro over the next six months. Not immediately, and certainly not in the next few weeks, because there is much concern about the uncertainty over the French and Dutch election."
"The 'mother of all elections' is Germany. The polls have been tightening for Angela Merkel and I think she is going to win. She is going to get a lot of help from Mario Draghi in the following sense. The Germans don't want a weaker euro, the rest of Europe does. Greece, Spain and Italy want a weaker euro – but Germany wants a stronger one. Germany is paranoid about inflation, it is in their DNA. The only way you are going to get a stronger euro is if Draghi tapers the asset purchases and maybe even raises interest rates from the current negative level. I expect he will do that by the summer in order to strengthen the euro and help Angela Merkel's election chances. This is one of those examples where the politics and economics get mashed up. It is not going to help Draghi if Merkel loses."
When asked about German elections and the desire for a stronger euro Rickards took hold, "It is the 'Fourth Reich' in that Germany is taking over Europe through monetary, not military means. Germany is an export powerhouse not because of a cheap euro, lately the euro has been cheap and that has given a boost to some of the peripheral countries, but Germany does is not with a cheap euro. Germany does it with technology, innovation, codetermination, a good educational system, etc. They do want domination of Europe, they don't want a cheaper euro and desire a strong euro."
Jim Rickards literally wrote the book on gold,The New Case for Gold – and when asked by Keiser about his take on the latest gold developments after U.S elections he responded, "To highly a research report from Merrill-Lynch that indicated 'bond yields are rising, gold is rising' and historically that has lead to a couple of very real stock market crashes. Maybe that is a fair warning. When you see correlations like this, the important conclusion is that right now yields are going up and gold is going up which shows they are moving in the same direction, not opposites. That is not because of financial panic but because of fear of inflation.
"Inflation comes from the fact that Trump is talking about fiscal expansion. I would expect that to persist. I would also expect the Fed to raise interest rates in March. That could send the economy in the opposite direction… Right now the Fed is talking tough on raising rates while trying to get out ahead of inflation and people fear inflation. My expectation is that we are going to tighten at the wrong time, slow the U.S economy, have to back off and then rates will come back again causing a rally in bonds."
To catch the full interview on the Fed and European elections with Jim Rickards on The Keiser Report click here.
Regards,
Craig Wilson, @craig_wilson7
for the Daily Reckoning
The post Jim Rickards: The Mother of all Elections appeared first on Daily Reckoning.
Is the Gold Silver Ratio Predictive?
Posted: 13 Feb 2017 08:43 AM PST
One aspect of the precious metals market today that I like is the Gold Silver Ratio. It appears to have topped, right along with the 2016 gold bottom, and for all gold bull followers out there this is certainly a welcomed development. Precious metals bear markets always hit silver hard, while bull markets always see Silver outperform gold. As a result, the Gold Silver Ratio rises during bear markets and then falls during bull markets.
SWOT Analysis: Why Gold Traders Are Staying Bullish
Posted: 13 Feb 2017 06:38 AM PST
Gold traders keep their bullish calls on gold for a seventh week as bullion is trading near three-month high levels due to uncertainty around President Donald Trump and the upcoming French elections. French presidential candidate Marine Le Pen announced her party's plan to take control of the central bank. She plans to use the central bank to print money to finance French welfare programs and debt repayments after abandoning the euro. Bloomberg reports that since Trump said the dollar is too strong, hedge fund and other money managers have cut their bets on the dollar.
Is the Gold Silver Ratio Predictive?
Posted: 13 Feb 2017 06:17 AM PST
Gold Silver Ratio One aspect of the precious metals market today that I like is the Gold Silver Ratio. It appears to have topped, right along with the 2016 gold bottom, and for all gold bull followers out there this is certainly a welcomed development. Precious metals bear markets always hit silver hard, while bull markets always see Silver outperform gold. As a result, the Gold Silver Ratio rises during bear markets and then falls during bull markets.
US Dollar: 'Rumors of My Death are Greatly Exaggerated'
Posted: 13 Feb 2017 04:46 AM PST
Today I would like to update the US dollar as its been testing critical support since breaking out from the nearly 2 year horizontal trading range in early November of last year. The daily line chart shows there was a nice clean backtest about a month later to the top rail which looked like breaking out and backtesting process was complete. After a short rally and making a higher high the US dollar declined once more to the top rail causing a lot of uncertainty for many traders. After a slight breach of the top rail the US dollar is now trading back above that very important trendline. So far at this point there is nothing to conclude the bull market that started in 2011 is over at least accordingly to the daily line chart.
Breaking News And Best Of The Web
Posted: 13 Feb 2017 01:37 AM PST
US stocks at all-time highs on Trump tax-reform promise, gold and silver fall from multi-week highs. Trump immigration plan challenged in court, loses. Debate over Putin intensifies. French election uncertainty rocks euro bonds  Best Of The Web The AI threat isn't Skynet. It's the end of the middle class – Wired Bubbles, money and the […]
The post Breaking News And Best Of The Web appeared first on DollarCollapse.com.
What Is Good for the Dollar Is Bad for Gold
Posted: 12 Feb 2017 04:00 PM PST
Posted: 12 Feb 2017 06:31 AM PST
In a bull market surprises come to the upside and it's never advisable to lose one's core position. This rally isn't going to top until sentiment gets excessively bullish. Right now sentiment is dead neutral and it will take 5-10 more weeks before sentiment reaches 75% or higher.
You are subscribed to email updates from Save Your ASSets First.
To stop receiving these emails, you may unsubscribe now.
Email delivery powered by Google
Google Inc., 1600 Amphitheatre Parkway, Mountain View, CA 94043, United States