---
Posted: 21 Dec 2016 07:03 AM PST
So, I have to sideline my "feelings" of concern in the GLD chart when providing you with analysis on the market, and have to still maintain my overall bullish bias until the end of the calendar year. Should the market not provide us with the final squiggles and bottoming that the Elliott Wave count suggests, then I will have to reconsider the case that the entire complex will see lower lows. But, for now, I will be watching for the "final squiggles" and a strong reversal of this downside pattern which has now lasted approximately half the time taken by the rally which began last year at this time.
Where Are The 'Black Swans' Hiding?
Posted: 21 Dec 2016 01:15 AM PST
While being capable of imagining a 'black swan' event implies its non-existence; given the level of groupthink consensus agreement that the bond bull is dead, inflation is back, central banks are maxed out, and global fiscal stimulus will save the world, we thought a look at some of the more unsusual, unpredictable expectations for 2017 was worthwhile...
Following Nomura's list of "Grey Swans", Reuters' Jamie McGeever looks across the analysts' outlooks for 2017 and finds these non-consensus wrinkles in the narrative...
1. Bond yields to fall?
HSBC, which correctly called the recent slide in U.S. bond yields to historic lows, says bond yields may well rise next year and expects 10-year Treasury yields to hit 2.5 percent.
But only in the first quarter.
After that, HSBC's bond strategist Steven Major reckons they will fall back to 1.35 percent because 2.5 percent would be unsustainable under tightening financial conditions, dragging on the economy and constraining the Fed. A bold call.
2. U.S. 10-year yield at 4 pct?
"Forget the boring old investment bank research for 2017; find out what the greatest minds of City Index think are the best trading opportunities for the year ahead!" They certainly don't hold back: Stocks get "slammed" as the end of the bond bull run "starts to bite" and pushes 10-year U.S. Treasury yields to 4 percent; And the oil producers' agreement to cut output falls apart and crude plunges to $15/barrel.
3. Four Black Swans
Economists at Societe Generale illustrate a graphic with four "black swans" that could darken the market landscape next year. The tail risks they see as most likely to alter next year's outlook stem from political uncertainty (30 percent risk factor), the steep increases in bond yields (25 percent), a hard landing in China (25 percent), and trade wars (15 percent).
4. The euro also rises
"The dollar is overvalued versus other G10 currencies" is not something you hear too often.
But it's the view of Swiss wealth management giant UBS, which predicts the euro will end next year at $1.20, drawing support from the ECB tapering QE. Undervalued sterling will rally too, picking itself up from its Brexit mauling.
5. The "good carry" in EM
Few dispute that a higher dollar and U.S. yields next year will hurt emerging markets. Goldman Sachs expects both, but two of its top 2017 trade tips involve buying EM assets.
One is going long on an equally weighted FX basket of Brazilian real, Russian rouble, Indonesian rupiah and South African rand versus short on an equally weighted basket of Korean won and Singapore dollar to earn "the good carry". The other is going long Brazilian, Indian and Polish equities.
6. $1 trillion U.S. earnings bonanza
How much offshore earnings can U.S. companies bring back if president-elect Donald Trump follows through with his pledge to cut corporate tax?
About $1 trillion, according to estimates by Deutsche Bank. This could give U.S. stocks, already at record highs, another shot in the arm. Citi reckons global equities will rise 10 percent next year, led by developed markets. A 10 percent rise in the dollar and cut in U.S. corporation tax to 20 percent could add 6 percent to global earnings per share.
7. China shop bull returns
Chinese stocks will bounce back into a roaring bull market, predicts Morgan Stanley. It reckons the Shanghai Composite index will end next year up 36 percent at 4,400 points, with EPS growth at 6 pct.
This is predicated on there being no significant U.S.-China trade protectionism conflict, although the threat of one and the relatively early stage of the Chinese recovery will keep domestic monetary conditions loose in the first half of 2017. Tougher property sector rules are also starting to divert wealthy individuals' capital towards stocks, MS says.
8. Yuan over the eight
Many FX analysts expect the Chinese yuan to continue falling, but few see it breaking on the weak side of 8.00 per dollar. Those at Deutsche Bank do, albeit not until 2018, though that would still mark a sizeable fall next year for a currency tightly controlled by Beijing. A rising dollar is one side of the equation. And on the other, Deutsche reckons Beijing will not want to see reserves fall below $3 trillion, meaning capital outflows will hit the currency harder than the last couple of years when reserves have been used to cushion the yuan's fall.
9. Bremain?
Here's the scenario: Britain stays in the European Union. Goodbye Brexit, hello Bremain. It's highly unlikely, and analysts at Nomura don't think it will happen. But it's one of 10 potential "gray swan" events for next year they reckon investors should at least consider. "As 2016 was the year politics 'stumped the consensus', why couldn't 2017 do the same?"
One possible path to such an outcome would be UK-led, via a general election, perhaps triggered by court proceedings or whether London would need Scottish and Welsh parliaments' consent. Alternatively, the EU could offer the reforms the UK has been asking for all along, tempting Britain to stay. One related investment idea could be to go long sterling/yen, Nomura says.
* * *
While we would like to be able to predict black swans, by definition they are unpredictable. However, its close cousin, the grey swan, can be envisaged. The scenarios above are the unlikely but impactful events that lie outside the usual base case and risk scenarios of the analyst community.
Open Letter To Bavaria Minister-President Horst Seehofer
Posted: 21 Dec 2016 12:30 AM PST
Submitted by a Zero Hedge reader who wishes to remain anonymous:
OPEN LETTER TO MINISTER-PRESIDENT SEEHOFER
(Sent before the carnage in Berlin's Christmas market)
Dear Minister-President Seehofer,
I would like to commend you on your opposition to mass uncontrolled immigration into Europe. One would think that it would be trivial to praise politicians – who are elected to uphold law and order, meaning our culture and values – for doing so, but these are the times we are living in.
In 1973 French author Jean Raspail asked a prophetic question in his best-selling novel, The Camp of Saints. What if France had at its borders millions of people ready to move in, not carrying weapons but complete destitution instead? If you refuse entry they will face a very uncertain future; but if you let them in millions more will follow and your culture and national identity will die. What should be done?
Today we have the answer: an unprecedented population replacement across much of Western Europe, largely funded by those being replaced. Based on current demographic and immigration trends, Austria will become a majority Muslim country by the end of this century, likely followed by France, Sweden, Belgium, the Netherlands, Germany and even the UK.
Somehow I don't believe that the millions who died defending Europe over centuries had this outcome in mind. But then again neither did the mighty Byzantines and their Persian archrivals, both of which after reaching the pinnacle of Human civilization at the time ended up being irrevocably absorbed by the Islamic demographic and military onslaughts.
As an immigrant myself (who lived in Munich at one point) I have great empathy for anyone leaving their homelands in search of a better life. I certainly have no ill feelings towards my Muslim brothers and sisters, whose aspirations are as worthy as anyone's. If you build a nice house, then throw away the "quaint" tools like your values and religion used in its construction, it shouldn't be a surprise that as the front door is left wide open others will come in and set up their own values and religion in that empty space. Why shouldn't they? I would too if I had the chance.
Unfortunately, as you well know change at this scale is seldom easy… and peaceful. We only need to look at the Balkans, a beautiful region with wonderful people, to get a glimpse of how fractured our own multicultural societies might become. Actually, we are already feeling its effects, with national armies having to patrol European cities to prevent further atrocities – and no resolution in sight. And it can get much worse, not least in terms of personal freedoms, to the detriment of both natives and immigrants. Even a breakup of Germany at some point is not unthinkable.
Large economic crises have reliably sparked social revolutions over generations. We may not have to wait long for another one to hit Europe, now with the novelty of an imported multiethnic component. It is in times of strife that we can truly judge the resilience of our societies, not the relative prosperity we've had until now. And frankly I'm very worried about this particular point.
We can debate whether the SYKES-PICOT agreement in the 1920s is really what led to the current turmoil across much of the Middle East; but it is beyond question that the MERKEL-SARKOZY-BLAIR mass immigration policies have led to this bubbling instability in our societies – very likely for decades. Whether this was incidental or not, our children will probably hate us for it.
You don't have to take my word for it. Prof. Vaclav Smil, considered to be one of the leading global thinkers alive today, listed the emergence of "Eurabia" as one of the potential catastrophes of the 21st century in his seminal book on the matter. I would very much encourage reading it. It seems even the Dalai Lama agrees.
Yes, low birth rates across Europe are a concern, but as we stand on the verge of a massive automation wave which risks displacing millions more jobs I'm not convinced it is that problematic; it might even help manage serious global environmental problems. What is deeply worrying –and irreversible at some point – is the progressive debasement of our culture ("so not to offend the newcomers"), one which has contributed so much to Human progress over centuries. To be clear it is really *culture* that's at stake here, much more than race or anything else which have remained fluid across Europe throughout the ages.
There was once a time when we in the West stood proud of the civilization we created – with great cost and sacrifice, and not always with perfect results or intentions – to the point where we exported it all over the world. And despite the prevailing cultural Marxist narrative in today's mainstream media and academia the recipients are broadly better off as a result (notwithstanding some very notable errors).
Take Germany. Just one of your inventions, the Haber process that allows the industrial production of ammonia (critical for modern agriculture), has enabled the sustenance of innumerable lives all over the world – dare I say far, far more than the unfortunate and unjustifiable deaths caused by the darker days of your recent History. I could name several other German inventions that have greatly helped Humanity. Even your emigrants have made immeasurable contributions to countries like Brazil and especially the US. As such, I am one of many who believe you should feel proud of your German heritage, instead of being beaten down through indoctrination for what happened over seventy years ago.
And now you are on the receiving end of that cultural flow:
Instead of exporting much needed water treatment, cars and farming equipment you export weapons and homegrown jihadists to the Middle East;
Instead of promoting Western education standards and unequivocally standing up for the rights of women across the Middle East you are lost in endless debates of how many burqas and child marriages should be allowed in Germany;
Instead of enforcing international refugee protection laws, especially regarding the first country of safety, you now have to ponder how to accommodate sharia law in your society;
Instead of creating safe zones in the region that will allow people affected by the tragedies of war to live with dignity (at a fraction of the cost of doing so in Europe) and eventually return to rebuild their homes, you completely open your borders creating chaos and resentment – while supporting foreign policies and regimes that, to put it mildly, greatly contribute to destabilizing the Middle East.
Unfortunately, much of the current European political establishment is committed to the dilution of our nation states and cultures so we can all merge into a single, glorious entity. And they figured out that mass immigration is the way to do it. Clearly they learned the wrong lessons from History and there's just no amount of imported crime, rape, violence, murder and animal torture that will stop them from blindly pursuing their EU-topia. The multicultural car crash known as Sweden is a great example of this. I'm sorry for these harsh words but this is the world we live in.
The fate of EU-topia will be the same as that of all utopias. It is already unraveling, unable to create decent jobs for millions of people – especially young Europeans, with no vigor nor any international aspirations (what exactly does it stand for?), incapable of adequately safeguarding the protection of its citizens (especially women and Jews), greatly susceptible to political interference from all sorts of foreign regimes and standing on the verge of a financial collapse so great that risks destabilizing the entire world economy for years to come.
Freedom of thought and speech is what really has made us Europeans so unique and successful in Modern History. Regrettably, we are increasingly not allowed to criticize or report on any of these unfolding tragedies this time around.
I am told that in the incident of the woman who was viciously thrown down the stairs in Berlin your Police is now looking to punish the source of that video leak. Yet another sad episode on the back of the cover up of the New Year Eve's events in Cologne, where to add insult to injury women were told to dress up properly to "avoid problems".
If only that much effort had been put into defending our way of life. Instead, the emperor must keep on walking with no clothes – and no criticism: "since we lost control of reality let's control the perception of that reality"… "it's all fake news"… "the Russians did it"… etc. Fin de civilization indeed.
But persevere we must. We rely on brave politicians like yourself to stand up for the rest of us. For that we thank you Sir. And please rest assured that an increasing number of voters all over Europe will respond to it. There is much to hope for, even as the lights are dimming all over our beloved Continent.
May I wish you and your loved ones a Merry Christmas and a Happy – and Safe – 2017
Sincerely,
Europe Always & Forever
Trump's Economic Team is a Gathering of Goldbugs
Posted: 20 Dec 2016 11:13 PM PST
Gold Stock Bull
Posted: 20 Dec 2016 11:05 PM PST
In last weekend's report, we covered how the Daily Cycle count was stretching too far, so marking a Nov 15th Daily Cycle Low (DCL) made sense. Doing so means that another DC began on Nov 16, and that puts today's date in the normal timing band for a new DCL. So with another DCL fast approaching, the capitulation decline we saw this week fits perfectly with expectations. The large drops in Silver and the Miners are strong indications that the final capitulation for the current Daily and Investor Cycles is at hand.
Posted: 20 Dec 2016 11:00 PM PST
Submitted by Jeff Thomas via InternationalMan.com,
In 2007, Vladimir Putin spoke at the 43rd Munich Conference on Security Policy. Far from being a diatribe, Mister Putin spoke eloquently and without the bluster that we tend to expect from political leaders.
He began by stressing the need for all countries to benefit within the global economy, overcoming poverty, maintaining economic security and developing an ongoing dialogue. He then addressed the increasing threat of warfare in the world, quoting American President Franklin Roosevelt as having said, "When peace has been broken anywhere, the peace of all countries everywhere is in danger."
He warned against a "unipolar" world and aspirations of world supremacy by a single uber-government, saying,
However one might embellish this term, at the end of the day it refers to…one centre of authority, one centre of force, one centre of decision-making… And at the end of the day this is pernicious not only for all those within this system, but also for the sovereign itself because it destroys itself from within. And this certainly has nothing in common with democracy. Because, as you know, democracy is the power of the majority in light of the interests and opinions of the minority.

Incidentally, Russia—we—are constantly being taught about democracy. But for some reason those who teach us do not want to learn themselves. I consider that the unipolar model is not only unacceptable but also impossible in today's…world...the model itself is flawed because at its basis there is and can be no moral foundations for modern civilisation… Unilateral and frequently illegitimate actions have not resolved any problems. Moreover, they have caused new human tragedies and created new centres of tension. Judge for yourselves: wars as well as local and regional conflicts have not diminished…even more are dying than before.
He goes on to describe the growing US disdain for the basic principles of international law, stating pointedly that,
One state and, of course, first and foremost the United States, has overstepped its national borders in every way. This is visible in the economic, political, cultural and educational policies it imposes on other nations. Well, who likes this? Who is happy about this?
Of course, it's true that, worldwide, there's growing concern that the US sees itself as the world's policeman—providing largesse to those governments that kowtow to US interests, whilst attacking those that don't. It claims that it does so to make the world "safe for democracy" yet, in recent years, it has invaded more countries than ever before in its history, destroying well-functioning governments and replacing duly-elected leaders with puppet governments or, worse, with nothing at all.
Mister Putin goes on to state that,
of course this is extremely dangerous. It results in the fact that no one feels safe… Moreover, significantly new threats…have appeared, and today threats such as terrorism have taken on a global character. I am convinced that we have reached that decisive moment when we must seriously think about the architecture of global security. And we must proceed by searching for a reasonable balance between the interests of all participants in the international dialogue. Especially since the international landscape is so varied and changes so quickly—changes in light of the dynamic development in a whole number of countries and regions…

The need for principles such as openness, transparency and predictability in politics is uncontested and the use of force should be a really exceptional measure, comparable to using the death penalty in the judicial systems of certain states. However, today we are witnessing the opposite tendency, namely a situation in which countries that forbid the death penalty even for murderers and other dangerous criminals are airily participating in military operations that are difficult to consider legitimate. And as a matter of fact, these conflicts are killing people—hundreds and thousands of civilians!…

[I]t represents a serious provocation that reduces the level of mutual trust. And we have the right to ask: against whom is this expansion intended? And what happened to the assurances our Western partners made?
Mister Putin also describes the opportunism by the US to profit from aggression, saying,
one hand distributes charitable help and the other hand not only preserves economic backwardness but also reaps the profits thereof. The increasing social tension in depressed regions inevitably results in the growth of radicalism, extremism, feeds terrorism and local conflicts. And if all this happens in, shall we say, a region such as the Middle East where there is increasingly the sense that the world at large is unfair, then there is the risk of global destabilisation.

It is obvious that the world's leading countries should see this threat. And that they should therefore build a more democratic, fairer system of global economic relations, a system that would give everyone the chance and the possibility to develop… But this does not mean interfering in the internal affairs of other countries, and especially not imposing a regime that determines how these states should live and develop. It is obvious that such interference does not promote the development of democratic states at all. On the contrary, it makes them dependent and, as a consequence, politically and economically unstable…

Russia is a country with a history that spans more than a thousand years and has practically always used the privilege to carry out an independent foreign policy. We are not going to change this tradition today. At the same time, we are well aware of how the world has changed and we have a realistic sense of our own opportunities and potential. And of course we would like to interact with responsible and independent partners with whom we could work together in constructing a fair and democratic world order that would ensure security and prosperity not only for a select few, but for all.
Mister Putin's words in 2007 were those of the leader of one of the world's greatest powers, yet his tone (as the reader can attest after reading his words) was that of a leader seeking mutual respect, partnership and cooperation. His message rings true today, yet the US government has consistently sought to present him to the American people as a tyrant—one who seeks dominance over other jurisdictions, when, in fact, it is the US that has been the world's foremost aggressor.
Since this speech was made, the US has annually either continued or increased its aggression against sovereign nations and duly-elected leaders. There can be little doubt that the danger that the US government is placing the American people in is reckless in the extreme. Were the American people to view Mister Putin's speeches nightly on their televisions, in place of endless rants from neocons with ties to the military–industrial complex, it's altogether likely that they'd favour backing off rather than pursuing more mischief abroad.
Unfortunately, Mister Putin's speeches are never heard by the vast majority of Americans, which ensures that they'll be left in the dark. Just as Americans have been tricked into endorsing past military adventures from the Spanish–American War onward, we can expect that, given enough prodding, they will once again concede that, although they do not seek further aggression, the media and the government have demonstrated that it's "necessary."
Although Mister Putin's speeches are not heard in America, it's important to note that they are heard by the rest of the world. Those of us who are not American and live outside the US have greater access to balanced reporting on world events and, like Mister Putin, we fear the unparalleled interference by the US government.
To us, he seems at present to be a voice in the wilderness—countering the US when necessary, but repeatedly seeking peaceful solutions, only to be rebuffed by the US government time and time again—presented as an evil warmonger.
History is replete with the tales of empires that sought to gobble up the world—to subject all people to the whims and dictates of one central government. Never has this been truer than today, when so many American leaders have touted the supposed necessity of a "One World Government" or "New World Order" in which the US reigns supreme.
Historically, each of these empires has gone through a period when its power base spread dramatically, yet each one, in turn, collapsed through excessive warfare on numerous fronts, coupled with increasing debt at home. In each case, the empires have collapsed under their own weight and, in so doing, found themselves without allies, as the world breathed a sigh of relief at the downfall of the latest Goliath.
When this comes to pass with regard to the US empire, Mister Putin's pleas for each country to have had the freedom to decide its own fate will be remembered. He will cease to be a voice in the wilderness and will be remembered as a statesman.
It is eternally true that our loyalty and patriotism should not be bestowed upon any particular government simply because we were born there.
* * *
Unfortunately most people have no idea what really happens when a government goes out of control, let alone how to prepare… The coming economic and political collapse is going to be much worse, much longer, and very different than what we've seen in the past. That's exactly why New York Times best-selling author Doug Casey and his team just released an urgent video. Click here to watch it now.
We are Creating Our Higher Reality Through Truth, Ascension, Alignment
Posted: 20 Dec 2016 10:30 PM PST
 We are Creating Our Higher Reality Through Truth, Ascension, AlignmentDecember 20, 2016by Diane Canfield The Financial Armageddon Economic Collapse Blog tracks trends and forecasts , futurists , visionaries , free investigative journalists , researchers , Whistelblowers , truthers...
[[ This is a content summary only. Visit http://financearmageddon.blogspot.com http://www.figanews.com for full links, other content, and more! ]]
Gold Price Closed at $1131.50 Down $9 or -0.79%
Posted: 20 Dec 2016 08:29 PM PST
| | | | |
| --- | --- | --- | --- |
| 20-Dec-16 | Price | Change | % Change |
| Gold Price, $/oz | 1,131.50 | -9.00 | -0.79% |
| Silver Price, $/oz | 16.05 | 0.03 | 0.17% |
| Gold/Silver Ratio | 70.481 | -0.685 | -0.96% |
| Silver/Gold Ratio | 0.0142 | 0.0001 | 0.97% |
| Platinum Price | 922.90 | 6.70 | 0.73% |
| Palladium Price | 671.35 | -8.00 | -1.18% |
| S&P 500 | 2,270.76 | 8.23 | 0.36% |
| Dow | 19,974.62 | 0.16 | 0.00% |
| Dow in GOLD $s | 364.92 | 2.88 | 0.80% |
| Dow in GOLD oz | 17.65 | 0.14 | 0.80% |
| Dow in SILVER oz | 1,244.21 | -2.16 | -0.17% |
| US Dollar Index | 103.26 | 0.16 | 0.16% |
Brandon Smith Warns The System Is Crashing: "Prepare For Bank Confiscations, Shortages, Insurgency"
Posted: 20 Dec 2016 07:55 PM PST
Submitted by Mac Slavo via SHTFPlan.com,
What is the anatomy of a breakdown?
The past eight years have been extremely difficult for the real economy. Central bank intervention has propped up the stock market at the expense of the main street economy, at the expense of middle class security, at the expense of jobs.
And everyone knows that game can't continue. The question is how it will play out, and how long the game will be.
The Federal Reserve finally announced rate hikes – planning one incremental increase after another throughout the coming Trump Administration.
Close to a decade of stimulus, quantitative easing, zero interest rates and easy money for those on top is coming to an end. For all those who have borrowed, it means that the burden of debt is coming due – and the biggest borrower of all, the U.S. government, will face huge new costs in the form of increased interest on $14 trillion in debt:
Rising interest rates help savers and hurt borrowers. As the biggest borrower on the planet, the U.S. government will soon begin paying more to investors holding roughly $14 trillion in Treasury debt. "As debt continues to grow and interest rates return toward more normal levels, interest spending is slated to be the fastest growing part of the budget." (source)
This crunch could impact state, businesses, municipalities and individual households in a big way as well. Meanwhile, the presidency of Donald Trump has changed the surface of the political landscape entirely, and no one is quite sure what will happen – though plenty on the left have been casting Trump as a neo-Hitlerian figure.
Brandon Smith, who runs Alt-Market.com, may not know the future either, but he has developed a very strong track record for predicting the "surprise" victories for Brexit in the UK, and for Trump in the U.S.
But he didn't just predict their win at the polls, but that these new signposts of the conservative, populist uprising would be used by the elite – who allowed these electoral changes – in order to scapegoat the coming financial collapse.
As things continue to play out, he has been so far proven stunningly accurate, and should not be readily ignored.
Will Trump's presidency be better understood in hindsight as what has already been dubbed: 'Operation Shift Blame'?
Here's what Brandon Smith said a couple of weeks ago in a focused interview with the X22 Report:
The Elite Already Have The Collapse Planned, 'Operation Shift Blame' Is A Go: Brandon Smith
As Brandon Smith argues in the interview, the Trump presidency, if he is right, is all about having a scapegoat for the crash of the economy during his watch.
If the populists, nationalists, and conservatives are blamed, then their views are discredited, and momentum to control the aftermath – and restore order to the system – falls back to the establishment that has, until now, been the target of growing disdain by a population over-run by the status quo and its series of disasters.
But with Trump – undeniably a spectacle to all Americans – the elite have a narrative that will keep people fighting among themselves, divided by race, gender, politics and ideology.
Though President Obama and the circles in Washington keep insisting the economy is recovering, improving and providing, nothing could be further from the truth.
The economy has been "kept on life support" since 2008, when there should have been a bigger crash… but that, too, will come due. They've been artificially propping up the system with stimulus measures, and simply stopping that intervention will usher in a collapse. According to Brandon Smith:
"They're setting it up to where a crash occurs during a Trump presidency, and Trump and conservatives are blamed in the process."
It won't happen overnight. The economic collapse is a "process, not an event" – one that takes place over the course of several years, even a decade. According to Brandon Smith, 2017 will likely see a major acceleration of that collapse.
As the fiscal situation becomes more and more untenable, and the government more desperate to pay the bills, we will likely see government pensions confiscated, promises benefits reduced or delayed, and other measures to pay debts.
On the pretext of sustaining the financial stability of the system, banks may end up "locking out" accounts, seizing funds and account holders and investors could face severe haircuts.
America may well see credit freezes, shortages on the shelves, deliveries could stop, and people could lose their minds as ordinary life is interrupted. As Smith argues,
"Removing stimulus and 'turning off the spigot' will initiate collapse on its own…. and end up being worse than the Great Depression

Smith: "Whatever's going to happen is going to happen between now and early 2018, because that's their window of time to create enough chaos and desperation in order to convince people, to rationalize the idea of switching to a global currency system. After that, I would expect there would be a process of acclimating the public to this new system, and I would expect that a lot of countries would be in third world conditions for a while after that."
A combination of hyperinflation, and deflationary pressures could further wreck the economy, and even decimate the value of the dollar. Further consequences could spiral out of control from there.
Already, there are plans on the books for government to use its nearly-unlimited powers to seize private assets at a personal or institutional level in order to meet the needs, perceived or real, of society. Numerous executive orders give fiat authority to the executive branch to wield dictatorial control and violate private property and personal assets – not the least of which will be private holdings in gold and silver.
The elites have long suggested that the rise of a truly global currency will replace the crash of the dollar system, and the severe economic decline of the United States. This has been in the works for a long, long time.
The system is going to crash regardless… so, arguably, this is how they are planning for it to play out.
The only question left, is: how will you prepare?
For those who want to survive, and be as unscathed as possible, that means building up a supply of food, water, guns, gold, alternative heating and power, medicine, barter items and other essential supplies. It also means preparing psychologically to deal with the loss of income, the breakdown of groceries, supplies and easily-available goods; and it means to distancing oneself from the most vulnerable – and potentially unstable – segments of society.
In particular, it may be wise to leave major urban centers, or have a viable exit strategy to a place that is both rural and self-sustaining. Of course, these are major preparations that have to be made according to the individual needs of each family.
However, the time is past to pretend that these things are not happening; it is time to make some very serious plans for what you will do during what happens next.
Just look to Venezuela or India for a glimpse of how raw things can become once the fiat paper currency ceases to flow freely, or provide for the life that most have become accustomed to living.
As Brandon Smith argues:
"I think the plan is to kill the dollar's world reserve status, and that will severely limit the dollar's value on the global market. We'll still have our green dollars, with the presidents, but the value will no longer be controlled by the Federal Reserve… I think the Federal Reserve will step aside for the IMF, and the IMF will become the new global mediator of currency values."

The United States will be hit the hardest, with the reliance upon the dollar's reserve currency status…. "and an extreme shift from first world down to third world living conditions. It will be a disaster, there will be people who will die during this process, [just as people did] during the Great Depression. It's going to be a disaster."
Because people in the general public aren't prepared even to sustain a few days without power, food and water, people will be pushed into extremes – desperate, rioting, looting, violence, and other destructive behaviors that are hallmarks of a breakdown.
In short, the United States will see a debased situation that is unprecedented in its more than 200 year history. Even the Great Depression could be eclipsed by the extreme events to come – but again, it won't happen overnight.
"Some will react violently, but I think the elites have staged the situation in such a way that a lot of people will be confused as to who to blame. And that's the great advantage that they have, is that they've staged the situation to where, especially people on the left, they have an automatically built-in bias to blame either Donald Trump, or Republicans, or conservatives in general. On the right, I think you're going to have a lot of conservatives blaming the left as [for] sabotaging Trump and ruining his chances of fixing things."

"You're also going to have all kinds of different, I think, events in between – black swan events, terrorist attacks – that really keep people confused and looking every other direction, except at the global bankers. That's what they want… they don't want anyone focused on them. They're going to create as much gas as possible during all this to keep people at each other's throats. They're going to be sitting on the Riviera… and watching."

"Because we are getting to a point in history where the globalists are more exposed than ever before – their schemes, who they are, the organizations they've built. If the general public becomes aware of who they are, and the fact that they're behind this crash, it would be all over for them. You're talking torches and pitchforks – so they need to keep mass confusion, and keep everyone focused on each other, and not them, or the entire apparatus falls apart."

"If we can get enough people aware of, and focused on the bankers first… then we might be able to, at least, remove them from the picture and rebuild in a proper manner. What this is really all about is who is going to rebuild. The system is going to crash regardless, but we still can determine who rebuilds afterwards. If it's them rebuilding, then we're kind of done for, because they're going to use the crisis as a rationale for centralizing everything into their one world system. If we can remove them from the picture, then we might have the chance to rebuild a freer system."
If things get bad enough, there could be an actual civil war again in America – in fact, it may become unavoidable.
People are at extremes right now, and the divisions between the left and right are, in many respects, deeper than they have ever been.
Those who are addicted to government assistance are in for a rude awakening, and those who work for a living face the very real possibility of seeing the American Dream crushed once and for all, in an era from which there will be no turning back.
But the pages of history have not been written, and if they have, they still stand to be edited by real world events. If people get their heads wrapped around what is really happening, perhaps the true villains can be addressed, and power can be kept out of the hands in whom it is most dangerous.
Perhaps, there is a chance that liberty could one day be restored, but first, people must prepare to endure a long, hard fight.
Why invest in the monetary metals and their miners if they won't defend themselves?
Posted: 20 Dec 2016 07:02 PM PST
All the market riggers are primary dealers of U.S. government securities, the most intimate associates of the Federal Reserve Bank of New York.
* * *
10:25p ET Tuesday, December 20, 2016
Dear Friend of GATA and Gold:
The more it exposes and documents manipulation of the monetary metals markets by governments, central banks, and their agents in the financial industry, the more GATA is resented by those in the monetary metals industry who are merely touters of mining shares.
That's because GATA tells people what they are up against when they invest in the monetary metals -- indeed, when they aspire to free and transparent markets and to liberty itself. So while there was a victory for GATA in this month's disgorgement in federal court in New York of Deutsche Bank's electronic records of market rigging by its traders and the traders of other banks, on the whole the revelations may have been a defeat for the mining industry.
... Dispatch continues below ...
---
ADVERTISEMENT
Sandspring Resources Commences 2016 Exploration Campaign
Company Announcement
August 17, 2016
Sandspring Resources Ltd. (TSX VENTURE:SSP, US OTC: SSPXF) is pleased to announce commencement of the 2016 exploration campaign at its Toroparu Gold Project in Guyana, South America.
In 2015 the company completed a 3,700-meter diamond drilling program on the promising Sona Hill Prospect, located 5 kilometers southeast of the main Toroparu deposit. Sona Hill is the easternmost gold anomaly in a cluster of 10 gold features located within a 20-by-7-kilometer hydrothermal alteration halo around Toroparu. Drilling at Sona Hill in 2012 and in 2015 intercepted high-grade mineralization in both saprolite and bedrock, and confirmed the continuity and grade potential of the Sona Hill mineralization.
For the remainder of the announcement and highlights of the 2015 drill program:
https://finance.yahoo.com/news/sandspring-resources-commences-2016-explo...

---
Toronto market analyst and broker Michael Ballanger explained why in his financial letter this week:
https://www.streetwisereports.com/pub/na/twas-the-week-before-christmas
Ballanger wrote: "Until the regulators can finally put an end to this horrific process whereby the bullion banks have a total carte blanche to issue as many [futures] contracts as they desire under the guise of 'hedging,' prospective gold investors are simply going to say, 'Nope, not playing.' The intervention, collusion, and bank-coordinated gang attacks such as we are now witnessing via the Deutsche Bank evidence coming out is actually having a negative effect on sentiment, because as much as the revelations are creating transparency, they are also scaring prospective investors. The prevailing wisdom emanating from the trading desks is: 'Wow! If they can get away with that, why would anyone put money into the gold and silver markets?"
The Deutsche Bank disgorgement has incriminated not just Deutsche Bank itself but all the recent participants of the daily London gold and silver price "fixings" -- HSBC, Bank of Nova Scotia, UBS, Barclays, and Societe Generale. But apparently none of them is reported to be under investigation by government law-enforcement agencies for rigging the gold and silver markets. Indeed, three years ago the U.S. Commodity Futures Trading Commission announced that it had closed a five-year investigation of the silver market without finding any cause for an enforcement action:
http://www.cftc.gov/PressRoom/PressReleases/pr6709-13
While the CFTC has subpoena power and dozens of investigators, it apparently was unable to discover what the anti-trust class-action lawsuit in New York did.
It is not hard to understand why the CFTC might have failed -- or, rather, why it might not have tried very hard. That is, all the trading bank defendants in the gold and silver lawsuits are also primary dealers in U.S. government securities, the most intimate associates of the Federal Reserve Bank of New York.
This is unlikely to be a mere coincidence.
According to the New York Fed --
https://www.newyorkfed.org/markets/primarydealers
-- "Primary dealers are trading counterparties of the New York Fed in its implementation of monetary policy. They are also expected to make markets for the New York Fed on behalf of its official accountholders as needed, and to bid on a pro-rata basis in all Treasury auctions at reasonably competitive prices."
Gold and silver are money, and as GATA's documentation has shown, governments still treat them as such and they remain of great interest to "monetary policy," which is not to let them compete effectively with government-issued money. Governments and central banks can't be much bothered by their primary dealers pushing gold and silver prices around as long as the primary dealers are pushing those prices where governments and central banks want them to go and providing camouflage for government and central bank intervention.
But if that explains the failure of governments to prosecute the gold and silver market riggers, what explains the silence of the monetary metals mining industry and its nominal representatives, like the World Gold Council, even after Deutsche Bank's disgorgement? Enough clamor and exposure would compel governments and central banks either to stop rigging the monetary metals markets or at least to do it in the open, which soon would destroy the rigging's effectiveness, as doing it in the open destroyed the London Gold Pool in 1968:
https://en.wikipedia.org/wiki/London_Gold_Pool
Yet mining companies and the World Gold Council act as if they are owned by the governments destroying them. The mining companies do not act as if they understand the monetary nature of their products or their own function as minters of independent money for free people.
The mining industry's failure to defend itself against predators goes even beyond this. The industry doesn't defend individual companies being systematically victimized.
As Rudi P. Fronk, chairman and chief executive officer of Seabridge Gold, a company that long has supported GATA, writes today:
"I don't know if you have been following the recent trading activity in Seabridge, but last week the company got caught up in a significant rebalancing of the exchange-traded fund GDXJ that occurred Friday with more than 2.17 million shares sold as a block at the close. Going into last week, GDXJ owned just over 6 million common shares of Seabridge, or approximately 12 percent of our shares outstanding. The fund ended the week owning only 3.7 million shares (7 percent of Seabridge), having sold more than 2.3 million shares of the company during a tough week for gold.
"Unfortunately we do not get any notice of the extent of these rebalancings and learn about them only after the fact. But it is clear to me that someone knows ahead of time about the rebalancings, as we get shorted days before the block crosses with the shorters knowing that they will be able to cover at a low price with the end-of-week block.
"This has happened to us before, and while such events usually make great entry points for new buyers, current shareholders get screwed."
The mining industry should have an association to clamor against such mistreatment as well. But where is it? The World Gold Council seems to function mainly to divert into mere derivatives investment funds intended for real metal and to ensure that there never is a world gold council.
So what can be done by investors in the monetary metals and by advocates of free and transparent markets and limited and accountable government?
Plenty can be done, once you realize that, powerful as the other side is, exercising all the power of government, its most powerful weapon is your own demoralization.
For starters people can challenge the gold and silver companies in which they are invested, insisting that company executives review the documentation of surreptitious intervention in the gold and silver markets by central banks and take a position on it:
http://www.gata.org/node/14839
Is the documentation genuine and valid or forged or misconstrued? If the mining industry protested about it to its elected representatives in government, it would make serious trouble.
Second, people can query their elected representatives about the market rigging -- urging them to review and investigate the documentation as well and to question treasury and central bank officials about it. Are governments surreptitiously trading the gold market and, if so, for what purpose? Then any responses or refusals to respond should be publicized.
The same questions should be directed to financial regulators too and their answers publicized -- particularly the U.S. Commodity Futures Trading Commission, whose failure to crack the silver case is now a spectacular embarrassment.
Sensational as the revelations in the Deutsche Bank case have been, the case has a long way to go before resolution. It likely will prompt more lawsuits against more trading banks, but maybe not until the current case is resolved. No one should wait for that.
And of course since apart from the lawsuit in New York only GATA seems to be doing anything about this fraud, people can support us financially:
Even a $5 donation will be more than Newmont Mining has contributed to the cause.
The logic of the use of derivatives to suppress monetary metals prices is that there is enormous potential for prices to explode if the rigging stops and the physical market defeats the paper market. But as long as investors are ready to accept mere certificates from bullion banks in place of real metal, and governments, central banks, and their agents are ready to issue paper for infinite amounts of imaginary gold, the market rigging can go on forever.
As with everything else in the world, it's entirely a question of whether people can ever bring themselves to act.
CHRIS POWELL, Secretary/Treasurer
Gold Anti-Trust Action Committee Inc.
CPowell@GATA.org

* * *
Help keep GATA going
GATA is a civil rights and educational organization based in the United States and tax-exempt under the U.S. Internal Revenue Code. Its e-mail dispatches are free, and you can subscribe at:
To contribute to GATA, please visit:
Posted: 20 Dec 2016 07:00 PM PST
Keiser Report: Putin, Hacking & Conspiracy In this episode of the Keiser Report from Pensacola, Florida, Max and Stacy discuss the 'birthering' of the Democrats as Keith Olbermann turns xenophobe, and conspiracy theories flourish in the media. They also discuss Russia's latest gold...
[[ This is a content summary only. Visit http://financearmageddon.blogspot.com http://www.figanews.com for full links, other content, and more! ]]
Det. Jim Rothstein - Pizzagate, Pedophilia & The Cult
Posted: 20 Dec 2016 05:00 PM PST
Jeff Rense & Det. Jim Rothstein - Pizzagate, Pedophilia & The Cult Clip from December 15, 2016 - guest Det. Jim Rothstein on the Jeff Rense Program. The Financial Armageddon Economic Collapse Blog tracks trends and forecasts , futurists , visionaries , free investigative...
[[ This is a content summary only. Visit http://financearmageddon.blogspot.com http://www.figanews.com for full links, other content, and more! ]]
ALERT: Chilling "Incident" Occurs at US Embassy, Moments After Russian Event in Turkey
Posted: 20 Dec 2016 04:30 PM PST
ALERT: Moments After Russian Ambassador Event, this Chilling "Incident" Occurs at US Embassy, in Ankara, Turkey. ~~ The Financial Armageddon Economic Collapse Blog tracks trends and forecasts , futurists , visionaries , free investigative journalists , researchers , Whistelblowers ,...
[[ This is a content summary only. Visit http://financearmageddon.blogspot.com http://www.figanews.com for full links, other content, and more! ]]
Posted: 20 Dec 2016 02:54 PM PST
This post Axis of Gold appeared first on Daily Reckoning.
[Ed. Note: Jim Rickards latest New York Times best seller, The Road to Ruin: The Global Elites' Secret Plan for the Next Financial Crisis (claim your free copy here) goes beyond the election and prepares you for the next crisis]
Now is the time to keep your eyes on the monetary endgame. Not the daily mark-to-market in paper gold. This endgame is an all-out attack on the status of the U.S. dollar as the benchmark global reserve currency. Numerous players have an interest in ending the dollar's role for reasons ranging from climate change (global problems require global money solutions), to geopolitics (Russia and China both have regional hegemonic ambitions in Eastern Europe and East Asia respectively). As investors with longer horizons and patience, we see ways to profit from these global macro trends.
We've done the deep-dive you need to see the big picture. All indicators show this is an excellent time to accumulate a position in gold, if you haven't put 10% of your investable assets in gold and physical metal already (which is what I recommend).
Whenever a new president is elected, think tanks in Washington get to work writing transition papers for the new administration. These are compilations of policy advice from subject matter experts for the benefit of the president-elect's transition team.
I was invited to contribute to a transition paper on national economic security. This is the policy area with geopolitics and global capital markets converge. I was invited by a non-partisan institute called Center on Sanctions and Illicit Finance, part of the prestigious Foundation for the Defense of Democracies. It was founded by Jack Kemp and Jeane Kirkpatrick and other patriotic Americans concerned about the rise of authoritarianism, and the decline of freedom and liberty.
The final national economic security paper has not yet been published as of this writing, but here's an advance preview of a section I wrote on what I called the Axis of Gold:
A major blind spot in U.S. strategic economic doctrine is the increasing use of physical gold by China, Russia, Iran, Turkey and others both to avoid the impact of U.S. sanctions and create an offensive counterweight to U.S. dominance of dollar payment systems.
Currently U.S. dollar-denominated instruments and transactions constitute about 60% of global reserves, and 80% of global payments respectively. The U.S. monopoly of power over dollar payment channels gives the U.S. unrivaled dominance over the international monetary system and the economic well-being of every nation on earth. Adversaries naturally chafe at this immense power especially in light of U.S. imposed sanctions that are considered overbearing and unjustified by the targets. Those adversaries do not issue currencies that are potential alternatives to the dollar because of inadequate rule-of-law, immature bond markets, primitive capital markets infrastructure, or all three. The only feasible alternatives to dollar dominance are special drawing rights (SDRs) issued by the IMF, and gold.
To prepare for a physical gold alternative to the U.S. dollar, Russia increased its gold reserves 280% from the first quarter of 2006 to the second quarter of 2016 (from 386.5 metric tonnes to 1,498.7 metric tonnes), while China increased its gold reserves 203% in the same period (from 600 metric tonnes to 1,823.3 metric tonnes). China has been consistently non-transparent about its activities in the gold market.
Based on China's mining output and reliable data on gold exports from Hong Kong and Switzerland to China, there is good reason to conclude that China's actual gold holdings are nearer 4,000 metric tonnes, (a 567% increase since 2006). The comparable increase for Turkey is 308%. Reliable data is not available for Iran, however, exports from Turkey and Dubai to Iran are significant, and there is good reason to conclude that Iran is also a rising gold power relative to the size of its economy. Russia, China, Turkey, and Iran constitute a new "Axis of Gold" prepared to undermine confidence in the U.S. dollar.
Gold offers adversaries significant benefits in a world of U.S. imposed dollar-based sanctions. Gold is physical, not digital, so it cannot be hacked or frozen. Gold is easy to transport by air to settle balance of payments or other transactions between nations. Gold flows cannot be interdicted at SWIFT or FedWire. Gold is fungible and non-traceable (it is an element, atomic number 79), so its provenance cannot be ascertained. The U.S. is unprepared for this coming strategic alternative to dollar dominance.
No sooner had I submitted this analysis than President Erdoğan of Turkey made the following remarks in response to a currency crisis in his country: "Those who keep dollar or euro currency under their mattresses should come and turn them into liras or gold." Turkey is not only accumulating large gold reserves, it is also a major transshipment point for gold flowing illegally to Iran.
Evidence for the rise of this Axis of Gold is overwhelming. Right now gold mining output is flat, western central bank sales of gold have ceased, and acquisition of gold by the Axis is increasing. In India, a mad scramble for physical gold has begun because the government has declared most forms of cash to be illegal. The Indian government may not like gold (they have been seizing it from private hands), but the Indian people are wiser than their government. Indians are buying as much gold as they can through legal and illegal channels.
With limited output, limited western sales, and huge eastern purchases, it's only a matter of time before a link in the physical gold delivery chain snaps and a full-scale buying panic erupts. Then the price of gold will soar regardless of paper gold manipulations. However, it may be too late for investors to benefit because the ready supply of physical gold will be gone. The time to take a position is now.
When will this buying panic erupt? What signs can we look to for guidance?
The most important input is the gradual dumping of U.S. Treasury debt by foreign creditors of the U.S. These market participants are highly sophisticated. They know they cannot dump all of their U.S. debt at one time without causing a panic and hurting their own positions.
If dumping were viewed as malicious or hostile, the president could freeze the accounts of market participants using his powers under the International Emergency Economic Powers Act of 1977. Based on this, one would expect sales of Treasuries to be gradual and to play out over time. That's exactly what we've been seeing since 2013 as shown in this graph: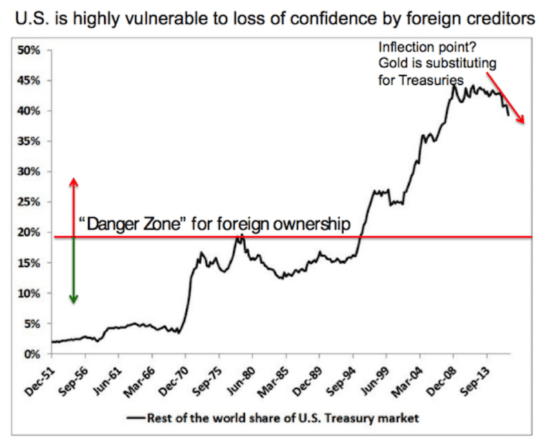 This graph is revealing not only because of the gradual reduction of U.S. Treasury holdings by foreigners, but also because of the extremely high level of such holdings. Some countries such as Japan are highly indebted, but the debt is held primarily by their own citizens who have no interest in attacking their own government.
That's not true for the U.S. We are extremely vulnerable to foreign attack because of the high percentage of foreign ownership — almost 40% of the market.
The second major indicator is the run-off in China's reserve position. China's reserves have collapsed from over $4 trillion to about $3 trillion in the past 30 months. This decline shows no signs of stopping; in fact it has accelerated lately to the point that China is now imposing capital controls.
What is revealing about this is that while total reserves have been collapsing, gold reserves have been going up. China has been buying thousands of tons of gold even as they sell U.S. Treasury bonds to pay offshore creditors and prop-up their currency.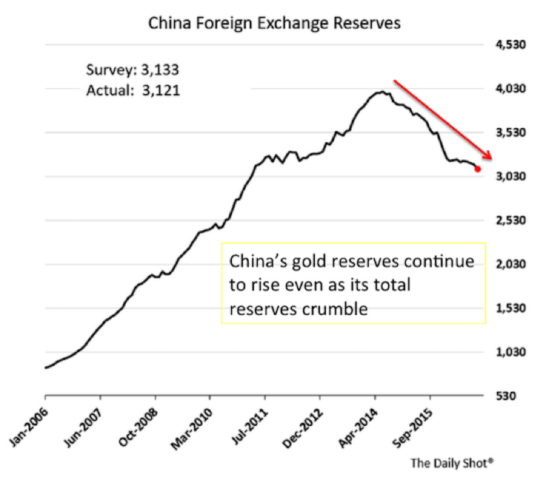 Indicators all point in the same direction – Treasuries are being dumped and gold is being acquired by the largest investors in the world. This is being done not as a "day trade" but as a strategic geopolitical move.
This means these trends will continue until the aims of the Axis of Gold have been achieved. Those aims include the overthrow of the U.S. dollar as the benchmark global reserve currency. When that happens, collapsing confidence in the dollar will send the dollar price of gold skyrocketing.
But you do not have to wait until the final collapse of confidence in the dollar to benefit. Momentum will accelerate long before the endgame, giving early investors ample opportunity to profit from the trend.
Regards,
Jim Rickards
for The Daily Reckoning
The post Axis of Gold appeared first on Daily Reckoning.
FBI Releases Warrant Used To Get Hillary Clinton Emails
Posted: 20 Dec 2016 02:00 PM PST
FBI Releases Warrant Used To Get Hillary Clinton Emails Much Of It Redacted! The Financial Armageddon Economic Collapse Blog tracks trends and forecasts , futurists , visionaries , free investigative journalists , researchers , Whistelblowers , truthers and many more
[[ This is a content summary only. Visit http://financearmageddon.blogspot.com http://www.figanews.com for full links, other content, and more! ]]
Gold Seeker Closing Report: Gold and Silver Bounce Back From Morning Losses To End Mixed
Posted: 20 Dec 2016 01:22 PM PST
Gold fell $12.82 to $1126.48 in late morning New York trade before it jumped back higher heading into the afternoon, but it still ended with a loss of 0.68%. Silver fell to as low as $15.626 at one point, but it then rose to as high as $16.082 in early afternoon trade and ended with a gain of 0.37%.
Interesting NEW WORLD ORDER is Coming - Dollar Collapse 2016
Posted: 20 Dec 2016 01:00 PM PST
Interesting NEW WORLD ORDER is Coming - Dollar Collapse 2016 The Financial Armageddon Economic Collapse Blog tracks trends and forecasts , futurists , visionaries , free investigative journalists , researchers , Whistelblowers , truthers and many more
[[ This is a content summary only. Visit http://financearmageddon.blogspot.com http://www.figanews.com for full links, other content, and more! ]]
'Twas the Week Before Christmas..
Posted: 20 Dec 2016 12:17 PM PST
After the Trump victory, what should have been a December of portfolio managers chasing gold and silver stocks turned into a December where portfolio managers were chasing the banks because higher interest rates brought about by the post-election surge in yields were "bullish." Well, yes, I get it that the steeper the yield curve, the bigger the margin for the lenders, but how on earth does Bank of America get marked up by 20% because the 10-year prints a 2.48 yield? Higher borrowing costs, by the way, are NOT good for business especially if borrowers are shutting their doors because higher borrowing costs are crippling their customers' purchasing power.
Breaking: German Police "Suspect Armed, Still At Large" in Christmas Market Massacre
Posted: 20 Dec 2016 12:00 PM PST
 German police release suspect in Berlin attack, they believe the real attacker is armed and still at large. The Financial Armageddon Economic Collapse Blog tracks trends and forecasts , futurists , visionaries , free investigative journalists , researchers , Whistelblowers , truthers...
[[ This is a content summary only. Visit http://financearmageddon.blogspot.com http://www.figanews.com for full links, other content, and more! ]]
Latest SHOCK for Hillary! RESULTS of Electoral College, Hillary Lost 11 Electors!
Posted: 20 Dec 2016 11:30 AM PST
 Latest SHOCK for Hillary! RESULTS of the Electoral College Vote - Hillary Lost 11 Electors! Dec 19, 2016. Russians. It was the Russians. They hacked the minds of the electors and forced them to vote against Hillary The Financial Armageddon Economic Collapse Blog tracks trends and...
[[ This is a content summary only. Visit http://financearmageddon.blogspot.com http://www.figanews.com for full links, other content, and more! ]]
The Enrichment of Europe: A BEST OF (TOP 10) 2016
Posted: 20 Dec 2016 11:00 AM PST
Europeans wake up, your government doesn't like you, it doesn't want to protect you, it wants to REPLACE you!  From now on let us all refer to victims of Muslim migrants as having been "Merkeled". Now that's a meme worth spreading. The Financial Armageddon Economic Collapse Blog tracks...
[[ This is a content summary only. Visit http://financearmageddon.blogspot.com http://www.figanews.com for full links, other content, and more! ]]
Dow Jones roars towards 20,000 mark as US dollar hits 14-year high
Posted: 20 Dec 2016 10:44 AM PST
This posting includes an audio/video/photo media file: Download Now
Posted: 20 Dec 2016 10:42 AM PST
In last weekend's report, we covered how the Daily Cycle count was stretching too far, so marking a Nov 15th Daily Cycle Low (DCL) made sense. Doing so means that another DC began on Nov 16, and that puts today's date in the normal timing band for a new DCL. So with another DCL fast approaching, the capitulation decline we saw this week fits perfectly with expectations.
Ex-Deutsche Bank trader accused of market manipulation in Russia
Posted: 20 Dec 2016 09:37 AM PST
By Martin Arnold and Max Seddon
Financial Times, London
Tuesday, December 20, 2016
Russia's central bank said on Tuesday it had found evidence of "large scale" market manipulation by Deutsche Bank's former head of Russian equity trading, accusing him of doing R300 billion ($4.8 billion) of illicit trades in the names of his relatives.
The case is another blow for Deutsche's already battered reputation in Russia, where it has shut down most of its investment banking operations after being hit by a separate trading scandal last year.
Yuri Khilov, who left Deutsche in 2015, earned about R255 million of profit for himself and his family from 2013 to 2015, the Russian central bank said in a statement today. It said complaints had been filed with local law enforcement agencies.
The central bank accused Mr. Khilov of opening accounts in his relatives' names, then booking trades on behalf of Deutsche's London branch that allowed them to profit within minutes by buying or selling stocks of Russia's most liquid companies, including Gazprom, Sberbank, Rosneft, Lukoil, and Norilsk Nickel, in the opposite direction. ...
... For the remainder of the report:
https://www.ft.com/content/488a58e0-c6bd-11e6-8f29-9445cac8966f

---
ADVERTISEMENT
Canadian Government Issues Key Water License
for Seabridge Gold's KSM Project in British Columbia
Company Announcement
Monday, November 21, 2016
TORONTO -- Seabridge Gold Inc. (TSX: SEA) (NYSE:SA) announced today it has received a license from the Government of Canada required for the construction, operation, and maintenance of the water storage facility and associated ancillary water works at its 100 percent-owned KSM Project in northwestern British Columbia.
The license, as authorized within the International Rivers Improvement Act, regulates all structures and activities situated on transboundary waters shared with the United States that have the potential to affect water quality and quantity. The Water storage facility and its ancillary water works (water diversion ditches and tunnels) are the primary water management control systems for the KSM Project. These facilities separate water that has not contacted mined material from so-called contact water originating from disturbed areas of the mine site and then contain the contact water prior to treatment and eventual release to the receiving environment.
These facilities are situated on Mitchell and Sulphurets creeks, tributaries of the transboundary Unuk River system that flows into Alaska. The license was granted for a term of 25 years under the International Rivers Improvements Regulations as administered by Environment and Climate Change Canada. ...
... For the remainder of the announcement:
http://seabridgegold.net/News/Article/642/federal-government-issues-key-...

---

Help keep GATA going
GATA is a civil rights and educational organization based in the United States and tax-exempt under the U.S. Internal Revenue Code. Its e-mail dispatches are free, and you can subscribe at:
To contribute to GATA, please visit:
Silver Manipulation, Mining Stocks And Freedom
Posted: 20 Dec 2016 07:00 AM PST
Mike Maloney and David Morgan talk about the recent evidence of Deutsche Bank, UBS, and Barclays colluding to rig the silver markets. Also, they cover where stocks and speculation belong in precious metal investors' portfolios.
Gold: The Wait For Inauguration Day
Posted: 20 Dec 2016 06:55 AM PST
Gold has a cyclical tendency to decline ahead of a rate hike, and rally after it is announced. This time, the US election may delay the rally, but create one that is bigger and more sustained than the rally of 2016. Here's why: Republican parties have cyclically been associated with significant US dollar downtrends. The next presidential inauguration occurs on January 20, 2017. Donald Trump has repeatedly stated that he wants a lower dollar. He'll have control of both the senate and the congress, putting him in a position of tremendous power to impose his will on US markets.
Breaking News And Best Of The Web
Posted: 20 Dec 2016 01:37 AM PST
US stocks, interest rates, dollar at recent and/or record highs. Worries about valuation are spreading. US housing starts plunge as higher mortgage rates begin to bite. Italian banks restructuring and raising capital as government begins bail-out. Terrorist attacks in Turkey and Germany. Gold and silver fall again.   Best Of The Web Dow 20,000 12-9-16 […]
The post Breaking News And Best Of The Web appeared first on DollarCollapse.com.
You are subscribed to email updates from Save Your ASSets First.
To stop receiving these emails, you may unsubscribe now.
Email delivery powered by Google
Google Inc., 1600 Amphitheatre Parkway, Mountain View, CA 94043, United States