---
Election Crisis Worsens -- Jim Fetzer
Posted: 04 Nov 2016 10:00 PM PDT
Fetzer & Rense - Election Crisis Worsens Jim Fetzer, Jeff Rense and Preston James (last 20 minutes in the first hour) in The Jeff Rense Show, on Trump's coming victory, November 2 and 3, 2016. The Financial Armageddon Economic Collapse Blog tracks trends and forecasts , futurists ,...
[[ This is a content summary only. Visit http://www.newsbooze.com or http://www.figanews.com for full links, other content, and more! ]]
Julian Assange Says Trump Won't Be Allowed To Win, "Clinton And ISIS Are Funded By The Same Money"
Posted: 04 Nov 2016 07:54 PM PDT
One day after Julian Assange officially revealed for the first time that the source of hacked Podesta and DNC emails in Wikileaks' possession is not Russia, in the second excerpt from the John Pilger Special, to be broadcast by RT on Saturday Julian Assange accuses Hillary Clinton of misleading Americans about the true scope of Islamic State's support from Washington's Middle East allies.
As previously reported, in an August 17, 2014 email made public WikiLeaks last month, Hillary Clinton, who had served as secretary of state until the year before, urges John Podesta, then an advisor to Barack Obama, to "bring pressure" on Qatar and Saudi Arabia, "which are providing clandestine financial and logistic support to ISIS and other radical Sunni groups."
"I think this is the most significant email in the whole collection," Assange, whose whistleblowing site released three tranches of Clinton-related emails over the past year, told Pilger in the interview. "All serious analysts know, and even the US government has agreed, that some Saudi figures have been supporting ISIS and funding ISIS, but the dodge has always been that it is some "rogue" princes using their oil money to do whatever they like, but actually the government disapproves. But that email says that it is the government of Saudi Arabia, and the government of Qatar that have been funding ISIS."
As recounted by RT, Assange and Pilger, who sat down for their 25-minute interview at the Ecuadorian Embassy in London where the whistleblower has been a refugee since 2012, also talked about the conflict of interest between Clinton's official post, her husband's nonprofit, and the Middle East officials, whose stated desire to fight terrorism may not have been sincere.
John Pilger: The Saudis, the Qataris, the Moroccans, the Bahrainis, particularly the first two, are giving all this money to the Clinton Foundation, while Hillary Clinton is secretary of state, and the State Department is approving massive arms sales, particularly Saudi Arabia.
Julian Assange: Under Hillary Clinton – and the Clinton emails reveal a significant discussion of it – the biggest-ever arms deal in the world was made with Saudi Arabia: more than $80 billion. During her tenure, the total arms exports from the US doubled in dollar value.
JP: Of course, the consequence of that is that this notorious jihadist group, called ISIL or ISIS, is created largely with money from people who are giving money to the Clinton Foundation?
JA: Yes.
The conversation then turns to the imminent presidential election: Pilger questioned Assange over increasingly frequent accusations from the Clinton camp, and Western media, that WikiLeaks is looking to swing next week's US presidential election in favor of Donald Trump – perhaps at Russia's behest.
However, just as he did last week, Assange again dismissed the prospect of Trump, who is almost tied in the polls, winning as unlikely, and not necessarily due to his standing with the electorate.
"My analysis is that Trump would not be permitted to win. Why do I say that? Because he has had every establishment off his side. Trump does not have one establishment, maybe with the exception of the Evangelicals, if you can call them an establishment," said Assange. "Banks, intelligence, arms companies, foreign money, etc. are all united behind Hillary Clinton. And the media as well. Media owners, and the journalists themselves."
He is right, but the same was said about Brexit.
TERROR ATTACK PLANNED FOR MONDAY/FALSE FLAG
Posted: 04 Nov 2016 07:30 PM PDT
 WHAT IS A FALSE FLAG?A HORRIFIC STAGED EVENT, BLAMED ON A POLITICAL ENEMY, AND USED AS A PRE-TEXT TO A WAR OR TO ENACT DRACONIAN LAWS IN THE NAME OF NATIONAL SECURITY. The Financial Armageddon Economic Collapse Blog tracks trends and forecasts , futurists , visionaries , free...
[[ This is a content summary only. Visit http://www.newsbooze.com or http://www.figanews.com for full links, other content, and more! ]]
BREAKING: FBI Just Reveals HUUUGE Find in Clinton Probe! Get Ready for President Trump…
Posted: 04 Nov 2016 06:30 PM PDT
 BREAKING: All of the 30,000 HILLARY DELETED EMAILS are NOW FOUND - in Weiner's LAPTOP! Amazing and TRUE!FBI Just Revealed HUUUGE Find in Clinton Investigation! Get Ready for President Trump… The Financial Armageddon Economic Collapse Blog tracks trends and forecasts , futurists ,...
[[ This is a content summary only. Visit http://www.newsbooze.com or http://www.figanews.com for full links, other content, and more! ]]
Full Speech Donald Trump Rally in Wilmington, Ohio 11/4/16
Posted: 04 Nov 2016 06:00 PM PDT
 Friday, November 4, 2016: Live streaming coverage of the Donald Trump Rally in Wilmington, OH at Airborne Maintenance & Engineering Services, Inc. Live coverage begins at 4:00 PM ET The Financial Armageddon Economic Collapse Blog tracks trends and forecasts , futurists ,...
[[ This is a content summary only. Visit http://www.newsbooze.com or http://www.figanews.com for full links, other content, and more! ]]
S&P500 has Dropped for Nine Days Running, its Longest Losing Streak Since December 1980
Posted: 04 Nov 2016 05:03 PM PDT
Here's the weekly scorecard:
| | | | | |
| --- | --- | --- | --- | --- |
| | 28-Oct-16 | 4-Nov-16 | Change | % Change |
| Silver Price, cents/oz. | 1,776.20 | 1,834.20 | 58.00 | 3.3 |
| Gold Price, dollars/oz. | 1,275.50 | 1,303.30 | 27.80 | 2.2 |
| Gold/silver ratio | 71.811 | 71.056 | -0.755 | -1.1 |
| Silver/gold ratio | 0.0139 | 0.0141 | 0.0001 | 1.1 |
| Dow in Gold Dollars (DIG$) | 294.34 | 283.73 | -10.61 | -3.6 |
| Dow in gold ounces | 14.24 | 13.73 | -0.51 | -3.6 |
| Dow in Silver ounces | 1,022.47 | 975.26 | -47.21 | -4.6 |
| Dow Industrials | 18,161.19 | 17,888.28 | -272.91 | -1.5 |
| S&P500 | 2,126.41 | 2,085.18 | -41.23 | -1.9 |
| US dollar index | 98.34 | 96.97 | -1.37 | -1.4 |
| Platinum | 978.20 | 1,001.70 | 23.50 | 2.4 |
| Palladium | 615.80 | 624.25 | 8.45 | 1.4 |
IMPORTANT NOTE: The following are wholesale, not retail, prices. To figure our retail selling price, multiply the "ask" price by 1.035. To figure our retail buying price, multiple the "bid" price by 0.97. Lower commissions apply to larger orders, higher commissions to very small orders.
| | | | | |
| --- | --- | --- | --- | --- |
| SPOT GOLD: | 1,304.20 | | | |
| GOLD | Fine Tr.Oz. | BID | ASK | $/oz |
| American Eagle | 1.00 | 1,340.72 | 1,347.89 | 1,347.89 |
| 1/2 AE | 0.50 | 664.63 | 687.97 | 1,375.93 |
| 1/4 AE | 0.25 | 335.57 | 350.50 | 1,402.02 |
| 1/10 AE | 0.10 | 136.84 | 142.81 | 1,428.10 |
| Aust. 100 corona | 0.98 | 1,271.98 | 1,280.98 | 1,306.86 |
| British sovereign | 0.24 | 309.31 | 322.31 | 1,369.21 |
| French 20 franc | 0.19 | 241.06 | 245.06 | 1,312.58 |
| Krugerrand | 1.00 | 1,321.15 | 1,331.15 | 1,331.15 |
| Maple Leaf | 1.00 | 1,314.20 | 1,328.20 | 1,328.20 |
| 1/2 Maple Leaf | 0.50 | 749.92 | 684.71 | 1,369.41 |
| 1/4 Maple Leaf | 0.25 | 332.57 | 348.87 | 1,395.49 |
| 1/10 Maple Leaf | 0.10 | 138.25 | 142.16 | 1,421.58 |
| Mexican 50 peso | 1.21 | 1,564.48 | 1,575.48 | 1,306.69 |
| .9999 bar | 1.00 | 1,308.76 | 1,316.20 | 1,316.20 |
| SPOT SILVER: | 18.37 | | | |
| SILVER | Fine Tr.Oz. | BID | ASK | $/oz |
| VG+ Morgan $B4 1905 | 0.77 | 25.00 | 27.00 | 35.29 |
| VG+ Peace dollar | 0.77 | 20.00 | 22.00 | 28.76 |
| 90% silver coin bags | 0.72 | 13,595.73 | 13,881.73 | 19.42 |
| US 40% silver 1/2s | 0.30 | 5,225.93 | 5,375.93 | 18.22 |
| 100 oz .999 bar | 100.00 | 1,816.50 | 1,851.50 | 18.52 |
| 10 oz .999 bar | 10.00 | 185.15 | 190.15 | 19.02 |
| 1 oz .999 round | 1.00 | 18.17 | 18.67 | 18.67 |
| Am Eagle, 200 oz Min | 1.00 | 19.87 | 21.37 | 21.37 |
| SPOT PLATINUM: | 1,001.70 | | | |
| PLATINUM | Fine Tr.Oz. | BID | ASK | $/oz |
| Platinum Platypus | 1.00 | 1,016.70 | 1,046.70 | 1,046.70 |

Hard week for the big things, but great week for the little ones. S&P500 has dropped for nine days running, its longest losing streak since December 1980 [sic]. US dollar index proved this week it has no lungs tough enough to breathe the rarified air above 99. US 30 year treasury bond continues to fall, forecasting the worst economic mess in history. SILVER & GOLD PRICE had a great week, breaking through resistance at 1800¢ & $1,300, & are set for another big rally.

Next Monday and Tuesday markets will be frozen, waiting to see whether the evil teenager or the blustering teenager wins. Truth to tell, 'twon't make a hill of beans to the economy. It has already been crippled by 36 years of interest rate suppression & the last 8 years of central bank madness (Quantitative Easing, zero interest rates, negative interest rates). Trouble is already baked into the cake, so it doesn't matter which communist is elected. Still, Wall Street thinks a Trump victory will do for US stocks what Brexit did for British stocks & the pound. Maybe a self-fulfilling prophecy.

Dow today lost 42.39 (0.24%) to 17,888.28. S&P500 fell 3.48 (0.17%) to 2,085.18.

Stocks are bracing to leap off a cliff edge. Here's the Dow Chart, http://schrts.co/wfVIft
In this chart of the last 11 months you can see the stock rally that began off the January/February double bottom, began losing steam, made a sharp wedge up to a new high in August, and has rolled down the hill since then. In the last three days the Dow has closed below support at about 18,000. Maybe the 200 day moving average will catch it at 17,768, but I doubt it. Should Hellery win the election, stocks might rally briefly, but reality won't go away & will soon catch up with them. A Trump victory will likely push stocks over the edge immediately.

Read it & weep, the US dollar index chart, http://schrts.co/OkJ5UT

US dollar index has sunk for the last 5 days. Now it has finally breached 97, closing today 23 basis points lighter than yesterday (down 0.23%) at 96.97. Next support is around 96.25. We know currency markets are a rigged game, but that's as negative a chart as you'll find anywhere.

As the mirror images of the US dollar, the yen & euro have gained from the dollar's losing streak, but not enough to inspire any optimism. Euro today rose 0.27% to $1.1137. Yen lost 0.06% to 97.06. I imagine that a Trump victory would send the dollar lower, another way of saying "Send gold higher."

Y'all better give ear about these bonds & interest rates. Look at the 10 year treasury yield, http://schrts.co/vUJO4G

Do y'all see that it is positioned above its moving averages & is challenging the downtrend line from 2007. It stands above its 200 DMA. It is tugging at the leash to rise.

Now look at the US 30 year treasury bond chart, http://schrts.co/7t8IsF
It "threw over" the blue channel line last July, and has since collapsed through the (green) rising wedge. Zero interest rates have forced it higher and higher, to an all time high in July. No place to go but down, and there beneath its 200 DMA, 20 DMA, and 50 DMA the bond is working mighty hard on dropping. When this market explodes, it will knock down virtually the whole world.

Comex gold rose a tee-tiny $1.20 (0.1%) today to $1,303.30. Silver gave back 4.1¢ to 1834.2¢.

But look: GOLD PRICE has closed THREE days above $1,300 resistance, SILVER PRICE 4 days above 1800¢. These resistance levels have been conquered, now silver & gold prices will move to the next ones. Next week will be filled with fear & uncertainty, which can bleed any market, but the course is set for the rest of the year and 2017: UP.
Before I say good-bye for the week, here's another Susan story.

Susan was tight: never stingy but she could squeeze a nickel till it begged for mercy. It was a game for her that she delighted to play, getting the most for those she loved out of her resources. Her five brothers and sisters are every bit as tight as Susan. They compete at tightness.

In 1999 when we moved into our log house, it came with an unfinished barn or garage. In the loft was a wooden casket the fellow who built our house had made for someone who never paid him for it, so he just threw the casket in with the house.
Now that casket worked on Susan's mind and stimulated her frugality. She used to tell me, "Whichever of us dies first, we're going to use that casket." She was absolutely serious.

A few hours after she died some of my sons and my eldest grandsons were standing out in the drive, and I thought about that casket & Susan's instructions. "You boys get on up in that loft and get that casket down. Mama Sue wanted to use it." They all called her Mama Sue.

They dragged it down, covered with an inch of dust, but it wasn't bad looking. Made of poplar, which ages out to a beautiful honey color, with a walnut cross on the top and metal handles. They took it up to the farm and cleaned it up, polished it, & painted the metal handles. One of my sons used to work for a casket manufacturer not far from us, and he took it down there & they installed a lining.

So Susan got a fine free casket & played the final trump card on her siblings: no way they'll ever get free caskets!

Y'all enjoy your weekend.
Argentum et aurum comparanda sunt —
Silver and gold must be bought.
Get Franklin Sanders Daily Gold Price Reports and Market Commentaries:
If the form above does not display in your iPhone or android app, please use this link to visit the website signup form:
http://goldprice.org/franklin-sanders
Alex Jones Proven Right About Clinton Involved In Satanism
Posted: 04 Nov 2016 05:00 PM PDT
Alex Jones is proven correct once again as it comes out that Hillary Clinton is involved with Satanism.  The Financial Armageddon Economic Collapse Blog tracks trends and forecasts , futurists , visionaries , free investigative journalists , researchers , Whistelblowers , truthers and...
[[ This is a content summary only. Visit http://www.newsbooze.com or http://www.figanews.com for full links, other content, and more! ]]
Civil War II - Fourth Turning Is Intensifying (Part 1)
Posted: 04 Nov 2016 05:00 PM PDT
Submitted by Jim Quinn via The Burning Platform blog,
"History offers even more sobering warnings: Armed confrontation usually occurs around the climax of Crisis. If there is confrontation, it is likely to lead to war. This could be any kind of war – class war, sectional war, war against global anarchists or terrorists, or superpower war. If there is war, it is likely to culminate in total war, fought until the losing side has been rendered nil – its will broken, territory taken, and leaders captured." – The Fourth Turning – Strauss & Howe -1997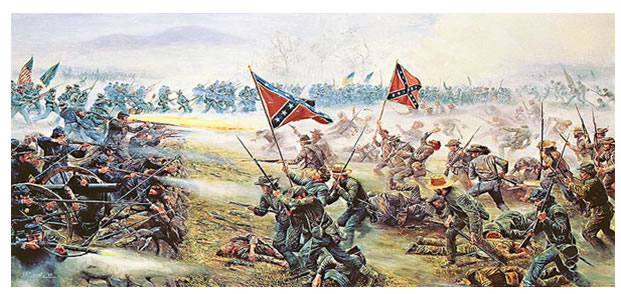 As we enter the final stretch of this vitriolic, deplorable, venomous, propaganda saturated, deceitful, rigged presidential election spectacle, it becomes painfully obvious this Fourth Turning is careening toward bloodshed, bedlam, confrontation, and civil war. The linear fixated establishment, who fancy themselves intellectually superior to the irredemables, are too blinded by their sociopathic, increasingly audacious subversion of the Constitution, to grasp the level of rage and disillusionment of a white working class that has been screwed over for decades.
As the Wall Street shysters frantically accelerate their embezzlement of what remains of middle class wealth, with the Fed and the corporate media propagandists as their wing-men, the country devolves into a corporate fascist state. The disposition of the nation grows dark like the sky before an approaching deadly blizzard. As passions boil over and violence portends, this Fourth Turning hastens towards a bloody decade ahead with an uncertain climax.
If you think this is just hyperbole, you either haven't studied history or your cognitive dissonance and normalcy bias prevent you from seeing the unavoidable societal altering clashes, which occur like clockwork on an eighty year cycle, when the portents are right in front of your eyes. Historian Arnold Toynbee's great war cycle that arise every 80 years or so, aligns perfectly with the Fourth Turning generational theory. Great wars occur when the generation that doesn't remember the last catastrophic war ascends to leadership of the country.
We are eight years into a Crisis period which won't end until the mid-2020s. As this bitterly vicious presidential campaign accelerates towards a finale which will leave the country divided and irate, the hostile opposing forces will be seeking revenge, retribution, and retaliation no matter the outcome. There is no doubt the regeneracy is well under way.
"The next Fourth Turning is due to begin shortly after the new millennium, midway through the Oh-Oh decade. Around the year 2005, a sudden spark will catalyze a Crisis mood. Remnants of the old social order will disintegrate. Political and economic trust will implode. Real hardship will beset the land, with severe distress that could involve questions of class, race, nation and empire. The very survival of the nation will feel at stake. Sometime before the year 2025, America will pass through a great gate in history, commensurate with the American Revolution, Civil War, and twin emergencies of the Great Depression and World War II." – Strauss & Howe – The Fourth Turning
It was five years ago I spent a couple fascinating hours with Neil Howe, co-author of the Fourth Turning, during the Occupy Wall Street protests. He thought the protests were all passion and no depth, engineered by anarchist Boomers. He was right. I thought OWS might be the start of the regeneracy, but it flamed out quickly. It was only a foreshadowing of what was to come. Whatever event or movement created the regeneracy, it would be driven by the toxic combination of debt, civic decay, and global disorder.
Neil was particularly worried about the Federal Reserve zero interest rate policy and how it was ruining our economic system, creating disincentives to saving and encouraging warped, debt driven speculation. And that was in 2011. The Fed keeping interest rates near zero on behalf of a corrupt establishment for the last eight years has been the primary factor in creating the anger, disillusionment and revolutionary spirit driving the regeneracy.
No critical thinking human being can deny this tumultuous presidential election and its equally turbulent primaries have been fueled by the dreadful self-serving response of the establishment to the 2008 Wall Street created financial collapse; the geopolitical anarchy created by U.S. interventionism in the Middle East; the civic decay created by a failing government educational system; rampant debt financed materialism enabled and encouraged by the financial/media complex; and racial division facilitated by the president and his social justice warrior brethren.
The rescue of Wall Street and destruction of Main Street by the Fed, Wall Street and the captured politicians of both parties in Washington D.C. has created the angry, acrimonious, throw the bums out mood boiling over in flyover America. The widening Grand Canyon gap in wealth between the haves and the have nots, produced by solutions from sociopaths in suits has reached the pitchfork and torch level.
The linear thinking ruling class has been in denial since this Crisis catalyzed in September 2008. Their looting, pillaging and ransacking campaign, designed to enrich and empower a small cadre of shadowy, powerful, wealthy men, had been successful for decades. When you control the currency and interest rates; rig the financial markets; buy the politicians; write the laws and regulations; own the corporate propaganda machines known as the mainstream media; operate a high tech surveillance state; create a dumbed down populace through government school indoctrination; and distract the masses with iGadgets, reality TV, hero worship, professional sports, social media, irrelevant cultural issues, and literally thousands of other modern day bread and circuses; you become arrogant and careless.
These sociopaths are so consumed with their ravenous fleecing of the middle class, waging wars for profit, and shredding the Constitution, they failed to recognize 2008 for the seismic earth shattering event that will change everything. The mood of the country shifted like tectonic plates beneath the nation. The mood continues to grow dimmer, as the peasants grow poorer and the modern day aristocracy (Wall Street bankers, corporate executives, corrupt politicians, shadowy billionaires) accumulate obscene ill-gotten wealth through their complete capture of the system. This perverted, degenerative, criminal degradation of our society is powerfully summed up by Jesse from Jesse's Café Americain:
"Not all sociopaths wield knives and knotted cords. Some wear suits, and are exceptionally intelligent and articulate, obsessively driven, and are able to use and undermine the law and the rules for their advantage, like weapons. It is never about the win, never about the money. It is about the kill, the expression of their hatred, about elevating themselves with the suffering of others. Bind, torture, kill. Not only with ropes and knives, but also with power and money, and the subversion of law. Lawlessness is their addiction, their will to power.
When societies become lax and complacent, these sociopaths can possess great political power through great amounts of unprincipled money. And over time they become almost anti-human, destroyers of all that is good, all that is life, all that offends their insatiable sickness with its goodness. They twist the public against itself, and turn a broad sweep of society into their killing grounds. This is the undeniable lesson of the last century. There are monsters, and they walk among us."
Neil Howe has noted in previous articles the catalyst, climax and resolution of Fourth Turnings can be specifically dated. But the regeneracy is more of an era than a date. With only three previous American Fourth Turnings, I imagined the regeneracy to be a specific event where the American people, faced with growing peril and danger, put aside their differences and rallied around a strong leader to build something new. Boy was I wrong.
In retrospect, the American people were numbed by the Great Depression and the bloody initial battles of the Civil War. They just let FDR and Lincoln do whatever they needed to do. The regeneracy marks a growth in centralized authority and resolute governance at a time of great risk and urgency. I believe this era of regeneracy began at the outset of the presidential primaries early in 2016.
Based upon the reaction of the citizens in the last ten months, the dire problem facing the nation, perceived as the largest threat to our future, happens to be the Deep State establishment currently ruling the country. The captured mainstream media and grey beards running both political parties were completely stunned, horrified, and irate at the unprecedented success achieved by the two anti-establishment candidates, Trump and Sanders.
This election was supposed to follow the script as planned and coordinated by the establishment, with Hillary Clinton defeating Jeb Bush and continuing the corrupt status quo policies agreed to by the bought off leaders of both parties. They badly miscalculated the mood of the country and the whirlwind of change seeking to sweep away the stubborn remnants of a crooked, decrepit, putrid, existing social order. This collective middle finger to the establishment could only happen during a Fourth Turning.
This regeneracy is well under way and is poised to transform and replace the very foundation of this crumbling empire of debt, delusions, and denial. The unanswered question is what happens next. I posed that question to Neil Howe five years ago and he said the specific events of a Fourth Turning are unknowable, but the reaction to those events by the generational cohorts is consistent over time.
We are seeing the reaction of critical thinking Americans as they come to the realization the system is rigged against them. A revolutionary spirit is once again rising among the deplorables. I also asked Neil about the theory Fourth Turnings alternate between external conflicts and internal conflicts. He found the subject fascinating, but didn't think there were enough data points to make a determination.
Based on the current path of this Fourth Turning, I'm now convinced of this alternating sequence between advancement cycles and atonement cycles. The advancement cycles can be seen as establishing, whereas atonement cycles are disestablishing. It is apparent each Fourth Turning alternates between an external struggle and an internal struggle. The American Revolution was a struggle against an external oppressor – Great Britain.
The Civil War was an internal struggle between the industrial North and the agrarian South. The Depression/World War II struggle was mainly against an external threat – Germany, Japan, and Italy. The American Revolution established our country. There was optimism and elation as a new republic, forged under an enlightened Constitution and led by judicious intelligent men, was born. It was clearly an advancement cycle.
The Civil War disestablished states' rights, slavery, agrarian society and Constitutional rights. It was an atonement cycle for our actual and implicit sins. There was no glorious high. The resolution felt more like defeat, with the country exhausted, bitter and angry. The country had exhausted itself, spilling the blood of over one million men. The new High after an atonement cycle is like a cold miserable rainy dark Spring.
The Great Depression/World War II Fourth Turning established a new world order led by the United States. As the only major country left unscathed by the ravages of global war, the U.S. became the producer for the world, whose dollar was unquestioned as the currency of global trade. The new High was unleashed with fanfare and adulation. It was like a delightfully warm Spring, with flowers blooming and children frolicking.
All signs point toward this Fourth Turning being a life or death struggle between the ruling class of sociopathic bankers, corporate elites, and sleazy politicians versus the oppressed and infuriated middle class. The lying, deceit, rigging, deception, theft and other crimes perpetrated by the ruling elites will be atoned for. The heroic patriotic revelations from Edward Snowden, Julian Assange, and Bradley (Chelsea) Manning proving the government and politicians to be lying, corrupt, immoral, sociopathic traitors to the Constitution have undermined the last vestiges of trust in the system and the establishment. The alignment of generational dynamics will provoke the responses to events moving forward. We have been badly led. A silent coup by Deep State perpetrators has led to the complete capture of our economic, financial, judicial and political systems.
A vast swath of the populace has been lured into living beyond their means. The existing system is unsustainable. The Boomer generation does not want to yield on their perceived entitlements. The Millennial generation is saddled with un-payable debts, living in their parents' basements, working the night shift at Ruby Tuesday. Generation X is trapped in the middle of this generational struggle. The huge economic imbalances, created by politicians buying votes and engineering wealth inequality to benefit the few, have built up over decades like flood waters behind a weakening levee. When the levee breaks the morally bankrupt criminal social order will be swept away in the raging torrent to follow.
Winter will eventually turn into Spring, but it might be a bitter, gloomy, austere Spring. Every Fourth Turning brings on forecasts of imminent doom, but that is also a trait of Prophet (Trump, Clinton) Generations. It's how they feel about the prospects of their imminent die off; they expect the entire world to go with them. The 2008 financial crisis was horrific, scary and an eye opener for those who blindly believed what they were told by their establishment zoo keepers. The regeneracy has begun; trust in the system has further disintegrated; this presidential election has further deepened this distrust of the entrenched establishment; and the coming bust for stocks, bonds, and real estate will knock out the supports for the dwindling remaining trust in this crooked system.
"This might result in a Great Devaluation, a severe drop in the market price of most financial and real assets. This devaluation could be a short but horrific panic, a free-falling price in a market with no buyers. Or it could be a series of downward ratchets linked to political events that sequentially knock the supports out from under the residual popular trust in the system. As assets devalue, trust will further disintegrate, which will cause assets to devalue further, and so on."
Eventually, all of America's lesser problems will combine into one giant problem. The very survival of the society will feel at stake, as leaders lead and people follow. The emergent society may be something better, a nation that sustains its Framers' visions with a robust new pride. Or it may be something unspeakably worse. The Fourth Turning will be a time of glory or ruin." – Strauss & Howe – The Fourth Turning
The next ten or so years will be atonement for decades of bad choices, corrupt leadership, living beyond our means, waging wars of choice across the globe, believing blatant falsehoods, exhibiting willful ignorance, ignoring facts, and failing to uphold the Constitution. Don't think you can escape the consequences of this Fourth Turning. It doesn't matter whether you lived according to a moral code, avoided debt, worked hard, paid taxes, and generally lived an upstanding honorable life.
The death and destruction headed our way will engulf the innocent as well as the guilty. I'm reminded of the penultimate scene in Clint Eastwood's dark, brooding, vengeful western Unforgiven when Little Bill Daggett laments to "killer of women and children" William Munny that he doesn't deserve to die this way. Munny responds, "deserves got nothin' to do with it." Then he pulls the trigger. This is the kind of future we will be dealing with, whether we like it or not.
In Part Two of this article I will use recent polling data to assess where the most likely sparks will arise to start the civil war conflagration which will accelerate the crumbling of the American Empire. To reinforce the obvious, Fourth Turnings NEVER de-intensify. They end after the spilling of much blood, incomprehensible destruction and the total defeat of the vanquished.
Shock Video: Barrack Obama is COLLAPSING
Posted: 04 Nov 2016 04:30 PM PDT
 The collapse of Barrack Obama is more apparent than ever and he can be seen here yelling at people for control of the crowd. The Financial Armageddon Economic Collapse Blog tracks trends and forecasts , futurists , visionaries , free investigative journalists , researchers ,...
[[ This is a content summary only. Visit http://www.newsbooze.com or http://www.figanews.com for full links, other content, and more! ]]
Posted: 04 Nov 2016 04:30 PM PDT
With one of the world's largest economies and a growing financial sector, China continues to rise as a global power. And, as The Money Project notes the country's currency, the Chinese yuan (officially the Renminbi), is also starting to mature.
The most recent evidence of this? The IMF's decision to include the yuan as a part of its SDR international reserve asset, a basket of major world currencies:
The Chinese economy is significant on a world stage, but its currency and financial system still have major growing up to do.
China is walking a fine balance: it desperately wants to legitimize its currency, but it also must find ways to keep its economic engine moving forward.
The Yuan's Wild Ride So Far
In the early 1980s, the Chinese began to implement 'Socialism with Chinese characteristics', by opening up the state-controlled economy to the global market in very limited ways.
Since being on the world stage, the yuan has been all over the place. It's been pegged to the U.S. dollar, unpegged, and then temporarily re-pegged again during the Financial Crisis.
Most recently, the currency was devalued sharply in 2015 to make up for slowing GDP growth. Today, it sits at six-year lows against the U.S. dollar.
The PBOC and the Chinese Yuan
The strategy used by The People's Bank of China has not been easy to follow.
China wants its currency to matter, but it is also guilty of intervening in currency markets according to the priorities of the day.
In September 2016, for example, the country increased overnight borrowing rates and bought up the yuan in large amounts to counteract shorting from international traders.
The Fix Is In
Onshore, the yuan is allowed to trade within 2% of the PBOC reference point.
The previous day's trading might be a factor in setting this. Then again, it may not matter. The decision is not up to the market. Value is set by unnamed officials behind the scenes.
This "flexibility" allows China to swing between different strategies for the yuan.
The Dragon's Gambit
China can print money endlessly to keep the yuan's value artificially low, which is good for manufacturers. This is handy in a case such as when exports fall year-over-year, and the economy is slowing.
But in other cases, China has different priorities, such as protecting the value of the yuan during times of international uncertainty. It can help to do this by securing the yuan with surprise gold holdings announcements or by dumping massive amounts of U.S. Treasuries to prop up the yuan's price.
Sometimes these divergent strategies appear to be operating in the same week. Who's in charge?
International currency traders ultimately don't know how these decisions are made, or who is making them.
The Golden Hoard That Wasn't
China's currency manipulation has helped it to accumulate massive foreign exchange holdings. But these holdings are not a sign of economic strength or a basis for investment in the country's future. They're a hedge against currency flight. When the economy is sinking, the government can use these reserves to prop it back up.
The Dragon Sleeps
According to the Bank of International Settlements, trading volume of the Chinese yuan has doubled over the last three years.
But the U.S. greenback and other top currencies have a huge advantage: people think they know what they are worth. The value isn't set by government apparatchik.
For now, the Chinese yuan remains a sleeping dragon. If China ever really joins the global market in a meaningful way, watch the currency wake up and breathe fire.
Gerald Celente - Trends In The News - "Stock market fear index spikes: Elections or global economy?"
Posted: 04 Nov 2016 04:00 PM PDT
Gerald, is the Trump campaign the revolution you often spoke about - the one without guns or bullets? How do you feel about the trump movement igniting the American spirit? The Financial Armageddon Economic Collapse Blog tracks trends and forecasts , futurists , visionaries , free...
[[ This is a content summary only. Visit http://www.newsbooze.com or http://www.figanews.com for full links, other content, and more! ]]
Will BoJ's New Framework Become a Turning Point for Gold?
Posted: 04 Nov 2016 02:38 PM PDT
The Bank of Japan announced in September a cocktail of new monetary policy measures, called "QQE with Yield Curve Control". Let's analyze these innovations in detail and discuss their potential implications for the gold market. As we have already noted in the Gold News Monitor, the package consists of two components: The promise to keep expanding the monetary base until inflation "exceeds the price stability target of 2 percent and stays above the target in a stable manner"; The pledge to cap 10-year government bond yields at zero percent.
Expect a Trump Win and Violent Market Repricing
Posted: 04 Nov 2016 01:39 PM PDT
This post Expect a Trump Win and Violent Market Repricing appeared first on Daily Reckoning.
The past few days have been a mix of the expected and unexpected. On Wednesday afternoon, the Federal Open Market Committee (FOMC) of the Federal Reserve voted to keep its target interest rate unchanged, but also signaled that they will raise rates at the December FOMC meeting.
Both moves were entirely expected and in line with what I advised my readers weeks ago.
The Fed will raise rates in December — I've been saying that for a long time. Now market expectations have caught up and the coast is clear for the Fed actually to do so.
Some commentators have suggested that a surprise Trump victory in the Nov. 8 election might throw the Fed off its expected path, but it won't.
It is true that a Trump victory may cause stocks to decline 10% overnight. But when I discussed this at a recent dinner with Bill Dudley, president of the Federal Reserve Bank of New York, he said "it's not our job" to prop up the stock market.
He also said he doubted there was much of a link between last December's rate hike and the sharp sell-off in stocks in January 2016.
Apart from the election, all other stars seem aligned for a rate hike. The IMF gave the Fed a green light in terms of emerging-market expectations. Persistently dovish voices such as Charles Evans of the Chicago Fed and Lael Brainard, a Fed governor, have either been supportive of a rate hike or have remained silent lately.
The only thing that could throw the Fed off this path would be if a 10% stock market correction from a Trump win turned into a 15% or 20% collapse with global contagion. However, I expect that once the 10% correction is over, investors will take a second look at Trump's policies of low taxes, less regulation and big infrastructure spending and like what they see. This means stocks may stage a post-election rebound soon after any correction.
But for now, a December rate hike is in the cards and almost nothing can stop it.
When the Fed does pull the trigger on a rate hike in December, you can expect a drawdown in stock prices as a result. This is a good time to trim long stock positions and add to cash to ride out the volatility that's coming later this year and in January 2017.
Now, what was unexpected was the speed with which markets are adjusting to the rise of Donald Trump.
Everyone has his or her personal opinion on Trump versus Clinton. If it were just a matter of political views, I would not have to write about it. But the Trump-Clinton election will have a major market impact also, which investors need to watch closely.
I advised my readers weeks ago that markets were in for a shock if Trump wins the election. Markets were fully priced for a Clinton victory and would have to adjust violently to the prospect of a Trump victory.
I expected this re-pricing to be compressed in a short window around Election Day from late on Nov. 8 through the early hours of Nov. 9. I expected stocks to fall 10% and gold to rise over $100 per ounce.
This process has started, but it is happening in stages over a matter of days, rather than all at once on Nov. 8.
Since last Friday, stocks are down 1.6% and gold is up $40 per ounce. This is because of FBI leaks and substantial momentum toward Trump. While the market adjustment to a Trump victory has begun, it is far from over. Stocks have another 8% to fall, and gold is poised to rise another $60 per ounce or more between now and next Wednesday.
My expectation is that Trump will win the election on Nov. 8. However, that forecast is a close call. The election will be close, and Clinton could win despite my expectation.
Research indicates a Clinton victory should produce an S&P index value of about 2,150, a Trump victory should put the S&P index at 1,950 and an uncertain outcome would split the difference around 2,050.
If the polls are close, the S&P should trade around 2,050, but that's not what's going on. The S&P is fully priced for a Clinton victory. That means that if Clinton wins, there will be little or no market reaction, but if Trump wins, the stock market will hit an air pocket and plunge 10%, to 1,950, overnight.
Are you ready for an instantaneous 10% wipeout in your equity portfolio?
If not, you should get ready, because that could happen. You should consider reducing equity exposure, increasing cash allocations and possibly buying index put options ahead of the election.
If Clinton wins, you can reverse those allocations at low cost. If Trump wins, you'll make huge profits or avoid huge losses. This is setting up like "Brexit," where markets were fully priced for "Remain" and hit an air pocket when "Leave" won. Markets and betting odds are not a good reflection of the actual state of play.
If the actual odds of a Trump victory are just better than even money, and markets are priced for sure thing Clinton victory, then we are set up for one of the greatest asymmetric trading opportunities of all time — even better than Brexit.
I have ever seen. I use "asymmetric" to describe an opportunity where the outcome may be uncertain but the risk/reward ratio is entirely in your favor. In other words, it's "heads you win, tails you don't lose."
Gold, for example, has been priced for a Hillary Clinton victory. Gold fell from $1,350 per ounce in early September to around $1,250 per ounce in mid-October based on market perceptions of a Fed rate hike later this year. That was a fundamental move and is easily explained based on changed perceptions of Fed behavior.
A Clinton victory means more of the same in terms of policy and appointments. If she wins, nothing changes; the price will stay about where it is.
However, if Donald Trump wins it will be a shock of unprecedented proportions. Gold could spike $100 per ounce overnight to around $1,400 per ounce based on momentum. If you buy gold, you benefit from this asymmetry. If Clinton wins, you lose little or nothing, but if Trump wins you win big.
It's true that gold has been closer to the "Hillary price" than the "Trump price." But, the market is starting to wake up to this opportunity that I've been writing about for several weeks. Gold has rallied from $1,250 per ounce to over $1,300 per ounce in the past two weeks. In other words, gold is starting to smell a Trump victory.
You can bet on a Trump victory with a variety of very specific trades. But here's the thing: If Clinton wins, you won't lose much, if anything, because markets are priced for that. And if Trump wins, you win big because markets will have to instantaneously reprice for an unexpected outcome.
That's not just my opinion. MIT professor Simon Johnson, former chief economist for the IMF, agrees with me.
Johnson is a member in good standing of the global monetary elite. He says, "If investors are wrong and Trump wins, we should expect a big markdown in expected future earnings for a wide range of stocks — and a likely crash in the broader market."
I agree, but I have no intention of being on the wrong side of that trade. You should prepare for a Trump victory now, because it's not nearly the long shot that the mainstream media have been saying it is.
This presents a rare opportunity to make a one-sided trade (in your favor). But the opportunity is fading fast. You cannot wait until Wednesday morning to watch for these results. By then, the market will have already reacted and you'll have missed out.
The time to take action is now.
Regards,
Jim Rickards
for The Daily Reckoning
Ed. Note: The most entertaining and informative 15-minute read of your day. That describes the free daily email edition of The Daily Reckoning. It breaks down the complex worlds of finance, politics and culture to bring you cutting-edge analysis of the day's most important events. In a way you're sure to find entertaining… even risqué at times. Click here now to sign up for FREE.
The post Expect a Trump Win and Violent Market Repricing appeared first on Daily Reckoning.
Gold Daily and Silver Weekly Charts - Inside that 'Great Wage Growth Number' - Election Jitters
Posted: 04 Nov 2016 01:32 PM PDT
5 Secret Cults that Control the Leaders of the World
Posted: 04 Nov 2016 12:30 PM PDT
 WikiLeaks and other investigations reveal 5 insane secret conspiracies to control the most powerful people in the world... The Financial Armageddon Economic Collapse Blog tracks trends and forecasts , futurists , visionaries , free investigative journalists , researchers ,...
[[ This is a content summary only. Visit http://www.newsbooze.com or http://www.figanews.com for full links, other content, and more! ]]
How "Big Brother" Is Tracking Your Spending Habits
Posted: 04 Nov 2016 12:00 PM PDT
This post How "Big Brother" Is Tracking Your Spending Habits appeared first on Daily Reckoning.
When you hold cash in your hands or store it safely at home, you have physical custody of it.
You can spend it, give it away to charity… heck, you can even burn it. All without leaving a trail.
But when that cash becomes a digitally stored value, every purchase becomes part of a data stream that ultimately draws a detailed picture of who you are.
In this new cashless society, financial and governmental institutions — not you — have custody of your cash.
Every purchase you make, and where and when you make them, draws a profile over time of your preferences, habits, needs and interests.
In a cashless society, you are your data — from how you spend your leisure time to an endless spate of personal habits.
And for those few remaining who steadfastly refuse to ever give up cash, forget about it: A global cashless society is fast becoming a reality.
In Fact, my colleague Greg Guenthner wrote to you about it last week. Mobile payment apps like Paypal and Venmo are seeing transaction activity in the billions of dollars. "Folks are using the app for everything from buying a cup of coffee to paying rent." Greg wrote. "Venmo me" is becoming a common turn of phrase among Millennials.
The evidence against cash couldn't be clearer…
Recently, under the guise of protecting against terrorism and drug cartels, the European Central Bank announced it would no longer produce the 500 Euro note. Spinning the same tale, former Treasury Secretary Larry Summers is promoting eliminating the $100 bill from U.S. currency. And former International Monetary Fund economist Kenneth Rogoff argues big bills should be eliminated from U.S. currency.
There's more: The massive millennial generation across the globe shows minimal resistance against the imminent demise of cash. Indeed, digital dollars already are the way of the world.
There are no "Occupy Cash" movements anywhere. The consequences of a cashless society are out of the minds of millennials.
They're incomprehensible to the younger Generation Z. They're seemingly of no concern to the older, general public.
This movement, which empowers corporate giants and accelerates government control over your money and privacy, continues unabated.
The convenience millennials naturally cherish, and more boomers and seniors are forced to accept, is accelerating the transition to a cashless society.
There's no defense against how institutions and government may use your data.
In a cashless society, Big Brother will watch even more how you spend your money, conduct your daily life and engage the world around you. Your privacy is lost. Your spending is a matter of record.
Without hard cash, every digital purchase logged is subject to taxes, fees and penalties. Owe back taxes? Overdrawn on your account? Had a lien filed against you? Forgot a mortgage payment? In a cashless society, government or big banks can more easily take your money without resistance or due process.
And in doing so, those entities will have an entirely new cache of information about you.
But on it goes, despite those obvious and formidable risks.
There is no substantial anti-digital currency movement. Today, European countries lead the cashless revolution. Belgium, France and much of Scandinavia report more than 85% percent non-cash payments. Sweden has gone nearly cashless. And Rwanda, Turkey and Australia aren't far behind.
While entire population masses are making the digital conversion with relative ease, that's not the case for poor people in the United States and small businesses. They rely more heavily on cash because they don't have credit cards and maybe not even bank accounts. They'll find the transition harder, but unavoidable.
Bet your bottom dollar – or your digital dollar – on this: The transition to a cashless society in the United States and across the Western world, as well as much of the world, is cemented. And love it or hate it, investing in the cashless society trend is going to make a lot of people very wealthy.
Regards,
Gerald Celente
for The Daily Reckoning
Ed. Note: The most entertaining and informative 15-minute read of your day. That describes the free daily email edition of The Daily Reckoning. It breaks down the complex worlds of finance, politics and culture to bring you cutting-edge analysis of the day's most important events. In a way you're sure to find entertaining… even risqué at times. Click here now to sign up for FREE.
The post How "Big Brother" Is Tracking Your Spending Habits appeared first on Daily Reckoning.
ANONYMOUS RELEASE BILL CLINTON VIDEO HERE
Posted: 04 Nov 2016 12:00 PM PDT
We are Anonymous.We are Legion.We do not forgive.We do not forget.Expect us. The Financial Armageddon Economic Collapse Blog tracks trends and forecasts , futurists , visionaries , free investigative journalists , researchers , Whistelblowers , truthers and many more
[[ This is a content summary only. Visit http://www.newsbooze.com or http://www.figanews.com for full links, other content, and more! ]]
Hillary Tied to Bizarre Occult "Spirit Cooking" Ritual
Posted: 04 Nov 2016 11:26 AM PDT
This is some seriously freaky Eyes Wide Shut-style weirdness. The Financial Armageddon Economic Collapse Blog tracks trends and forecasts , futurists , visionaries , free investigative journalists , researchers , Whistelblowers , truthers and many more
[[ This is a content summary only. Visit http://www.newsbooze.com or http://www.figanews.com for full links, other content, and more! ]]
Will This Man Rule Post-Communist China? | China Uncensored
Posted: 04 Nov 2016 10:00 AM PDT
 Xi Jinping has been named core leader as his purge of the Communist Party continues.Is Xi setting himself as the ruler of a new China? Will he be a president? A dictator? A... presitator? The Financial Armageddon Economic Collapse Blog tracks trends and forecasts , futurists , visionaries...
[[ This is a content summary only. Visit http://www.newsbooze.com or http://www.figanews.com for full links, other content, and more! ]]
LIVE Stream: Donald Trump Rally in Atkinson, NH 11/4/16
Posted: 04 Nov 2016 09:16 AM PDT
 Friday, November 4, 2016: Live streaming coverage of the Donald Trump rally in Atkinson, NH at the Atkinson Country Club. Live coverage at 12:00 PM ET.LIVE Stream: Donald Trump Rally in Atkinson, NH 11/4/16 The Financial Armageddon Economic Collapse Blog tracks trends and forecasts...
[[ This is a content summary only. Visit http://www.newsbooze.com or http://www.figanews.com for full links, other content, and more! ]]
AlQaida Threat On Election Eve
Posted: 04 Nov 2016 08:50 AM PDT
URGENT Report: "FBI Warns Of Al Qaida Threat On Election Eve" New York, Texas, and Virginia are possible targets by Al- Qaida on the eve of the election according to the FBI and NYPD The Financial Armageddon Economic Collapse Blog tracks trends and forecasts , futurists ,...
[[ This is a content summary only. Visit http://www.newsbooze.com or http://www.figanews.com for full links, other content, and more! ]]
Big Pharma Bombshell! Feds Slam Drug Stocks
Posted: 04 Nov 2016 07:56 AM PDT
This post Big Pharma Bombshell! Feds Slam Drug Stocks appeared first on Daily Reckoning.
You're swimming in a sea of red…
Stocks have dropped for eight straight days. That's the longest loosing streak we've seen since 2008.
But one of these drops is not like the other…
"During the 2008 streak, the index dropped a cumulative 23% as the financial system teetered on collapse," MarketWatch reports. "This time around, the S&P 500 is down just 3% over the past eight sessions."
Comforting, right? But while the major averages have held up relatively well during our most recent rout, there's been some serious damage inflicted under the market's surface.
If you're feeling brave this morning, just pull up a chart of your favorite pharma stock. That will tell you everything you need to know about the market right now.
The entire health care sector is under fire this week. This time, it's the Feds that are getting involved.
Bloomberg reported late Thursday that prosecutors could file the first charges in a criminal investigation of generic drugmakers by the end of the year.
The investigation reportedly includes a dozen companies and spans two dozen drugs. A heart treatment drug and antibiotic are the only drugs that have been singled out so far. But others are likely. Bloomberg reports that all companies except for Mayne Pharma and Covis Pharma have been compliant.
This investigation is one of the first times that more than just name-brand drugs have been investigated. But generic drugs account for 88% of prescriptions today. That's a huge chunk of the drug market.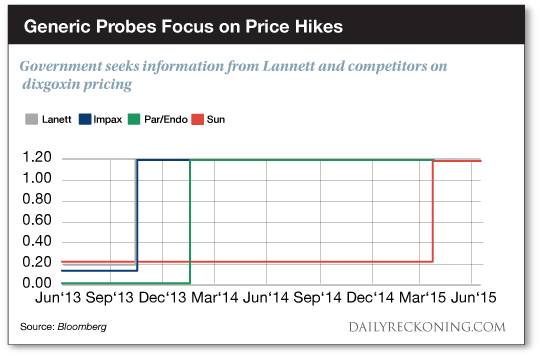 Most stocks in this sector took a licking but kept on ticking two weeks ago after Bernie Sanders and Rep. Elijah Cummings released a scathing letter to embattled drug maker ARIAD Pharmacueticals (NASDAQ:ARIA). Our congressional overlords demanded to know more about "staggering" price increases for the drug Iclusig, a treatment for bone marrow cancer.
But these health care names can only take so much heat. This latest blow from the Feds is ripping select drug stocks to shreds and deflating the entire generics industry. The VanEck Vectors Generic Drugs ETF plummeted to new 52-week lows Thursday afternoon.
Individual companies embroiled in this mess fared much worse…
Endo Pharmaceuticals (NASDAQ:ENDP) and Lannett Co. (NYSE:LNI) took the biggest hits of the group. ENDP dropped 20% yesterday afternoon, while LNI fell a staggering 26% on the day. These stocks had been leaking lower for months. The waterfall moves we saw yesterday were just the latest carnage from an industry facing intense pressure this election season.
These are just a couple of the most extreme examples we've seen. But it's also important to note that generic drugmakers aren't the only companies whose share prices are suffering right now. The bad vibes have spread through the entire pharmaceutical and health care sector.
The Health Care Select Sector SPDR ETF fell nearly 1% yesterday, pushing toward its March lows. Other companies connected to the drug industry fell 5% – 10% into yesterday's close.
It will take time for the market to digest this new information. These sharp selloffs could just be the beginning of lengthy bear market for drugmakers.
We can't fight forces like federal prosecutors and expect to come out on top. Instead, we'll simply look elsewhere for our next big trade…
Sincerely,
Greg Guenthner
for The Daily Reckoning
P.S. Make money in ANY market — sign up for my Rude Awakening e-letter, for FREE, right here. Never miss another buy signal. Click here now to sign up for FREE.
The post Big Pharma Bombshell! Feds Slam Drug Stocks appeared first on Daily Reckoning.
Silver Price Discovery and The Illusion of Progress
Posted: 04 Nov 2016 04:56 AM PDT
As of the close of trading Tuesday, silver spot prices have rise through the key 50 day moving average, most likely the result of short covering by the managed money traders - along with new shorts added by the commercial traders. In other words, the lock-down pattern of price discovery driven by these two speculative classes continues unabated and disconnected from physical reality.
Breaking News And Best Of The Web
Posted: 04 Nov 2016 02:37 AM PDT
October jobs growth disappoints but wages rise. Auto sales slip. US GDP, consumer spending up strongly, will be revised downward after the election. Global stocks down on interest rate, election, strong dollar fears. FBI probing new Clinton emails, polls tightening.   Best Of The Web The clear and present danger list for the week ending […]
The post Breaking News And Best Of The Web appeared first on DollarCollapse.com.
Here's What Makes Elliott Waves a Useful Forex Tool
Posted: 03 Nov 2016 07:59 PM PDT
Some Elliott wave forex traders do watch the news -- but for different reasons Last Friday, EURUSD rallied strongly. Said Reuters: "The U.S. dollar tumbled against a basket of major currencies...on U.S. political uncertainty after the FBI said it would review more emails related to Democratic presidential candidate Hillary Clinton's private email use." It's true that the euro rallied after Friday's news. But we pointed out in our October 21 story that Elliott wave patterns had already been calling for a bottom, if only a temporary one.
You are subscribed to email updates from Save Your ASSets First.
To stop receiving these emails, you may unsubscribe now.
Email delivery powered by Google
Google Inc., 1600 Amphitheatre Parkway, Mountain View, CA 94043, United States