---
Gold, Rate Hikes and the US Presidential Election
Posted: 31 Oct 2016 07:54 PM PDT
The next ten days or so will present gold with two major events both of which could impact on gold in different ways depending on their particular outcome and they are as follows: 1. Possible interest rate hikes in the US as the FOMC meet 2. The US Presidential Election
Be Very Patient. Higher Gold Price is Coming
Posted: 31 Oct 2016 07:22 PM PDT
IMPORTANT NOTE: The following are wholesale, not retail, prices. To figure our retail selling price, multiply the "ask" price by 1.035. To figure our retail buying price, multiple the "bid" price by 0.97. Lower commissions apply to larger orders, higher commissions to very small orders.
| | | | | |
| --- | --- | --- | --- | --- |
| SPOT GOLD: | 1,277.40 | | | |
| GOLD | Fine Tr.Oz. | BID | ASK | $/oz |
| American Eagle | 1.00 | 1,314.44 | 1,320.19 | 1,320.19 |
| 1/2 AE | 0.50 | 650.96 | 673.83 | 1,347.66 |
| 1/4 AE | 0.25 | 328.67 | 343.30 | 1,373.21 |
| 1/10 AE | 0.10 | 134.02 | 139.88 | 1,398.75 |
| Aust. 100 corona | 0.98 | 1,245.85 | 1,254.85 | 1,280.19 |
| British sovereign | 0.24 | 302.96 | 315.96 | 1,342.21 |
| French 20 franc | 0.19 | 236.11 | 240.11 | 1,286.05 |
| Krugerrand | 1.00 | 1,294.01 | 1,304.01 | 1,304.01 |
| Maple Leaf | 1.00 | 1,287.40 | 1,301.40 | 1,301.40 |
| 1/2 Maple Leaf | 0.50 | 734.51 | 670.64 | 1,341.27 |
| 1/4 Maple Leaf | 0.25 | 325.74 | 341.70 | 1,366.82 |
| 1/10 Maple Leaf | 0.10 | 135.40 | 139.24 | 1,392.37 |
| Mexican 50 peso | 1.21 | 1,532.33 | 1,543.33 | 1,280.03 |
| .9999 bar | 1.00 | 1,281.87 | 1,289.40 | 1,289.40 |
| SPOT SILVER: | 17.87 | | | |
| SILVER | Fine Tr.Oz. | BID | ASK | $/oz |
| VG+ Morgan $B4 1905 | 0.77 | 25.00 | 27.00 | 35.29 |
| VG+ Peace dollar | 0.77 | 20.00 | 22.00 | 28.76 |
| 90% silver coin bags | 0.72 | 13,381.23 | 13,667.23 | 19.12 |
| US 40% silver 1/2s | 0.30 | 5,078.43 | 5,228.43 | 17.72 |
| 100 oz .999 bar | 100.00 | 1,766.50 | 1,801.50 | 18.02 |
| 10 oz .999 bar | 10.00 | 180.15 | 185.15 | 18.52 |
| 1 oz .999 round | 1.00 | 17.67 | 18.17 | 18.17 |
| Am Eagle, 200 oz Min | 1.00 | 19.37 | 20.87 | 20.87 |
| SPOT PLATINUM: | 975.80 | | | |
| PLATINUM | Fine Tr.Oz. | BID | ASK | $/oz |
| Plat. Platypus | 1.00 | 990.80 | 1,020.80 | 1,020.80 |

Markets fell strangely silent today, probably terrorized into inactivity by the election.
Suspicious as I am, I wonder that FBI Chief Comey couldn't find enough to indict Clinton back in the summer, but now at the worst time for Hellery discovers thousands of gamey emails. Mmmm. Sounds like Clinton's sponsors & backers among the Elite are backing off, dropping her. If so, she must stink worse than we know.
Now before y'all start ringing up the loony bin and asking them to haul me away as a paranoid, ponder this. Franklin D. Roosevelt, a Democrat,mind you, said, "In politics, nothing happens by accident. It if happens, you can bet it was planned that way." Y'all just hang up the phone & put away the strait jacket.
Here's the US dollar index chart,
http://schrts.co/OkJ5UT
US dollar index moved up one microscopic basis point today to 98.35. Last Tuesday the 25th it hit the move's intraday high , 99.09, but ended the day with a lower close, then clinched a key reversal next day with a lower close. Today it tried to rise, but just couldn't muster the resolve. Probably ready for a correction. If Trump wins that might cause a knee jerk reaction of dollar selling. Might.
Euro continues to deteriorate. Lost 0.05% today for a $1.0980 close. Sick as a gutshot dog. Yen also continues to slide & slide. Lost 0.11% today to 95.39.
US 30 year treasury bond can't stop rolling downhill. Has now fallen out of a rising wedge, back into the (blue outlined) trading channel it "threw over" in July. Way below all moving averages. I hope Janet Yellen has stocked up on Rolaids and Scotch, cause she's gonna need 'em. Bond bomb is set to explode. Chart is here,
http://schrts.co/ujZfjd
'Twas a rotten week for stocks, fighting to climb over the 20 day moving average, in vain. Today they backed up again. Dow lost 18.77 (0.1%) to 18,142.42 while the S&P500 lost 0.26 (0.01%, can you see that? Squint harder.). Today marked the fifth day the S&P500 has dropped. Fifth day in a row.
Gold
shuttered Comex today down $4.00 (0.3%) at $1,271.50.
Silver
was -- get this -- unchanged at 1776.2¢. That rarely happens.
Go look at the gold chart,
http://schrts.co/pbxEDM
Gold
broke out of a flag earlier this month & has risen, fandangoing over its 200 DMA, ever since. Notice the volume: it keeps rising as
gold
rises. Notice also a new intraday high Friday at $1,285.40. And pass not by the other positive indicators, the MACD and RSI. But this is all imagination & pixie dust till
gold
busts through $1,300 resistance, now running with the 50 DMA at $1,302.67.
Be patient. Be very patient. Higher
gold price
is coming.
Here's the silver chart for your viewing pleasure,
http://schrts.co/o96FnV
Like
gold
,
silver
drew a pennant during October's first half. Since then it has broken out to the upside, climbed through its 20 DMA, and crawled back into the trading channel it briefly fell out of. RSI & MACD are positive, and silver has been rising on rising volume.
So far, so good, but silver can only gain traction by crossing 1800¢ resistance. Be patient,
silver
is closing in on it.
Here's the
gold/silver ratio
. This is not as cooperative as it might be. It rallied October first with the gold & silver plunge, but backed off & has been trading sideways above 71. I don't particularly admire that. An advance in metals ought to take it below the 50 DMA, now 70.27. MACD & RSI have turned down, so the ratio ought soon to follow.
Reader GR asked me about platinum, which I seldom mention. Here's a daily platinum chart for 12 months,
http://schrts.co/gP7sGo
Looks about like the silver chart, but still struggling to climb above its 200 DMA. It will, it will, and soon.
More to the point is this gold/platinum spread chart,
http://schrts.co/zf5rKd
With gold trading 1.3 times (130%) platinum, the spread lies in the far upper end of the range, but won't prove it has changed direction until it falls through that blue uptrend line. Minute it does that will be time to buy platinum or to trade a little (a little) gold for platinum.
To sum it all up,
silver
&
gold
are slugging they way forward against a headwind. All markets are quiet, suggesting they are afraid to move, uncertain what the election will bring. If the FBI keeps piling into Hellery, that could change. Markets hate uncertainty.
My trip to Virginia was really refreshing. Took 10 hours to drive from Dogwood Mudhole to Roanoke. I asked the clerk at the motel if there was a Mexican restaurant nearby, he said right next door. I walked over there and sitting there realized that I actually enjoyed watching Susan eat more than eating myself. She ate with such gusto it was fun to watch, and this tiny 120 lb woman could eat way more at a sitting than I could. She had the metabolism of a shrew: they have to eat their body weight every day or fade away.
Next day I hit the jackpot. I hate eating at chain restaurants, but it's not easy to find a Mom & Pop place near the interstate. Stopped & asked and was pointed to Angelle's Diner, 2609 Lee Highway, Troutville, VA -- angellesdiner.com. Sweet, welcoming folks and wonderful REAL Southern food. The country ham was perfect, without that aftertaste that sometimes mars its beauty.
I got off I-81 and drove up the Lee Highway (US 11), a road Susan & I have travelled many times, with children, grandchildren, & by ourselves. Drove to Natural Bridge, then on to Lexington, stopping first at the Stonewall Jackson Cemetery to visit Jackson's grave. Can't go to Lee's tomb any more, as the cowards at Washington & Lee have removed the original Army of Northern Virginia battle flags that hung there.
Everywhere I was surrounded by sweet memories & the grace of God. I'd play music Susan loved, and I'd cry and I'd laugh, but I was still comforted. At synod in Richmond I saw lots of old friends who all graciously sympathized. They all loved Susan, too.
So I'm back. Managed to drive the whole way through carnivorous traffic & remain alive, much to my children's astonishment, & I'm going back to work. God is good to me, and I am grateful.
Forgotten in the Hallowe'en frenzy is that tomorrow is All Saints Day when we celebrate all God's people who have gone before us and now with all the company of heaven wait for us.
Argentum et aurum comparanda sunt —
Silver and gold must be bought.
Get Franklin Sanders Daily Gold Price Reports and Market Commentaries:
If the form above does not display in your iPhone or android app, please use this link to visit the website signup form:
http://goldprice.org/franklin-sanders
Janet Tavakoli: Life And Death On Wall Street
Posted: 31 Oct 2016 07:20 PM PDT
Submitted by Adam Taggart via PeakProsperity.com,
Financial markets and derivatives authority Janet Tavakoli returns to the podcast to discuss a number of the themes contained in her new book Decisions: Life And Death On Wall Street.
She paints a particularly informative timeline of the greed and rot that has come to dominate the modern financial system, and how its tentacles have fully penetrated and subjugated the halls of power in Washington DC.
We're in precarious times for sure. What we have done is unprecedented in the history of the United States. We got rid of the benchmark, the gold standard. We don't have any any stable benchmark anymore. Instead, we have currencies that are being benchmarked off of each other.

If you're measuring your weight you want a scale, right? You want an actual measurement of weight, not a relative one. You don't want to be comparing yourself a bunch of obese guys in the gym. You need a standard benchmark. So once you get rid of the benchmark, then you can eat whatever you want and exercise as little as you choose that's okay. Well it is not okay. We all know that. But that's exactly what we've done in finance. We're printing money like mad. We've created a huge distortion where, for years, savers have gotten negative real interest rates. Negative real interest rates in the United States for a long, long period of time, and in Europe we now have sovereigns of course who are paying both negative nominal and negative real interest rates.

This is unprecedented in the history of finance. I talked to a retired head of the Chicago Fed (so I've probably narrowed the field because I don't know how many of them are still living) and he said None of us knows what is going on. We've never done anything like this before. They don't know what the end game is. They're totally at sea and it's their own fault because they got rid of our scale. They got rid of our own benchmarks, and they're trying to muddle through without having any way of measuring what we are doing.
But not all of her message is gloom. She explains how the battle between corruption and fairness is cyclical; and that history has plenty of examples where a just band of concerned agents can (over time) "kick the bums out":
Henry Kluz was somebody who saw communists in his time try the same kind of ideological subversion that we are seeing right now in the United States and they failed because there were a lot of people to push back. But he also saw people try to crash the markets when Grant was running against Horace Greeley. And he formed a group of 70 men that he got together to oppose Tammany Hall. Tammany Hall controlled New York. They – they were very corrupt. They had a lock on it. They paid off hired sons, daughters, relative of other politicians. They were getting the votes. And Henry Kluz was a financier. He was born in Britain. And he observed these people and he said, you know, none of these people really like each other. They're not bound together by blood. They're not bound together by friendship or even by a common ideology. All these people care about is making money and paying off their friends in power. That's all. Other than that, none of these people had each other's back. And he said We can defeat them. And so his group of 70 overthrew the Tweed Ring. One by one, they knocked the pillars out from under these guys. It took a while, but they did it.

It was just people who were fed up with the corruption. Kluz did it in his time. It can be done. It's not easy, but people who really have an idea of what the country should look like can defeat people who have inveigled themselves into the system and corrupted it. Now we see the same thing in finance. I have a group of friends who are appalled at what has happened in the financial system. But their voices have been pretty well silenced. They didn't use garrotes or daggers to the throat or shoot them in the chest (at least not in most cases), but they have silenced them by squelching them from the public view – at least for now.

So I do encourage people to read the histories of finance and to see that nothing has really changed. But things can change and this isn't the first time we've had to fight this battle.
Click the play button below to listen to Chris' interview with Janet Tavakoli (72m:22s).
FBI Finds No Links Between Trump And Russia, Probing Manafort Instead
Posted: 31 Oct 2016 06:47 PM PDT
With the FBI accused of pushing the Clinton campaign, which as recently as a week ago was seen as invincible as it stormed toward the November 8 presidential election, over the proverbial cliff, it was perhaps inevitable that in order to preserve the appearance of impartiality. the Bureau would proceed with a probe of Trump's own campaign. And, according to NBC which cited law enforcement and intelligence sources, it has done so by focusing on Trump's former campaign manager Paul Manafort, and specifically his foreign business connections.
The news of the inquiry, which has not blossomed into a full-blown criminal investigation, emerges just days after FBI Director James Comey's disclosure that his agency is examining a new batch of emails connected to an aide to Hillary Clinton. It also comes a day after Senate Majority Leader Harry Reid criticized Comey's revelation and asserted that Comey possesses "explosive information about close ties and coordination between Donald Trump, his top advisors, and the Russian government."
As a reminder, Manafort, who resigned as Donald Trump's campaign manager in August, was previously an international political consultant. He became a liability for the Trump campaign amid reports of his involvement with a pro-Russian political party in Ukraine. One damaging New York Times story earlier this year alleged the party had earmarked more than $12 million in under-the-table cash payments, raising questions about whether Manafort had run afoul of U.S. lobbying laws that would he require he register as "foreign agent" with the Justice Department.

Manafort's name in an alleged payment ledger
What received far less focus at the time of Manafort resignation, is that as part of the probe, the FBI was also looking into the PR firm of John Podesta's brother, the Podesta Group founded by prominent democrat Tony Podesta.
But back to Manafort, and the NBC story, which in retrospect is merely a regurgitation of a CNN report from August 19, which reported the exact same thing over two months ago: the FBI did not comment. Manafort told NBC News "none of it is true ... There's no investigation going on by the FBI that I'm aware of." He said he had never had ties to Russian president Vladimir Putin, or had dealings with Putin and his government. He said any suggestion of such ties was "Democratic propaganda."
"This is all political propaganda, meant to deflect," he said.
Furthermore, it appears that the latest news is actually a step down from the origianl CNN report: sources told NBC that the FBI review is not a full-blown criminal investigation, but rather an initial inquiry.
NBC News reported in August that Manafort was a key player in multi-million-dollar business propositions with Russian and Ukrainian oligarchs — one of them a close Putin ally with alleged ties to organized crime — which foreign policy experts said raised questions about the pro-Russian bent of the Trump candidacy. A few days later, amid other reporting on Manafort's Ukraine ties, Manafort was ousted from the campaign.
Rep. Adam Schiff of California, the ranking Democrat on the House Intelligence Committee, regularly receives sensitive briefings. Schiff said he could not discuss Reid's assertions, but he said, "Americans have every right to be concerned about what they see in terms of Trump advisors and their closeness with the Kremlin, Trump's policies vis-a-vis Russia, Trump's potential financial interest, all of those things ought to be of deep concern to voters."

He added, "Whether an investigation is appropriate depends on whether there's evidence of criminal connections. Of course the intelligence community wants to know what foreign influence Russia may be looking to exert in the United States."

Manafort was paid millions of dollars — $12.7 million in cash, according to The New York Times—representing a pro-Russian politician in the Ukraine.
Meanwhile, Democrats have used this renewed opportunity of ties between a former Trump staffer and Russia, or rather Ukraine, to pitch the worn out propaganda line that Trump is nothing more than a KGB plant.
Trump has taken a series of pro-Russian positions that experts from both parties say are far outside the mainstream, and inexplicable from a political viewpoint. He continues to cast doubt on Russian involvement in election hacking, for example, despite the intelligence community's public assessment.

"The relationships that Trump's advisors have had with pro-Russian forces are deeply disturbing," David Kramer, a former senior State Department official in the George W. Bush administration and a former adviser to Marco Rubio's presidential campaign, told NBC News in August. "Trump's attitude on Russia is not in line with most Republican foreign-policy thinking. Trump has staked out views that are really on the fringe."
Yes, heaven forbid someone step out of line with most Republican foreign-policy thinking, which incidentally, is a carbon copy of most Democrat foreign-policy thinking these days: shoot first, bomb second, and only ask questions if you are subpoenaed by Congress.
* * *
Meanwhile, not content with letting the Russian "angle" drop, on Monday evening, the master of propaganda, John Podesta himself, whose brother would be in the same trouble as Manafort if not more if the FBI were truly probing pro-Russian/Ukrainian lobbying connections, tweeted that "Donald Trump has a secret email server set up to communicate privately with the Russian Alfa Bank."
Donald Trump has a secret email server set up to communicate privately with the Russian Alfa Bank. https://t.co/7b3E8VbT6c

— John Podesta (@johnpodesta) October 31, 2016
Which is wonderful (granted he may be borrowing a little too heavily from the Hillary Clinton script), the only problem is that at almost exactly the same time, the NYT reported that U.S. Officials Doubt Donald Trump Has Direct Link to Russia.
For much of the summer, the F.B.I. pursued a widening investigation into a Russian role in the American presidential campaign. Agents scrutinized advisers close to Donald J. Trump, looked for financial connections with Russian financial figures, searched for those involved in hacking the computers of Democrats, and even chased a lead — which they ultimately came to doubt — about a possible secret channel of email communication from the Trump Organization to a Russian bank.

Law enforcement officials say that none of the investigations so far have found any link between Mr. Trump and the Russian government. And even the hacking into Democratic emails, F.B.I. and intelligence officials now believe, was aimed at disrupting the presidential election rather than electing Mr. Trump.
In other words, the FBI itself is telling the Democrat establishment to move on and find a different attack on Putin because the "Putin agent" is getting old. Alas, that means either more tax stories or more allegations of rape, both of which the public appears to no longer care as much about.
The secret explosive connection between TRUMP and RUSSIA exposed
Posted: 31 Oct 2016 06:38 PM PDT
The last few days have certainly been historic for American politics! Contrary to what the Mainstream Media, Democrat controlled White House, Senate, and other powerful groups are saying - this election is a unique, unprecedented, history making, game changing, paradigm shifting, superbowl of superbowls. As we explain in our best selling book Splitting Pennies, and as eloquently described today by Peter Thiel - the main reason for problems in America is simple; hyperinflation. If you haven't yet watched, this groundbreaking public speech supporting a renegade non-Elite candidate by an Elite himself (although, controversial) check it out here on Zero Hedge or here on Bloomberg, and in summary:
AMERICA'S OVERPRICED HEALTH CARE SYSTEM MIGHT HELP SUBSIDIZE THE REST OF THE WORLD, BUT THAT DOES NOT HELP AMERICANS WHO CANNOT AFFORD IT AND THEY HAVE STARTED TO NOTICE. OUR YOUNGEST CITIZENS MAY NOT HAVE MEDICAL BILLS, BUT THEIR COLLEGE TUITION KEEPS ON INCREASING FASTER THAN THE RATE OF INFLATION, ADDING MORE EVERY YEAR TO OUR $1.3 TRILLION MOUNTAIN OF STUDENT DEBT. AMERICA HAS BECOME THE ONLY COUNTRY WHERE STUDENTS TAKE ON LOANS THEY CAN NEVER ESCAPE, NOT EVEN BY DECLARING BANKRUPTCY. STUCK IN THIS BROKEN SYSTEM, MILLENNIALS ARE THE FIRST GENERATION THAT EXPECT THEIR OWN LIVES TO BE WORSE THAN THE LIVES OF THEIR PARENTS. WHILE AMERICAN FAMILY EXPENSES HAVE BEEN INCREASING RELENTLESSLY, THEIR INCOMES HAVE BEEN STAGNANT. IN REAL DOLLARS, IMMEDIATE HOUSEHOLD MAKES LESS MONEY TODAY THAT MADE 17 YEARS AGO. NEARLY HALF OF AMERICANS WOULD NOT BE ABLE TO COME UP WITH $400 IF THEY NEEDED IT FOR AN EMERGENCY. YET, WHILE HOUSEHOLDS STRUGGLED TO KEEP UP WITH THE CHALLENGES OF EVERYDAY LIFE, THE GOVERNMENT IS WASTING TRILLIONS OF DOLLARS ON TAXPAYER MONEY ON FARAWAY WARS. RIGHT NOW, WE'RE FIGHTING FIVE OF THEM. IN IRAQ, SYRIA, LIBYA, AND SOMALIA.
Studies have been done - the real cause of social revolution, the 'let them eat cake' syndrome, is not anything other than simple hyperinflation. When the cost of staple foods, and basic life, are more than a certain percentage of average income, people riot. One interesting example are the Onion riots of India - a staple in Indian cuisine. This was the cause of the American Revolution, the British wanted to tax Americans into poverty. The financial controls were so severe, the idea of "America" was more about having our own currency than our own country. But a country is a currency, and tax is connected to the 'functional currency' which again, is attached to the collecting organization (government) and the amount of guns they have to collect taxes.
Thiel may be a closet Genius hitting the nail right on the head with this short characterization of the current situation, at possible risk to his own business and peers. Bravo! To paraphrase the point, the 'system' - which means the government and the financial system, which have become like one, have become disfunctional. The fact that Clinton is a criminal is really a side issue, there are thousands of corrupt criminal politicians keeping the dead system afloat for a few more years, taking bribes and looking the other way. As proven by QE, the Fed can't print our way out of this one.
So what is the connection between TRUMP and RUSSIA?
The breakdown in the system, the reason TRUMP has so much support, is because he is an anti-establishment candidate. For better or worse, he's just NOT a politician. He is a vote against the last 30 years of Elite dominated foreign policy, monetary policy, wars, social degradation, and general decline.
Trump represents the 'truther' movement. For 30 or arguably 60 years, the Elite have used a tool of complex social engineering, call it programming, call it brainwashing, call it propoganda, call it what you will. Through simple TV advertising, movies, music, events like the Shell Air & Sea show, Burning Man, Lollapalooza, Facebook, and other means - the Elite have manipulated the greater masses of the population (probably, about 95%) with little ease. Pull a lever here, false flag there - boom. Another puppet in office (Obama). Another bubble created. Another opportunity to fleece the growing upper class of their easy bubble gotten gains. Another opportunity for BIG money to strike it REALLY BIG. This is nothing new, this has gone on for 200 years in the west. Well, the Bolshevik's tried to stop the Oligarchs, and had the Soviet Union, which was a unique country ruled by party hardliners. Only comparable to the NAZIs and a few other autocratic regimes, the Soviet Union, anyone would agree, was NOT dominated by foreign power, foreign influence, AT ALL. The United States, has been a foreigner free for all. Proponents of the melting-pot model, the multi-ethnic, multi-gender, trans-gender-ethnic-soup model - will say that this is a good thing. Maybe it is philosophically. But practically, when 70% of the CIA is OUTSOURCED it is a security risk. When ISRAELI companies provide secure encrypted recording of police communications and other national sensitive functions, there exists something we like to call CONFLICT OF INTEREST. How nice, their company is even called "NICE." So, are we also to outsource the software used for nuclear launch codes? I mean how far does it go, when it becomes ridiculous?
The point is that, the system has evolved to be based on corruption, conflict of interest, waste, irrationality - and it cannot last. It's a big bubble - a multi-epoch super bubble. Does it mean end of the world? Of course not. Does it mean the end for business as usual? Yes, for sure.
To understand the secret connection between Trump and Russia first understand the 'conspiracy' that exists between the current donor class, the .01 percent, Illuminati, Soros, Rockefeller, Grace, Rothschilds, Cargill-MacMillan, Kochs, British Royals, Hottingers, .. etc. There are about 10,000 of them. To put it in writing, THERE IS NO CONSPIRACY. New World Order is a wet dream, they have delusions of grandeur. It certainly would be convenient for them. Like George Bush said, his job would be 'so much easier if he was a dictator.' You have to understand what ties all these families together. Yes, some of them are friends, they go skiing together, but mostly, they don't even speak to each other. They have simply something called COMMON INTEREST. Their interest is simple, make interest on their interest in their bank account, maintain the status quo, and ensure their multi-generational survival at the top. They don't need to meet in dark rooms and plot and plan or send secret messages between each other - it's known in their conscious minds. They know, for example, what a TRUMP in the White House means for them.
But is TRUMP really an existential threat to the Elite? Certainly not. If you look at the period of medieval to pre-industrial Europe, there was an anti-feudal social movement that led to the Renaissance, Capitalism (call it 'mercantilism'), and finally the Industrial Revolution. They evolved - but - the Elite still maintained power. Although, not as direct feudal kings, they now allowed the house of commons to 'decide' about issues such as how many parking spaces should be in front of Buckingham palace. But they still owned all the land. Slavery became virtual - chains were exchanged for a control of the money supply, financial tactics were used instead of physical tactics. It was a 'banks not tanks' method, and it's still in use today. In fact, if you look back 300 or 500 years, most of the Elite of that time, are still around with their trust funds. But due to imbreeding, laziness, and just an addiction to 'rich life' - few of these families do anything substantial. They rely on new blood, like Bill Gates, to bring innovation to the Illuminati. As long as they are not threatened, and allowed to 'own' the new player, you can sit at the table.
Trump represents truth, not in that he is an honest person, but in that, he doesn't use deceit, manipulation, propoganda, and common social programming techniques to gain power. He's an honest guy, generally. The fact that he's a womanizing jerk, a real a-hole, is even a testament to his honesty. Voters for Trump, don't necessarily like Trump like an individual, they like what he represents. And that is what politics is SUPPOSED to be about. He called out that the elections are rigged. Many have known that for YEARS. I can tell you (author speaking) seeing this first hand in 2000 in Palm Beach County, the voting system is completely rigged. Anyway the point is that Trump represents a silent growing majority of 'truthers' who simply want and end to the current lies and tricks and foolish deceptions that can easily be disproved with the internet.
Democrats accuse FBI of hiding 'explosive truth' about Trump-Russia ties
What's different about this election is WIKILEAKS. It was WIKILEAKS that made this election a game changer, not Russia. The Elite used Russia as a poor excuse for 'truth' movement, of which WIKILEAKS is a major component. Many people have been part of a growing truth movement since the questionable official explanation of 911. Well, in the year 2001, Wikileaks didn't exist. This is a good resource for those who aren't familiar, that you can forward to your friends who aren't 'in the know':
The Top 100 Most Damaging WikiLeaks
So, why is all this a game changer? Because it's all out in public. We knew politicians were corrupt, but now we have it in writing, IN THEIR OWN WORDS. Why did Clinton say 'they'll send us to the gallows' because Wikileaks exposed their private communications, their own stupidity and sloth, their unprofessional behavior, and in general a disfunctional system.
1. Trump and Russia are pro-business
The connection between TRUMP and RUSSIA is they have a pro-business COMMON INTEREST. Trump certainly doesn't speak Russian and 100% for sure there is no communication between camp Trump and the Kremlin, this is tantamount to cold war delusions that Russians were hiding nuclear missiles on the dark side of the moon. People who are pro-Trump are really not 'pro-Trump' as much as they are 'pro-Fact' - and this is how Russian politics works. Simply put, Putin cleaned house years ago and it's an ongoing effort, see an example of one of the most recent stings against a local corrupt mayor:
Governor of Kirov Region detained while receiving €400k bribe
The governor of the Kirov Region has been caught "red-handed" while receiving a bribe of €400,000 ($446,000). According to investigators, he was getting the money from a company associated with the criminal case of anti-corruption activist Aleksey Navalny. The head of the region in Central Russia Nikita Belykh has been detained and a criminal case launched, spokesman of Russia's Investigative Committee Vladimir Markin announced on Friday. Belykh was caught red-handed while receiving the money in euro currency at a Moscow restaurant, he added, saying that investigators will seek the governor's arrest.
Russian politics is certainly a lot different, any country must be looked at through it's own cultural lenses. This is not a sanitization of Putin - he's built his own $1 Billion dollar palace on the Black Sea and certainly enjoys the benefits of his position. Well, maybe it's not for 'him' it's for "Russia" but someone needs to use this place, right?
2. The Elite hate Russia and Trump
Read our recent article for a detailed analysis Why the Elite hate Russia. Why the Elite hate Russia
Why do the Elite hate Trump? Simple - 1) they don't control him explicitly and 2) Trump poses a threat to them, unlike other wanna be Elites who will just do what they say. For example, if elected would Trump enforce various laws that current politicians have blatantly broken? As the commander in chief, Trump wouldn't be so easy to control, assassinate, or subvert.
3. Trump and Russia are powerful by themselves
Trump is a billionaire. How many times over? Who cares - he lives the life. He has wealth. So he bankrupted himself a few times - it's a smart business move. There's even university classes "Strategic Bankruptcy" that means they teach this in school! Clinton, Obama, the Bush Family, they didn't build their own empires the hard way, they did things for Elite's and they were rewarded. Trump may have inherited an Empire from his father, but so what - he turned it into an even bigger one. How many trust fund babies do you know that work (most of them, skiing and in and out of rehab, visiting the administrator monthly to get their check).
Russia - has tried hard to rebuild their economy. The fact that they have been villanized, well - it's offensive. Why? Because they are doing what the Americans suggested to them! They 'broke down that wall' as we told them, they are building free markets, a commodity and stock exchange, growing their middle class, and much more. It's all commendable, and they are following the CIAs playbook that was given to them in 1991. Ask any Russian, even the oligarchs - it's not easy. They are fighting a huge demographic problem, declining population, drug problems, health issues, and most importantly - a cultural mentality that still thinks that people who make money that we call 'entrepreneurs' are 'criminals' they called "Speculant" or "Speculators" during the Soviet times. Imagine what leaders like Putin face every day, explaining to a population that has been taught that it's illegal to 'profit' because it's 'dishonest' to go out and invest and start a business. If anyone can understand this what they face, what they have acheived, it is really commendable. They still have a long way to go, but this Soviet mentality has been deep rooted into their culture not only by Soviet propoganda, but Stalin killed millions who weren't like this. So it's a LOT deeper than we can even begin to imagine. And here the Elite are using them as a scapegoat. How dare they? They should be ashamed of themselves!
4. Russia and Trump have common enemies
Whether ISIS is a machination of the CIA at this point is irrelevant, radical Islam is a global problem that threatens the very existence of western culture. As long as there's a guy willing to strap a bomb to his chest and blow himself up on a bus, the West is threatened. It's only a matter of time before they evolve and crawl out of their caves and start doing real damage. The Elite in the west really isn't equipped to deal with a REAL threat, as they've been dealing with artificial threats that they create for the last 60 years. It's easy to deal with an enemy like Iraq, when you know all their chemical weapons because you sold them to him.
ISIS went a little too far. They wanted an enemy 'without borders' that it would be impossible to disprove a negative (there can be terrorists anywhere) - the problem is, the methodology created by the CIA planners was so convincing, it now is a self-feeding mechanism and radical ISLAM is a fast growing popular movement in the world. The West isn't likely going to make the Middle East glass anytime soon, especially with our friends "Israel" right in the middle of it - so this is a REAL PROBLEM that the current Elite really cannot solve. Terrorists cannot be killed with tanks and ICBMs or B2 bombers. Because, how do you know who is a Terrorist? How do we not know that right now, there aren't terrorists applying for jobs in DHS, the FBI, CIA, wherever - the world isn't flat anymore. The problems created in the last generation cannot be solved by those from the last generation or those who think like this 'industrial' model created after WW2.
Probably, speaking as a technologist, the only group that can really solve this problem are scientists or Silicon Valley.
5. Trump and Russia are both in circumstances where they are forced to be practical
Critisize Putin for this and that, Russia has led itself in a great direction - and is probably one of the top 5 optimized nation-states in the world. We don't need to do studies to see that countries like Switzerland, New Zealand, Singapore, Sweden, and others are the most efficient and economically optimized countries in the world. They also enjoy the longest human life spans, best health care (on a results basis) and are the most wealthy. We have to in this light add Russia to this list of WELL RUN countries. It is certainly not the most wealthy, poverty in Russia however is less and less - Russia has vast economic problems it faces. However the difference between Russia and Switzerland is that Russia is HUGE. The advantages of Malta, Switzerland, and others is that they are tiny micro-countries. But Russia actually is too - Basically Russia is Moscow, with a big backyard, and St. Petersburg. However you look at it, Russia has been in a situation last 20 years that it really needed to use every dollar in the best possible way, not because they are honest people, or because they like to save money, but for SURVIVAL. The only reason Russia is a functioning super power, is because they make very good use of their resources. As the engineer anecdote goes:
"Did you know NASA invented a pen that can write on the Space Station? It only cost $20 Million in R&D! The Russians, used an old pencil."
Simply put, Russia didn't have the opportunity to create QE, spend Trillions on wars, borrow their way into a debt hole, and so on. They needed to make good use of their resources and they do. They are growing.
Trump, call him what you want, he's in the private sector. Unlike government officials, i.e. Clinton, Bush, whatever- when you are in private business, you are only as good as your last trade. That means, you are always one step away from bankruptcy, from disaster. Uncle Sam doesn't bail out failed businesses. But if you are in the government, it works the opposite (at least in the US government). If a guy does a bad job, 'promote him' so goes the saying. That means, Trump has constantly had to reinvent himself, to overcome the countless failures and exist in business, for his own SURVIVAL. Trump doesn't have a government fund paying his bills. He depends on his own business to maintain his life. &n
Three of Fed's own primary dealers see rate hikes on hold until 2017
Posted: 31 Oct 2016 06:29 PM PDT
By Yun Li
Bloomberg News
Monday, October 31, 2016
Three of the Federal Reserve's own primary dealers are warning bond traders that a growing consensus the central bank will raise interest rates by year-end is misguided.
While none of the 23 banks that trade with the Fed expect a hike at the conclusion of Wednesday's meeting, HSBC Holdings, Royal Bank of Canada, and Royal Bank of Scotland Group remain steadfast that policy makers will choose to hold off on raising rates at the Fed's Dec. 14 meeting as well.
History would seem to be on the trio's side. ...
... For the remainder of the report:
http://www.bloomberg.com/news/articles/2016-10-31/three-of-fed-s-own-pri...

---
ADVERTISEMENT
K92 Mining Begins Gold Production at Kainantu Mine
Company Announcement
Wednesday, October 5, 2016
K92 Mining Inc. is pleased to announce that gold production has commenced from the Irumafimpa gold deposit.
Ian Stalker, K92 Chief Executive Officer, says: "This milestone is highly significant for our company, and for this region of Papua New Guinea. A great deal of thanks goes to the entire team on site in PNG in achieving production ahead of schedule and on budget. The rehabilitation of the Irumafimpa gold mine, process plant, and associated infrastructure commenced in late March and is now complete. As an enhancement of the processing facility, we are also pleased to note that the installation of a new drum scrubber is also nearing completion and commissioning of this will be completed by the end of the month. ..."
...For the remainder of the announcement:
http://www.k92mining.com/2016/10/6077/
---

Help GATA by purchasing DVDs of GATA's London conference in August 2011 or GATA's Dawson City conference in August 2006:
http://www.goldrush21.com/order.html
Or by purchasing a colorful poster of GATA's full-page ad in The Wall Street Journal on January 31, 2009:
Help keep GATA going
GATA is a civil rights and educational organization based in the United States and tax-exempt under the U.S. Internal Revenue Code. Its e-mail dispatches are free, and you can subscribe at:
To contribute to GATA, please visit:
Over Half A Trillion In M&A: October Mergers Smash All Records With $500.1 Billion In Deals
Posted: 31 Oct 2016 06:23 PM PDT
Last week David Rosenberg pointed out that mega Merger Manias like the one we are experiencing "invariably takes place at or near cycle peaks, as companies realize that they can no longer grow their earnings organically. We have just witnessed five multi-billion dollar deals this past week alone — $207 billion globally (AT&T/Time Warner; TD Ameritrade/Scottrade) in what has been the most active announcement list since 1999 … what do you know, near the tail end of that tech bull market too."
And now that October is officially over, we can close the books on what has been an unprecedented month for M&A. According to Bloomberg, in the month when a chill was sent through the spines of corporate CFOs and their investment bankers over fears that rates are about to rise and thus make debt-funded deals more expensive, the scramble to acquire competitors went off the charts, leading to an all time high in global M&A with almost half a trillion dollars of mergers and acquisitions announced globally.
CenturyLink Inc.'s $34 billion acquisition of Level 3 Communications Inc., as well as General Electric Co.'s deal to combine its oil and gas division with Baker Hughes Inc., pushed October's deal volumes to about $489 billion, according to data compiled by Bloomberg. That's the highest amount for at least 12 years, topping the previous record of $471 billion in April 2007, the data show.
Deallogic had a slightly different higher October deal total, calculating that the value for mergers and acquisitions for October actually surpassed the half a trillion mark, hitting $500.1B, but the idea is the same and adds that global deal volume has only been higher during five other months in records going back to 1995. More than half of the deals have been based in the US, where M&A volume has already hit a monthly record of $321.2 billion. That's about a third higher than the next biggest month on record, according to Dealogic.
Cited by Bloomberg TV, Bob Profusek, partner and chair of the global M&A practice at law firm Jones Day said that "every weekend recently has been busy."
According to the Jones Day lawyer "the fundamental drivers are still there," Profusek said. "Low growth -- which is bad for most things, but it's good for M&A because that's how you get growth -- and very accommodating capital markets." More important, however, are concerns that the period of low interest rates is coming to an end, prompting corporations to scramble and issue debt now while it is still cheap.
Profusek worked for Potash Corp. on its merger with Agrium Inc., and is advising Reynolds American Inc. on British American Tobacco Plc's $47 billion bid for the rest of the company.
The mega deals dominated October, with just eight transactions accounting for more than $300 billion of the October total. The biggest deal of the year, AT&T Inc.'s $85.4 billion bid for Time Warner Inc., was revealed on Oct. 22 in a rare Saturday deal announcement. So far this year, 32 deals valued at more than $10 billion have been struck. That puts 2016 on track to beat every year since 2007 except for last year, when a bumper 52 transactions of that size or more were announced.
"Size matters," said Profusek, "particularly because we're in a very challenging regulatory environment right now."
The massive size of M&A also means that the market is skeptical many of them will close, or will ultimately find financing should rates spike higher prior to closing. Almost 30 deals announced since the start of 2015 have not yet closed, including Dow Chemical Co.'s $59 billion merger with DuPont Co., which was pushed back until next year. The two health insurance megadeals - Anthem Inc.'s bid for Cigna Corp. and Aetna Inc.'s offer for Humana Inc. - are also still pending. Both those deals are currently trading with at least $40 gaps between the offer price and the target's current share price, indicating investors are pessimistic they will close.
As Bloomberh observes, "despite currency and equity markets reacting skittishly to poll results and news sentiment in the final days before the U.S. presidential election, M&A activity is forging ahead."
"I don't hear boards or management really putting the election high on their list of concerns," Frank Aquila, partner at law firm Sullivan & Cromwell LLP, said in a telephone interview. "Unless there is some sort of regulatory deadline or tax deadline that people are working to, deals get there when they get there."
And yet, according to companies, the biggest reason why consumer spending is weak and deteriorating is precisely due to the election. Almost as if someone is lying...
Silver Charts Indicate Now May Be an Excellent Entry Point
Posted: 31 Oct 2016 05:59 PM PDT
Calling an end to the correction in silver is tricky, but technical analyst Clive Maund sees an intermediate base forming for silver stocks, a "classic buy spot."
Obama Bringing In 500 Illegals A Day -- Frosty Wooldridge
Posted: 31 Oct 2016 03:00 PM PDT
Jeff Rense & Frosty Wooldridge - Obama Bringing In 500 Illegals A Day Clip from October 25 , 2016 - guest Frosty Wooldridge on the Jeff Rense Program. The Financial Armageddon Economic Collapse Blog tracks trends and forecasts , futurists , visionaries , free investigative...
[[ This is a content summary only. Visit http://www.newsbooze.com or http://www.figanews.com for full links, other content, and more! ]]
Comey Pulls Huge October Surprise on Hillary
Posted: 31 Oct 2016 02:55 PM PDT
This post Comey Pulls Huge October Surprise on Hillary appeared first on Daily Reckoning.
With Friday's bombshell, the Wall Street/Washington elites are now shocked and desperate, they will pull out every stop imaginable to arrest Trump's unexpected revival down the stretch. And they are more likely than not to succeed because this bombshell will function to suppress Hillary's vote, not materially boost Trump's.
The fact remains that the two most unpopular candidates of our lifetime are locked in a game of subtraction on the popular vote.
Trump has been locked-in the low 40s in the four-way race, which is what's actually on the ballot in most states, and even with this stick-save from the political gods he has simply alienated too many voting blocks — including women, Hispanics and the proverbial college-educated — to surge like Reagan did in the last two weeks of the 1980 race.
At the same time, I've been contending that Hillary will be hard-pressed to move much above 45%, and this latest corruption eruption almost certainly seals the case.
So this election carnival reverts to trench warfare in a handful of counties in a handful of battleground states — and among undecided voters therein who have most definitely not been chanting "lock her up." The really fervent anti-Hillary voters who will feast on this latest disclosure are based in the heartland of Flyover America, and those states should end-up glowing bright red!
That is to say, until Friday afternoon, Trump was fighting a rearguard battle to hold onto Mitt Romney's 206 electoral votes from 2012. His campaign was bailing water from a boat that already had a 126 vote deficit.
Perhaps now the Romney red states have been stabilized and put away. And perhaps now it is conceivable that the two battleground enchiladas — Florida and Ohio — can swing into Trump's column, as well.
But that adds up to just 253 electoral votes and no cigar for the Donald.
Moreover, beyond that steep leap you are talking about rain, ground games and the idiosyncrasies of swing precincts in the 2012 blue states of Iowa, Nevada and Maine's conservative CD2 congressional district (which casts it electoral vote separately from the statewide winner).
Still, if Trumpian lightning does strike on November 8th in those three jurisdictions, it adds just 13 votes and brings the total to 266 electoral votes. And that assumes the neocon whack-job Evan McMullin running as an independent in Utah doesn't throw that red state's six votes to Hillary or end-up making himself kingmaker in the U.S. House of Representatives.
To be clear, my purpose here is not election prognostication. But I do think that for Trump to win the White House all of the foregoing would have to happen — plus there will have to be a thundering act of God on election day in either New Mexico or Pennsylvania to put him over the top.
Yet we doubt even God can orchestrate a deluge of rain during the month of November in New Mexico. That means Philadelphia would have to be hit by the biggest storm since Katrina visited New Orleans — so that Trump could wrestle down the state's 20 electoral votes from the coal country, rest belt counties and rural backwaters of Pennsylvania.
Then again, miracles do happen, and it now seems as if November 8th is guaranteed to produce one — even if not the type that the newly-minted churchgoers holed up in Trump Tower are praying for.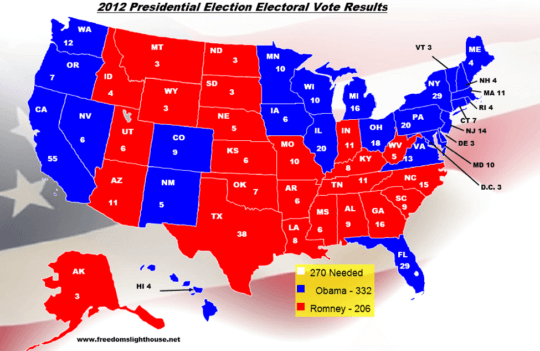 What I am suggesting is that this Mother of all October Surprises may well insure that the 2016 election results end up fracturing the nation's politics like nothing since 1860. And that, unfortunately, is the only route to liberation from the destructive rule of the Wall Street/Washington elites.
Folks, the ruling elites will never accept the fluke case of a Trump victory based on a minority of the popular vote and a hairline win in the electoral college — even if lightning strikes and God opens the heavens above Philadelphia on election day. The mainstream media will be out to do to his Presidency from day one what it did — and far more legitimately — to Nixon's at the end.
At the same time, in the now suddenly far more plausible case that Hillary wins with just +/- 45% of the popular vote and a sparse margin in the electoral college — an equal and opposite political upheaval will follow closely thereupon.
For starters, Donald Trump will likely finish the job that he was slated for by the fates of history in the first place. That is, to be a modern-day Sampson empowered to pull down the corrupt regime of casino capitalism on Wall Street and the reign of endless wars, public debt, unchained entitlements and K-street racketeering in Imperial Washington.
Trump may well turn a close election into a bitterly contested and prolonged crisis of governance by demanding recounts, prosecuting the "rigged" election meme to a fare-thee-well and fulfilling his second debate pledge to withhold a concession to Hillary in the event he loses.
If that transpires, as now seems increasingly probable, it will make the 2000 election "hanging chad" episode look like a Sunday School picnic. Hillary Clinton would enter the White House more bruised, battered, bloodied and de-legitimized than any President-elect in U.S. history. Even John Quincy Adams in 1824 represented a clan that was in far better repute than the Clintons.
More crucially, FBI Director James Comey's action Friday dramatically increased the odds that even if Hillary Clinton stumbles past the post first, the 2016 election is likely to be re-litigated in another forum.  That is, in endless and ferociously partisan "investigations" by a swarm of House committee armed with the subpoena power.
And on that score, the 24,000 WikiLeaks production of John Podesta's emails tell you everything you need to know. Namely, these people left compromising fingerprints and inadvertent confessions everywhere. The smoking guns which will bring down the incorrigible corruption and arrogant lawlessness of the House of Clinton — including the vast shakedowns of the Clinton Foundation and the Billary pay-to-play global racketeering schemes — are as certain to materialize as the secret Nixon tapes of 1973.
That all adds up to a GOP House of Representatives — which is now certain to be returned to office in close to its current numbers — looking for a reprise of the Clinton Impeachment Games of 1998. Indeed, in response to the Friday bombshell, the Republican Chairman of the House Judiciary Committee, Bob Goodlatte, appears to have already let the cat out of the bag:
Goodlatte said he also asked Comey about the status of the request from the House Republicans on the referral "of potential impeachment — I'm sorry — potential perjury charges to be brought with regard to Ms. Clinton and he deferred to the Justice Department itself. He did not answer that question as well."
The slip about impeachment reflected the GOP promise, if Clinton is elected, to doggedly investigate her.
Your correspondent spent his every youthful moment transfixed by Watergate 1.0 and the Nixon impeachment trial of 1973-1974. The manner in which it poisoned the environment in Washington and soon froze the very machinery of government was experienced close at hand, and has left an indelible memory.
And that was before the nation was sitting on a $20 trillion public debt bomb or had a rogue central bank seeding the financial system with FEDs (financially explosive devices). And it was at a time when Mexico was bankrupt, China was staggering under Mao's starvation of 40 million and Japan was still exporting to America mostly motor bikes and transistor radios.
In a word, when Imperial Washington shuts down this time, there will be unfathomable economic consequences — and among them is the virtual certainty that there will be no hand-off of the "stimulus" baton to fiscal policy, as the foolish gamblers left in the casino insensibly anticipate.
Indeed, the GOP House — driven by the aroused citizens of Flyover America who will believe in their tens of millions that the election was stolen — will become a killing field for whatever desperate gambits the Clinton Administration and its confederates in the Eccles Building may concoct in response to crashing markets and a sinking economy.
There will be no pre-election bipartisan bailout consensus as in October 2008. What comes now is post-election partisan mayhem and the collapse of the nation's preposterous house of financial cards.
Alas, it's long overdue. And it's the only way back to economic sanity.
Regards,
David Stockman
for The Daily Reckoning
P.S. I've gone ahead and reserved a free autographed copy of my book TRUMPED! A Nation on the Brink of Ruin… and How to Bring It Back for you. Click right here to learn how to claim it.
Inside, you'll learn…
Mathematical proof that the S&P 500 is set to soon fall by 40% soon — if you understand this, there are some simple ways to protect yourself and even make some nice, safe profits (Page 238)
On Page 31, I'll show you the 10 steps that whoever is elected needs to implement to save America. If most of these aren't taken in the next administration, you'll want to be sure to follow the instructions that I detail below them
Five popular American stocks currently being touted on TV, in newspapers and on the internet. But on Page 377, you'll discover why you should avoid them like the PLAGUE
The coming U.S. revolt that Brexit foreshadows. This is must-read material BEFORE you walk into the voting booth (Page 282)
The one simple step could prevent a 2008-type financial crisis from ever happening again. If it's not implemented, avoid the investments on Page 251
The reason why gold will not only retest $1,950 — but go MUCH, much higher. Page 305
What the market will do in the weeks LEADING UP to the election. It's a great opportunity for you to make some nice profits if you trade volatility. Page 221
The truth about the future of fixed-income investments: Why most popular income plays will be crushed and most fixed income and government bonds are grossly overvalued. I'll show you by how much… why the bond and fixed-income bubble will soon pop… and which particular area of this market is most vulnerable when it does. All starting on Page 261.
Click here to fill out your address and contact info. If you accept the terms, the book will arrive at your doorstep in just a few weeks.
The post Comey Pulls Huge October Surprise on Hillary appeared first on Daily Reckoning.
SHOCK: NSA CAN RECOVER ALL OF HILLARY'S DELETED EMAILS
Posted: 31 Oct 2016 02:00 PM PDT
 The Conservative Tribune reports, The 33,000 emails that former Secretary of State Hillary Clinton famously deleted — yes, those emails — aren't lost at all. The Financial Armageddon Economic Collapse Blog tracks trends and forecasts , futurists , visionaries , free investigative...
[[ This is a content summary only. Visit http://www.newsbooze.com or http://www.figanews.com for full links, other content, and more! ]]
Gold Daily and Silver Weekly Charts - All Tricks and No Treats
Posted: 31 Oct 2016 01:40 PM PDT
Breaking: Damning Podesta email revealed
Posted: 31 Oct 2016 01:30 PM PDT
BREAKING NEWS: If this is correct, All Hillary's 33,000 emails will be released tomorrow November 1 finishing Hillary off once in for all. http://stateofthenation2012.com/?p=53832 The Financial Armageddon Economic Collapse Blog tracks trends and forecasts , futurists , visionaries ,...
[[ This is a content summary only. Visit http://www.newsbooze.com or http://www.figanews.com for full links, other content, and more! ]]
Jim Rickards: There is Only One Bank Left
Posted: 31 Oct 2016 12:04 PM PDT
This post Jim Rickards: There is Only One Bank Left appeared first on Daily Reckoning.
Going deep into the vaults for his latest analysis, economist and bestselling author Jim Rickards takes his knowledge underground.  His conversation is held within an actual vault in Sydney, Australia Rickards where he is interviewed by Lelde Smith, journalist and director for The Capital Network.  The discussion covers all the bases including the one bank that left to act.  Smith presses questions covering topics ranging from James Bond to Trump and Hillary – all the way down to conspiracy allegations, financial crashes and, most fitting for the location, gold.
"When real financial crises happen, the complex dynamics are identical to the way real earthquakes work.  Its complexity that the system builds up pressure on and then it snaps. It can happen in earthquakes.  It can happen in finance. In 1998 it was a "foreshot," that was the Long Term Capital Management crisis (I negotiated that bailout). In 2008, we were days away from the sequential collapse of every bank in the world.  I take the ten year tempo and come forward ten more years.  I hypothesize a collapse in 2018, but it really could happen tomorrow."
Jim Rickards has over 35 years of prudent experience in capital markets from his work on Wall Street.  He is also a special advisor regarding capital markets to those within the US intelligence community.  Rickards uses applied science to analyze global economic conditions.
The author was asked during the interview, "what do you believe gives your theories weight here and makes them more than a conspiracy, but a fact in your book? He took the question to drive that point that, "I use science. I use complexity theory. I use behavioral economics. I use an applied mathematical tool, called Bayes' Theorem. I do it in plain English. You can make it as geeky as you want, but this book is very accessible. I have simple examples for explanation. I don't like making claims without the backup.  It's all backed up and not a conspiracy theory. It is all solidly based."
Smith asked, what would you say if somebody asked you "markets go up and down, what will make this earthquake any different to any others where the earth still remains?" Rickards responded confidently saying that, "In the next crisis someone is going to have to bailout the central banks. As we go through these successive crisis, no problems are solved. Each crisis gets bigger than the one before. The bailout gets bigger than the one before."
"So who is bigger than the central banks? There is only one clean balance sheet left in the world, that's the IMF. Whether it is 2018 or sooner, the IMF will bail out the central banks with world money. That is what they call the special drawing rights (SDR)."
To see the full interview from The Capital Network click HERE. If you want more on Rickards forthcoming book, The Road to Ruin: The Global Elites' Secret Plan for the Next Financial Crisis, out in just over two weeks you can find it by clicking HERE.
Regards,
Craig Wilson, @craig_wilson7
for The Daily Reckoning
Ed. Note: Sign up for a FREE subscription to The Daily Reckoning, and you'll receive regular insights for specific profit opportunities. By taking advantage now, you're ensuring that you'll be set up for updates and issues in the future. It's FREE.
The post Jim Rickards: There is Only One Bank Left appeared first on Daily Reckoning.
PREPARE FOR RUSSIAN INVASION!? END TIMES SIGNS: LATEST EVENTS (OCT 31, 2016)
Posted: 31 Oct 2016 12:00 PM PDT
end times, end times signs, end times news, end times events, bible prophecy, prophecy in the news, tornado, earthquake, strange weather, strange events, apocalyptic signs, apocalyptic events, strange weather phenomenon, wars and rumors of wars The Financial Armageddon Economic Collapse...
[[ This is a content summary only. Visit http://www.newsbooze.com or http://www.figanews.com for full links, other content, and more! ]]
Two percent inflation is two percent theft
Posted: 31 Oct 2016 11:22 AM PDT
With political sewage threatening to reach tsunami force, writing an article on inflation seems like posting a daydream.
Yet a better understanding of money would show us how it could shield us from political as well as economic malfeasance.
When we hear inflation discussed it's usually presented as a method of price control. It's a lever central bank "policymakers" tweak to keep IT from happening, by which I mean the

infamous Bernanke IT

, i.e. deflation, i.e., a general fall in prices. The Fed and its cheerleaders believe a 2% CPI inflation target (more or less) is perfect for a healthy economy. But horrors — it's been below 2%! A recent article in the Economist exhorts the Fed to get on the stick and get busying printing ("

The only thing we have to fear is fear of inflation

").
It has been reckless of the Fed to allow inflation to remain so low for so long. We should be cheering the slight, recent acceleration in prices and hoping for more.
First, as its advocates are loath to acknowledge, inflation targeting assumes a currency that, through the coercive mechanism of government, has been taken out of users's hands, placed in the custody of a banking cartel, and converted to digital fiat money for instant manipulation.
We almost never read any hint that money might be otherwise than digits created by a committee of political insiders crafting "policy."
We almost never read that the crafting is indistinguishable from counterfeiting.
We almost never read that money developed as a means of overcoming the restrictions of direct exchange, where one commodity emerged as the most sought-after in trade, which was neither digits nor paper.
We almost never hear that when paper money becomes money itself it is always a result of government imposition overriding the choice of market participants, i.e., anyone not in on the scheme.
Secondly, far from being reckless, the Fed has actually been
careful
with money by keeping
the adjusted monetary base
flat for two years, after sending it to the stratosphere following the Panic of '08.
Combined with the Fed's policy of paying interest on excess reserves, which by discouraging bank lending helps corral the fractional reserve multiplier, its policy of the past two years has been beneficial to people who want their money to buy more.
It really is hard to find a Man on the Street who likes paying higher prices for the things he buys.
In the Keynesian world we're forced to live in, the Man in the Street is swallowed up in the macro analysis that passes for insight.
The real problem with inflation today is not even the money underlying it, which should be gold coins, with its supply governed exclusively by market forces. The problem with inflation is that it is discussed as if the money in our possession — whatever form it takes — is not legally ours.
More
important
than the survival of the state
Unless you're at or near the top of the political food chain, nothing you own, including your life, is untouchable by the state or its proxies.
How else could Roosevelt have gotten away with his gold confiscation in 1933?
How else could Lincoln, Wilson, Roosevelt, and Johnson have ordered men to fight wars the state inaugurated under penalty of fine and imprisonment?
It may surprise some that the idea of state omnipotence was rejected by many men who constituted the vanguard of the country's founding.
On February 24, 1761 Boston attorney James Otis Jr. took the floor in a landmark court case in which he demolished the arguments of the Crown's attorney (and Otis's tutor in the law), Jeremiah Gridley, who had defended the legality of general
writs of assistance
.
As Otis
argued
, an official armed with one of these general writs could enter "all houses, shops, etc., at will, and command all to assist him" in searching for anything he wanted.
Every man prompted by revenge, ill-humor, or wantonness to inspect the inside of his neighbor's house, may get a Writ of Assistance. Others will ask it from self-defence; one arbitrary exertion will provoke another, until society be involved in tumult and in blood.
A young John Adams was in the courtroom taking notes throughout Otis's five-hour oration.
According to Adams, Otis claimed every man (including "Negroes") possessed rights that were "inherent, inalienable, and indefeasible by any laws, pacts, contracts, covenants, or stipulations which man could devise."
[Otis asserted that] no other creature on earth could legitimately challenge a man's right to his life, his liberty and his property. That principle, that unalterable law, took precedence . . . even over the survival of the state. [p. 23]
Clearly, the American public was bamboozled into surrendering their rights for the benefit of those who prosper through the instrumentality of the state, which they were assured included them.
The Economist and other establishment voices are saying this: That money in your pocket — you don't really own it, not if the state decides to claim part or all of it.
Money has value because it can be used in exchange for other goods.
If some committee can reduce the value of your money without your consent, they're no different than common thieves.
The argument that the Fed's purpose is to keep market economies running smoothly is a sham by virtue of its history alone, as well as theory. Where central banks go, monetary debauchery follows, as do the ravages of societal turmoil that trail in its wake.
Posted: 31 Oct 2016 11:13 AM PDT
This post 5 Things To Watch For appeared first on Daily Reckoning.
Here are the top 5 things to watch for in financial news stories that will be impacting markets for the week ahead.
1 – Gold Holds Gains From Last Week As U.S. Election Polls Tighten (Bloomberg)
The Daily Reckoning covered the news on fall in the Mexican peso (click here) following the Friday announcement by the FBI of potential investigations regarding her email brouhaha let out.  The impact on gold was another firm indication of where the market might be headed in the fallout.  Bloomberg reported that on "Friday, prices climbed as much as 1.3 percent to the highest in a month."  
While the news surrounding Clinton is still unfolding watching gold can offer a good indicator for where the market is headed.
To read more of the Bloomberg article click here.
2 – Economic Stress As World Runs Out Of Dollars (The Telegraph)
Ambrose Evans-Pritchard, a 30 year veteran reporter of The Telegraph, reported that global markets are currently operating in a state of fear.  He cited that the looming potential for the US Federal Reserve to raise rates too fast is leading to an "acute dollar shortage," which then is "draining global liquidity."  One banker out of London that was quoted by the British newspaper said, "People are terrified that QE is going to end early in Europe, and in the US we've already been in an earnings recession for a year and a half. Global growth is not getting any stronger despite what people seem to think."  
This is important because it highlights a tendency for business owners and major firms to disguise poor growth earnings in the face of tightening cash flows.
To read more of The Telegraph article click here.
3 – How a Pillar of German Banking Lost Its Way (Der Spiegel)
Financial media from around the world continue to speculate about what might happen to troubled Deutsche Bank (Check out my 5 Things on DB to catch up). The real story might be best suited directly from a German perspective. Der Spiegel, a German based publication, and one of the largest in Europe released a complete guide to the storylines.  
As the author's report, "Deutsche Bank is broken. It might be able to extract itself from the 7,800 lawsuits it is currently involved in, or it may shrink to the point that it will no longer pose a systemic risk, or it may manage to find investors to help it scrape together sufficient capital to fulfill legal requirements. In the most extreme case, it may even be bailed out by the German state. But it is broken nonetheless when compared to that which it once was: a brand, a symbol, a German icon."  
While Deutsche Bank nears default, understanding the holistic story will allow a greater comprehension to what it means for the markets and your money.
To read the full story from Der Spiegel click here.
4 – Mark Carney Could Quit his Bank of England Role Within DAYS… (Daily Mail UK)

In the wake of Brexit's mass exodus of British political leadership, the Bank of England's Mark Carney might be the next out the door.  The Daily Mail is reporting that he could be out as early as next week.  The governor is a native Canadian and the British news publication is reporting that he might be in the midst of a return to his homeland by next year.  His rumored replacement, MP Jacob Rees-Mogg is a potential candidate-in-waiting for the position.  
In the Daily Mail report the MP targets Carney saying, "He never seems to want to recognize the result of the referendum and get on with it. It looks like he is a sore loser." This headline and similar reports will continue to push through in the coming days and is important to watch in the wake of uncertainty around the UK and the EU.
To read the full story from Daily Mail click here.
5 – We Risk Being Collateral Damage In The Neocon Lust For War (Peak Prosperity)
Chris Martenson of Peak Prosperity has officially begun to escalate his personal preparations in the wake of the neocons' potential war in the coming months and years.  He pens that, "NATO is ramping up the pressure. Western media is faithfully (again) running necon talking points as if they were pearls of wisdom. We are heading back to the future."
The piece takes a dive into the deep state of the elections and what further war escalation might mean for the future of US foreign policy.  The sentiment that Martenson outlines goes beyond financial news and is one that is both alarming and informative for investors on either the bull and bear side of the market.
David Stockman (who was interviewed by Martenson – click here) has taken issue with the neocon state and highlighted the drumbeats for war during the final presidential debate. He noted that (click here to see the tweet), "After all, Hillary the Hawk has never seen a war she didn't embrace…" In addition to our fifth story, you'll see that Martenson is not alone with his concern to a neocon war. To get the full scoop from Stockman – check out his latest book Trumped! A Nation on the Brink of Ruin… And How to Bring it Back for free (click here for more details).
To read the full story from Peak Prosperity click here.
Happy Halloween! Just for some added insight, we turn to Pedro da Costa for his impeccable style in summarizing the financial news day and the market. As usual, he nails it.
Market player. #Halloween pic.twitter.com/dWm8d3G5al

— Pedro da Costa (@pdacosta) October 29, 2016
Regards,
Craig Wilson, @craig_wilson7
for The Daily Reckoning
P.S. In need of a last minute costume for halloween? Don't worry. We have some of the scariest on the block. They're sure to scare the neighbors kids. Peter Coyne's suggestions from last year are just as on point today as they were then (check it out here and below).
#HappyHalloween! Last min. costume solution for tonight from @DailyReckoning. Need scissors, glue + popsicle stick. pic.twitter.com/rlgB4OK8aT

— Peter Coyne (@petermcoyne) October 31, 2015
Ed. Note: Sign up for a FREE subscription to The Daily Reckoning, and you'll receive regular insights for specific profit opportunities. By taking advantage now, you're ensuring that you'll be set up for updates and issues in the future. It's FREE.
The post 5 Things To Watch For appeared first on Daily Reckoning.
LIVE Stream: Donald Trump Rally in Grand Rapids, MI 10/31/16
Posted: 31 Oct 2016 11:00 AM PDT
Monday, October 31, 2016 at 12:00 PM ET: Donald J. Trump will hold a rally at the Deltaplex Arena.LIVE Stream: Donald Trump Rally in Grand Rapids, MI 10/31/16 The Financial Armageddon Economic Collapse Blog tracks trends and forecasts , futurists , visionaries , free investigative...
[[ This is a content summary only. Visit http://www.newsbooze.com or http://www.figanews.com for full links, other content, and more! ]]
Jim Sinclair: Gold Will be $50,000 per Ounce, Gold Confiscation, Dollar Gets Hammered and More [2013 VIDEO]
Posted: 31 Oct 2016 09:30 AM PDT
BREAKING: FBI Got EXACTLY What They Need to Take Down Hillary - HUMA's " LIFE INSURANCE FILE"
Posted: 31 Oct 2016 09:25 AM PDT
- BREAKING: FBI Just Got EXACTLY What They Needed to Take Down Hillary for GOOD! HUMA's "LIFE INSURANCE FILE" The Financial Armageddon Economic Collapse Blog tracks trends and forecasts , futurists , visionaries , free investigative journalists , researchers , Whistelblowers ,...
[[ This is a content summary only. Visit http://www.newsbooze.com or http://www.figanews.com for full links, other content, and more! ]]
Centamin hits milestone as it pays back $1bn cost of Sukari gold mine
Posted: 31 Oct 2016 08:53 AM PDT
This posting includes an audio/video/photo media file: Download Now
Posted: 31 Oct 2016 08:53 AM PDT
Technical analyst Jack Chan charts the last week's movements in the gold and silver markets.
Venezuelans give up on counting piles of cash and start weighing them
Posted: 31 Oct 2016 08:33 AM PDT
By Fabiola Zerpa and Andrew Rosati
Bloomberg News
Monday, October 31, 2016
At a delicatessen counter in eastern Caracas, Humberto Gonzalez removes slices of salty white cheese from his scale and replaces them with a stack of bolivar notes handed over by his customer. The currency is so devalued and each purchase requires so many bills that instead of counting, he weighs them.
"It's sad," Gonzalez says. "At this point I think the cheese is worth more."
It's also one of the clearest signs yet that hyperinflation could be taking hold in a country that refuses to publish consumer-price data on a regular basis. Cash-weighing isn't seen everywhere but is increasing, echoing scenes from some of the past century's most-chaotic hyperinflation episodes: Post-World War I Germany, Yugoslavia in the 1990s, and Zimbabwe a decade ago.
"When they start weighing cash, it's a sign of runaway inflation," said Jesus Casique, financial director of Capital Market Finance, a consulting firm. "But Venezuelans don't know just how bad it is because the government refuses to publish figures." ...
... For the remainder of the report:
http://www.bloomberg.com/news/articles/2016-10-31/tired-of-counting-pile...

---
ADVERTISEMENT
Sandspring Resources Commences 2016 Exploration Campaign
Company Announcement
August 17, 2016
Sandspring Resources Ltd. (TSX VENTURE:SSP, US OTC: SSPXF) is pleased to announce commencement of the 2016 exploration campaign at its Toroparu Gold Project in Guyana, South America.
In 2015 the company completed a 3,700-meter diamond drilling program on the promising Sona Hill Prospect, located 5 kilometers southeast of the main Toroparu deposit. Sona Hill is the easternmost gold anomaly in a cluster of 10 gold features located within a 20-by-7-kilometer hydrothermal alteration halo around Toroparu. Drilling at Sona Hill in 2012 and in 2015 intercepted high-grade mineralization in both saprolite and bedrock, and confirmed the continuity and grade potential of the Sona Hill mineralization.
For the remainder of the announcement and highlights of the 2015 drill program:
https://finance.yahoo.com/news/sandspring-resources-commences-2016-explo...
---

Help GATA by purchasing DVDs of GATA's London conference in August 2011 or GATA's Dawson City conference in August 2006:
http://www.goldrush21.com/order.html
Or by purchasing a colorful poster of GATA's full-page ad in The Wall Street Journal on January 31, 2009:
Help keep GATA going
GATA is a civil rights and educational organization based in the United States and tax-exempt under the U.S. Internal Revenue Code. Its e-mail dispatches are free, and you can subscribe at:
To contribute to GATA, please visit:
These 3 Charts are Terrifying Investors…
Posted: 31 Oct 2016 07:24 AM PDT
This post These 3 Charts are Terrifying Investors… appeared first on Daily Reckoning.
Every investor in the country is getting sucked into election season drama.
News that the FBI is preparing to dig through 650,000 of Huma Abedin's emails found on her sexting-aficionado husband's laptop sent stocks reeling on Friday afternoon. Sellers stepped up to the plate and tossed the major averages into the red as Hillary Clinton's dominant lead is disappearing in the wake of an expanding email scandal.
Now that Anthony Weiner is back on the front page, this election has officially turned into a three-ring circus. You couldn't make this stuff up if you tried. And the stock market doesn't like it one bit…
Investors are spooked. Stocks have acted poorly all month. As a result, we've seen plenty of sellers dragging down some of the most vulnerable stocks and sectors.
Just a few short weeks ago, we showed you how positive momentum in a couple of key groups of stocks was bubbling up under the market's surface. Our thought was the market was quietly shifting to "risk-on" mode while most investors were too scared to act.
The evidence was all around us. Investors were ditching safety plays like utilities and consumer staples stocks that were so popular earlier in the year. Even the price of gold fell off a cliff.
Now the month is all but over. But our risk-on indicators aren't improving. A few are even beginning to break down.
Here are three charts that are scaring the bejesus out of investors as November approaches:
1. Small stocks fall off a cliff
We're always keeping a close eye on small-caps. If smaller names are performing well, that's usually an indication that investors are feeling bullish.
Small-cap and microcap names were finding new life and spanking the major averages just a couple of months ago. Not anymore.
Thursday's big push lower dropped the Russell 2000 small-cap index to three-month lows. Four straight days of losses breaks the Russell down below key support. See for yourself: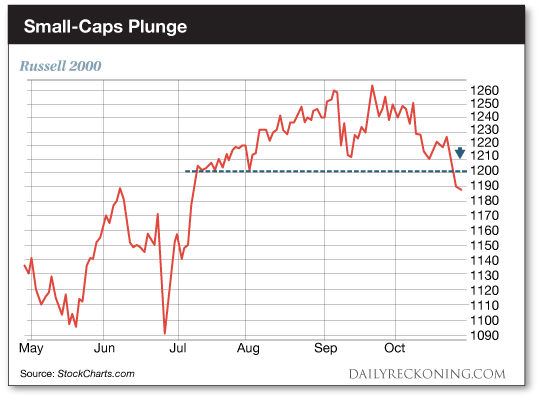 The S&P 500 is down a little less than 2% in October. The Russell 2000 has dropped more than 5% this month. That's not exactly bullish…
2. Biotechs can't bounce
Biotech stocks quietly snuck higher back in September as the major averages remained trapped in the spin cycle.
But investors have wanted nothing to do with speculative biotech names in October. Like small-caps, these former standouts are quickly deteriorating…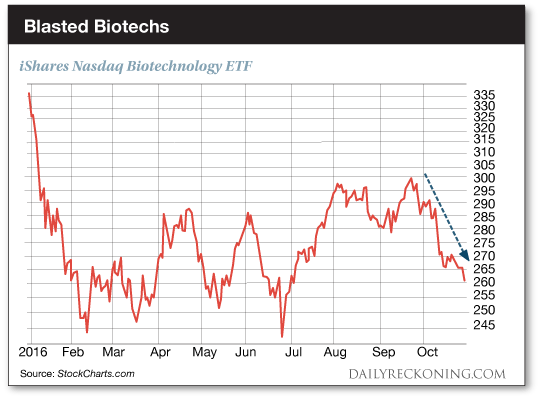 All that hard work biotechs put in building off their Brexit lows is beginning to evaporate.
We talked about how biotech stocks are quickly becoming one of the market's big "tells" just a few weeks ago. The biotech sector was one of the hardest-hit areas of the market over the past couple of years. But it enjoyed a nice summer rally. Now that the summer strength is gone, we're left watching these speculative names push to three-month lows.
3. Breadth continues to deteriorate
We want to see broad participation in market rallies—not just a few big-name stocks propping up the Dow and S&P 500.
But right now, we're seeing just the opposite. Fewer and fewer stocks are in well-defined uptrends. And that ain't bullish, my friend.
The percentage of stocks in the S&P 500 above their 50-day moving averages has shrunk substantially since stocks rocketed off their June lows. Check it out…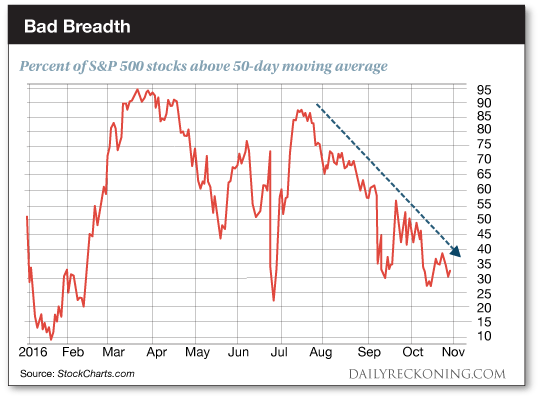 Right now, less than 35% of large-cap names are above their respective 50-day moving averages. We'll need to see a bounce in this indicator before we can put our full trust in any market rally…
Now that October is almost in the books, our job is to figure out whether this month's bearish action is the final shake-out before a year-end rally—or the beginning of a bigger drawdown.
Keep an eye on these three charts this week. They'll tell you almost everything you need to know about the market…
Sincerely,
Greg Guenthner
for The Daily Reckoning
P.S. Make money in ANY market — sign up for my Rude Awakening e-letter, for FREE,right here. Never miss another buy signal. Click here now to sign up for FREE.
The post These 3 Charts are Terrifying Investors… appeared first on Daily Reckoning.
Recommended Reading: When Money Dies: The Nightmare of the Weimar Collapse
Posted: 31 Oct 2016 04:51 AM PDT
Michael Ballanger
Breaking News And Best Of The Web
Posted: 31 Oct 2016 02:37 AM PDT
US GDP, consumer spending up strongly, will be revised downward after the election. Deluge of earnings last week, with Apple, Amazon and health care companies disappointing while Google and the big banks did better than expected. The dollar is rising and so is inflation. FBI probing new Clinton emails, polls tightening.   Best Of The […]
The post Breaking News And Best Of The Web appeared first on DollarCollapse.com.
Precious Metals Stocks May Be Poised for a Major Upswing
Posted: 31 Oct 2016 01:00 AM PDT
Technical analyst Clive Maund outlines why he believes the correction in gold and precious metals stocks is coming to an end.
Silver Charts Indicate Now May Be an Excellent Entry Point
Posted: 31 Oct 2016 01:00 AM PDT
Calling an end to the correction in silver is tricky, but technical analyst Clive Maund sees an intermediate base forming for silver stocks, a "classic buy spot."
Trouble Ahead for USD-Denominated Sovereign Debt?
Posted: 30 Oct 2016 05:00 PM PDT
Jack Chan: This Past Week in Gold
Posted: 29 Oct 2016 01:00 AM PDT
Technical analyst Jack Chan charts the last week's movements in the gold and silver markets.
You are subscribed to email updates from Save Your ASSets First.
To stop receiving these emails, you may unsubscribe now.
Email delivery powered by Google
Google Inc., 1600 Amphitheatre Parkway, Mountain View, CA 94043, United States