---
FTSE BrExit Stock Market Panic Crash Resolves towards New All Time Highs
Posted: 04 Oct 2016 01:21 AM PDT
Remember how BrExit was supposed to trigger a stock market crash, collapse, bear market, with the mainstream press's panic reporting Brexit morning (June 24th) following the FTSE's early morning 5% mark down in the wake of the UK voting to LEAVE the EU.
40 Million Russians To Take Part In "Nuclear Disaster" Drill, Days After US General Warns Of War With Moscow
Posted: 04 Oct 2016 12:47 AM PDT
As relations between Russia and the US disintegrate as a result of the escalating proxy war in Syria, which today culminated with Putin halting a Plutonium cleanup effort with the US, shortly before the US State Department announced it would end negotiations with Russia over Syria, tomorrow an unprecedented 40 million Russian citizens, as well as 200,000 specialists from "emergency rescue divisions" and 50,000 units of equipment are set to take part in a four day-long civil defense, emergency evacuation and disaster preparedness drill, the Russian Ministry for Civil Defense reported on its website.
According to the ministry, an all-Russian civil defense drill involving federal and regional executive authorities and local governments dubbed "Organization of civil defense during large natural and man-caused disasters in the Russian Federation" will start tomorrow morning in all constituent territories of Russia and last until October 7. While the ministry does not specify what kind of "man-caused disaster" it envisions, it would have to be a substantial one for 40 million Russians to take part in the emergency preparedness drill. Furthermore, be reading the guidelines of the drill, we can get a rather good idea of just what it is that Russia is "preparing" for.
The website adds that "the main goal of the drill is to practice organization of management during civil defense events and emergency and fire management, to check preparedness of management bodies and forces of civil defense on all levels to respond to natural and man-made disasters and to take civil defense measures." Oleg Manuilov, director of the Civil Defence Ministry explained that the exercise will be a test of how the population would respond to a "disaster" under an "emergency" situation.
Some further details, on the 3-stage, 4 day drill:
I stage: organization of civil defense actions

The stage is going to practice notification and gathering of senior officials of federal and regional executive authorities, local governments and civil defense forces, deployment of civil defense management system on all levels, readying civil defense communication and notification system. After the National Crisis Management Center have brought the management signals, all management bodies, state authorities, forces and facilities on duty and people will be notified through notification systems available.

II stage: Planning and organization of civil defense actions. Deploying a team of civil defense forces and facilities designed to respond to large disasters and fires.

The stage plans to practice deployment a mobile interagency multi-functional team of civil defense forces and facilities in each federal district in order to carry our rescue and other urgent operations, civil defense actions and to deploy special civil defense units in constituent territories; putting rescue military units, divisions of the federal fire service, rescue units on standby. The stage provides for the team to be reinforced, activation of backup control centers and practicing collecting and exchanging information in the field of civil defense.

III stage: Organization of actions of civil defense management bodies and forces for response to large disasters and fires.

The stage will deal with the use of the civil defense team to respond to large disasters and fires, setting up aerial and mobile control centers, revising of routes for save evacuation of people, organization of vital services; taking off fire and rescue units of the federal fire service to put out fires and conduct rescue operations at potentially dangerous facilities, including closed administrative territorial entities.

The drill will rehearse radiation, chemical and biological protection of the personnel and population during emergencies at crucial and potentially dangerous facilities. Fire safety, civil defense and human protection at social institutions and public buildings are also planned to be checked. Response units will deploy radiation, chemical and biological monitoring centers and sanitation posts at the emergency areas, while laboratory control networks are going to be put on standby.
The fact that among the measures tasked for the civil defense team will be a response to "disasters and fires" as well as the rehearsal of "radiation, chemical and biological protection", makes it clear that Russia is about to hold its biggest nuclear war drill since perhaps the end of the Cold War.
Why now? Perhaps, in addition to the sharp deterioration in relations between Russia and the west, where tensions are on par with the cold war, another answer may come from the Chairman of the Joint Chiefs of Staff Joseph Dunford, who last week warned Congress that the implementation of a No Fly Zone in Syria as proposed by John Kerry recently, and a centerpiece of Hillary's foreign policy strategy, would result in World War III.
During testimony before the Senate Committee on Armed Services last week General Joseph Dunford rang the alarm over a policy shift that is gaining more traction within the halls of Washington following the collapse of the ceasefire brokered by the United States and Russia in Syria saying that it could result in a major international war which he was not prepared to advocate on behalf of. Senator Roger Wicker of Mississippi asked about Hillary Clinton's proposal for a no fly zone in Syria in response to allegations that Russia and Syria have intensified their aerial bombardment of rebel-held East Aleppo since the collapse of the ceasefire.
"What about the option of controlling the airspace so that barrel bombs cannot be dropped? What do you think of that option?" asked Wicker. "Right now, Senator, for us to control all of the airspace in Syria would require us to go to war against Syria and Russia. That is a pretty fundamental decision that certainly I'm not going to make," said the Chairman of the Joint Chiefs of Staff suggesting the policy was too hawkish even for military leaders.
As a reminder, Hillary Clinton strongly argued in favor of a no fly zone ever since October 2015, just days after Russia began a bombing campaign aimed at maintaining the stability of the Syrian government. "I personally would be advocating now for a no fly zone and humanitarian corridors to try to stop the carnage on the ground and from the air, to try to provide some way to take stock of what's happening, to try to stem the flow of refugees," said Clinton in an interview with NBC in October 2015.
Despite the warnings, the former Secretary of State and current presidential candidate, who has a well-known hawkish position towards regime change and matters related to Russia, has continued to advocate this position which has gained traction in recent weeks among top US diplomats.
Clinton is note alone: as the WSJ reported in June, more than 50 US diplomats endorsed a notorious dissent memo, demanding that that the Obama administration employ military options against Assad, such as the implementation of a no fly zone if not a direct attack against the Syrian regime. The argument from the diplomats is that the situation in Syria will continue to devolve without direct action by the US military, an argument of dubious legality if undertaken unilaterally without a UN Security Council resolution but which as Sputnik reports, the US Ambassador to the UN Samantha Power has been laying the groundwork for under the controversial "right to protect" theory of international law arguing that Russia's opposition to a resolution should be ignored because they are a party to the conflict.
Russia, in turn, has countered that if the Assad regime falls then terrorist groups including ISIS and al-Nusra Front will likely fill the resulting power vacuum descending the country into an even greater harbor for international terrorism. Ultimately, the Syrian conflict is fundamentally about the transport of energy, and whether Russia maintains its dominance over European natural gas imports, or if - with the Syrian regime deposed - a Qatar natural gas pipeline can cross the territory and make its way to Europe.
As for the Russian nuclear war drill, we can only hope that any such rising hints of nuclear warfare remain in the realm of the purely theoretical.
In KWN interview, Turk sees bank failures heralding another depression
Posted: 03 Oct 2016 04:59 PM PDT
8p ET Monday, October 3, 2016
Dear Friend of GATA and Gold:
GoldMoney founder and GATA consultant James Turk, interviewed today by King World News, predicts that another Great Depression will begin with bank failures in Italy and then the failure of Deutsche Bank:
http://kingworldnews.com/james-turk-deutsche-bank-failure-to-usher-in-th...
And Franco-Nevada founder Pierre Lassonde, also interviewed by KWN, predicts unprecedented volatility in the gold price in coming months:
http://kingworldnews.com/legend-pierre-lassonde-says-world-events-are-ab...
CHRIS POWELL, Secretary/Treasurer
Gold Anti-Trust Action Committee Inc.
CPowell@GATA.org

---
ADVERTISEMENT
K92 Mining Shows What 'Fast Track' Really Means
Company Announcement
By Kevin Silva
Market One Media, Vancouver, British Columbia, Canada
via Business News Network, Toronto
September 18, 2016
"Fast-tracking" is an overused phrase in the mining sector. But K92 Mining Inc. (TSX.V: KNT) has demonstrated exactly what that concept means.
Less than four months after going public on May 25, the company has completed additional financings totaling $18.5 million. It also refurbished the mill and mine facilities with enhanced processing capacity and has two drills turning onsite. With all this accomplished, production looks to be just days away.
"The technical team on site has done an excellent job with the production restart, and we are on schedule and on budget," says Director and Chief Operating Officer John Lewins. "With that focus on track, and with the enhanced financial flexibility resulting from our recent financings, we are now looking to target a resource expansion that we believe exists."
K92 has under-promised and over-delivered. ...
... For the remainder of the announcement:
http://www.bnn.ca/k92-shows-what-fast-track-really-means-1.568196

---

Join GATA here:
New Orleans Investment Conference
Wednesday-Saturday, October 26-29, 2016
Hilton New Orleans Riverside
New Orleans, Louisiana
http://neworleansconference.com/wp-content/uploads/2016/08/2016_Powell.h...
Help GATA by purchasing DVDs of GATA's London conference in August 2011 or GATA's Dawson City conference in August 2006:
http://www.goldrush21.com/order.html
Or by purchasing a colorful poster of GATA's full-page ad in The Wall Street Journal on January 31, 2009:
Help keep GATA going
GATA is a civil rights and educational organization based in the United States and tax-exempt under the U.S. Internal Revenue Code. Its e-mail dispatches are free, and you can subscribe at:
To contribute to GATA, please visit:
Goldcorp slumps most among major gold miners on Mexico shutdown
Posted: 03 Oct 2016 04:48 PM PDT
By Danielle Bochove
Bloomberg News
Monday, October 3, 2016
Goldcorp Inc. fell the most among large gold producers after the Vancouver-based company said it was halting work at one of its biggest mines amid a labor protest.
Four days after saying a blockade at the Penasquito mine in Mexico wasn't affecting operations, the company announced a "controlled shutdown." The shares lost as much as 5.4 percent and were down 4.6 percent at 3:31 p.m. in Toronto, making it the worst performer on the BI Global Senior Gold Valuation Peer Group.
The protest by a trucking contractor follows transport-policy changes and cost-saving efforts by the company. Goldcorp has taken legal steps, including filing criminal charges against protest leaders who are refusing to meet, the company said. The decision to suspend operations was made after the blockade prevented the company from bringing in food, water, and fuel to the 750 people on site. ...
... For the remainder of the report:
http://www.bloomberg.com/news/articles/2016-10-03/goldcorp-slumps-most-a...

---
ADVERTISEMENT
..... BEAT THE BANKERS AT THEIR OWN GAME .....
A free Webinar gives you all the details.
Just click here: http://tinyurl.com/z4dj89k

---

Join GATA here:
New Orleans Investment Conference
Wednesday-Saturday, October 26-29, 2016
Hilton New Orleans Riverside
New Orleans, Louisiana
http://neworleansconference.com/wp-content/uploads/2016/08/2016_Powell.h...
Help GATA by purchasing DVDs of GATA's London conference in August 2011 or GATA's Dawson City conference in August 2006:
http://www.goldrush21.com/order.html
Or by purchasing a colorful poster of GATA's full-page ad in The Wall Street Journal on January 31, 2009:
Help keep GATA going
GATA is a civil rights and educational organization based in the United States and tax-exempt under the U.S. Internal Revenue Code. Its e-mail dispatches are free, and you can subscribe at:
To contribute to GATA, please visit:
Wikileaks Will Devastate the Clintons Tomorrow // Clinton Son Found
Posted: 03 Oct 2016 04:47 PM PDT
 Julian Assange is preparing to release everything he has on the Clintons and as this is about to happen a man claiming to be Bill Clinton's illegitimate son by a prostitute comes forward. The Financial Armageddon Economic Collapse Blog tracks trends and forecasts , futurists ,...
[[ This is a content summary only. Visit http://www.newsbooze.com or http://www.figanews.com for full links, other content, and more! ]]
Full Speech: Donald Trump Holds Rally in Pueblo, CO 10/3/16
Posted: 03 Oct 2016 04:19 PM PDT
Monday, October 3, 2016:Full replay of the Donald J. Trump rally in Pueblo, CO at the Pueblo Convention Center. Live coverage begins at 3:00 PM MT. LIVE Stream: Donald Trump Rally in Pueblo, CO 10/3/16 The Financial Armageddon Economic Collapse Blog tracks trends and forecasts ,...
[[ This is a content summary only. Visit http://www.newsbooze.com or http://www.figanews.com for full links, other content, and more! ]]
Prophetic Warning: Messianic Rabbi Warns about the Great Tribulation
Posted: 03 Oct 2016 02:58 PM PDT
Prophetic Warning: Messianic Rabbi Warns about the Great Tribulation Wayne Levi Price - Tribulation Saints The Financial Armageddon Economic Collapse Blog tracks trends and forecasts , futurists , visionaries , free investigative journalists , researchers , Whistelblowers , truthers...
[[ This is a content summary only. Visit http://www.newsbooze.com or http://www.figanews.com for full links, other content, and more! ]]
Gold Daily and Silver Weekly Charts - When the Bubble Bursts
Posted: 03 Oct 2016 01:39 PM PDT
Beware: Russia's Hoarding Gold, Not Just Nukes
Posted: 03 Oct 2016 01:00 PM PDT
This post Beware: Russia's Hoarding Gold, Not Just Nukes appeared first on Daily Reckoning.
Last weekend, CBS News broadcast a segment on 60 Minutes, titled "Risk of Nuclear Attack Rises." The story described how new geopolitical tensions between Russia and the U.S. are rekindling the old Cold War. Both sides are increasing their respective nuclear readiness postures.
The 60 Minutes piece was sobering. It showed eye-catching imagery of B-52 bombers and ballistic missile submarines, along with informed narration by veteran defense reporter David Martin. It also included rare interviews with senior U.S. military officers who run the nuclear complex. All in all, the segment was well produced.
In addition to being a geologist, I'm a former Navy officer. I served during some of the coldest days of the Cold War. In the 1980s, I was a naval flight officer. I flew a carrier-based aircraft designed for antisubmarine warfare (ASW), the Lockheed S-3 — the "Viking."
Among other things, my Navy job involved nuclear weapons. To me, the CBS report was eerily disturbing, in a "been there, done that" sort of way. As a matter of fact, I've been up close and personal with Russian submarines, as well as ASW nuclear weapons.
Your correspondent was, at one time, certified to control, load, carry and/or deliver this type of airborne device. I never actually dropped one. If I had, you'd probably know about it.
Then again, Russia doesn't really need a new and updated arsenal of nuclear weapons to inflict severe damage on the U.S. The seeds of our collective fate, if not calamity, are already sown. All Russia need do is continue down the path on which it's already moving.
My point is that Russia's most potent weapon may not be its nuclear warheads. The fastest-evolving "weapon" in Russia's geopolitical arsenal is that nation's hoard of gold, along with Russia's national currency, the ruble.
Get used to seeing the following symbol, because soon — sooner than you might think — it's going to change your life.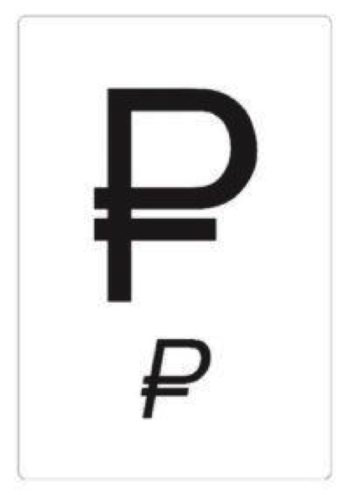 Image courtesy of Bank of Russia
This is the new symbol for the Russian ruble, which is the national currency of Russia. Just as the U.S. uses the dollar sign ($), the U.K uses the pound sign (£) and the European Union uses the euro symbol (€), Russia is about to export its symbol across the world.
Allow me to give you some background. Russia takes its money seriously. Just the other day, Jim Rickards wrote that "Russia is poised for a major comeback in its economy. Russian bonds and stocks and the Russian currency, the ruble, will all benefit." Jim believes that there's a "strong turnaround" coming within Russia, and that this turnaround will benefit the ruble.
Russians have a deep, abiding cultural affection for their ruble. This affection dates back many centuries, to the time of Kievan Rus, cradle of the Russian nation. Within recent history, Russia issued 10-ruble gold coins, nicknamed "chervontsy." Pictured below is an example from my personal collection: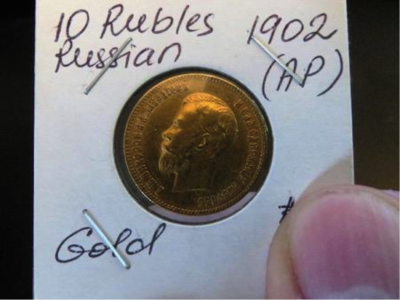 Russian 10-ruble gold piece.
Even in Soviet Communist days, monetary authorities issued a 10-ruble gold piece, albeit without the imagery of Tsar Nicolas II. Many influential Russian people — Communist or not — simply expected to see gold and its symbols in the national currency, no matter what the political coloration of their government:
After the breakup of the USSR in 1991, Russia fell into monetary turmoil. Inflation went wild, leading to immense suffering across that vast country. It's a long story, but Russia has worked for two decades to dig itself out of its status as a monetary backwater. One key element of recovery is to build up the ruble.
Today, the Bank of Russia, that nation's central bank, makes no bones about its mission. When it comes to monetary policy, the Russian bank's web site declares:
Monetary policy constitutes an integral part of the state policy and is aimed at enhancing well-being of Russian citizens. The Bank of Russia implements monetary policy in the framework of inflation-targeting regime, and sees price stability, albeit sustainably low inflation, as its priority. Given structural peculiarities of the Russian economy, the target is to reduce inflation to 4% by 2017 and maintain it within that range in the medium run.
There's nothing wishy-washy here. There are no confused messages. All day, every day, the value of Russia's currency is "an integral part of the state policy." It means that the ruble is as much a part of Russia's tool kit of governance as Russia's army, navy or air force, up to and including those nuclear missiles that were discussed in the 60 Minutes segment.
Just as Russia has built up its military arsenal in recent years, Russia has also built up its gold reserves. Below is a chart showing Russian gold reserves between 1994 and last year, 2015: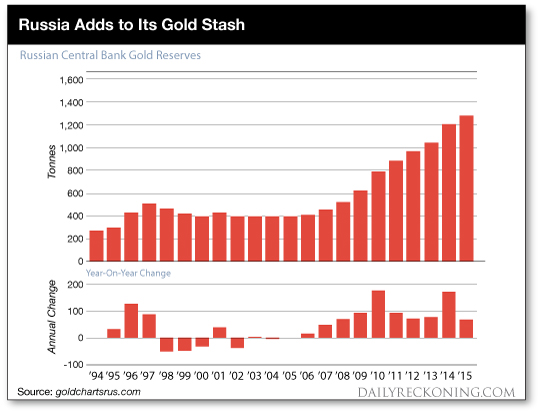 Note the steady increase in gold reserves since 2006. The year-on-year change has been constantly positive and shows a significant upward trend. This chart demonstrates clear state policy to add significant amounts of precious metals to the overall base of state monetary assets. Most of the gold mined in Russia stays in Russia. Russia's government is converting state rubles into state gold assets.
And Russia has dramatically increased its gold holdings over the past year.
In July of this year, the central bank of Russia added 200,000 ounces of gold to its reserves. The one-month uptick in Russian gold reserves — 200,000 ounces — is approximately equal to the entire annual output of Barrick Gold's Turquoise Ridge gold mine in Nevada.
At that same rate — 200,000 ounces per month — in a mere five months, Russia would add to state gold reserves the equivalent of the entire annual output of Barrick's massive Goldstrike mine in Nevada.
Right now — or perhaps I should say, "for now" — Russian gold reserves are less than those of several other major nations. It currently ranks seventh in the world.
But there's a distinct effort by Russian political and monetary authorities to build up the country's overall gold asset base. There's nothing accidental about it. Gold is part of Russia's national plan.
In his 2011 book Currency Wars, Jim used an example of "what if" Russia and China combined their gold reserves to form a gold-backed currency to compete against the dollar. Take current Russian reserves of about 1,500 tonnes and add Chinese reserves, which total over 1,800 tonnes (or so the Chinese say — it's likely more). That's a combined 3,300 tonnes of gold, or about the same amount as Germany.
Now consider that in the months to come, the U.S. is about to lose overarching control of policymaking within the International Monetary Fund (IMF). The U.S. lockup on global gold is about to vanish. So let's consider the real possibility that Russia-China could exercise indirect (or even direct) control over the IMF's gold reserve of over 2,800 tonnes.
Between Russian, Chinese and IMF gold, we have 6,100 tonnes of gold, potentially in competition with the U.S. hoard of 8,100 tonnes. That situation does not bode well for the future of the dollar. It's right up the alley of Jim's predictions of severe dollar problems ahead.
The takeaway from this is to own gold and silver — buy it and take custody while you can, because we'll eventually reach a time when you cannot.
Meanwhile, owning shares in mining plays based on great assets, superb management and safe jurisdictions is the key to preserving wealth.
At the end of the day, I'm not all that worried about Russia's nuclear weapons. I've been face to face with Russian (well… Soviet) nuclear power. I believe that Russia's leadership isn't anywhere crazy enough to start a nuclear war.
Right now I'm more focused on Russia's gold.
Regards,
Byron King
for The Daily Reckoning
Ed. Note: Sign up for your FREE subscription to The Daily Reckoning, and you'll start receiving regular offers for specific profit opportunities. By taking advantage now, your ensuring that you'll be financially secure later. Best to start right away.
The post Beware: Russia's Hoarding Gold, Not Just Nukes appeared first on Daily Reckoning.
The 4-Front Assault on the Dollar
Posted: 03 Oct 2016 01:00 PM PDT
This post The 4-Front Assault on the Dollar appeared first on Daily Reckoning.
The response to U.S. efforts to cheapen the dollar in 2010–2011 was not long in coming. It came from four directions — the IMF, Russia, China and Saudi Arabia. Enter the new world money: the SDR.
Less than a year after Obama's declaration of a new currency war, the IMF released a paper that is a blueprint for implementation of a new global reserve currency called the special drawing right (SDR), or world money.
On Dec. 1, 2015, the IMF announced that the Chinese yuan would be included in the basket of currencies used to determine the value of one SDR. With China onboard, the SDR is poised to become the de facto global reserve currency.
China's and Russia's immediate response to the coming dollar collapse and rise of the SDR is to buy gold. (It's not yet possible to diversify heavily into SDR-denominated assets, because there are very few SDR assets available.) Russia has acquired over 1,000 tonnes of gold in the past seven years, and China has acquired over 3,000 tonnes of gold in the same time.
Combined, Russian and Chinese gold purchases are over 10% of all the official gold in the world. China has also acquired billions of SDRs in secret secondary market transactions brokered by the IMF.
Saudi Arabia's response has been more subtle but may be more dramatic in the end. Relations between Saudi Arabia and the U.S. have deteriorated sharply over the course of the Obama administration. The primary cause was the Iran-U.S. nuclear negotiations and what amounts to the U.S. recognizing Iran as the leading regional power.
In the past months, the U.S. ended the secrecy surrounding Saudi ownership of U.S. Treasury securities (in place since 1975). The U.S. also released a formerly top-secret 28-page section of the 9/11 Commission Report that clearly reveals links between members of the Saudi royal family and the 9/11 hijackers and al-Qaida.
The Saudis have threatened to dump their U.S. Treasury securities in response to the release of the secret report, but so far that threat has not materialized.
Saudi Arabia is dealing from a position of weakness in relation to the U.S. Saudi Arabia is now running a fiscal deficit rather than a surplus, so the issue of where to invest reserves is moot. In fact, Saudi Arabia has been selling its reserves, mainly U.S. Treasuries, to cover its fiscal deficit.
The U.S. is no longer dependent on Saudi Arabia for energy supplies. It has become a net exporter of energy and has the largest oil reserves in the world. All of the conditions that gave rise to the petrodollar now stand in the exact opposite position of where they were in 1975.
Neither the U.S. nor Saudi Arabia has much leverage over the other, in contrast to 1975, when each side held powerful trump cards.
This does not mean that oil will be priced in a currency other than dollars tomorrow. It does mean that a new pricing mechanism is possible, and no one should be surprised if it happens.
Saudi Arabia could easily price oil in yuan and then swap the yuan for Swiss francs or SDRs and use the proceeds to add to its reserves or buy gold. Saudi Arabia could also price oil in SDRs or gold and hold those assets or swap them for other hard currencies to diversify away from dollars.
The possibilities are numerous. The conversion of oil prices away from dollars to some alternative is just a matter of time.
All of these trends — IMF support for SDRs, Russian and Chinese support for gold and Saudi Arabia's search for a new benchmark for oil — came to a head last month in Hangzhou, China, at the G-20 Leaders' Summit, almost seven years to the day after the Pittsburgh G-20 Summit that spawned the new currency war. China's President Xi is the president of the G-20 for 2016 and has made strides on the world stage as an equal partner with the U.S. in the management of the international monetary system.
Now, just four weeks following the G-20 Summit, the yuan has officially joined the SDR. The yuan will make up over 10% of the SDR. From there, new issuance of world money (SDRs) will be supported by China because every time the IMF issues new SDRs, they will be expanding the role of the Chinese yuan as a reserve currency.
Gold, yuan and SDRs all have one thing in common — they are alternatives to the dollar. As momentum toward these alternatives grows, the role of dollars as a reserve currency could diminish quite quickly — like sterling's role between 1914–1944.
The result for dollar holders will be exactly the same as the result for sterling holders: inflation and lost wealth. New political and financial arrangements, and new forms of energy, will no doubt emerge over time.
The key to wealth preservation is to move out of the declining form of money — dollars — and into the rising forms of money — gold and SDRs — sooner, rather than later.
Regards,
Jim Rickards
for The Daily Reckoning
Ed. note: "A charmingly mordant take on the stock news of the day, accentuated by philosophical maunderings…" That's how one leading financial magazine described the free daily email edition of The Daily Reckoning. You'll find cutting-edge analysis from the complex worlds of finance, politics and culture. Presented in an entertaining style few can match. Click here now to sign up for FREE.
The post The 4-Front Assault on the Dollar appeared first on Daily Reckoning.
SECRET Documents Dumped Prove Federal Reserve Board is Outright FRAUD
Posted: 03 Oct 2016 11:20 AM PDT
by Benjamin Fulford, The PHASER:
Documents leaked by US government personnel reveal in detail how the owners of Federal Reserve Board created the 2008 Lehman crisis as a way to steal vast sums from the people of the planet.
The documents show how an Indonesian by the name of Yohannes Riyadi used 700 tons of gold that originally belonged for former Indonesian President Soekarno to back a US$500 billion bond issue. This money was used to bribe senior Indonesian government officials, according to CIA officials based in Asia.
The 700 tons gold was then magically transformed by Khazarian mafia employed forgerer and fraudster Wilfredo Saurin.
Dave Janda Operation Freedom – Sunday, October 2, 2016: Helen Chaitman, Rob Kirby and Bob Mazur
Posted: 03 Oct 2016 10:40 AM PDT
by Dave Janda, Dave Janda:
Manipulation of financial markets, Benghazi, New World Order Syndicate, Obama Care, Free Market Health Reform, Putin, The Ukraine, ISIS, Syria, The Constitution, Natural resources, Reserve currency, Corruption, gold, silver Global Elite, International Banking Cabal, debt, Federal Reserve, Too Big To Fail Banks, Crony Capitalism, Debt Ceiling, Financial implosion, Recession, Economic Depression, Freedom, Liberty
Click HERE to Listen to Helen Chaitman
Click HERE to Listen to Rob Kirby
Click HERE to Listen to Bob Mazur
John Embry: The Fundamental Attraction of Gold
Posted: 03 Oct 2016 10:20 AM PDT
by John Embry, Sprott Money:
For investors who are both just beginning their foray into gold investment, and for those who have been long time proponents of gold, Sprott Senior Advisor John Embry breaks down the recent history of the U.S., highlighting the pressures that have brought fiat currency to the brink, U.S. debt liabilities to staggering heights, and gold back to the institutional investor's crosshairs. It's a must-hear, dispassionate and highly instructional speech for anyone seeking to fully understand the state of the global economy and its implications for gold and silver, and why gold remains a cornerstone of a well-constructed portfolio today.
To quote Voltaire: "Paper money eventually returns to its intrinsic value. Zero."
The U.S. has provided the world's reserve currency since Breton Woods. Though we did not lose the implicit gold backing until 1971, the pressure of the 1960s set the stage. As President LBJ tried to fund both his Great Society program and the Cold War era arms race and the Vietnam War, cash was flying out of U.S. coffers. In the process, an ever-greater amount of U.S. cash – gold-backed cash – was ending up in foreign hands. At the time, only central banks could redeem U.S. currency for gold, and they came forward with arms outstretched. By 1970, the U.S. gold reserves were depleting at an alarming rate, causing Nixon to close off the vaults and unpeg the dollar. Few could imagine the financial engineering that was to follow.
After that came the reigns of Fed Chairmen Paul Volcker and later Alan Greenspan, who began to take enormous liberties with monetary policy, effectively addicting the financial markets to stimulus. Inflation remained muted, thanks in part to emerging China flooding the world with cheap goods, and therefore financial returns were spectacular. It has also corresponded with dramatic market dislocations.
The bond market bottomed in 1981. The stock market bottomed in 1982. The stock market crashed in 1987. The dot com bubble popped in 2001, followed by real estate – and essentially the global economy – in 2007 and 2008. And the central bank's been there every step of the way, accommodating fresh paper money – monetary heroin — to shore up markets at any sign of trouble. And what has been the result?
In 1981, when Ronald Reagan was sworn in, federal debt was $960 billion, an amount accumulated over the better part of 200 years.
In 2007 and 2008, federal public debt was $10 trillion, a 10-fold increase in 26 years. This only led to greater stimulus via QE.
Eight years later and we find ourselves saddled with federal funded debt which has doubled again to $19 trillion. And this isn't the whole picture: Off-balance sheet debt liabilities, including Freddie Mac and Fannie Mae, at an estimated $5 to $6 trillion; unfunded liabilities for Medicare, Medicaid, and social security, estimated between $60 trillion and $150 trillion; plus other liabilities, equals a range of about $85 trillion to $175 trillion. Factor in that U.S. GDP is a mere $18 trillion, and we can see that our obligations are between 4x and 8x our productive capacity. And how long can this charade continue?
Posted: 03 Oct 2016 09:40 AM PDT
by Dr Jerome, TF Metals Report:
A few years ago, crime touched me personally. A good friend, Richard, age 69, had just inherited the family farm. The place was filled old cars, tractors, antiques and other items that were not quite junk, including a complete type set of American coins—one specimen of every gold coin and silver minted since 1776. He hired several people to help him comply with a county order to clean up the junk in the yard. But Richard was cash poor and wanted to sell the coins to pay the help and enjoy some living. One of his helpers, Tom, offered to sell the coins for him—said he knew a dealer that would pay the best price. He seemed like a nice guy and Richard trusted him. You know what happened next. Tom never showed up again. But the idiot lived nearby and it was a small town after all. A month passed. Richard got mad and left a note on Tom's door that threatened to turn the matter over to his lawyer. The next afternoon Richard heard a knock, looked out his window to see Tom. He was afraid and called a mutual friend, Jane, who told him to keep his phone on and see what Tom wanted. He hid it in his coat pocket and answered the door. She heard everything until the phone went dead.
She called my wife and I and we raced out to see if Richard was OK. We stomped around that snowy windy farm for an hour. I found Richard in the basement with a .38 slug in the back of his head, shot execution style. The perp is in prison now, but it took two years for police to believe the story. In the meantime I was sorely tempted to partake of some vigilante justice. I still feel pain and regret telling the story 5 years later.
We do a good job here encouraging one another to stack, to have strong hands, and keep our spirits up. And right here in the discussion forum every day as we see pics of purchases and the beautiful coins and bars bought by others. We see what prices were paid, and even hear a rationale for why we chose what we did. Craig also has unobtrusive dealer ads and even posts the daily specials from specific dealers in the middle of our conversations. So hanging around here for just a few days clears up questions that took me months to answer—like what to buy and where. But as the weeks turn into months years waiting for … something, a question has been nagging me that I have yet to really settle: where do I store this heavy stuff? Grandma's antique china display cabinet is perfect and I can admire it each day, but that somehow seems unwise to keep it there even though it is locked. At first, I kept it all in an old cigar box on my desk. But then the box started to burst at the seams. Some of us have large stacks—especially with the sub 20 prices we have enjoyed the past few years. A 100 ounce of silver weighs six pounds, and I shouldn't lift over 30 or my back will let me know. Alas, that my stack exceeded 500 ounces some time ago and I can no longer hold or move it with one hand. What about the attic? Tried that. It was difficult to get in and out quickly. Besides, a thief would probably look there. Under the bed? No, the rifle case and ammo is there.
So as one who escaped the sheep-pen in 2010, I hope, with my limited experience, to start a conversation that delicately prompts us to resolve this dilemma without exposing all our secrets for the world to read. In what follows, I'll share a few more horror stories and suggest some things to consider as we all decide or reconsider what storage method is right for us. And I have been reconsidering lately.
Alas, Datta Phuge is longer with us, killed by a mob with sticks–probably for his gold shirt.
Some years ago, a regular here, who sadly does not post often now, was robbed. This person told the story of how some meth-addicted friends-neighbors-stalkers—even relatives? (not sure on that) suspected her holdings and came to the homestead one night, dug up her silver and lugged it away. I bet they traded it for drugs, at 20 cents on the fiat dollar. As our beloved member removed other holdings from the ground, it turned out that another container leaked.That doesn't matter too much for the metal's value, but could harm any numismatic value coins held.
Just last week, a member here told of transporting his metals in a suitcase via a taxi as he had to leave home. (Hmmm … many of us talk about bugging out… how is that any different?) The cab driver suspected something and began to deviate from the expected route. Our friend realized the threat and took action before the situation got to the point of no return.
Another very close friend had people come to his farm 10 miles out of town and steal his guns, cash and wife's jewelry. These were opportunistic thieves who knew he was at church on Sunday mornings. Good thing they didn't know about or see the two safes, loaded with silver, in his garage with junked piled in front.
Market Report: Option Expiry and Deutsche Bank
Posted: 03 Oct 2016 09:20 AM PDT
by Alasdair Macleod, Silver Seek:
Gold and silver drifted lower over the week, in falls which are commonly accepted to reflect prices being massaged ahead of option expiry on Comex.
Gold lost $16 to $1325, and silver, 58 cents to $19.11 in early European trade this morning (Friday). If this sort of thing happened on a regulated market in London, the regulators would be crawling all over the suspected riggers. But hey, it's America.
Putting this behind us, we should focus on the rapidly developing banking crisis in Germany and on its impact on the US dollar. These are separate issues, but they are much intertwined.
This week, a collapse of Deutsche Bank was openly discussed in the general media, and there are signs that institutional depositors in wholesale money markets have begun to minimise their exposure. The result is that DB's shares on Wall Street last night dropped 7% into new low ground and continued this weakness overnight (Thursday/Friday) into the Frankfurt opening in heavy volume.
A run on the bank in the wholesale markets can generally be met from DB's own liquidity. What cannot so easily be handled is a run on the bank from retail depositors, and this will almost certainly be triggered if the share price continues to fall. Furthermore, Commerzbank, the second largest German bank, announced massive job cuts yesterday and is suspending dividend payments. Altogether, a feeling of crisis pervades the German banking system, rich in deposits from all round the Eurozone as a result of banking woes elsewhere. And this is the point: these deposits are potentially flightier than most commentators think.
The German Government will almost certainly be forced to come to the rescue, which will open the way for the Italians to take similar action, abating the banking crisis in the short-term. The likelihood that a government rescue of the banking system will be bungled is a serious possibility, adding to general uncertainty.
Meanwhile, in the money markets the swap basis between euros and dollars shows an acute relative shortage of 3-month dollar money, which so far is not being reflected in spot currency rates. The consequences for the euro, however, are certain to be negative, and it is likely to drop below chart support at EUR110 (currently 112).
This being the case, the dollar could strengthen as Europe's banking crisis deepens, because the euro is by far the largest component of the dollar's trade weighted index. And if that strength spills over into other dollar rates, we could see JPY rally from its current level of 100.9, and GBP fall through the 1.30 level. Combine this with the growing concerns over loss of consumer confidence in the Eurozone and elsewhere, and dollar strength could feed temporarily into lower base metal and energy prices.
These developments are neither outright bullish nor bearish for gold in the short term. A strong dollar is a mixed blessing for precious metal prices, maybe postponing the Fed's intended increase in interest rates in December, while exerting some downward pressure on the gold price.
In a banking crisis, the first reaction is usually to secure safety for deposits, rather than a rush to buy physical gold – that might come later. However, assuming the dollar strengthens in the coming weeks by up to five per cent on its trade weighted index, the $1300 level could easily be broken on the downside, yet prices in euros, sterling and even Japanese yen could rise by two or three per cent.
Posted: 03 Oct 2016 09:11 AM PDT
The Gold market continues to be lethargic. Two weeks ago, negative rumblings about Deutsche Bank pushed Gold higher out of the Half Cycle Low. But the move quickly stalled on a gold price reversal, ensuring that the current Daily Cycle (DC) would remain Left Translated. Gold's current sluggishness is not unexpected, however. 18 weeks into any Investor Cycle should see sellers largely controlling the action, and I'd expect that to be the case with Gold until it finds an Investor Cycle Low (ICL).
Summers floats idea of sustained stock purchases by government
Posted: 03 Oct 2016 08:15 AM PDT
By Chris Anstey
Bloomberg News
Friday, September 30, 2016
Former U.S. Treasury Secretary Lawrence Summers floated the idea of continuous purchases of stocks as a potential ingredient in a recipe for the developed world to strengthen economies struggling with subdued growth and inflation.
Among the proposals that deserve "serious reflection" is the purchase of a "wider range of assets on a sustained and continuing basis," Summers said in a lecture at a Bank of Japan conference in Tokyo on Friday. "I'm not prepared to make a policy recommendation at this point," he told reporters later.
Summers, who also served as a top economic adviser to President Barack Obama, reiterated his concerns about "secular stagnation," where trend economic growth rates have been reduced and neutral interest rates are lower than historic norms. To the extent that low neutral rates are in part the consequence of investors preferring fixed-income assets and steering clear of riskier options, policy makers can combat that by buying risk assets, he said. ...
... For the remainder of the report:
http://www.bloomberg.com/news/articles/2016-09-30/summers-floats-idea-of...

---
ADVERTISEMENT
Sandspring Resources Commences 2016 Exploration Campaign
Company Announcement
August 17, 2016
Sandspring Resources Ltd. (TSX VENTURE:SSP, US OTC: SSPXF) is pleased to announce commencement of the 2016 exploration campaign at its Toroparu Gold Project in Guyana, South America.
In 2015 the company completed a 3,700-meter diamond drilling program on the promising Sona Hill Prospect, located 5 kilometers southeast of the main Toroparu deposit. Sona Hill is the easternmost gold anomaly in a cluster of 10 gold features located within a 20-by-7-kilometer hydrothermal alteration halo around Toroparu. Drilling at Sona Hill in 2012 and in 2015 intercepted high-grade mineralization in both saprolite and bedrock, and confirmed the continuity and grade potential of the Sona Hill mineralization.
For the remainder of the announcement and highlights of the 2015 drill program:
https://finance.yahoo.com/news/sandspring-resources-commences-2016-explo...
---

Join GATA here:
New Orleans Investment Conference
Wednesday-Saturday, October 26-29, 2016
Hilton New Orleans Riverside
New Orleans, Louisiana
http://neworleansconference.com/wp-content/uploads/2016/08/2016_Powell.h...
Help GATA by purchasing DVDs of GATA's London conference in August 2011 or GATA's Dawson City conference in August 2006:
http://www.goldrush21.com/order.html
Or by purchasing a colorful poster of GATA's full-page ad in The Wall Street Journal on January 31, 2009:
Help keep GATA going
GATA is a civil rights and educational organization based in the United States and tax-exempt under the U.S. Internal Revenue Code. Its e-mail dispatches are free, and you can subscribe at:
To contribute to GATA, please visit:
Gold & Silver Steady amid Bad News at Deutsche Bank & Wells Fargo: Steve Forbes
Posted: 03 Oct 2016 07:40 AM PDT
by Mike Gleason, Money Metals: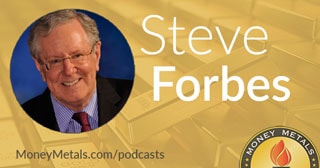 Responding to popular demand, we'll hear a replay my conversation with Steve Forbes. Earlier this year, Mr. Forbes gave a fascinating interview about the presidential election and why he believes the time is now for America to restore gold in our monetary system. My interview with Steve Forbes, billionaire investor and CEO of Forbes, Inc., coming up after this week's market update.
Well, the big market moving news this week didn't come from the Federal Reserve for a change. It came from another powerful market rigging cartel – OPEC. The organization of oil exporters announced a production cut of 800,000 barrels a day. This, OPEC hopes, will keep oil prices supported amidst a global supply glut.
Click HERE to Listen
Sterling Gold Rises 1.3% as Sterling Slumps On 'Hard Brexit' Concerns, Up 36% YTD
Posted: 03 Oct 2016 06:42 AM PDT
Sterling gold rose 1.3% today as sterling slumped again after the UK set a March deadline to start their 'Brexit divorce' proceedings from the European Union and on deepening nervousness regarding a 'Hard Brexit'.
Why Gold Stocks Have 300%+ Upside From Here
Posted: 03 Oct 2016 06:40 AM PDT
by Marin Katusa, Katusa Research: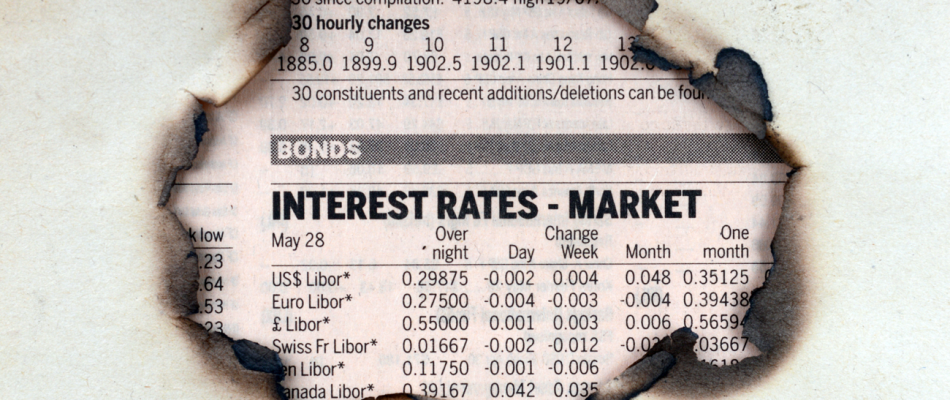 If you think big gold stock gains are behind us, think again.
Although gold stocks have climbed 100% off their late 2015 bottom, they have at least 200% upside from here. Owning gold stocks is still one of the smartest trades you can make right now.
There are two simple reasons why gold stocks will most likely be much higher in a few years: Government insanity and leverage.
I'll start with the first reason, government insanity…
I could just mention the first debate between Trump and Clinton and leave it at that. But I want to explain the importance of understanding the deranged fiscal policy of all the central bankers and how it has resulted in financial heroin
Eight years ago, governments around the world faced a desperate situation. The world's financial system was about to collapse. The response was extreme… and unprecedented in world history.
For the first time ever, the world's central banks acted in a concerted manner to create oceans of money and credit. Their agreed upon goal was to "paper over' their debt problems. Trillions of new currency units in the form of U.S. dollars, Japanese yen, Chinese renminbi, Euros, and other currencies were created and borrowed.
This monetary experiment is still going strong. Nobody, including Fed Chair Janet Yellen, know how it will turn out.
However, not one government did a thing to confront the root problem. We have a global monetary system that is backed not by real wealth, but by IOUs and faith. This faith-based "funny money" system allows governments to spend and borrow nearly limitless amounts of money… which constantly produces currency debasement and huge market distortions. In other words, over the past eight years, governments treated a heroin addict with more heroin.
Over the past few years, a new form of heroin has appeared on the scene. You've probably heard of it. It's called "negative interest rate policy," or NIRP.
In a healthy economy, you get paid to lend money to the government. In the past, you could buy a government bond and earn 5% or 6% in interest.
But the global economy is not healthy right now. Governments in the U.S., Europe, and Asia are desperately trying to jump start their economies by employing very low or even negative interest rate policies. In a negative interest rate environment, you get charged a negative interest for saving money. There is now over $10 trillion of outstanding government bonds with negative interest rates.
Politicians believe that making it unattractive for people to keep money in the bank will cause people to save less money. Instead of saving, they'll spend money on cars, gadgets, and vacations. They'll invest in things like real estate and stocks.
Hopefully, all that spending will "stimulate" the economy.
This thinking is crazy. The facts are proving the central bankers are wrong and the global economy is slowing.
No matter what the government does, it can't force you to spend money. It can't force you to buy stocks. Negative interest rates also promote all kinds of crazy financial decisions. When borrowing money is ridiculously cheap, people will borrow incredible amounts of it in order to speculate in real estate, stocks, and commodities.
I believe that over the long-term, negative interest rates will cause many currencies to plummet in value. They could even cause a financial crisis more severe than the 2008 crisis.
The asset that will soar in that environment is gold. Gold is the currency that governments cannot debase. It is the only currency that is not someone else's liability.
With interest rates negative or near zero, there is no "carrying cost" for holding gold. Since gold pays no interest, gold owners typically "give up" interest income they would earn by owning conventional currencies.
NIRP is a financial cancer that will consume savings you hold in cash. NIRP cannot eat your savings if you store it in gold.
As paper currencies decline in value, more and more people will buy gold. That's why I believe $1,500 gold… and eventually $2,000 gold is in the near future.
This brings us to the second reason gold stocks have huge upside from here: Leverage.
You probably remember leverage from high school science. A lever allows you to get a very powerful result by applying only a modest amount of force–think of how a crowbar works.
In the financial markets, leverage occurs when the price movement of one asset results in the amplified movement of another financial asset. Knowing how to use leverage properly can make you a fortune in the natural resource market.
Leverage is easy to understand when you think of it in terms of a house…
Let's say you put $50,000 down to buy a $250,000 house.
A few years after you buy the house, its value has increased by 20% to $300,000.
Although the increase from $250,000 to $300,000 is just 20%, you're actually up 100% ($50,000) on the original $50,000 down payment.
Because of leverage, a 20% gain in the value of the house translated into a 100% gain on your capital.
Leverage in gold stocks works in a similar way…
Let's say you own a gold mine. You produce one million ounces per year. When you add up all your costs like equipment, fuel, insurance, and labor, it costs you $1,100 to produce one ounce of gold. Since gold is selling for $1,300 an ounce, you make $200 per ounce in profit.
Many Canadian mint workers fired for theft, gold-in-rectum trial hears
Posted: 03 Oct 2016 05:32 AM PDT
Kelly Egan
Ottawa Citizen
Sunday, October 2, 2016
The employee suspected of smuggling gold up his rectum from the Royal Canadian Mint would not be the first inside job at the Crown corporation on Sussex Drive.
Many were kept quiet until word leaked out during the trial of Leston Lawrence, 35, of Barrhaven, who is accused of stealing about $180,000 from Fort Knox North by "secreting" gold nuggets -- called pucks -- "on his person."
The Citizen has examined records of the trial not covered by any media. Quite an eye-opener.
Martin Sevigny is a security analyst at the mint and, in his 12-year career, has been a front-line protective services officer, the ones who operate metal detectors and hand-held wands. The arch-style detectors and wands are the primary defence against employees walking out with hidden chunks of gold.
Sevigny told the trial he knows of about five occasions in which employees have been caught attempting to exit with small amounts of gold. ...
... For the remainder of the report:
http://ottawacitizen.com/news/local-news/egan-many-mint-workers-fired-fo...

---
ADVERTISEMENT
NewCastle Gold's New CEO, Gerald Panneton, Hits the Ground Running
By Tommy Humphreys
CEO.ca
Tuesday, September 6, 2016
Mining entrepreneur Gerald Panneton took a few years off after building one of Canada's largest gold miners, Detour Gold. He raced performance cars in his down time, and conducted due diligence on various mining assets to potentially back.
This summer, the geologist set his sights on NewCastle Gold (TSXV:NCA), owner of a past-producing gold mine in California with similarities to Detour Gold in its early days. ...
... For the remainder of the report:
https://ceo.ca/@tommy/new-newcastle-gold-ceo-gerald-panneton-hits-the-gr...

---

Join GATA here:
New Orleans Investment Conference
Wednesday-Saturday, October 26-29, 2016
Hilton New Orleans Riverside
New Orleans, Louisiana
http://neworleansconference.com/wp-content/uploads/2016/08/2016_Powell.h...
Help GATA by purchasing DVDs of GATA's London conference in August 2011 or GATA's Dawson City conference in August 2006:
http://www.goldrush21.com/order.html
Or by purchasing a colorful poster of GATA's full-page ad in The Wall Street Journal on January 31, 2009:
Help keep GATA going
GATA is a civil rights and educational organization based in the United States and tax-exempt under the U.S. Internal Revenue Code. Its e-mail dispatches are free, and you can subscribe at:
To contribute to GATA, please visit:
India's gold imports drop for ninth month, GFMS says
Posted: 03 Oct 2016 05:28 AM PDT
By Rajendra Jadhav
Reuters
Monday, October 3, 2016
India's gold imports fell for a ninth straight month in September as weak retail demand and higher discounts prompted banks and refineries to cut overseas purchases of the bullion, provisional data from consultancy GFMS showed today.
Lower demand from the world's No. 2 gold consumer could weigh on global spot prices that have risen by 24 percent so far in 2016, but help the south Asian country to reduce its trade deficit. Gold is one of India's biggest expenses on its import bill.
Gold imports in September are estimated at 30 tonnes, down 43 percent from a year ago, GFMS data showed. Imports in the first nine months of 2016 slumped 59 percent from a year ago to 268.9 tonnes, according to GFMS. ...
Gold is trading at a heavy discount also due to rising supplies from unofficial channels. Smuggling of the precious metal has risen in India since the government imposed a 10 percent import duty in 2013. ...
... For the remainder of the report:
http://in.reuters.com/article/india-gold-imports-idINKCN1230XH

---
ADVERTISEMENT
Gold Standard Continues to Expand North Dark Star High-Grade Deposit

Company Announcement
Wednesday, September 14, 2016
VANCOUVER, British Columbia, Canada -- Gold Standard Ventures Corp. (TSXV: GSV; NYSE MKT:GSV) today announced assay results from two holes, DS16-21 and DS16-04, at the recently discovered North Dark Star oxide gold deposit on its fully-owned and controlled Railroad-Pinion Project in Nevada's Carlin Trend. Results from DS16-21 have increased the width of the deposit and, more importantly, have confirmed that higher-grade oxide mineralization projects up-dip to more shallow depths to the east of DS16-08.
The primary objective of this year's drill program at North Dark Star was to expand the high-grade zone discovered in core hole DS15-13 (15.4 meters of 1.85 gold grams per tonne and 97 meters of 1.61 gold grams per tonne) at the end of last year's drill program. ...
...For the remainder of the announcement:
https://goldstandardv.com/news/2016/expansion-gold-standards-north-dark-...

---

Join GATA here:
New Orleans Investment Conference
Wednesday-Saturday, October 26-29, 2016
Hilton New Orleans Riverside
New Orleans, Louisiana
http://neworleansconference.com/wp-content/uploads/2016/08/2016_Powell.h...
Help GATA by purchasing DVDs of GATA's London conference in August 2011 or GATA's Dawson City conference in August 2006:
http://www.goldrush21.com/order.html
Or by purchasing a colorful poster of GATA's full-page ad in The Wall Street Journal on January 31, 2009:
Help keep GATA going
GATA is a civil rights and educational organization based in the United States and tax-exempt under the U.S. Internal Revenue Code. Its e-mail dispatches are free, and you can subscribe at:
To contribute to GATA, please visit:
Breaking News And Best Of The Web
Posted: 02 Oct 2016 05:37 PM PDT
Stocks fall on renewed Deutsche Bank fears. Commerzbank to cut 9,600 jobs, suspend dividend. Wells Fargo draws abuse for consumer fraud. Gold and silver down a bit. US GDP revised slightly higher, consumer spending softens. OPEC agrees to output cut, oil price jumps. China's debt crisis has gone from inevitable to imminent. Tax evasion becomes […]
The post Breaking News And Best Of The Web appeared first on DollarCollapse.com.
Posted: 02 Oct 2016 05:01 PM PDT
Posted: 02 Oct 2016 05:00 PM PDT
Gold in Japan, the Last Frontier
Posted: 02 Oct 2016 01:00 AM PDT
Bob Moriarty of 321 Gold discusses Southern Arc Mineral's large stake in Japan Gold Corp., a new company positioned to take advantage of Japan's opening of gold exploration to foreign companies.
Another Banking Crisis Begins?
Posted: 02 Oct 2016 01:00 AM PDT
Rudi Fronk and Jim Anthony, co-founders of Seabridge Gold, discuss Deutsche Bank's latest movements and what a bailout could look like.
Jack Chan: This Past Week in Gold
Posted: 01 Oct 2016 01:00 AM PDT
Technical analyst Jack Chan charts current movements in the gold and silver markets, noting that the cycle has turned up and prompted moderate investment.
You are subscribed to email updates from Save Your ASSets First.
To stop receiving these emails, you may unsubscribe now.
Email delivery powered by Google
Google Inc., 1600 Amphitheatre Parkway, Mountain View, CA 94043, United States