---
Best Countries To Store Gold: How Did America, A Serial Defaulter, Make The Cut?
Posted: 15 Sep 2016 09:38 PM PDT
Gains Pains & Capital
Hillary Deflates? A Setback For War
Posted: 15 Sep 2016 09:00 PM PDT
from The Daily Bell:
Yeah, Hillary Has Pneumonia, But Trump Is Still A Deranged Threat To America … Modern medicine can remedy one of these ailments more thoroughly than the other. -Huffington Post
As libertarian (former) Congressman Ron Paul pointed out recently (here), the "deep state" elects whom it wants and it seems to have wanted Hillary Clinton.
And even after Hillary's most recent collapse, articles are appearing in the mainstream media (see above excerpt) pointing out that Hillary is better than the alternative.
This is no coincidence. The mainstream media is owned by a relatively few people and they are surely supported by others, hidden influencers for the so-called deep state. And it is this deep state that requires, if possible, the services of Hillary Clinton.
The question is why?
One theory (our current theory) is that a big war is evidently being planned at the highest levels. And Hillary is seen as the best individual for numerous reasons to prosecute this war.
We have been taught in our academies and universities that wars are fairly spontaneous eruptions, unplanned in other words, because no one wants war.
But this Internet era has shown us otherwise. Neither world war in the 20th century was the result of unforeseen events. These two wars along with numerous others in the 19th, 20th and 21st century seem to have been laboriously planned. We call their production "directed history," in fact.
Keiser Report: Lunatics & Economy
Posted: 15 Sep 2016 07:40 PM PDT
from RT:
(E967) Max interviews James Turk of Goldmoney.com about the basket of deplorables that is the US economy. They also discuss gold standards and Special Drawing Rights.
MUST WATCH…Financial Apocalypse ON or BEFORE October 3 2016? – Bo Polny
Posted: 15 Sep 2016 07:00 PM PDT
Chaos Has Never Been Closer: "Obama May Suspend Election" If She Is Too Sick
Posted: 15 Sep 2016 07:00 PM PDT
Submitted by Mac Slavo via SHTFPlan.com,
The events are all lined up, and the system is geared for chaos. At any moment, a despotic leader could take control.
But how could it ever happen in America?
With economic collapse again on the horizon, and a basket of issues coming to a head, several factions of the population are tipping towards revolution. Much of it has played out in the election cycle; the establishment has lost all credibility, and the people are seeking anti-establishment voices. Alternate means of maintaining control are implemented.
Homeland Security is taking control of the election process, making a fair election completely impossible. Optics and careful PR is used to script the election, and maintain a favorable narrative – and one that is explosive enough to produce radical and unexpected results that might drive anger over the edge.
Millions of people have been driven by the media to violently oppose Trump, and may well start riots across the country if he wins the election, that is, if Obama doesn't stop the elections first. Likewise, if Hillary is elected and take office, it could spawn a civil war, of words… or worse.
Any number of pretexts could theoretically come into play, but no scenario has become more likely than Hillary dropping from the race and stirring, well, a shitstorm like politics has never before seen.
If Hillary is too sick, President Obama could opt to suspend the election, and it could make any number of groups unleash, giving way to civil unrest.
The police state is ready to contain economic/food riots, and are also poised to use martial law to maintain order, using an iron fist.
Chaos and order will repeat in cycle, and everything will become unstable, decline and render the population depraved and vulnerable.
Radio host and political expert Michael Savage appeared on the Alex Jones Show and warned that the new Hillary card could be the unexpected reason for one of the most dangerous scenarios on the books.
If these events came to pass, would the Constitution and rule of law ever be restored?
Michael Savage: Hillary Is In Free-Fall, Obama May Suspend Election
Steve Quayle has also been watching for the type of emergency events that could be used to alter reality and cancel the elections, or allow a martial law scenario to take hold. He, too, sees an uncertain election ahead.
Steve Quayle: Election May Not Take Place
What do you think is going to happen to this country in the next two months?
Stay vigilant, and get ready for literally almost anything.
Former Treasury Secretary Warns Banks Riskier Now Than In 2008 Crisis
Posted: 15 Sep 2016 06:40 PM PDT
Submitted by Simon Black via SovereignMan.com,
"Sir. SIR! This your bag," the TSA agent barked at me last week, more as a statement than a question.
"It is."
"Are you carrying any liquids?"
I knew immediately; I had forgotten about the bottle of water that I had shoved in my briefcase before checking out of my hotel.
They opened my bag and confiscated the water bottle immediately with an extra harrumph to make sure I knew that I had wasted their time.
Yeah, I get it. I broke the rule. But it's such a ridiculous rule to begin with.
Are we really supposed to pretend that Miami International Airport is any safer because there's a brand new, unopened Dasani bottle in the TSA wastebin?
You may recall how Istanbul's Ataturk Airport was attacked on June 28th by men armed with automatic weapons and explosives.
Ataturk was already one of the most security-conscious airports in the world– you actually have to go through a security checkpoint just to enter the building, followed by a second security checkpoint on your way to the gate.
And yet, despite all of this extra security, 41 people were killed and hundreds more wounded in an attack that shows just how ineffective airport security really is.
Airport security isn't real security. It's merely the illusion of security– a bunch of busybodies in uniforms enforcing pointless rules to make people believe that they're safer.
Candidly, our financial system has borrowed the same principle. There's no real safety in our financial system– merely the illusion of safety.
Leading up to the 2008 financial crisis, most people thought the banks were safe.
After all, we've been told our entire lives that the banks are rock solid. What could go wrong?
This turned out to be an illusion. Banks had loaded up their balance sheets with toxic assets, rendering themselves completely insolvent. They started dropping like flies.
Bear Stearns, Lehman Brothers, Merrill Lynch, Washington Mutual, Wachovia… some of the most established banks in the US collapsed. Poof.
Ever since then, the banks, the US government, the Federal Reserve, and other financial regulators in the United States have been working to rebuild the illusion of financial safety.
Most notably came a bunch of laws and regulations like the Dodd-Frank Wall Street Reform and Consumer Protection Act, signed into law in 2010, designed to make the banks safer…
… or at least give the appearance that banks are safer. As you can imagine, these regulations have merely created another illusion of bank safety.
Today, former US Treasury Secretary Lawrence Summers published a new paper that slams these regulations for not having made the US banking system any safer:
"To our surprise, we find that financial market information provides little support for the view that major institutions are significantly safer than they were before the crisis and some support for the notion that risks have actually increased."
This is important. Most people have handed over their entire life's savings to financial institutions that are far, far riskier than we are led to believe.
Ask yourself– does it really make sense to keep 100% of your savings in a financial system that goes through great pains to deliberately conceal the truth?
Why take the risk? Especially when all you really gain is a whopping 0.01% interest?
There are better options for your money.
We've talked about holding physical cash and precious metals– which, in combination, is a great way to hedge risks in the banking system as well as the overall monetary system.
If these banking system risks ever do erupt into another financial crisis, having some physical cash means that at least a portion of your savings will be immune to the consequences.
Should that crisis turn into a full-fledged currency crisis, having some physical gold will shield you from those consequences as well.
And even if neither of those scenarios unfolds, it's hard to imagine you'll be worse off holding cash and gold.
Again, when interest rates are this low, there's almost zero opportunity cost in holding cash.
And gold remains one of the only major asset classes recognizable and marketable around the world, yet still FAR below its all-time high.
Americans' Trust in Mass Media Plunges to Record Low in Gallup Poll
Posted: 15 Sep 2016 06:20 PM PDT
by Michael Krieger, Liberty Blitzkrieg:
In yesterday's post, The Death of Mainstream Media, I noted:
At the end of the day, I have concluded that my focus on Hillary as of late (vs. Trump) has as much to with my disgust for the mainstream media as anything else. To see these organs, which have destroyed this country by keeping the people uninformed for decades, now rally around a sickly, corrupt, oligarch coddling politician as the empire enters the collapse stage is simply too much to stomach…
The only positive thing to happen during this election season is the death of mainstream media. With their insufferable propaganda fully exposed, there is no coming back.
Then today, we learned the following from Gallup:
WASHINGTON, D.C. — Americans' trust and confidence in the mass media "to report the news fully, accurately and fairly" has dropped to its lowest level in Gallup polling history, with 32% saying they have a great deal or fair amount of trust in the media. This is down eight percentage points from last year.
Here's a chart.
If that's not a trend, I don't know what is.
Gallup began asking this question in 1972, and on a yearly basis since 1997. Over the history of the entire trend, Americans' trust and confidence hit its highest point in 1976, at 72%, in the wake of widely lauded examples of investigative journalism regarding Vietnam and the Watergate scandal. After staying in the low to mid-50s through the late 1990s and into the early years of the new century, Americans' trust in the media has fallen slowly and steadily. It has consistently been below a majority level since 2007.

While it is clear Americans' trust in the media has been eroding over time, the election campaign may be the reason that it has fallen so sharply this year. With many Republican leaders and conservative pundits saying Hillary Clinton has received overly positive media attention, while Donald Trump has been receiving unfair or negative attention, this may be the prime reason their relatively low trust in the media has evaporated even more. It is also possible that Republicans think less of the media as a result of Trump's sharp criticisms of the press. Republicans who say they have trust in the media has plummeted to 14% from 32% a year ago. This is easily the lowest confidence among Republicans in 20 years.
Meanwhile, if there is any hope for the future, it can be found here.
Older Americans are more likely than younger Americans to say they trust the media, but trust has declined among both age groups this year. Currently, 26% of those aged 18 to 49 (down from 36% last year) and 38% of those aged 50 and older (down from 45%) say they have a great deal or fair amount of trust in the media.
Posted: 15 Sep 2016 06:17 PM PDT
The Gold Report
Dave Kranzler: Someone dumped 70 tonnes of paper gold at 8:30 a.m.
Posted: 15 Sep 2016 05:41 PM PDT
By Dave Kranzler
Investment Research Dynamics, Denver
Thursday, September 15, 2016
At 8:30 this morning, 10 minutes after the Comex gold pit opened, more than 70 tons of gold was dropped into the entire Comex trading system If this happened on the New York Stock Exchange, one of the electoral communications networks (usually BATS) would have mysteriously "broke" and trading would have been halted before the damaging effects of the systemic paper overload hit the market. ...
... For the remainder of the report:
http://investmentresearchdynamics.com/someone-dumped-70-tons-of-paper-go...

---
ADVERTISEMENT
Sandspring Resources Commences 2016 Exploration Campaign
Company Announcement
August 17, 2016
Sandspring Resources Ltd. (TSX VENTURE:SSP, US OTC: SSPXF) is pleased to announce commencement of the 2016 exploration campaign at its Toroparu Gold Project in Guyana, South America.
In 2015 the company completed a 3,700-meter diamond drilling program on the promising Sona Hill Prospect, located 5 kilometers southeast of the main Toroparu deposit. Sona Hill is the easternmost gold anomaly in a cluster of 10 gold features located within a 20-by-7-kilometer hydrothermal alteration halo around Toroparu. Drilling at Sona Hill in 2012 and in 2015 intercepted high-grade mineralization in both saprolite and bedrock, and confirmed the continuity and grade potential of the Sona Hill mineralization.
For the remainder of the announcement and highlights of the 2015 drill program:
https://finance.yahoo.com/news/sandspring-resources-commences-2016-explo...
---

Join GATA here:
New Orleans Investment Conference
Wednesday-Saturday, October 26-29, 2016
Hilton New Orleans Riverside
New Orleans, Louisiana
http://neworleansconference.com/wp-content/uploads/2016/08/2016_Powell.h...
Help GATA by purchasing DVDs of GATA's London conference in August 2011 or GATA's Dawson City conference in August 2006:
http://www.goldrush21.com/order.html
Or by purchasing a colorful poster of GATA's full-page ad in The Wall Street Journal on January 31, 2009:
Help keep GATA going
GATA is a civil rights and educational organization based in the United States and tax-exempt under the U.S. Internal Revenue Code. Its e-mail dispatches are free, and you can subscribe at:
To contribute to GATA, please visit:
The FED Is Ready For The Collapse, More QE, NIRP & Total Control Of The Economy
Posted: 15 Sep 2016 04:18 PM PDT
 UK retail decline more than originally thought. Initial jobless claims at all time lows which do not match the Fed labor market index. More factories are moving to Mexico. Wages are continually declining. Retail sales decline in the US. Business inventories signalling a recession. Empire Fed...
[[ This is a content summary only. Visit http://www.newsbooze.com or http://www.figanews.com for full links, other content, and more! ]]
Alex Jones The Dollar Will Collapse 100% on 27 September 2016 Last Warning To America
Posted: 15 Sep 2016 02:29 PM PDT
Alex Jones The Dollar Will Collapse 100% on 27 September 2016 Last Warning To America The Financial Armageddon Economic Collapse Blog tracks trends and forecasts , futurists , visionaries , free investigative journalists , researchers , Whistelblowers , truthers and many more
[[ This is a content summary only. Visit http://www.newsbooze.com or http://www.figanews.com for full links, other content, and more! ]]
Posted: 15 Sep 2016 02:01 PM PDT
This post Inside the Fed Tool Kit appeared first on Daily Reckoning.
The US economy is slowing perceptively. The Fed has created a mess. We've had a full year, 4 consecutive quarters, with average growth of about 1.2%  and with some revisions that may even go lower. That's awful. 
First of all, that's extremely close to recession. Second, it's way below the Federal Reserve's (Fed) projections of about 2.5%. Third, it's way below potential of 3.5%. This is not just weak growth, it's extraordinary weak, and dangerously close to recession.
What should the Fed be doing about that? One thing they might want to do is cut interest rates. They can only cut them 25 basis points without going negative.
Negative interest rates are another thing we've got to at least put into the mix. They could do one interest rate cut. They could do more quantitative easing. However, they probably won't do quantitative easing until they cut the 25 points that are there now.
The sequence of Fed easing is, if they need it, first forward guidance.  This is where they promise not to raise rates for a long period of time, then comes one rate cut. Followed by that comes more forward guidance – and now we're back to zero. Then the pattern begins again, where they promise to not to raise rates for another period of time, and then possibly another round of quantitative easing (QE4). I think the Fed will do all those things before they get to negative rates.
That's what Yellen said at Jackson Hole and I think we have to give her credit for that being a pretty accurate representation of their playbook.
Whether that works and what is a good idea are separate issues.  But that's what Yellen says is in the tool kit, and should be taken at face value.
There is one other tool in the Fed arsenal, which is currency wars.  That would be the ability to cheapen the US dollar. The Fed would be highly partial to a cheaper dollar.
The cheaper dollar imports inflation in the form of higher input prices.  This is because with a cheaper dollar, we have to pay more for our iPhones, Indian textiles, Chinese electronics and manufactured goods.  In a sense, the Fed likes a cheap dollar because it helps meet inflation goals to an extent.
The problem with the currency wars tool is that if one currency goes down, another currency has to go up. They can't all go down at once against each other. There must be winners and losers in the currency wars. If there is a cheaper dollar, which the Fed might want, look for stronger yen, a stronger Euro, some other currency effects.
In this, there is a problem.
The problem the Fed has is that they have created asset bubbles in stocks and real estate with almost 8 years (three rounds) worth of quantitative easing.  Those factors coupled with a 0% interest rate policy that continues at extraordinarily lower rates.
They have created asset bubbles. Now the asset bubbles are at the point where the bubbles might burst. The stock market could go down. It went down 11% in January, early February of 2016. It went down 11% August 2015. We've seen 2 episodes of more than 10% corrections in the last 13 months.
The market's clearly vulnerable and some of the volatility factors could easily go down 10-20% with one swoop.
Certainly a rate hike, which I think is completely off the table for the foreseeable future, would be just the thing to take the stock market down 20%.
Source: CNBC 
If that happens it's going to be extremely destructive of confidence.
It's going to be the opposite of what the Fed wants. It's going to be deflationary, it will increase savings, reduce spending and reduce the volatility of money.
Regards,
Jim Rickards
for The Daily Reckoning
Ed. Note: Sign up for your FREE subscription to The Daily Reckoning, and you'll start receiving regular offers for specific profit opportunities. By taking advantage now, your ensuring that you'll be financially secure later. Best to start right away.
The post Inside the Fed Tool Kit appeared first on Daily Reckoning.
Gold Daily and Silver Weekly Charts - A Full Heart, A Heavy Mind
Posted: 15 Sep 2016 01:57 PM PDT
ANONYMOUS WARNING - What you don't know about the NEW WORLD ORDER 2016
Posted: 15 Sep 2016 11:46 AM PDT
 ALL IT TAKES IS THE SHARE BUTTON AND THIS CAN REACH MILLIONS & CREATE An UNAWARENESS... The People need to know the truth.We Are Anonymous.We Are Legion.We Do Not Forgive.We Do Not Forget.United As One. Divided By Zero. Expect Us. The Financial Armageddon Economic Collapse Blog...
[[ This is a content summary only. Visit http://www.newsbooze.com or http://www.figanews.com for full links, other content, and more! ]]
BREAKING: "Putin Hints Of War"
Posted: 15 Sep 2016 08:04 AM PDT
Russian President Vladimir Putin hints of war in Ukraine but may be seeking a diplomatic edge The Financial Armageddon Economic Collapse Blog tracks trends and forecasts , futurists , visionaries , free investigative journalists , researchers , Whistelblowers , truthers and many...
[[ This is a content summary only. Visit http://www.newsbooze.com or http://www.figanews.com for full links, other content, and more! ]]
Can Speculative Stocks Save the Market?
Posted: 15 Sep 2016 07:23 AM PDT
This post Can Speculative Stocks Save the Market? appeared first on Daily Reckoning.
This recent bout of volatility has inspired more than a handful of questions from concerned investors.
Will the Fed raise rates next week?
If not this month, what about December?
Will crude continue to slump?
What about gold?
Are stocks headed for an inevitable crash?
If you're asking questions like these, you aren't alone. In fact, most investors appear to be preparing for a much bigger drawdown in stocks.
But are they breaking out the bear suits a little early?
"A casual look at the volume of the iPath S&P 500 VIX Short-Term Futures ETN, which on Tuesday had its highest volume in history, should bring out your inner contrarian," notes Pension Partners portfolio manager Michael Gayed. "Can it really be the case that so many suddenly betting on volatility, en mass, are going to be right?"
While Gayed thinks the market is near its second big correction of the year, he doesn't believe this is it. Why?
Because of the positive movement under the surfaces of the market…
Yes, the major averages are lower. Sentiment is quickly swinging bearish. Folks are starting to bet against stocks. But every single stock and sector hasn't fallen off a cliff. In fact, we're seeing some positive developments starting to percolate.
Just look at biotechs.
We were just touting the iShares Nasdaq Biotech ETF (NASDAQ:IBB) late last week before the market started to drop. I noted that biotechs have been working on a new base for most of 2016 and they could be shaping up for a big end-of-year rally.
Remember, the iShares Nasdaq Biotechnology Index just endured a bear market that saw shares drop 40%. That's 12 months of terrifying downside action for any investor who decided to try and ride out the move. But IBB is holding on tight—even as the major averages slip lower this month.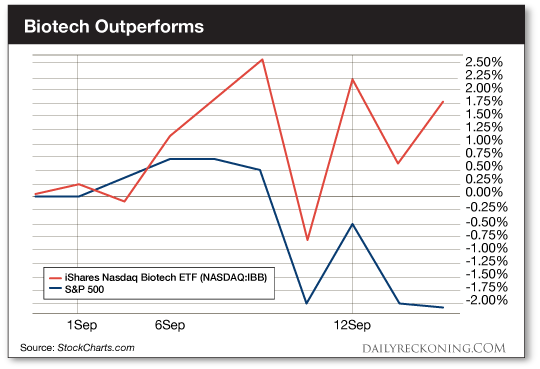 While the S&P 500 is down more than 2% so far this month, IBB is up nearly 1.8%. That's right—speculative biotechs are beating the market.
Biotechs aren't the only risky stocks that are holding up as the major averages continue to swoon. Just check out some of the year's hottest IPOs. These brand new stocks haven't completely fallen apart in September.
You probably recall two of the best performing new stocks of the summer: Acacia Communications (NASDAQ:ACIA) and Twilio Inc. (NYSE:TWLO). The last time we wrote to you about these stocks in late August, ACIA was up nearly 400% and TWLO had gained only 260% sine it hit the market in late June.
While these two high-fliers have cooled off this month, both stocks have avoided the meat grinder as the major averages dropped. In fact, TWLO continues to outperform the S&P 500 in September even though the stock is down so far this month.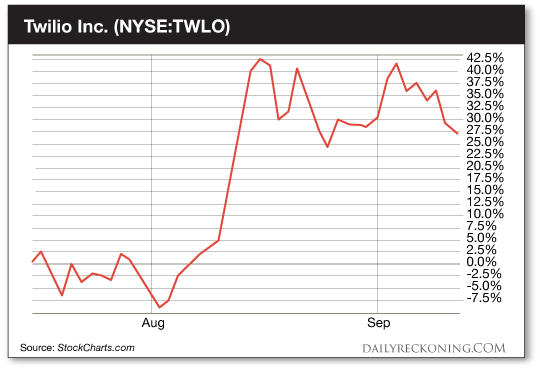 If the market was as vulnerable as folks say, I would expect new IPOs like ‪TWLO and ‪ACIA to look much, much worse than they do right now.
As we said earlier this week, the stock market's primary function is to relieve you of your money and sanity. While we could continue to see downside action from the major averages, plenty of positive moves under the surface are telling us that the situation isn't as dire as most investors believe.
It's not time to bet on a total collapse just yet…
Sincerely,
Greg Guenthner
for The Daily Reckoning
P.S. Make money in ANY market — sign up for my Rude Awakening e-letter, for FREE, right here. Never miss another buy signal. Click here now to sign up for FREE.
The post Can Speculative Stocks Save the Market? appeared first on Daily Reckoning.
Gold Waiting on the US Dollar to Begin its Intermediate Decline
Posted: 15 Sep 2016 03:12 AM PDT
Gold is flagging above the 200 week moving average while it waits for the dollar to generate the downward leg of its intermediate cycle.
Posted: 15 Sep 2016 01:00 AM PDT
Bob Moriarty of 321 Gold discusses the benefits of trading on the gold/silver ratio and gold/platinum spread, and the new contracts the CME is launching next month.
Deutsche Bank Initiates Coverage of Silver Wheaton
Posted: 15 Sep 2016 01:00 AM PDT
Citing a strong balance sheet and a large portfolio of diverse gold and silver streaming assets worldwide, Deutsche Bank has initiated coverage of Silver Wheaton with a Buy rating.
Precious Metals Entering, Stocks and Bonds Exiting Bull Market
Posted: 15 Sep 2016 12:44 AM PDT
Summary A)Stocks have been in an uptrend for more than five years and the Dow Jones Industrial Average has more than tripled since 2008 lows. B)I am concerned that these gains are overinflated and pumped higher through these policies of the Central Bankers and stocks are way overvalued and extremely overbought. C)Because we have not seen a meaningful correction in the Dow in more than seven years, the chance of a significant bear market remains higher than ever. D)I believe the Dow-Gold ratio is about to turn in favor of precious metals in a big way. E)The Fed raising rates could be good for precious metals as investors may finally rotate out of overvalued stocks in search for equities backed by precious metals.
You are subscribed to email updates from Save Your ASSets First.
To stop receiving these emails, you may unsubscribe now.
Email delivery powered by Google
Google Inc., 1600 Amphitheatre Parkway, Mountain View, CA 94043, United States